University Hospitals Dorset NHS Charity is calling on the Dorset community to come together and march for men's health on Saturday 25 March 2023.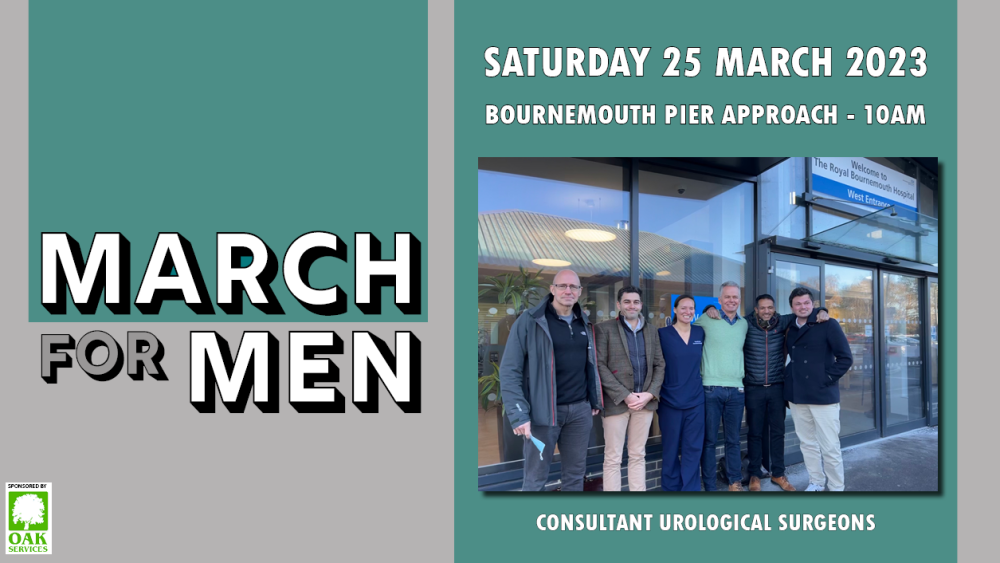 The popular 5k or 10k event takes place at 10am from Bournemouth Pier and is an opportunity for people of all ages, abilities and genders to directly contribute significant funds to men's health projects at the Royal Bournemouth, Poole and Christchurch hospitals.
Thousands of men from every part of our community face men's health concerns such as prostate or testicular cancers. Please sign up today and make a difference - tickets are £15 for adults (16+) and £8 per child (under 5s free entry). All participants are encouraged to raise additional sponsorship where they can.
Consultant urological surgeon, Kevin Turner said: "With every step our supporters take along the seafront, we can continue to improve health services for every man in our community. March for Men helps us to do so much more for our patients. We can purchase state-of-the-art equipment to streamline diagnosis and improve treatment, for example our blue light camera system which improves bladder cancer treatment."
Fundraising manager, Lindsey Sturman, said: "This well-loved event is great for anybody looking for a good cause to get fit for. It's also a great way for people to give back to our hospitals or show their support with every stride for their father, son, brother, uncle, grandfather or friend who has ever received medical treatment."
Going into its ninth year, March for Men has successfully raised more than £150,000 for men's health projects at our hospitals so far. Revolutionary equipment like the blue light camera is innovative and expensive, so the funds raised this year will be significant in allowing us to purchase future equipment and increase the funding projects for men's health. Every participant will receive a charity t-shirt and medal. Dogs are welcome but must be kept on a lead. March for Men is kindly sponsored by Oak Services.
Sign up online at UHDcharity.org/m4m or by calling 0300 019 4060/8449 and follow @UHDCharity on Facebook or Instagram to enjoy the countdown!