We visited Sandworld in Weymouth last week with Nanny and were luckily enough to enjoy one of our Countries rare but fantastic sunny days! We got there as they were opening and were immediately met with great big warm smiles from every member of staff we spoke to and you can tell they are all passionate about the Attraction and clearly love children (which is great because not everyone in the tourism industry does).
As you go in there is a sand sculpture right in front of you and you are immediately drawn to it's towering size and how impressive they really are up close. Having seen pictures before, I knew they'd be good but the size and detail really is something else. I could see straight away that there was a play area with spades, toys, a wendy house and ride on's but before I had a chance to inform my boy he was straight in the house offering me tea and toast!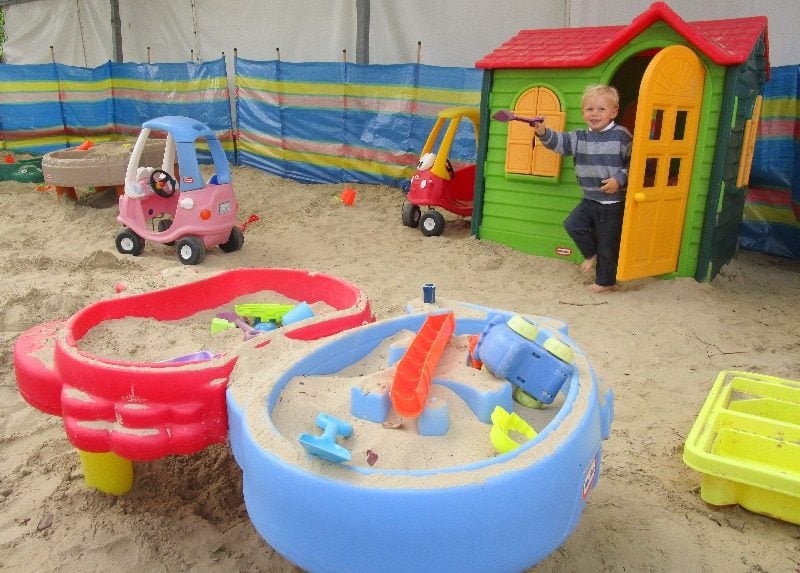 We did try to encourage him to have a walk around the indoor sculptures but after having a near heart attack when he got too close to one we decided we'd rush him around and then we did a tag team so he could play outside while we took turns to have a good look inside. Each sculpture has a plaque telling you all about it and some history on the artist, many of whom flew in from another Country. I really was amazed at the talent these artists bring and couldn't help but take a multitude of pictures.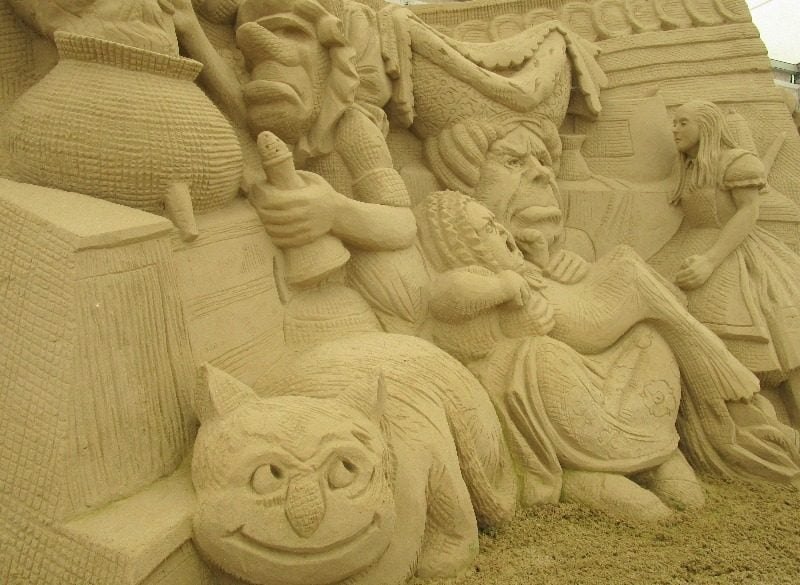 When I went to find my son I realised he'd discovered the large sand pit which had tools to make your own sculptures and huge plaques on the wall with instructions on how to make a perfect sandcastle, turtle and pillar of sand. The area does clearly state 'Under 5's only' and I can see why as my son just wanted to jump on any sandcastles we had attempted to make. The staff are quite relaxed though and as there was literally only a couple of children (and we were watching him like a hawk) they didn't mind him playing in there. It really was quite lovely to be able to sit next to the pit with a cuppa and enjoy the sunshine for a little bit.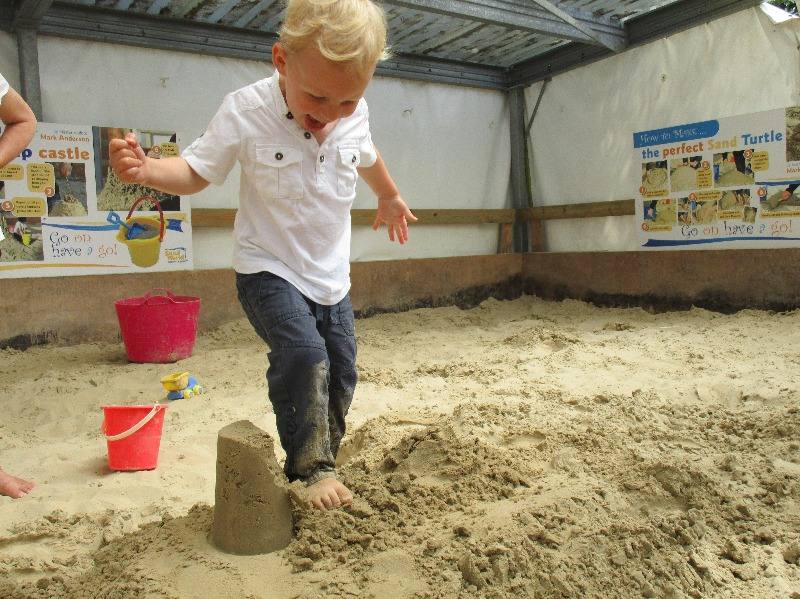 While we were there I noticed a very lovely elderly couple and after saying hi they started telling me that they had visited before and had come back to see the new sculptures. I asked them what their favourite one had been and the lady said that there was a D-Day sculpture which she would never forget as there were what looked like hundreds of teeny weeny little tanks around it. After speaking to them I arranged for them to have a free cuppa in the café as part of our 'Random Good Deed' for the month and had to laugh when the gentlemen tracked me down inside and demanded me to tell him who had paid haha. I explained that my son was doing good deeds and that I hoped himself and his wife had a lovely day.
We didn't have lunch while we were there because we had promised our son a picnic outside but there is plenty of food on offer and an appealing kids menu which included a roll, drink, crisps, biscuit and activity book for £3.95.
Opposite the café there is a lovely bright area for children to fill a bottle with layers of coloured sand. My boy loved this activity and I was actually quite surprised at the level of concentration he had. Half way through he did go back to the sand pit for a play but then came back in to finish it off and we now have a fantastic souvenir of our day.
While we were there I actually noticed quite a few adults making their own sculptures and I myself found it quite therapeutic sitting down with the tools provided and attempting to make a masterpiece (whilst battling off a wildly excited 2 year old!).
We ended up staying for a couple of hours and would of stayed longer if we had not already made plans to play in Lodmoor Country Park. We'll most certainly go back and take Daddy with us although I know straight away that he would say 'I can do that!'. (He couldn't).

Sandworld offer various Children's Party Packages which I'm sure any child would love, please visit here for details. If you are planning to visit then keep your eyes peeled for any special offers or visit the Website for discounted ticket prices if booking online.

Thanks for a lovely day Sandworld!
Love
Dorsetmum
xxx