'Otto and the Robin' Review
Posted on
We were fortunate enough to attend a show at the Lighthouse in Poole called 'Otto and the Robin' this week and I'm starting to get the Theatre bug! As always I was nervous that my 3 year old Son Sam would get bored and want to leave but generally when I'm nervous about something it pretty much always works out fine (plus I took some small cars and quiet snacks for emergency use).
We've been to Events at the Lighthouse before however we have never attended a show and I delighted to see ours was being held in a little Theatre which was perfect for Pre Schoolers who may find a large room full of people daunting.
The small intimate Theatre we were in had lovey comfy benches rather than chairs and this was great for us as we cuddled up together.
The show is about a man called Otto who wants to go to the Annual Piddle under Puddle Christmas Party but he's so shy that he hasn't been able to go for years and it takes a new friend in the form of a Robin to give him the confidence he needs. From the moment the show started my Son snuggled up closer and we sat without moving for a long time, I almost didn't want to breathe as I'd never seen him so transfixed. Every time the phone rang on set he'd watch Otto squirm and burst out laughing looking at me with a great big beaming grin. There's a couple of great surprises in the show which Sam found hilarious and intriguing and we both loved the Robin. The 2 actors in the show really are fantastic at bringing a simple stage to life and you could see the children were comfortable at the times when the audience needed to participate.
There's much more about the show I could add like the parts we found funny and how it all ends but then there would be no point in you going would there? I will add though that at the final scene I did have a few tears of joy but I'm putting that down to having a thoroughly enjoyable time with my Son plus I'm pregnant and hormonal!
Don't be in a rush to leave at the end, the cast and the Robin were outside ready to meet us and we had a fantastic photo opportunity plus they had some very affordable souvenirs on sale which we bought.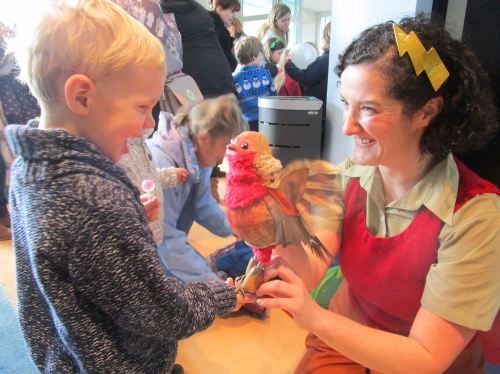 Thanks to the Lighthouse and Angel Exit Theatre for a magical time spent with my Son, I will be thoroughly recommending your show to as many people as I can and wish you a very Merry Christmas.
If you would like to read more about the show and find out about ticket prices and availability then please visit Lighthouse Poole.

PS, apologies to anyone in the audience who could hear my son repeatedly and proudly announce that our Christmas Tree was bigger than Otto's!
Love
Dorsetmum
xxx