Kinetic Sand Toyologist Review
Posted on
Having seen many adverts over Christmas advertising Kinetic Sand we were delighted to have received a box for our next Toyologist assignment. I kept it hidden away for several weeks as I knew Sam would be more interested in the contents when the excitement of Christmas was over.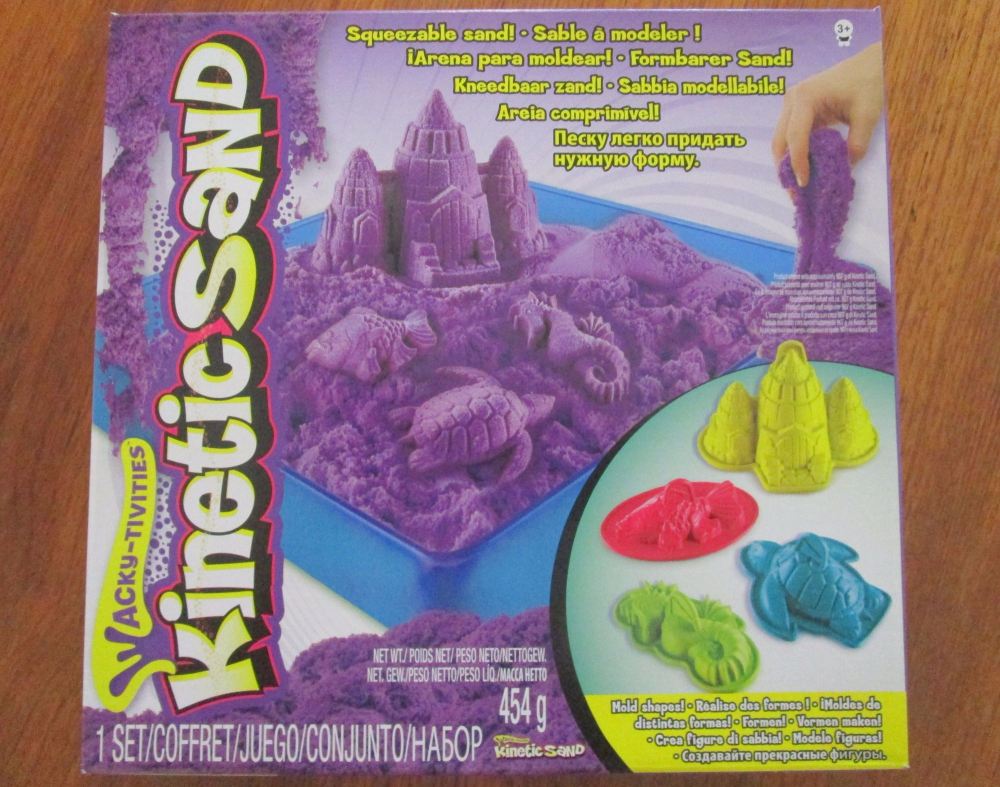 As soon as I showed him the box he knew straight away what it was so I put a large mat on the living room floor and hoped the sand might actually stay on it. I let Sam open the box and see what was inside and the tough plastic tray is definitely a good size for Pre Schoolers. There was a bag of kinetic sand and 4 good quality moulds to play with which were a Fairytale Castle, a Fish, a Seahorse and a Turtle.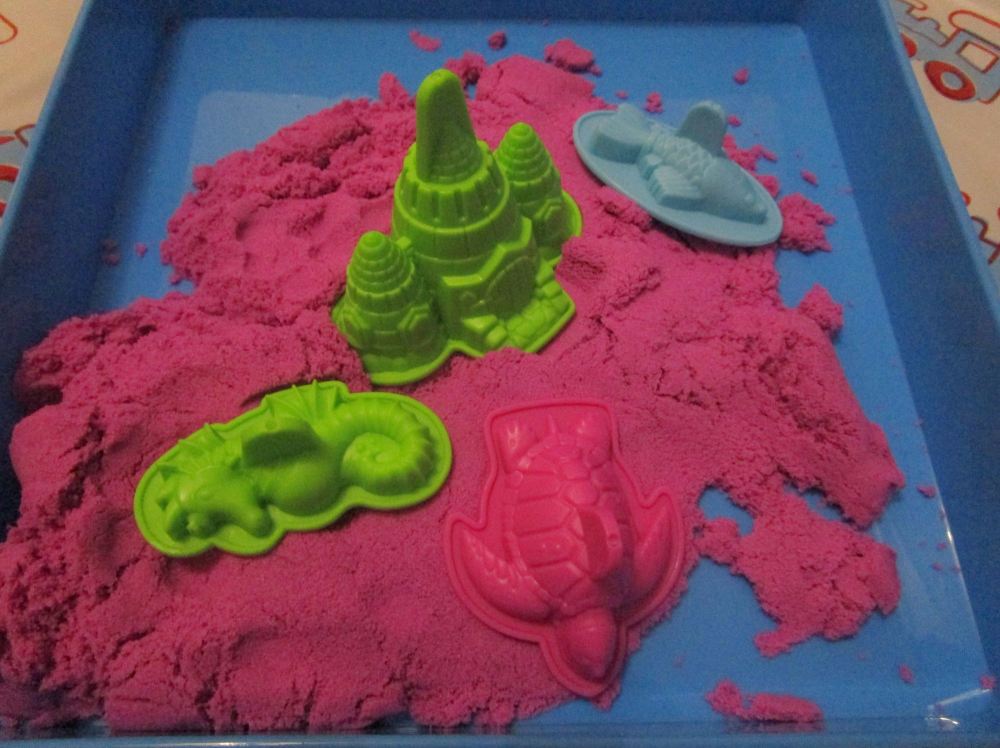 I put the moulds straight in the tub of sand but Sam kept throwing them out and as I sat back to watch I realised he was utterly mesmerised by the texture of the sand. Feeling curious myself I ran my fingers through it and it is truly a weird sensation that something like sand can be squeezed and look moist but yet it also feels smooth and dry at the same time. I asked Sam what he thought it felt like while he was sifting it through his fingers and he said it was soft like his blankie.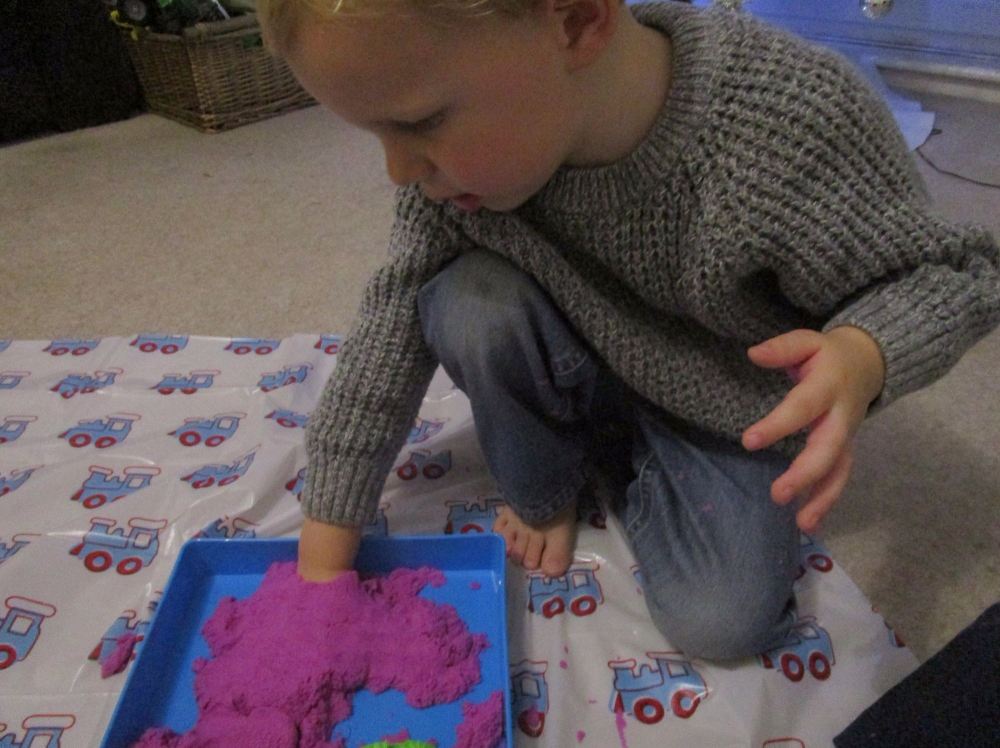 After a good 10 minutes of Sam playing with the sand and trying to squeeze it into a ball with his hands he then turned to the moulds which were in the box. The Castle seemed to be the favourite and it didn't take him long to realise the more he pushed the sand in the better his Castle would be. We were both quite astounded at how detailed and perfect the Castle was and yet one tiny touch of a finger and it would magically fall down like it had never been there. Once he'd knocked his first Castle down amid cries of delight he then proceeded to do it again and again and again!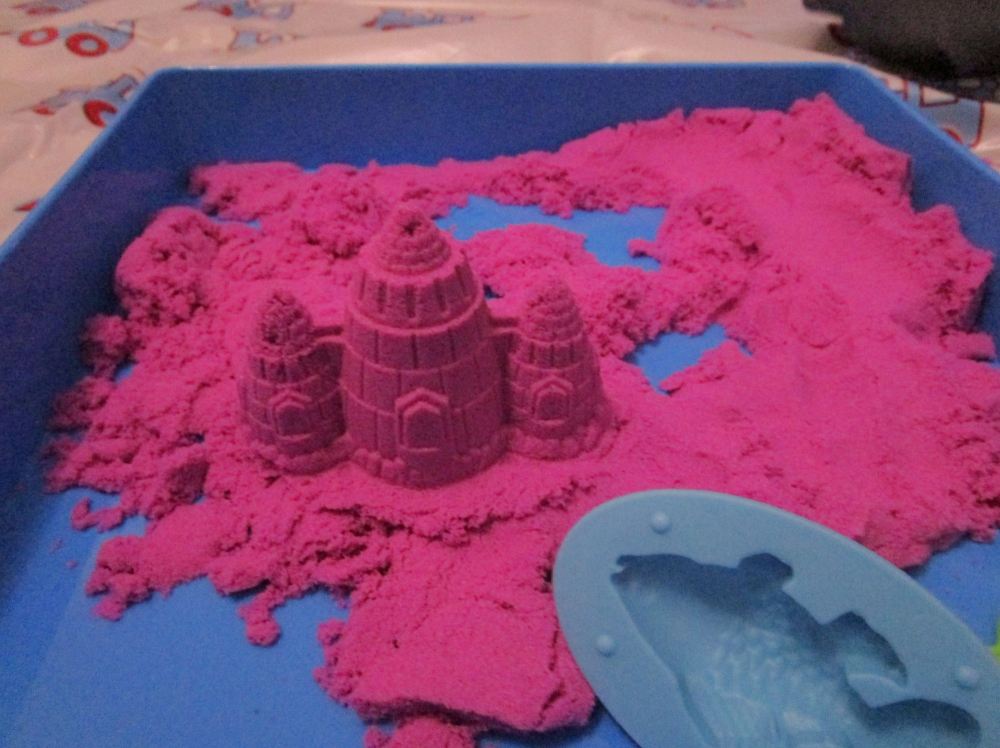 After playing with the various moulds Sam went back to exploring with his hands and it wasn't long before a wrist went in followed by an elbow. Before I knew it the socks came off and the delight on his face as he put his feet in was clear. We chatted for a bit while he tried burying his feet and then suddenly he stood up and dropped his trousers asking if he could do a bottom print! I leapt off the sofa laughing and said that a kinetic butt print was probably not a good idea and we'll just stick to hands, feet and moulds. (Note to self, do not leave Sam and Kinetic Sand unattended!)
I really do think the product is perfect for Sam's age group (currently 3 and a half) but I think older children will enjoy it just as much and probably keep it in the tray more. I did ask Sam a few times not to fling it around and didn't want to nag so I just noted next time I'll do the activity in the bathroom or kitchen where I can sweep up the sand.
All in all, the Kinetic Sand was definitely a huge hit. Sam played with it for well over an hour and we've had it our several times since. We'll probably need to get another bag of sand soon which you can buy separately. Tidying up wise, I did worry the first time that it would be a nightmare but it hoovered up nicely and it's even better if it can be swept up from a tiled floor or table.
If I could of added to it in any way then I would have liked a little spade but looking at it from a child's point of view I think they would enjoy playing with their hands more anyway. I did also think at the time that it would be great to use different things in the sand like pine cones and leaves but then I'm not sure if I'd want little bits and bugs getting in the sand.
To note: The box states that storage temperature can affect the sand so it must be stored well. We have kept it in the cupboard and to date not had any problems at all.
If you look at the picture on the box you would think you get more sand than you do but you can always buy more if needed.
Thanks Toys R Us, we love Kinetic Sand and I'm sure lots of other children will do too!
This review was written as part of the Toys R Us Toyologist Programme.