Fun at RockReef and Key West
Posted on
We were recently invited to RockReef for the day to try out the PierZip which goes from the end of the Pier to the beach followed by some mini interviews inside and lunch at Key West.
I'd honestly been wanting to try the PierZip since it was first erected but having a small child and then being pregnant with number 2 meant it kept being put off. On the lead up to the big day I couldn't believe how nervous I was getting. I knew I would enjoy it but I worried about climbing the tower at the end of the Pier and then having to jump off! Many years ago I had enjoyed a bungee jump and even jumped off Babadag Mountain which is a whopping 6500 ft with just a paraglider and a Turkey man attached! I'm pretty sure that once you have children you develop a million fears and heights suddenly seem to be one of mine, or it is just me?
Sometimes I think nerves are a good thing because you enjoy it more and as long as I feel safe I know I've just got to sit back and enjoy it. So we headed down the Pier to check in for our jump. The sun was shining bright and the guys and girls seemed very chirpy and professional from the off. I tend to live in sandals for most of the year so I was very pleased I checked the website before we left as you had to wear shoes to be able to jump. In no time at all we had all of our bits and bobs in a box behind the counter and then we were straight into our harnesses. At this point I'm pretty sure I was physically shaking and I'm glad that doesn't show in the photo!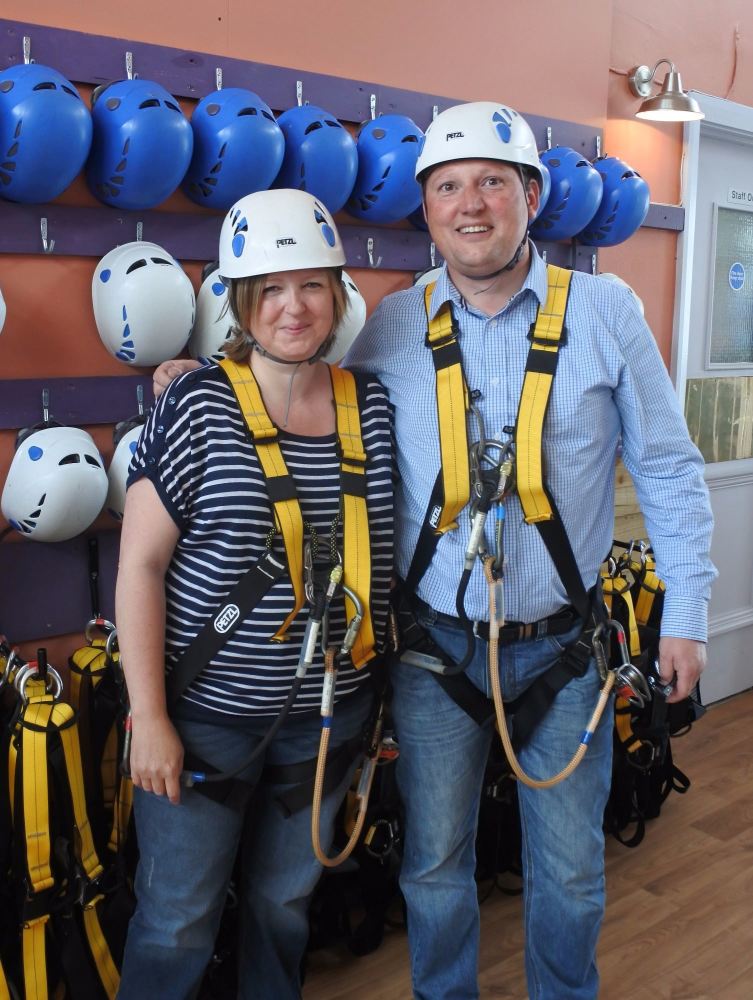 A lovely young girl (who was probably fed up with me saying I was nervous about 10 times) took us to the end of the Pier and we started to climb the tower which we would jump from. I had to stop about half way to try and stop shaking but my husband shooed me on up so I couldn't chicken out. Once I was at the top I just focussed on the Isle of Wight and tried to take in some of the breathtaking scenery. My husband was in his element, nothing seems to faze him so he was just about as happy as a pig in….er, mud. In no time at all we were secured to the line and were told we could go after 1, 2, 3 and as far as I remember I was still looking at the Isle of Wight as I walked off the end! I think I was expecting some sort of jolt but I just gently started decending and as my son told me at the bottom I screamed the whole way down! It was very much a scream of joy though and I really wish I'd gone straight up and done it again. Now that I've done it I'm definitely going to book again and would love to do one at dusk or dawn. It really is one of my most memorable experiences, so exhilarating but yet so peaceful flying over the sea.
So off we went back down the Pier to grab our bags and de-harness. There's a great little coffee shop inside and as my husband rightly complained that I hadn't given him breakfast he felt the need to have a hot dog and a coffee before we went inside RockReef to find out what other people were doing for their day and if they were enjoying it.
As you go in you'll see all of the Climbing Walls behind the front desk and to the left up the stairs there is a lovely Café selling hot and cold drinks, jacket potatoes, paninis, wraps, pizzas, cakes and pastries plus there's a great seating area for you to watch the family on the Climbing Walls or High Wire (if you're not having fun participating with them).
I love that when you go in you are automatically met with a cheery hello and everywhere you turn there is a member of staff who genuinely looks like they are enjoying their day. We went straight upstairs and I plonked hubby down in a comfy chair with a nice coffee and set off with my note pad and camera in search of happy climbers. I didn't take long before I clocked a couple of children climbing up one of the walls.
I asked their Uncle Adrian what he thought of his visit and he said……..
'RockReef is great. We are all first timers, and had never really climbed before. I thought £45 for a family ticket was good value for 1.5 hours of fun. The briefing was good and the support team were good. I do think it makes a difference to book for earlier in the day giving you more choice/flexibility on the climbing walls. I'd definitely recommend it to families. Mums and Dads will have good fun climbing the walls too. Some of them are really tough!'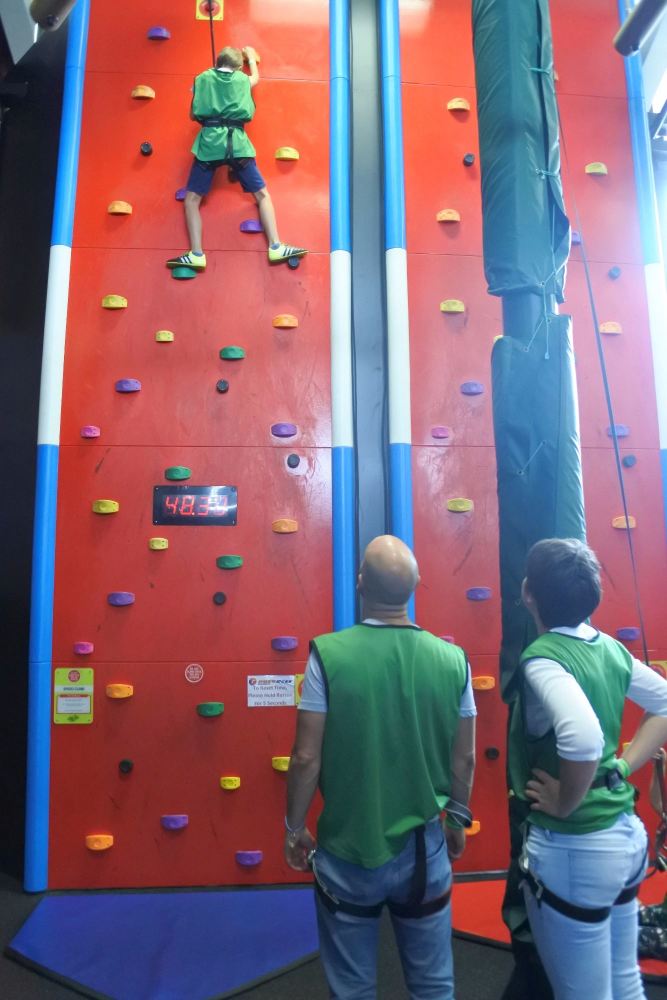 Whilst I was walking around taking pictures of any empty climbing walls I noticed a birthday party arrive and I spoke to the parents and party organiser to ask if they minded me taking some pictures. The organiser told me that her son whose birthday it was had just turned 7 and had been constantly nagging for a RockReef party and I don't think I saw the grin leave his face at any point during his party. The birthday boy and his friends started their party downstairs on the climbing walls and listened patiently during the safety briefing before being let loose.

There are 28 separate challenges and one of the favourites seemed to be the speed wall where 2 people can race and hit the timer button at the top to see who won. I watched as the children flew up the walls and it was nice to see the instructors on hand to help if required. It didn't take long before they noticed the climbing steps called 'The Stairway to Heaven' and some of them had no fear leaping from one to another and then jumping safely off the top. The birthday boy also had a go on the 'Vertical Slide' and the look of horror on some of the mums faces when he was slowly pulled up to the top was priceless, even I was squinting at the height and felt nervous for him! Of course, as young boys do, he had a big smile on his face and let go at the top so he could speedily shoot back down the slide. His face at the bottom was hilarious and straight away he asked to do it again.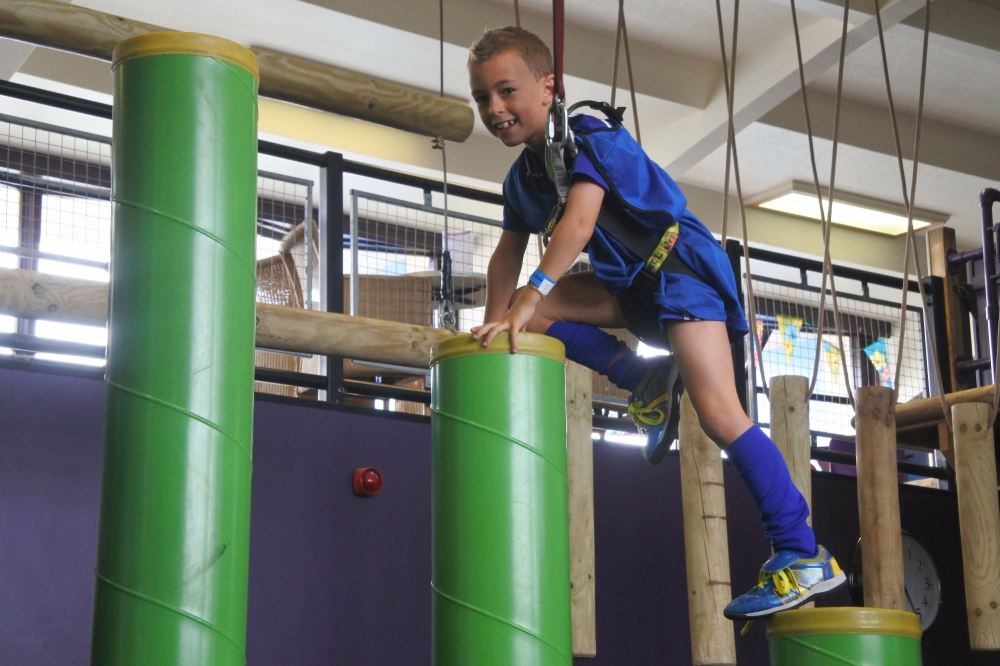 After they'd all had plenty of time on the climbing walls they headed upstairs to try the 'High Wire'. I really do love watching children have fun and I was utterly amazed at how quickly they flew over each obstacle.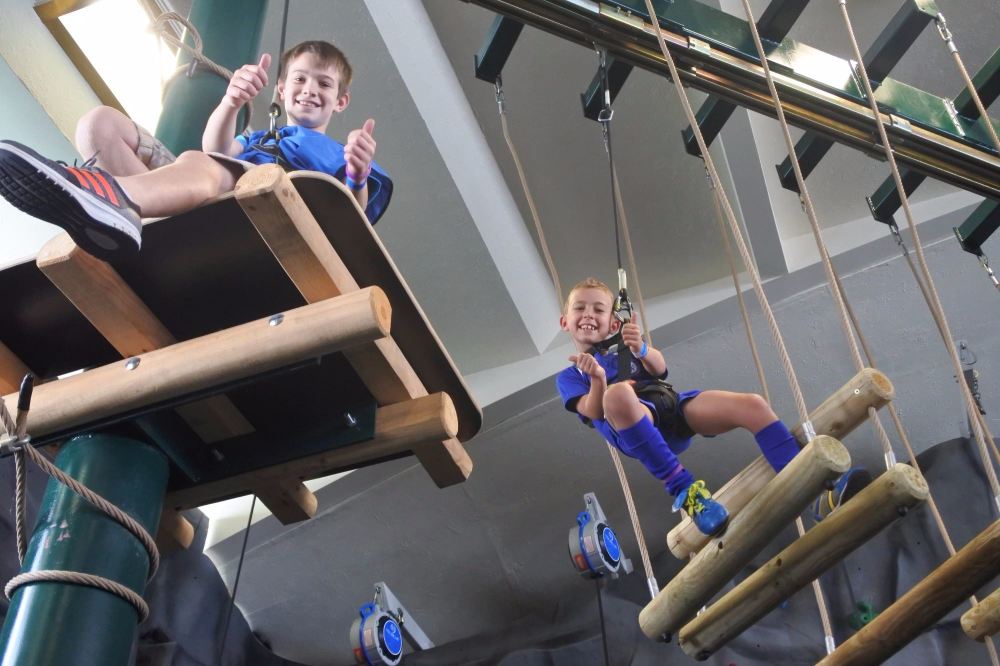 When RockReef first opened we visited with our 7 year old nephew and I remember how I found it a little terrifying getting from one obstacle to the next. I knew I couldn't fall as I had my harness but I was still very tense and the next day my arm muscles were aching from me holding on for dear life!
Back downstairs I found a couple of climbers in their early twenties who were getting ready to do the 'Leap of Faith' and I remember thinking there's not enough money in the world that would make me do that! Even from below it looks high up and I could feel my heart racing as they climbed the 20ft pole, walked the plank and then literally leapt off the platform to grab the bag. I asked them both if they enjoyed it and they both said it was good and not at all scary. Really?
Another family I met had travelled from Surrey and I asked Mum Lucy what they had thought of their visit…….
We've had the most fantastic time. It's so well organised and laid out. The kids said they felt very safe and secure in the harness and I felt the staff were very aware of how each child was getting on despite having their parents with them. The staff are all really friendly and the Cafe provides a good selection of food and drink. It was expensive but definitely worth it. I'd highly recommend it and we'll definitely be back!'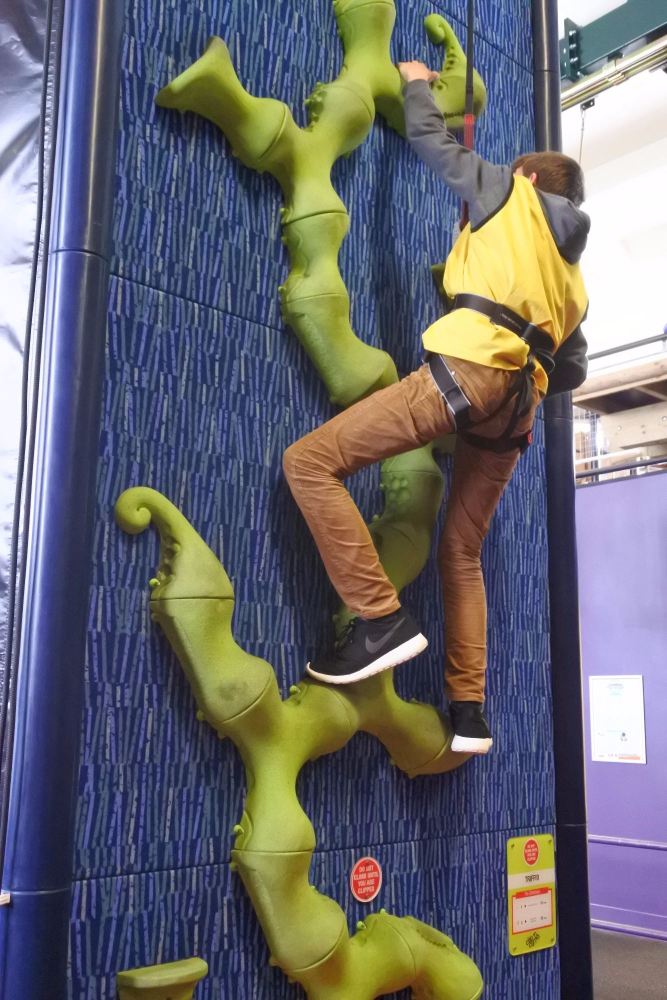 Wondering around some more I noticed another young girl confidently climbing the 'Stairway to Heaven' and I asked her Dad if they had enjoyed themselves and what they thought of their experience………..
'Mine and my family's thoughts of our trip to Rock Reef are positive ones. We're taking advantage of the Clip n Climb, the Highline and the Pier Zip to celebrate my daughter's 10th birthday. All the activities are thoroughly enjoyable. It's our second time of visiting RockReef. Living in Fareham, Hampshire it is a long journey to Bournemouth but completely worth it. We found the staff friendly and helpful with safety being a high priority at all times which is reassuring. The cost is good for the time limits given compared to similar climbing centres.'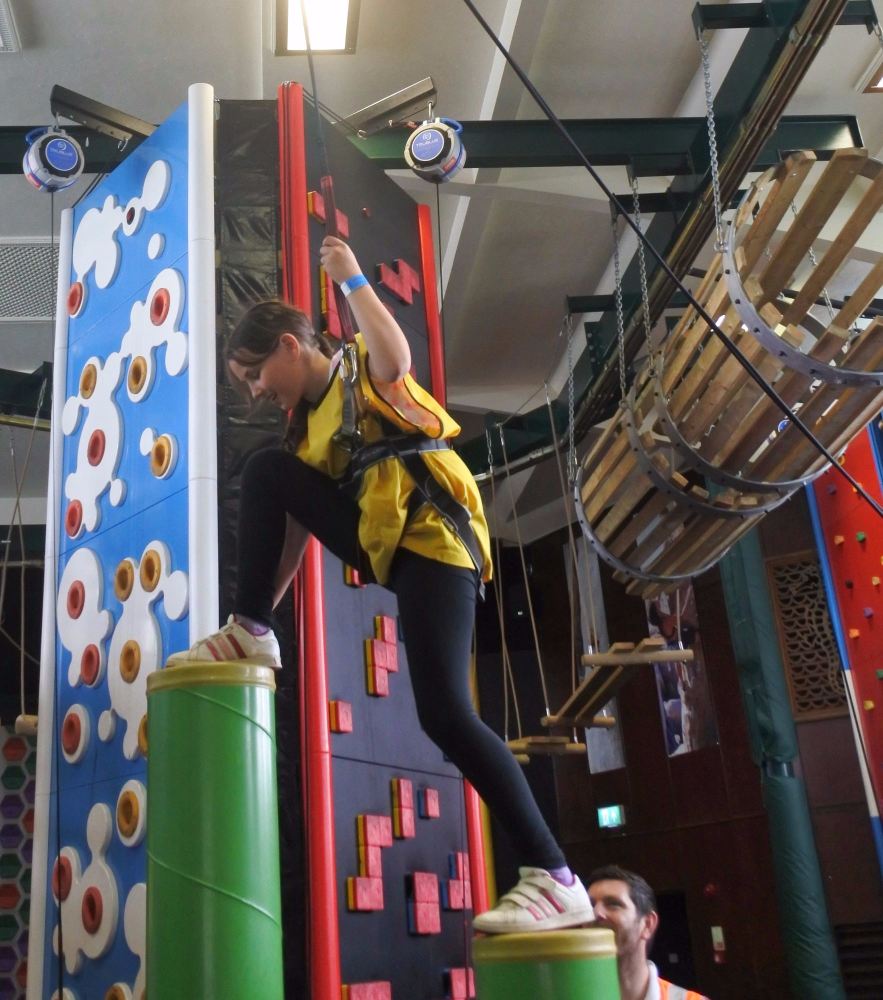 After having spoken to lots of lovely families we met up with the kids and Nanny and headed to Key West for lunch. I knew that there was a restaurant at the end of the Pier but hadn't been in until now so I was pleasantly surprised when I entered and saw how bright and airy it was. The staff were very quick to welcome us in and once seated I noticed that you have the most fantastic sea view regardless of where you sit. The ceiling is a work of art and we all at some point sat staring as the colours changed. I loved the Palm trees and Ferns that were dotted around, to me a seaside look always makes me feel like I'm on holiday even if I'm only a couple of miles from home.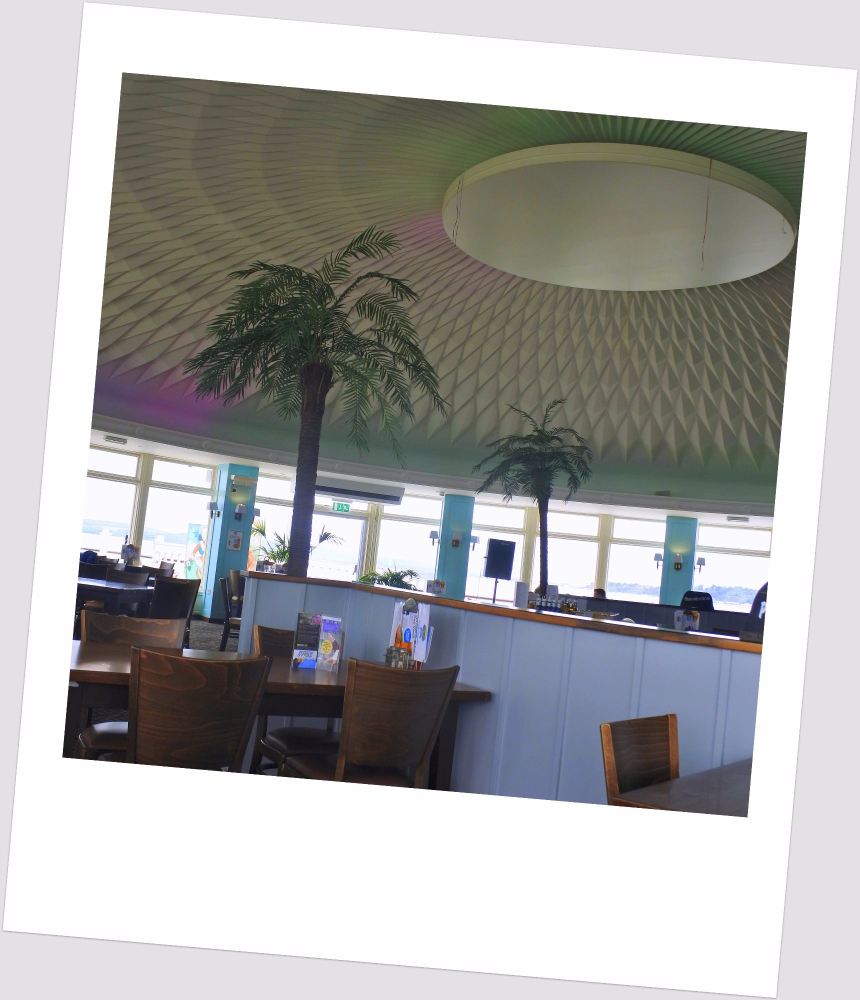 The Menu offers a great variety of meals from baguettes and jacket potatoes to steaks and sharing platters. Between us we ordered the mussels, fish and chips, scampi and the kids cheeseburger. All of our food came swiftly and we couldn't wait to tuck in. The fish and chips and scampi were delicious and Nanny said her Mussels were the best she's ever had and she has them LOTS! I was quite surprised that even my fussy son who recoils at the sight of a mushroom was happy to tuck in and try one. (He concurs that it was yummy too).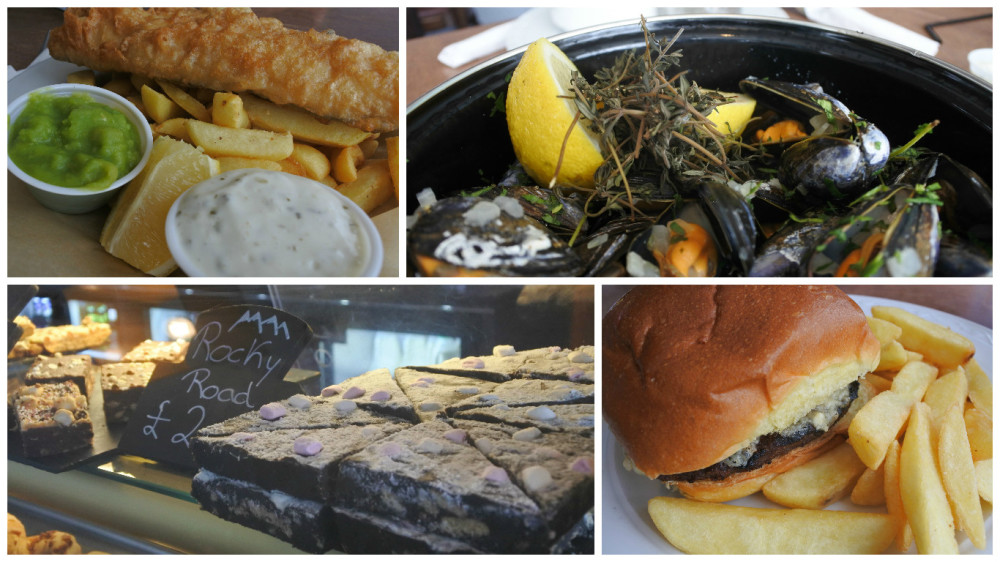 I love snooping around places and my cheeks flushed as I was politely asked to move aside from the dessert counter. I hadn't even realised that I'd slipped into some sort of cake coma staring into the cabinets! The choice was incredible and had I not been full to the brim I would have happily gone onto round 2 with a cream tea.
All in all we had a fantastic lunch, the staff were incredibly friendly and professional, nothing was too much trouble and the food was excellent. I'm hoping that we can return before the end of Summer (child free) and sit on the terrace with a huge glass of wine watching the sun go down whilst the world goes by.
Good to know…….
To book any of the mentioned great adventures, please visit RockReef.

Birthday Parties are definitely a hit at RockReef and they offer various packages to fit your budget with a Clip n Climb or Combo Party. Not only will the children have fun with all the activities but they will also end it with a hot or cold buffet with their friends upstairs.

Other than the Clip n Climb, Highline and Pier Zip there is also a Pier Cave with twists and turns, grottos and ball pits!

Check out the RockReef on Facebook as they often have great deals, news and competitions running.

Both RockReef and Key West are open 7 days a week.

You don't need to pay the Pier toll if you've booked in advance. If you haven't pre booked then keep your pink ticket as it will be valid all year.

RockReef and Key West are very child and baby friendly with highchairs and baby change facilities. Both will also happily warm your baby milk/food if asked.

Key West is available for weddings and parties and with a view like that you'll certainly make an impression!
Dorsetmums would like to say a big huge thank you to everyone we met, you are all clearly well trained, happy people and long may you continue to provide great fun for everyone who visits.
Love
Dorsetmum
xxx
*Please note - Any prices stated are correct at the time of writing.