Corfe Castle Model Village Family Fun
Posted on
Corfe Castle Model Village is one of Dorset's little hidden gem's and thoroughly enjoyable for a morning or afternoon visit with the family.

We'd previously visited a couple of years ago and I remembered that the food in the café was good so I decided not to pack a picnic and instead treated my mum and son to lunch. It was still term time and I expected it to be very quiet so I was pleasantly surprised to see the café and little shop buzzing with locals and tourists.
The staff and management were incredibly friendly and looked very happy to be rushed off their feet. We ordered an egg mayo sandwich and a bacon baguette and shared with my son as he'd eaten lots already and wasn't too hungry. The food was deliciously fresh and tasty and the prices were affordable too. They had the most amazing selection of cakes and it took every ounce of strength for me not have one (I'm trying to cut back on cake) but we promised my boy he could have an ice cream after we'd played in the Model Village.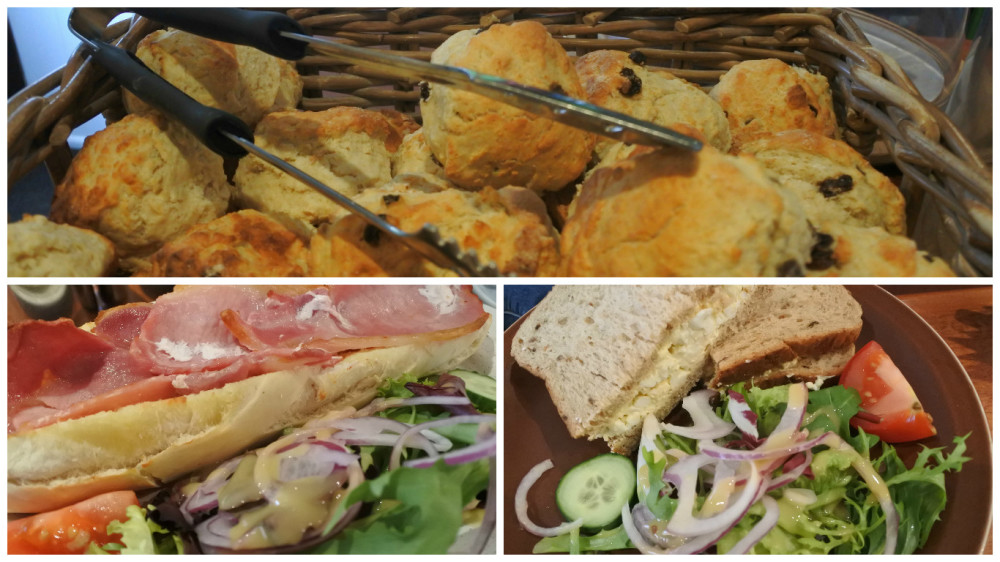 You have to go through the little gift shop which is full of treasures and then out the back door to a gorgeous garden full of beautiful flowers. The long lawn is great for children to play on and Sam and his nanny enjoyed a good game of croquet while I tried to get my baby girl to sleep.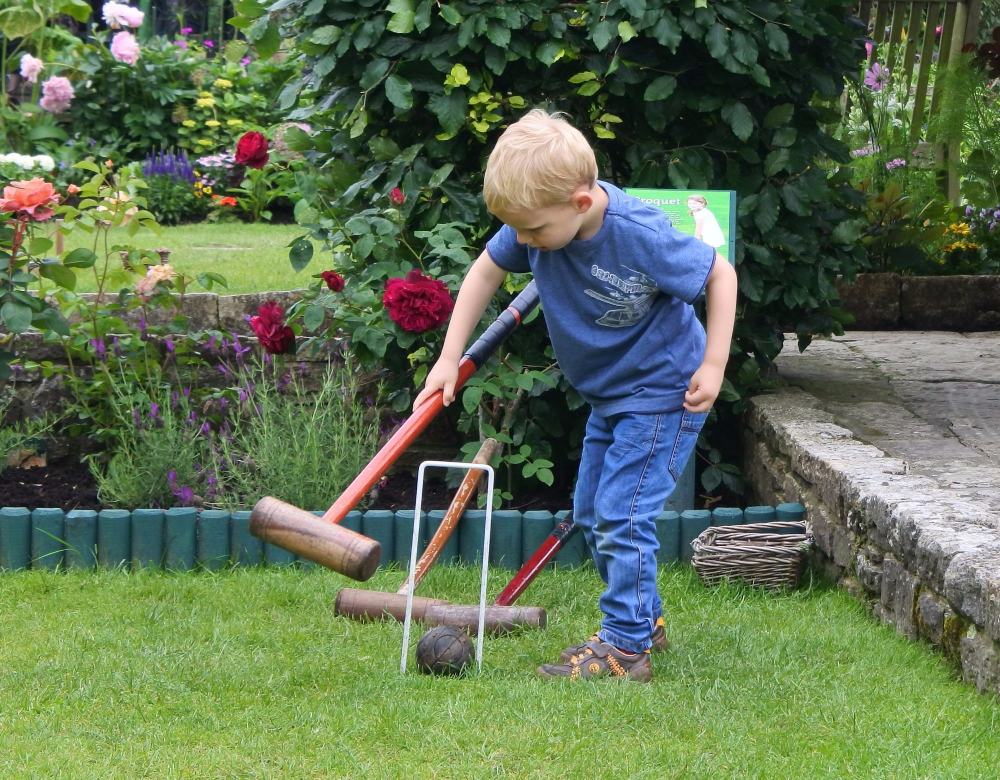 As you wander down the garden, I'd recommend you go down one side and up the other so you don't miss anything. We chose a perfect time of year to visit (July) as the flowers were in full bloom and the smell of the roses were simply delightful. We had a good look through the little museum and I tried to educate my son and show him the interesting facts, photos and animal skulls which were inside but he was only interested in constantly ringing the big bell by the door! From there we discovered the fruit and veg patch and I asked him if he knew what everything was. He had no trouble spotting the strawberries and tomatoes and nanny showed him the rhubarb and green beans.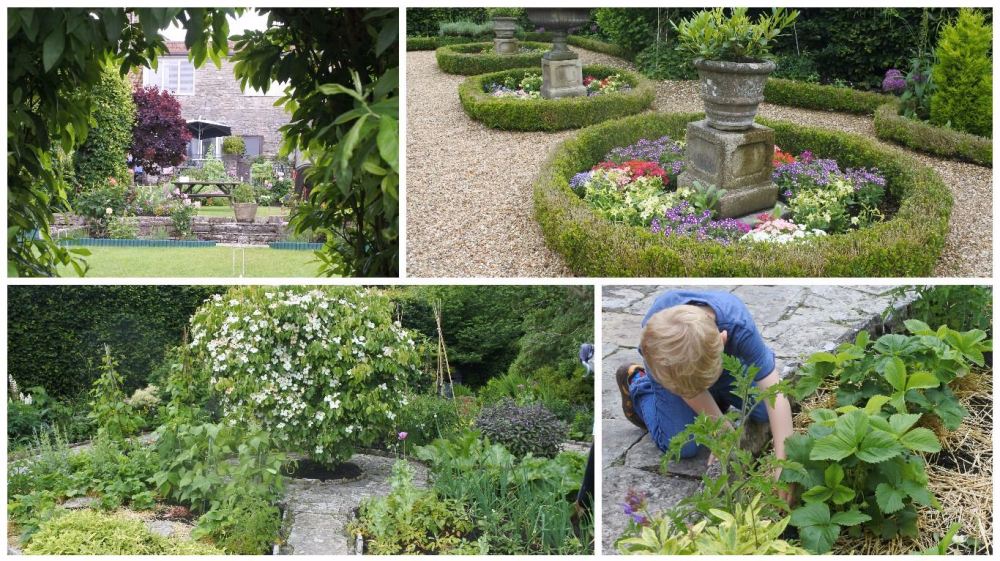 As you meander, make sure you read the little signs dotted around, the owners have a great sense of humour and I especially love the sign to the bug hotel.

Once you reach the Model Village you'll see the stocks which provide a great photo opportunity. Sam seemed to be much more interested in the actual Village this time and as he's nearly 4 now I didn't have to keep telling him not to touch the little people or run off with the cows!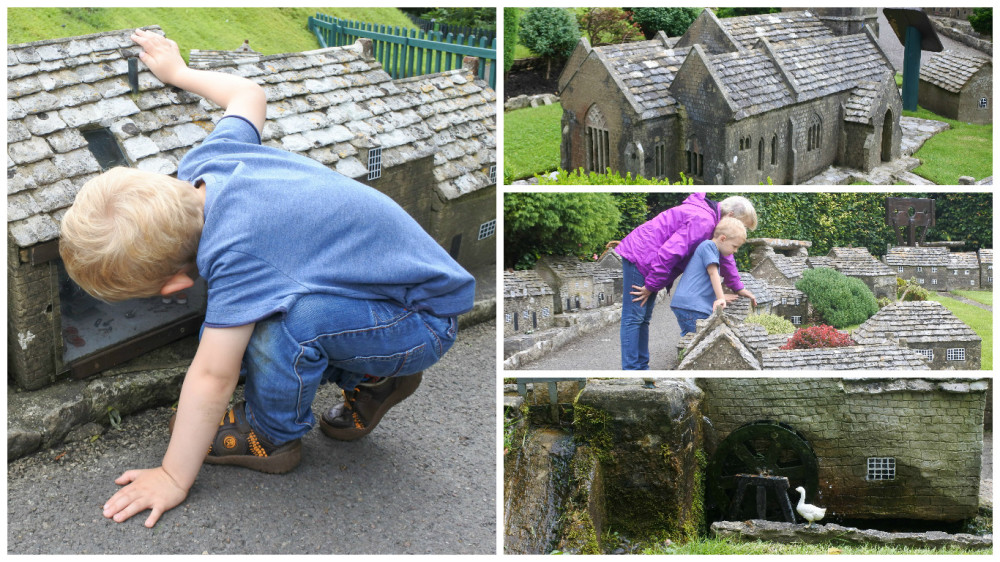 We spent a long time in the Model Village and myself and my Mum were in hysterics when Sam shouted 'look Nanny, this man's doing a wee wee up the wall'!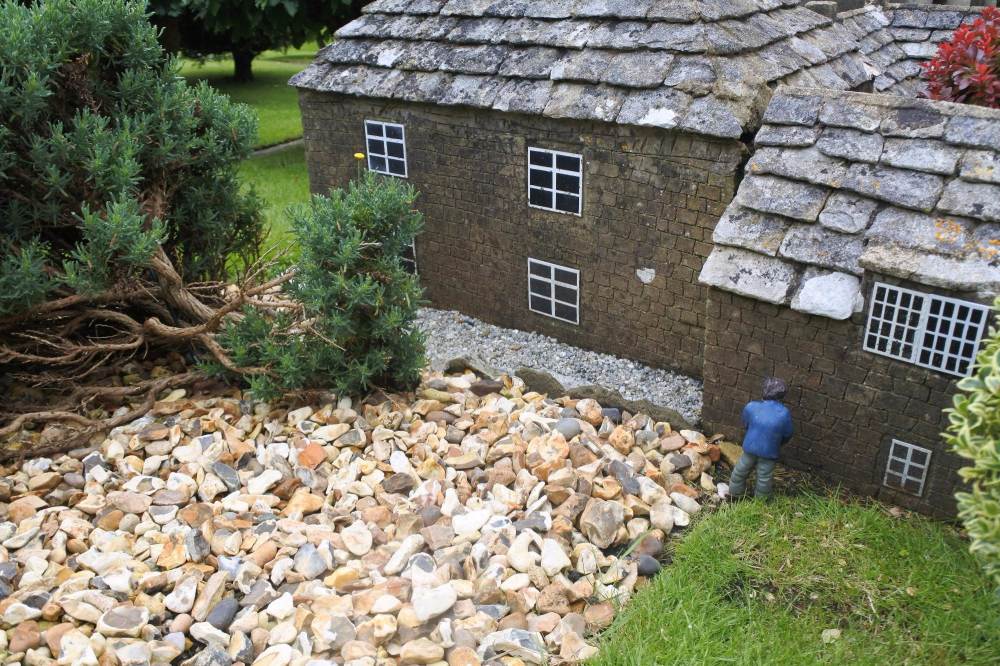 The detail is incredible and it's great to crouch down and take a look at all the houses, shops and buildings in the Village. The central attraction is of course Corfe Castle which sits up on the hill. I think this was definitely Sam's favourite part of our visit as we often walked away just to find him run back for another look around.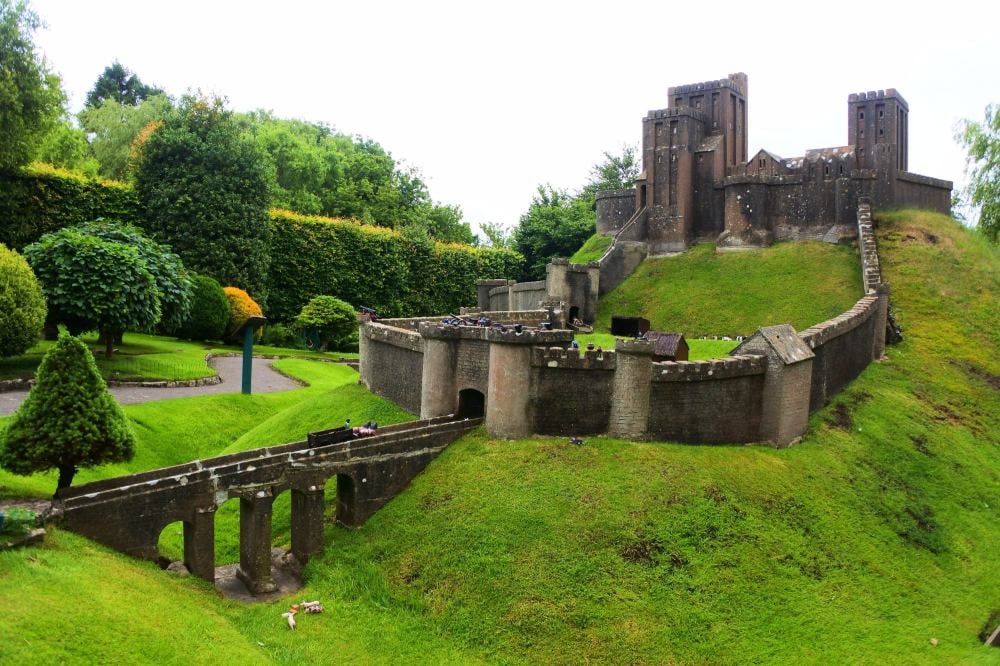 Going past the Model Village to the bottom of the garden you'll find some more garden games including giant chess, jenga and connect 4 and if you are lucky enough to visit on a sunny day you could probably quite happily spend an hour or 2 relaxing while the children play.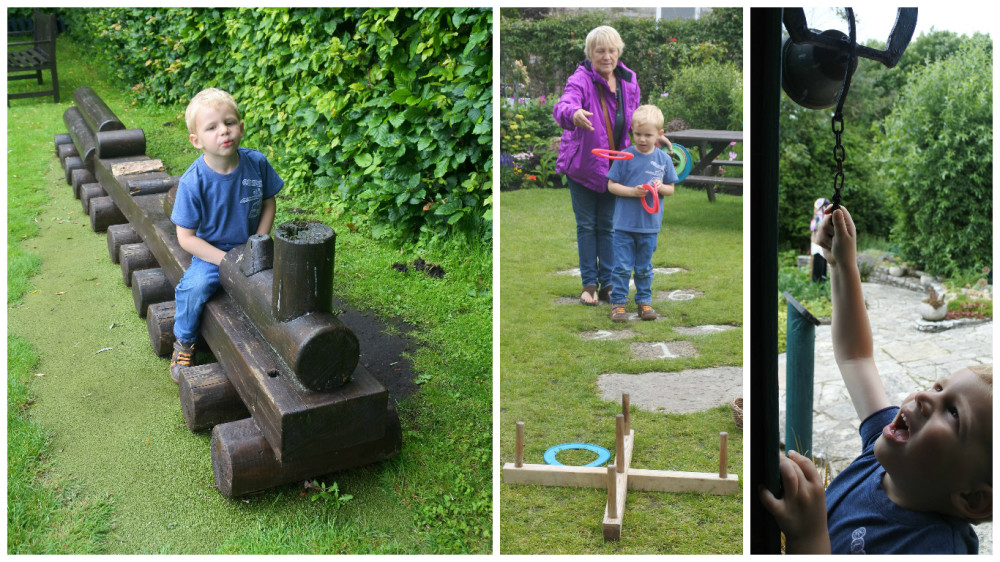 My personal favourite part of the garden (other than the actual Model Village) is the little fairy garden and we all crept in to look for little fairies and goblins.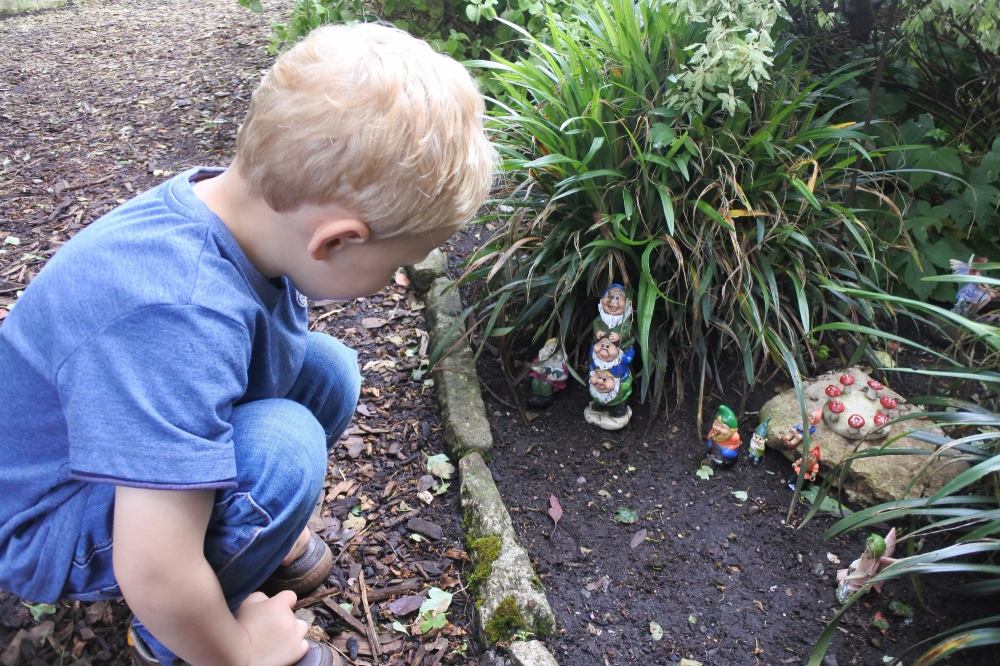 Good to know…….
There are highchairs in the café and the staff will happily warm baby milk for you if you ask.

There are a few tables indoors and lots of tables outside in the courtyard which are under big umbrella's (good news if it rains).

The café offers a varied menu with sandwiches and baguettes, jacket potatoes, all day breakfast, children's meals and lots of yummy cake.

If you feel the need to have a cuppa or an ice cream whilst you're in the garden then you'll find a great terraced area at the entrance.

The baby change facilities can be found in the Greenhouse in the garden which is a great sensory experience for babies but not so great if the baby has done a poo'plosian and you don't want anyone walking past to see haha.
The paths are perfectly accessible for a pushchair.

Dogs are welcomed into the gardens on a lead.

If you are driving to the Model Village then the Public Car Park on West Street is recommended as the on street parking is only for 1 hour.

If you come out and the children aren't quite exhausted enough then you'll find a great little play park nearby.
For more information including location, opening times and special events, please visit Corfe Castle Model Village.