Pirates of the Pavilion 2016 Review
Posted on
This year's Pirates of the Pavilion is simply magical with breathtaking illusions, jaw dropping props and more traditional Panto cheese than a Dairylea factory!
We were lucky enough to see the very first performance and the Pavilion was buzzing with excited families all ready for the show. You can buy some Pirate merchandise from the foyer which included a flashing pirate sword, pirate hat and of course the show programme. I was briefly tempted to bring my son's sword from last year but thought that was a little mean so after we bought some snacks and drinks I got him a shiny new sword for the show. Sam is nearly 4 now and although he enjoyed it last year I knew this year the ants in his pants had settled a little and bless him he sat through the whole show with a smile (and ice cream) on his face. Little Lucy is only 4 months now and she LOVED it. With the opening scene her eyes were literally everywhere and I'm pleased it wasn't so noisy that she got unsettled.
The show starts on the Saucy Sally ship and the Captain, Crew and Max and Molly the Mice go on another fantastic adventure with each scene guaranteed to make you laugh and tap your toes. The cast are individually brilliant but personally I thought Seadog Billy (Philip Green) stole the show with his hilarious jokes and impressions. We all agreed that he doesn't even need to open his mouth and you automatically laugh! Buckaneer Becky also has a very good sense of humour and an amazing voice. Then there's Captain Filibuster who leads the crew and the very funny and sparkly Sting Ray who is the guardian of the seas. The dancers are all great and we loved the children from the dance school who came out and provided us with more songs, dancing and cheeky little smiles.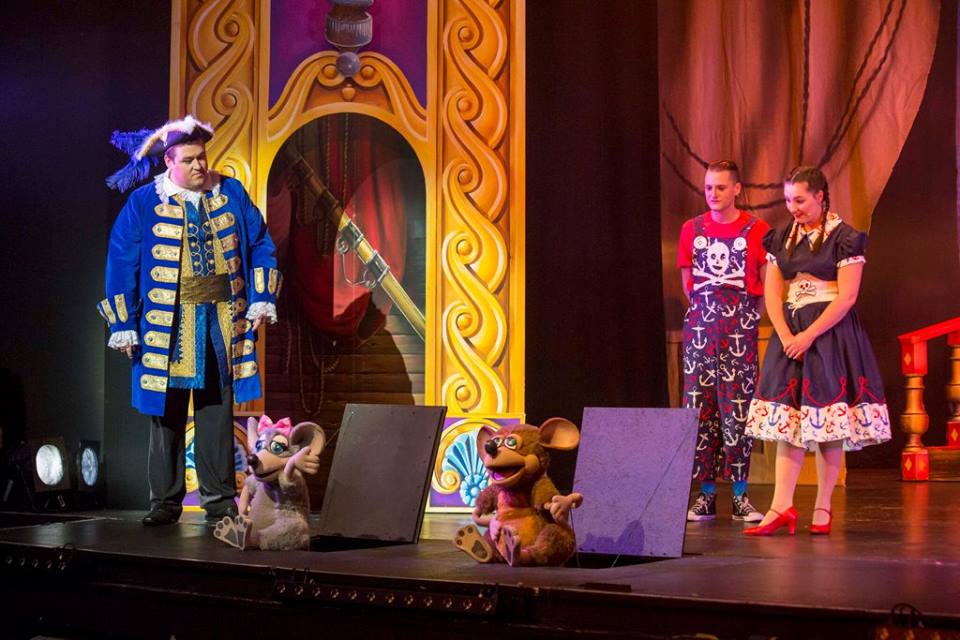 One of the most spectacular parts of the show is when Billy rides on a motorcycle and it comes right out into the audience. There is another scene which was Sam's favourite part but I'm not going to tell you as it was a great surprise and really quite spectacular. As you'd expect with any traditional Panto there's plenty of audience participation, hilarious gags (suitable for kids and the grown up's) and top to toe sparkly costumes.
Poor little Lucy found the excitement a little overwhelming and when we sat down for the second half she literally zonked out on my arms for an hour. While she was asleep she missed flying balls, the crew finding the pirate treasure and plenty of sing songs. I couldn't even stand up for the audience selfie because I was scared to wake her. Luckily she woke up with enough time to dance to the final tune with Sam and Nanny.
When we came out of the show I had to feed Lucy and asked Sam if he enjoyed the show and what his favourite part was. Other than the part I won't mention he said his favourite person was 'Silly Billy' who made him laugh, and boy did he, I looked over several times when he was on Nanny's lap and he was in utter stitches at Billy's jokes and bumbling behaviour.
One of my favourite parts was when the Confetti Canon was let off and I challenge anyone to remember what the following lines were as kids and adults all over were too busy catching little bits of paper floating around.


Good to know and things to note……………….

There is a public car park located behind the pavilion. We stupidly used the multi storey this time because of filming by the Pavilion and we wasn't sure how long we'd be. We paid a shocking £12 for just over 6 hours so we won't do that again!

Don't bother buying drinks and snacks elsewhere. We bought a squash, bag of biscuits and nuts for £1.75. I won't even tell you what we paid in the West End for 2 drinks last year!

There are baby change facilities in the disabled toilets on the ground floor.

If you need to warm a baby bottle then the staff will happily pop it in a jug of hot water behind the bar for you.

If you have a small child or baby then you'll find booster seats and cushions as you go in the Theatre. Sam refused a booster seat but having a cushion on my lap for Lucy was great.

You can buy a flashing sword, programme and other pirate bits from the foyer. We paid £5 for the sword which is good value considering we still have last years which is still going strong. (Not so great at bed time though).

Ice creams are sold in the interval.

The staff and ushers are all incredibly friendly and helpful so just ask if you need anything.

As we walked out I noticed that there were spilled drinks, wrappers and a ton of confetti everywhere on the floor. So if you can, take your rubbish with you to pop in the bin.

Ticket price is £15 per Adult and £13 for Seniors and Children which is very reasonable considering the cost of a trip to the cinema nowadays. There is also a good family ticket price and I've been told there are some free child tickets in some of the popular Weymouth Attractions. Details can be found on the Pirates of the Pavilion Facebook page.
The show is now running every Monday and Tuesday at 2pm and 6pm up until the end of August.

Keep your eyes out on the Dorsetmums Website and Facebook page as we may just have another Competition for another family to attend the show!
I can't recommend the Weymouth Pavilion enough. Having not grown up in Dorset I find that every time I visit Weymouth I am overcome with nostalgia of summer holidays and I love that these feelings are being passed onto my son and daughter. The Pavilion is operated by a non profit Community Interest Company and they provide Weymouth locals and tourists with great family shows and events all year long.

Thanks you to the staff, cast and production crew, we had a great day and look forward to coming back again soon!

If you would like to read more about the Show or to Book Tickets please visit the Weymouth Pavilion Website.