There's so much to do at Marwell Zoo!
Posted on
For our Sam's Birthday weekend we visited Marwell Zoo in Winchester and had a very long fun packed day with endless sunshine and smiles all round. The Zoo in Hampshire has plenty of animals to visit and with lots of fantastic play areas I promise your child will not say 'I'm bored!'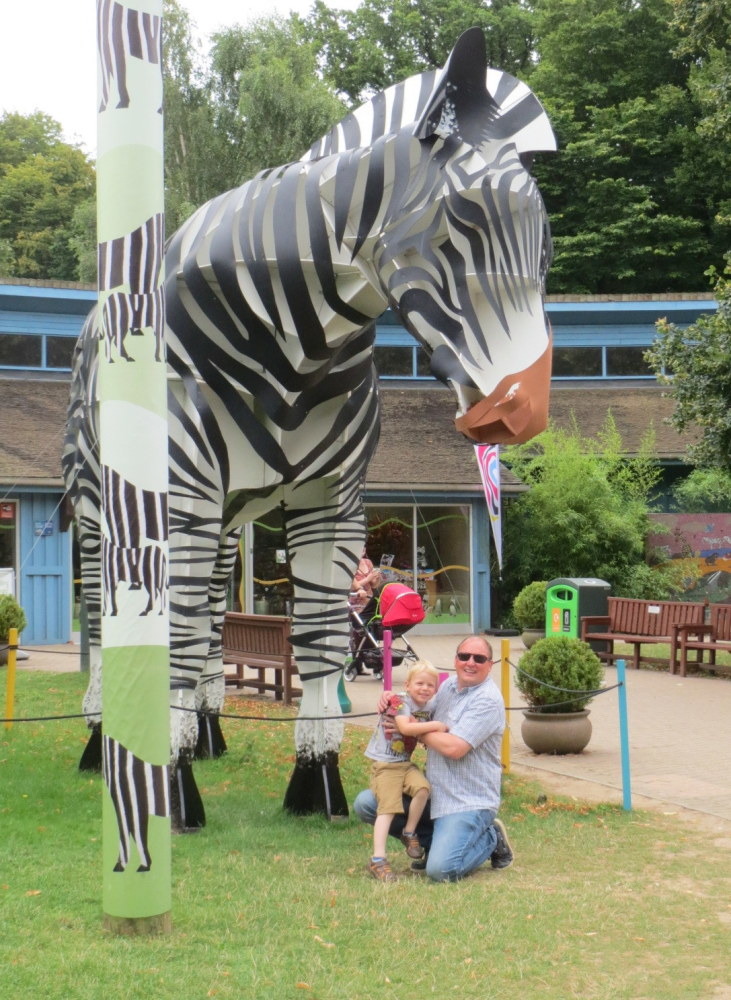 Before we had a chance to explore the park I needed to feed Lucy and Daddy needed a coffee so we headed straight to the café which is situated inside the main gift shop at the entrance. We had a route around the Zoo planned but before we got anywhere Sam saw a tractor (the road train) which he begged to ride so we jumped on and got off a few stops later when he saw a fantastic wooden play area.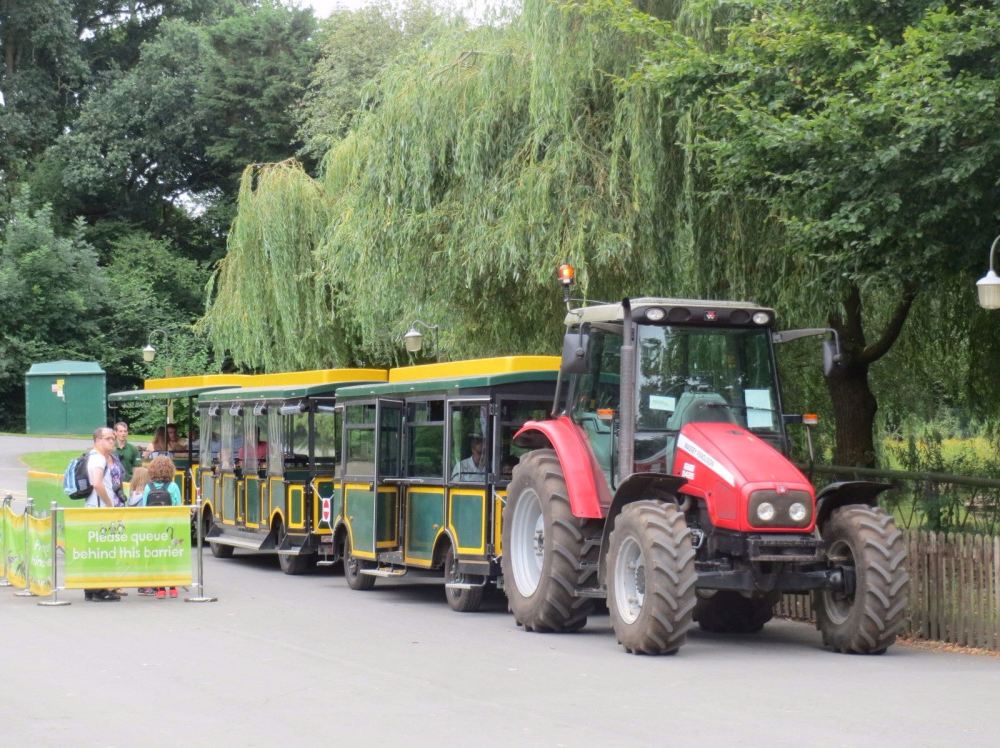 After what seemed like forever we managed to persuade him to come and look for some animals and off we went to explore the 140 acre park. We meandered our way towards Café Graze and said hello to the cheeky Meerkats before we went for an early lunch in case it got busy. My husband sniffed out the BBQ straight away so he opted for a nice fresh burger while myself and Sam went inside to see what we could find. Sam got a kids lunch box which he thoroughly enjoyed (especially the cake) and my chicken stir fry was utterly delicious.
Whilst we were sitting on the decking outside the café a dazzle of Zebras strolled by and we all jumped up to have a good look. There's not many places you can sit and have lunch with such fantastic views of rolling hills and wildlife!

From here we cut through the centre of the park and headed to the Tropical House which we hadn't been in when we visited a few years before. We had a good look around and then I noticed a clear box with big half eaten plants inside and I showed Sam what a leaf cutter ant was. Having never seen them at work before I was fascinated at how they munched a chunk of leaf off and then headed to the corner of the box. It wasn't until a few minutes later when we were looking on the other side of the walkway that I suddenly noticed a clear tube that was running alongside us and inside were all the ants heading to and from Queenie in her nest. I absolutely loved the big sign which accompanied the area explaining how important the female's many jobs were and that the male's job was quite simply to mate with the Queen. It's a hard life boys!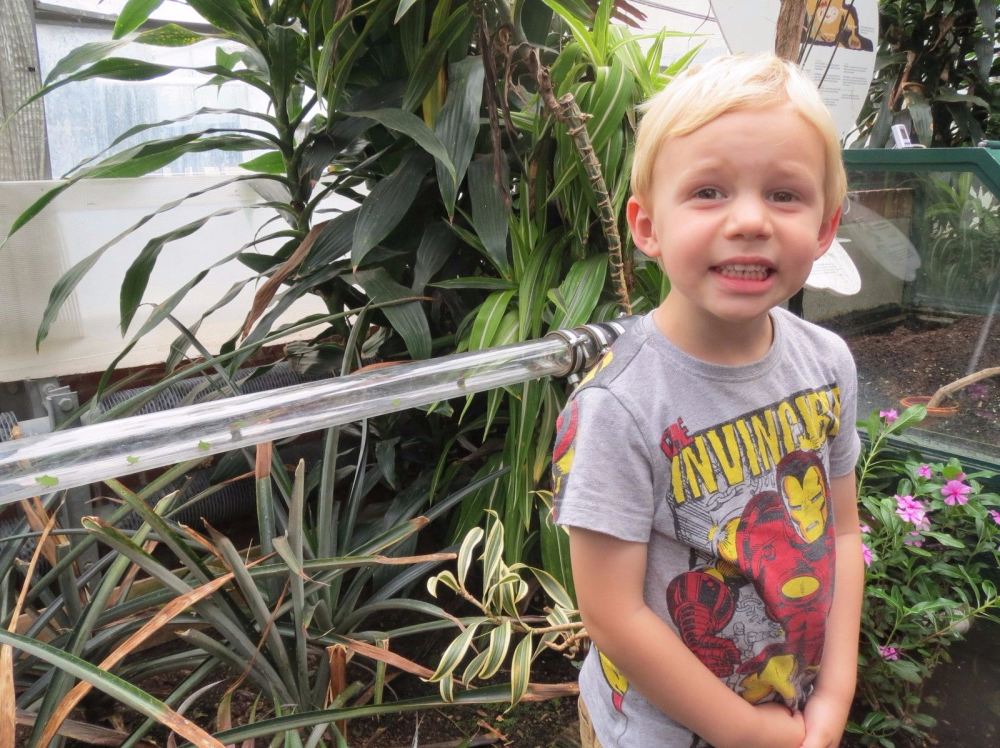 I don't recommend our choice of route at all haha. We had to double back on ourselves a few times so we didn't miss out on animals Sam wanted to see and it's probably best to just head towards the penguins by the entrance and follow the road.

One area not to be missed is 'Wild Explorers' which opened in 2015. This huge new area is home to the white rhinos, scimitar-horned oryx and grevys zebras. Look out for the 'spy in the grass' cameras which means you can watch the animals from the boardwalk even if they are on the other side of the enclosure.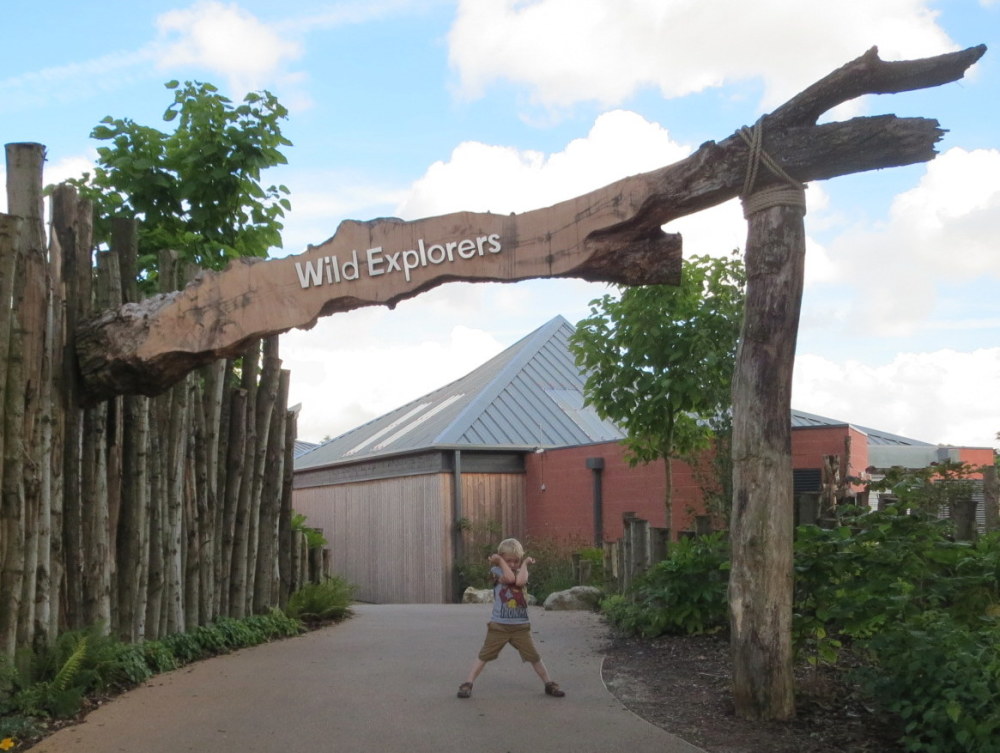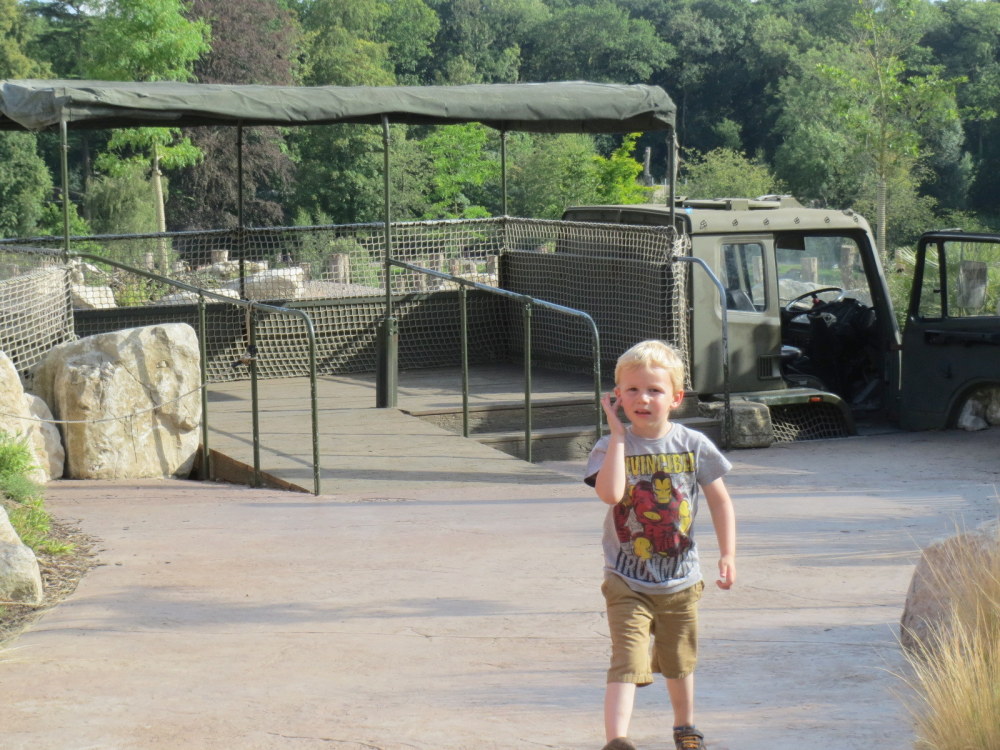 There's hundreds of popular and unique animals at the Zoo including penguins, tigers, leopards, cheetas, pygmy hippos, lemurs, wallabys, silvery marmosets, bongos, birds and even snakes and lizards. One of our favourites were the giraffes who were all inside taking shelter from the sunshine and we spent ages watching them while Daddy desperately tried to stroke one of their heads when they bent down!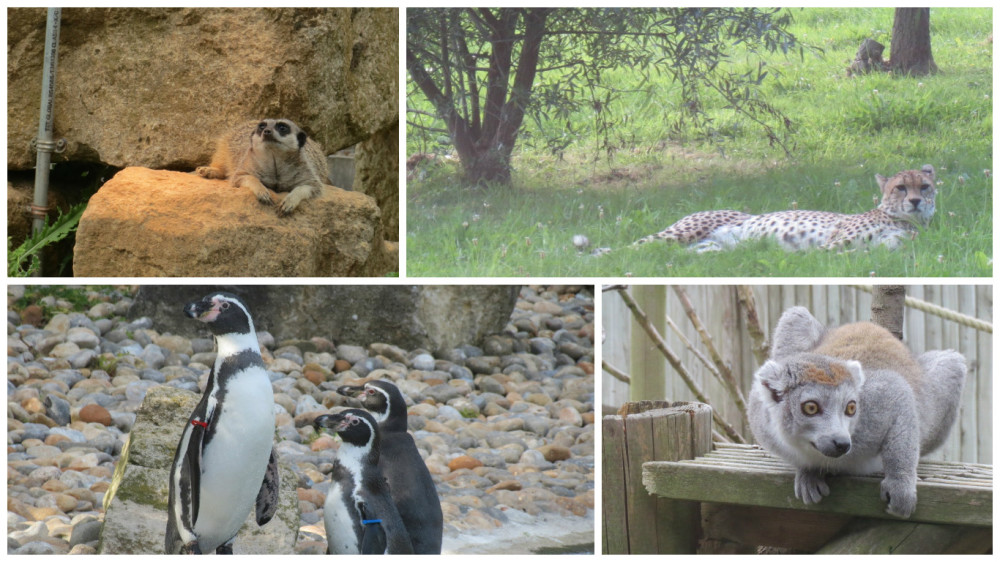 Sam loved seeing all the animals but the second he spotted a play area he was off. This worked out just fine for us as I would feed our baby while Daddy rested his legs with a cuppa (or ice cream).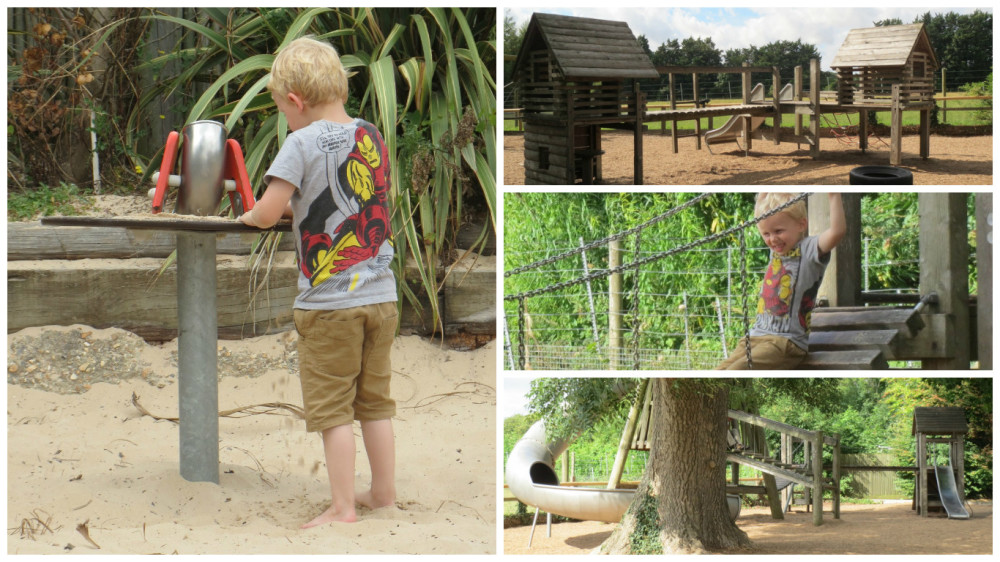 Sam loved all 5 play areas and each one was well tested by him but he spent the longest in the one with the big lion. The only downfall to this is that yet again we didn't get to see all the animals!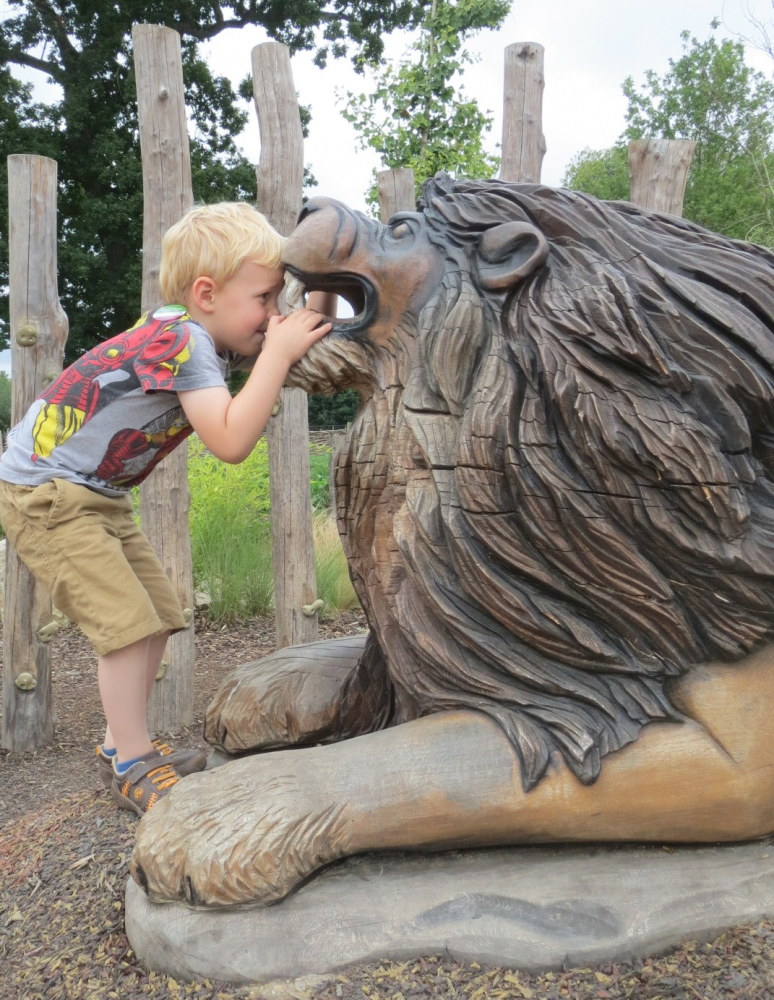 GOOD TO KNOW
Buy your tickets online before you go to save queuing at the gate and if you have a child under 2 then they go free!

The Zoo is open every day of the year except Christmas Day and Boxing Day and times vary depending on the season you visit.

Parking is free but if you take the bus then you get 10% off your admission price.

If you haven't been before then you should consider purchasing a guide book from the ticket desk as it's full of information plus a great park map.

There is an information cabin by the entrance where you can find out the times for the daily talks, pick up a 'lost child' sticker and purchase a Zany Zebra Zoo Trail. Please note though that this trail will end soon and another great trail will begin.

Download the free mobile App 'Marwell Zoo' for a fun quiz and park map.

If you require emergency first aid then you can call 01962 777983.

The road train is free and runs most of the day. There are 6 stops around the Zoo and each one will display a timetable showing when the next train will arrive. There is also a rail train which runs during the school holidays and weekends. Prices for the rail train are *£2.50 per person and under 3's travel for free.

Daily talks and activities can vary from day to day. To plan ahead and see what's on please visit the Website. There's also a map on the Website which actually shows a recommended full day and half day route plus it shows you where all the popular animals are, play areas, toilets, kiosks, eateries and train stops.

If you don't have a 4 year old like us who races off everywhere then you'll notice there are plenty of interesting signs and facts about the animals you're looking at.
All of the Cafes we visited were able to warm our baby milk however there is a microwave in Café Graze which you can use to warm baby food if you wish.

If you are looking to take a picnic then you'll be spoilt for choice on where to stop for lunch. If the sun is shining then you could relax in the grounds of Marwell Hall which is a stunning historic grade 1 listed building however if it's raining then head to the fantastic Wild Explorers picnic lodge which is fully equipped with long tables and chairs.

The Zoo is fully accessible for pushchairs and wheelchair users.

Whilst there are plenty of places to wash your hands it's always good to have a pack of baby wipes to hand and an antibac spray if you have one.

Keep an eye out for all the colourful mini Zebras which are part of the Zany Zebras Zoo Trail. Sam was super excited to find one with his name on!

Free WiFi is available in most buildings.

There are plenty of toilets and baby change facilities located all around the park and these can mostly be found by the cafes and kiosks.

If your child would like to be a wild animal for the day then head to the face painter who can be found in the 'Fur, Feathers and Scales' Zone during the school holidays.

If you want a truly memorable day then you could book a face to face animal experience with the penguins or giraffes or you could even become a keeper for the day!

If it's a hot day make sure to pack a sun hat and take lots of water (although you can of course purchase drinks from one of the many cafes and kiosks). If you've forgotten to bring your suncream then you can purchase some from the gift shop. Just in case the great British weather changes during the day you may want to pack a raincoat too!

If the kiddywinks have been good then there's a fantastic gift shop near the exit selling all sorts of souvenirs, gifts and soft toys.

Marwell Zoo is a registered charity and they need your help to continue their great work in conservation. There are many ways you can support them from buying an annual membership to adopting an animal.

It won't be long before us parents will be thinking about where to see Father Christmas and a visit to Marwell Zoo will be truly memorable. Children can join the elves in the magical Marwell Hall with a festive treat, listen to Mrs Claus tell the tale of 'the animals that saved Christmas', create a candy cane tree and visit Santa himself to say hello and receive a gift. The experience lasts about an hour and includes entry to the Zoo which means you'll get a fantastic family day out rather than just a quick trip to see the big man. Please note, pre booking is essential, for more details please visit the Website.

For full Zoo information, location, ticket prices and details on children's parties please visit the Website. To keep up to date with animal news and events then please visit the Marwell Zoo Facebook page.

If you're looking to make a weekend of it then Marwell have their own hotel which looked fantastic. As we were planning to go to Paultons Park the next day we stayed at Travelodge Southampton Eastleigh and couldn't fault them one bit. The location was excellent, the family room size was huge and the staff were incredibly friendly and welcoming.

If when you leave you'll be looking to feed the children before they fall asleep then I thoroughly recommend The Rising Sun which is only a few minutes away. We spotted the play area and bouncy castle from the road and turned the car around much to Sam's delight. This pub/restaurant was the perfect end to a perfect day as the staff were friendly and efficient, the food was fantastic and we ended up spending a very enjoyable couple of hours in the sunny garden.
Thank you Marwell Zoo for another fantastic day out. You've thought of everything a family needs and every member of staff we met was incredibly happy and enthusiastic about their work. We still haven't managed to see everything in the Zoo so we'll be back again next year to discover more!

Love
Dorsetmum and Family
xxx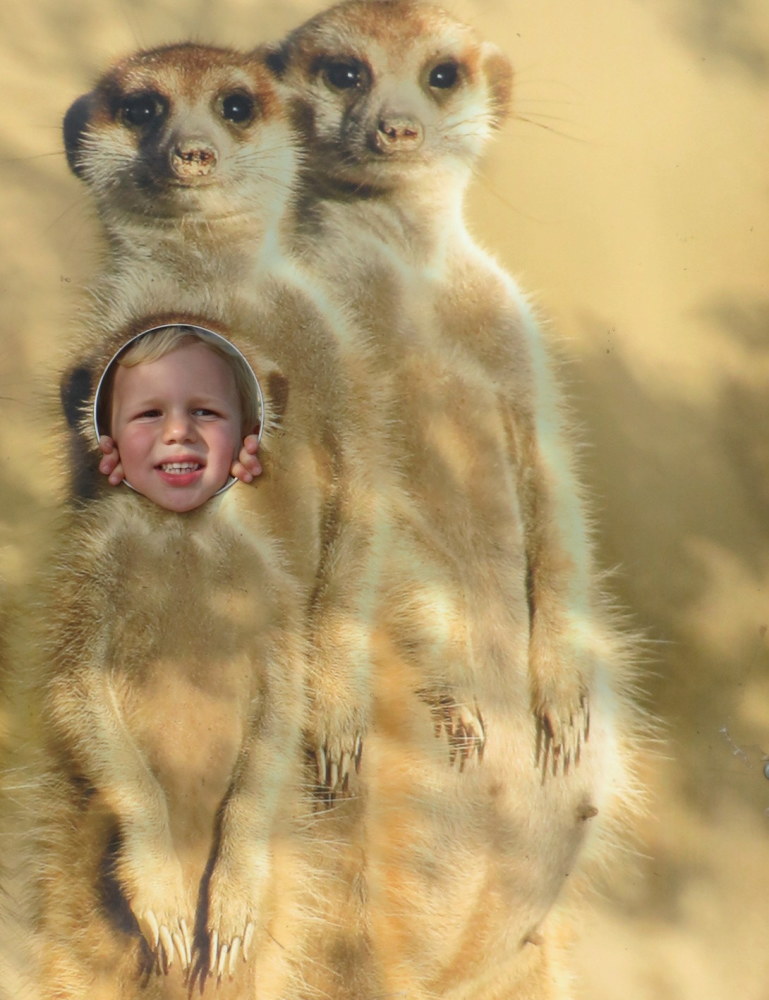 For great days out with the family in Hampshire, head over to Hampshire's Top Attractions, where you can view over 50 attractions in the county and The Isle of Wight and also download money saving vouchers for your days out. Find out more here.
*Any prices stated are correct at the time of writing and may change in the future.