Sam's 4th Birthday Celebrations at Paultons Park
Posted on
We visited Paultons Park 2 years ago on our Sons second birthday as we knew he would enjoy Peppa Pig World and found there so much there to explore. Now, our baby boy has got much taller and braver and so for his birthday this year we returned to discover the new Lost Kingdom and yet again we had the most amazing day!
We'd been told by friends that most people head towards Peppa Pig World when they get there so we decided to do this mid afternoon in the hope that it may be quieter. Myself and my husband have always been huge theme park fans and although I find rides scarier since having kids I'll still have a go and try not to scream the place down! On the way to our first ride we walked past the empty 'Water Kingdom' which is a huge splash park with water jets, fountains, super soakers and a giant tipping bucket. It certainly wasn't empty at the end of the day when all you could hear nearby was screams of happy children.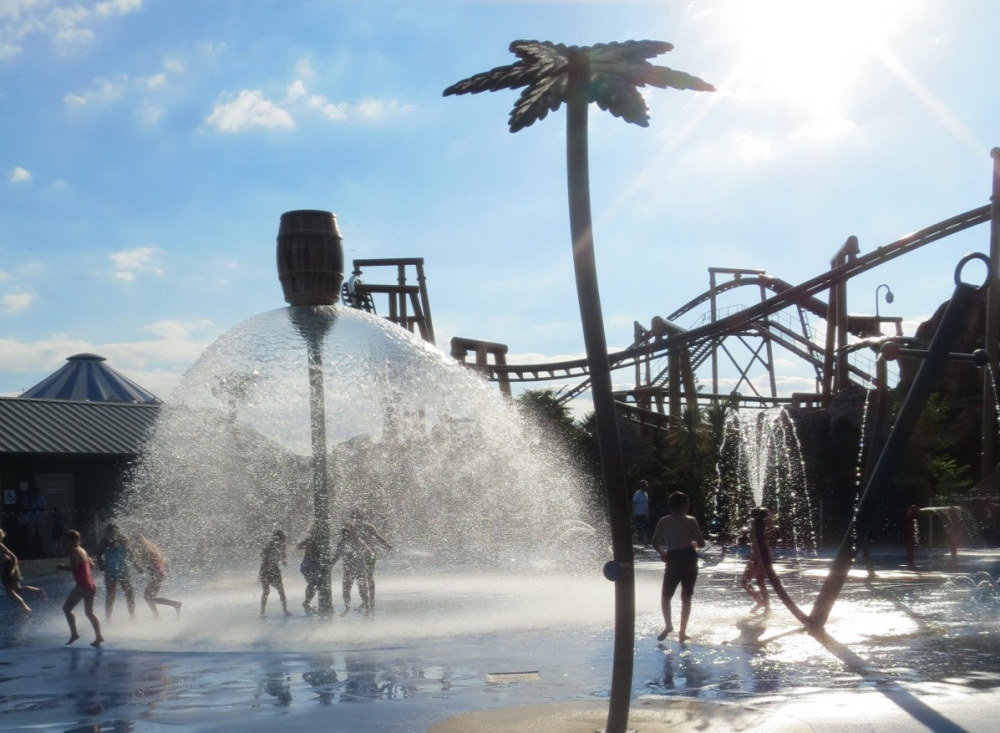 On entering the Lost Kingdom we first noticed the fast ride called 'Flight of the Pterosaur' and I knew my husband would want to take my son on which I was worrying about. Our boy seems to have no fear with rides and although he was old enough and tall enough I still felt that this was a big boy ride and the tame rollercoasters he'd been on up until now were in a completely different league. Before we had time to discuss it we noticed a Dinosaur in a paddock and headed straight over say hello. It really was the most life like animatronic Dinosaur I'd ever seen and Sam wouldn't go anywhere near it even when I whispered to him that it wasn't real. In fact, even Rory the baby dinosaur we met during the day was far too realistic for him but little Lucy had a go at stroking his head.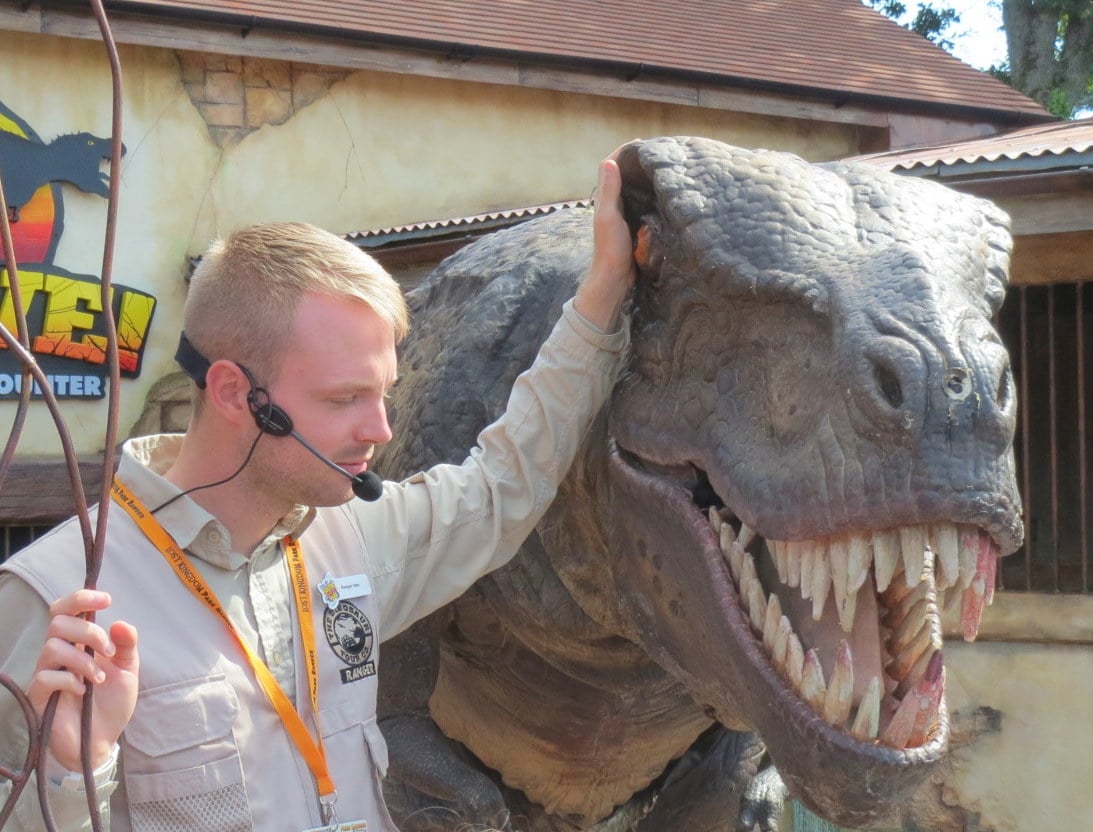 And so came the argument I was dreading and after watching Flight of the Pterosaur go round I told my husband I wasn't comfortable with Sam going on. I asked Sam what he thought and of course to my husband's delight he said he wanted to go on. So I sat on a bench in the shade where I could see the start of the ride and it wasn't too long before my little man jumped on the front row seat with his Dad. I was literally having palpitations as I watched him sit down with his tiny legs dangling and within seconds they were off. I raced to the exit and met them both with a big beaming smile. Wanting to get on a ride myself I asked if he'd like on go on the purple one (Velociraptor). Big mistake! As soon as we went up the first steep slope his face changed and he said 'Mummy I don't like it' to which I hid my own fear and put my arm across him and tried to chirpily scream 'it'll be over in a minute' as we whooshed at high speed back down the track!!! Luckily it was a short ride and my husband thought it was hilarious that the ride I didn't want him to go on he loved. I did actually go on Flight of the Pterosaur later in the day and even I had to stifle a scream (not cool when you're sitting on your own). I have no idea how my boy wasn't filled with utter fear as my hands were shaking when I came off! He didn't ask to go on twice though haha.
From there we went on to discover the rest of the Lost Kingdom and found a great little dinosaur themed play area. We also rode on Boulder Dash which Sam loved, took a Jurassic Jeep expedition where he saw lots of dinosaurs plus he tried the Temple Heights ride and the Dino Chase rollercoaster.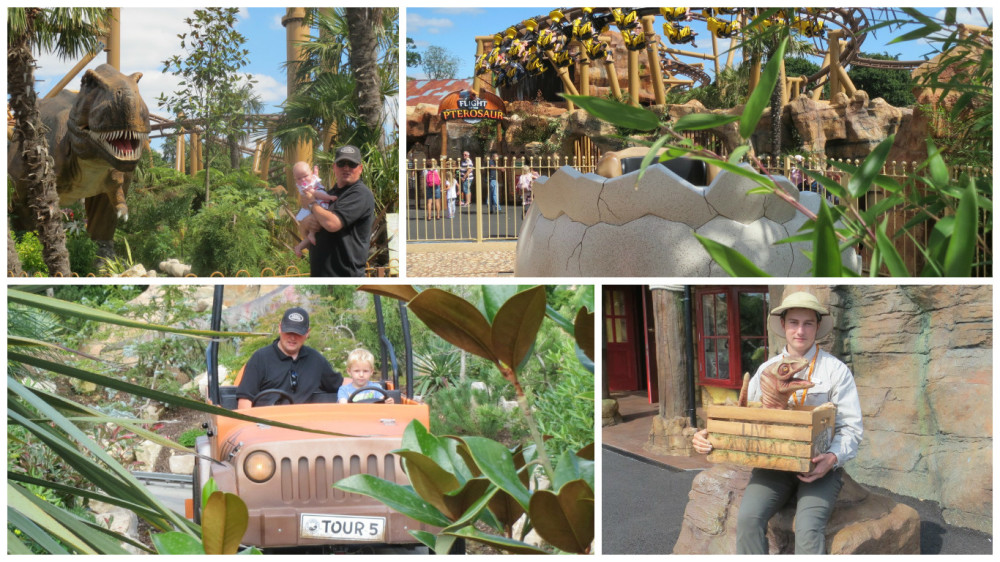 By this time we were all getting a bit hungry so we headed to the main restaurant at the entrance called 'The Wild Forest'. For children they have a 'Wildlings' menu which offers hot dishes or you can have a lunch box meal which includes a sandwich, carrot sticks, yoghurt, raisons, piece of fruit and a drink all for £4.25. My husband went for the Caesar Salad with added chicken and bacon and I had a burger and chips which we both thought for quite tasty but maybe a tiny bit too expensive.

From here we headed to Peppa Pig World and was greeted with the buzz of happy noisy children. Peppa and George were busy outside the school house having their picture taken with the boys and girls. We never went to any theme parks as kids and I can only imagine that if as an adult you look around in amazement then it must just be mind blowing for a small child!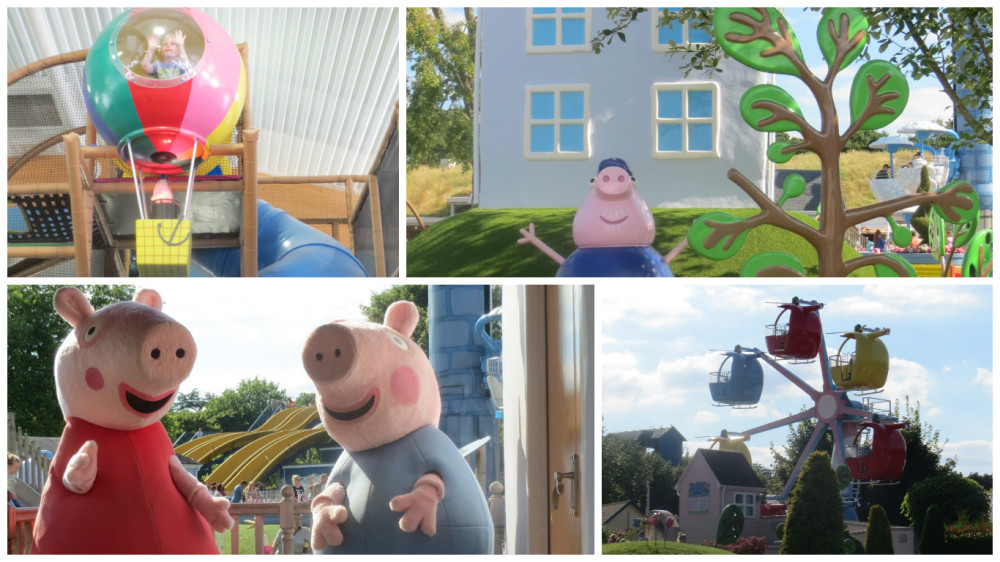 We asked Sam what he wanted to do first and of course he begged to go to the Playzone as I'd previously mentioned there was a soft play. Luckily it was quiet in there and it gave us a chance to sit and relax for a bit while Lucy slept. I had planned to buy Sam a birthday cake before we went but I was worried about it getting too hot so while he was playing I nipped into the café next door and bought him a huge chocolate muffin which I stuck candles in so we could sing happy birthday.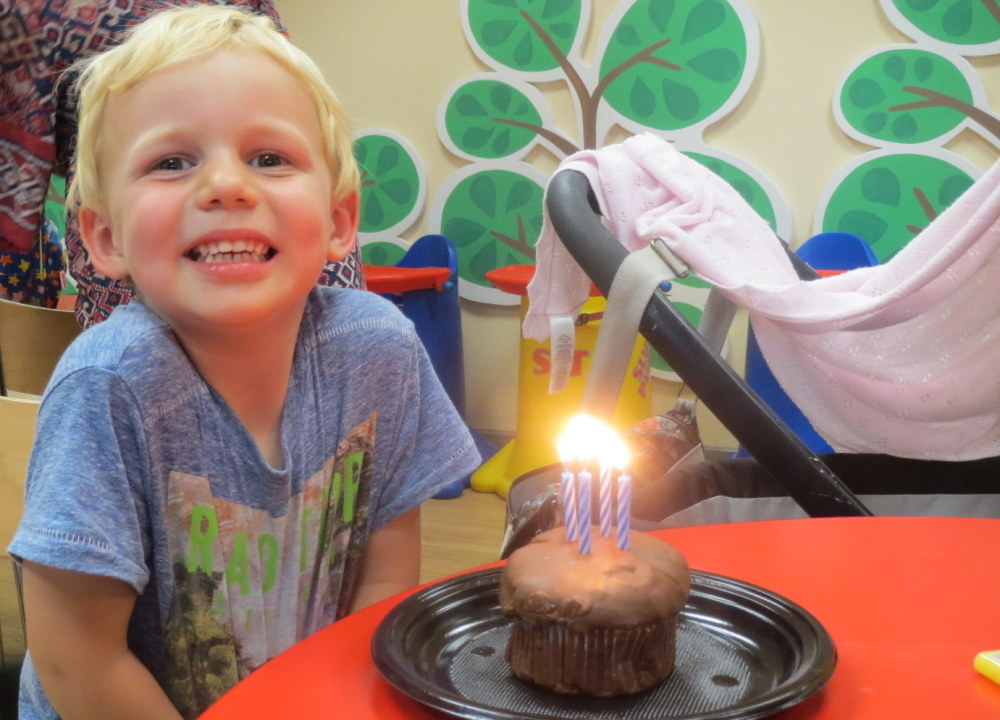 We took a good look around Peppa Pig World and visited the animals, rode on the balloon and played in the play park. We have been on all of the rides in Peppa Pig World now so Sam asked to go back to the Lost Kingdom.

In between Peppa Pig World and the Lost Kingdom there's plenty more to discover including roller coasters and water rides, go karts, trampolines, parks animals and the beautiful gardens.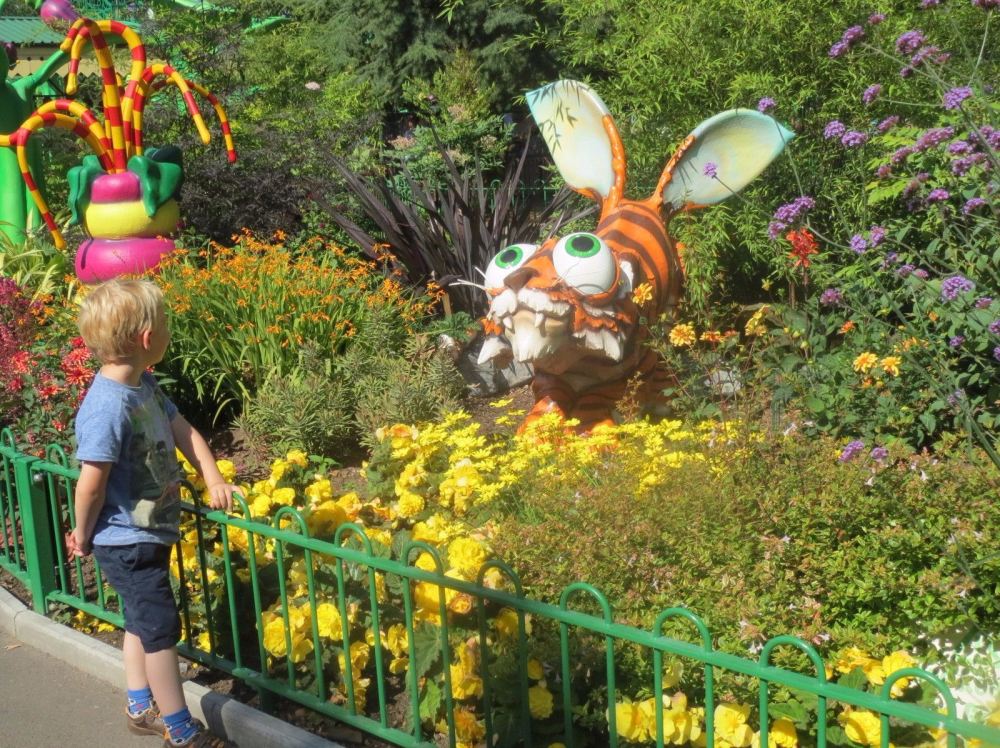 By this time it was getting late in the day and Sam had been up since 6.30am and I could see he was really starting to get tired. We didn't make it as far as our planned destination as there's a great play area before you enter and he was just happy to play there with all the other children. Although the rides had now closed (5.30pm) there were still crowds of happy families enjoying the sun and my husband suggested we get out of the car park before we risk getting stuck in traffic. Before we left we took a very tired Sam through the amazing Gift Shop so he could choose a birthday toy to take home and he left as one very happy bunny.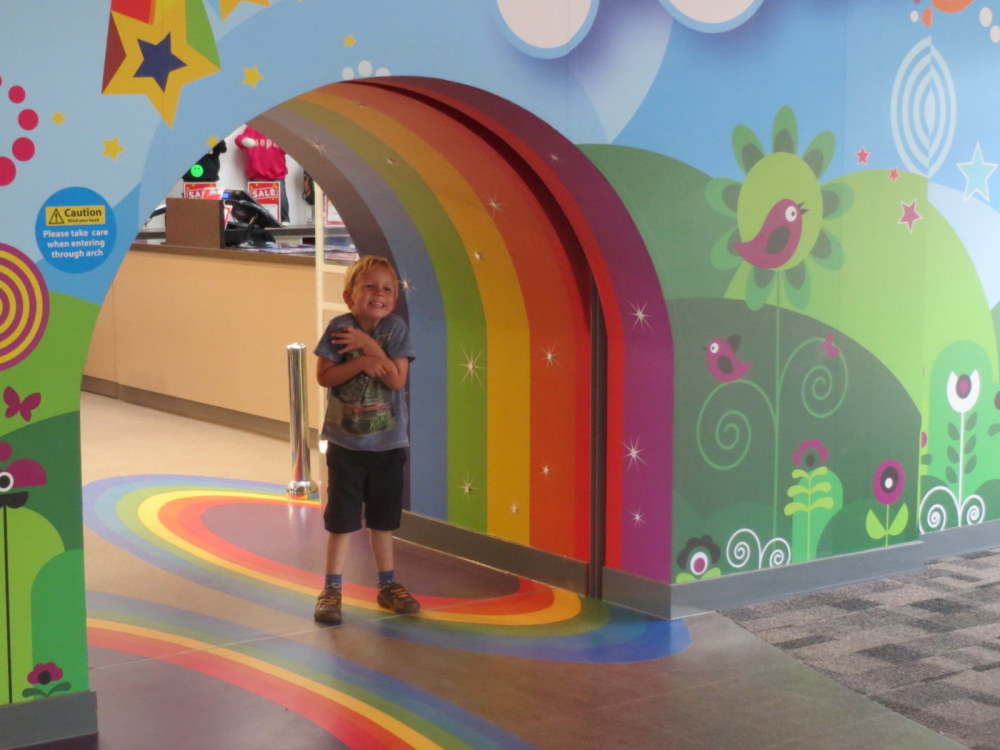 GOOD TO KNOW………………

Admission discounts are available online if you book in advance and children under 1 metre enter for free.

If you live nearby then you may wish to consider a season ticket which is equivalent to roughly 4 visits and well worth it.

There's too much to do in one day so you could make a weekend of it and get a 2 day pass or take advantage of the short break offer which includes 2 day park entry and hotel stay (2nd day is free).

If you have a huge Peppa fan at home then visit the Website to take a look at 'Peppa's Early Play and Ride Pass' where the kids can have a personal meeting with Peppa and George plus they can enjoy the playzone, outdoor play areas and Peppa rides before the park opens to the general public.

The Baby Care Centre has facilities for changing and feeding babies. There are also baby change facilities in the ladies and gents toilets around the park. Just ask the staff in any of the eateries if you wish to warm a baby bottle and they will do this for you.

Free WiFi is available at the Park.

If you have a Birthday boy or girl with you then let the staff know in the gift shop so you can receive your special Paultons birthday badge.

The First Aid Centre can be found in Show Street which is near the entrance. This is also where you'll find Lost Children stickers.

There are plenty of standard sized lockers in the park and larger lockers can be found at the entrance. Single and double strollers are available to hire from the guest information desk. Full details and prices can be found on the Website.
Meet Peppa and George outside the school house in Peppa Pig World at selected times during the day. You might also be lucky enough to see Mummy and Daddy Pig, Zoe Zebra and Suzy Sheep who will be occasionally wandering around the park.

Peppa Pig World has 7 great rides, brightly coloured building and animations plus the muddle puddles splash area and George's Indoor Spaceship. Full details are here.
If the little one's get tired legs then hop on the Rio Grande Train which takes you on a nice scenic tour around the park. The Train station can be found on the way to Peppa Pig World.
Like Adventure Golf? Challenge the family to a game through the abandoned Californian Gold Mine. £1 deposit per club is required.

Penguin Feeding Times are at Noon and 3.30pm but this may vary so please check on the day.

If you are all unable to ride at the same time like us then you can do a 'Tots Swop'. Full details can be found on the Website.

To ride on Flight of the Pterosaur and Velociraptor children must be at least 1 metre and a minimum of 4 years of age. Other rides have a height restriction which can be checked on the Website before you go.

The Show Street 4D Cinema is currently showing 'The Lost World' which looked great but as I sat to feed Lucy outside my son and his dad came out and said it was too noisy for him so it maybe not suitable for little one's.
There are plenty of eateries and kiosks around the park selling hot and cold drinks, snacks and ice creams. The Wild Forest Restaurant can be found at the entrance of the park and sells a wide range of main meals, snacks and sweet treats.

If it's a hot day you may consider taking a little cool bag with drinks in. We knew we would be staying for lunch and mid afternoon ice cream so it was nice to know we had cold drinks on us for the rest of the day. There are plenty of places to enjoy a picnic around the park too, especially if you put a blanket down in the gardens which are in front of you as you enter the park.

Pushchairs are not allowed in the queue's so you'll need to take any valuables and in the queue with you.

Remember to pack socks if your child wants to go in the playzone and pack swimming costumes and towels for the water play areas.

If it's a nice sunny day and you forget your suncream then you can purchase a bottle from the gift shops and some food kiosks.

The gift shop is huge and will have something for everyone and to suit every budget. There's also a huge amount of character toys other than Peppa Pig including Star Wars, Paw Patrol and the Avengers.

Paultons is very accessible and located near Southampton. The park is easily reached by train and bus and if you are driving then parking is free.

If you looking to book a Santa experience then you should consider Paultons Park. We've never been before however we have been told it's a brilliant experience. New for 2016 there's the 'Rudolph Adventure' where children can join Rudolph on his adventure to find Santa in his magical Grotto. There's also selected rides and attractions which are open plus the Cinema will be showing 'Sleigh Ride' in 4D and there will be Christmas musical performances and illuminations.
So, I think it goes without saying that we love Paultons Park! There's enough rides and attractions there to keep our boy amused as he gets older and little Lucy will I'm sure be enjoying Peppa Pig World in a year or so. Well done Paultons, you really have thought of everything and we look forward to coming back again soon.

Love
Dorsetmum and Family
xxx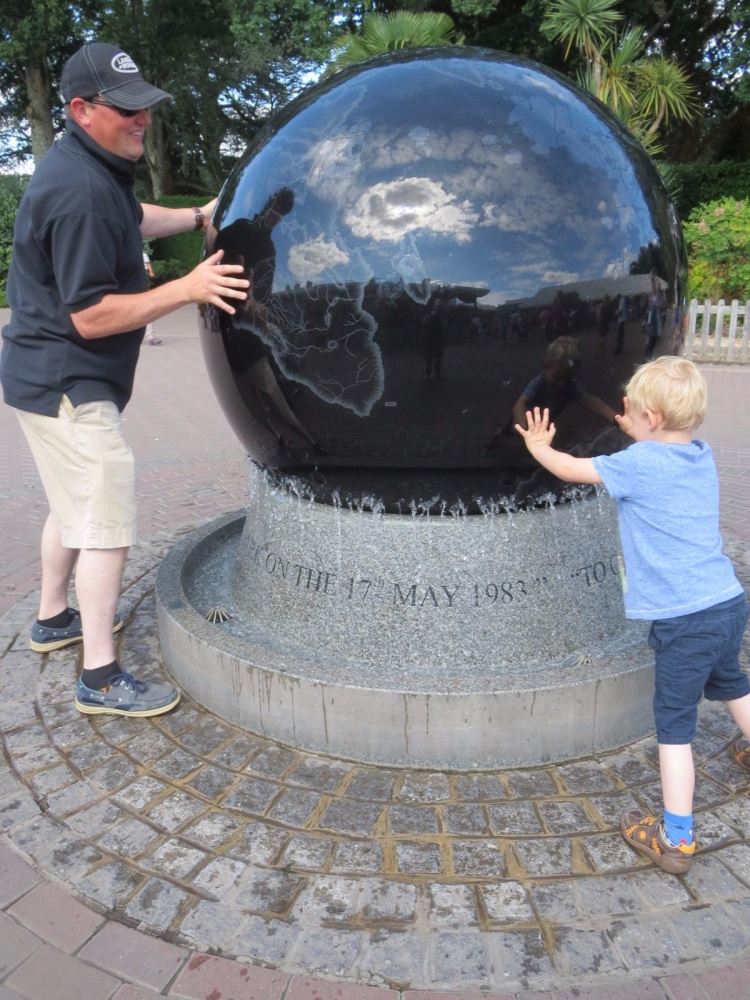 For great days out with the family in Hampshire, head over to Hampshire's Top Attractions, where you can view over 50 attractions in the county and The Isle of Wight and also download money saving vouchers for your days out. Find out more here.
*Please note any prices mentioned are correct at the time of writing and may change in the future.