Our trip to the new Oasis Fun Centre in Bournemouth
Posted on
During the October Half Term we made a spontaneous decision to head to the new Oasis Indoor Fun Centre in Bournemouth and had a fantastic couple of hours exploring this great new family friendly venue.

I knew I was taking a risk by going in the busy Half Term but by mid afternoon it did quieten down and I felt I could relax a little more without children running past me screaming with excitement and joy.

The Indoor Fun Centre is situated in Glen Fern road and there's a public car park right outside with prices starting at £1 for an 1 hour.* You absolutely won't miss where you're going as the signage is huge and you just need to head for the main door and go downstairs via the lift or staircase. The first thing you'll see is the amazing Jungle themed Adventure Golf Course. We had a good nosey and although we didn't play a game I'm sure everyone will enjoy all the sounds, animals, plants and obstacles which lead you around the course.
If you're planning on going into the Soft Play then you'll need to head to the main reception first and pay before taking your ticket over to the play area. Prices are quite reasonable at £4.50* for children aged from 1 to 3 years and £5.50* for children 4+, babies and adults go free which is great. My first impressions of the Soft Play were 'wow'. The beach theme really is brilliant with a Hawaiian style café/bar area, beach hut designs on the wall and bright colourful tables and chairs.
They have a safety gate to get in and out which I love and tables and chairs which run the length of the play area so you can watch the children wherever you are. My son wasted no time in running off and once I was settled I took my baby to what I presumed was the baby area with soft shapes, ball pit and a little slide. Before I went in I had noted that there was lots of big kids in there but thought that maybe once I go in with my baby they will leave. Sadly not and after trying to protect my bubba from flying balls for a few minutes (and yes I did kindly ask them not to) I decided to leave and headed back to the table. I did ask 2 members of staff while I was there what the recommended age was and were told they were for babies and toddlers but neither of them asked the bigger kids to leave which was a shame. I did however bring this up the manager when I spoke to him and maybe suggested some sort of sign with the recommended age so at the least the children and parents could take note.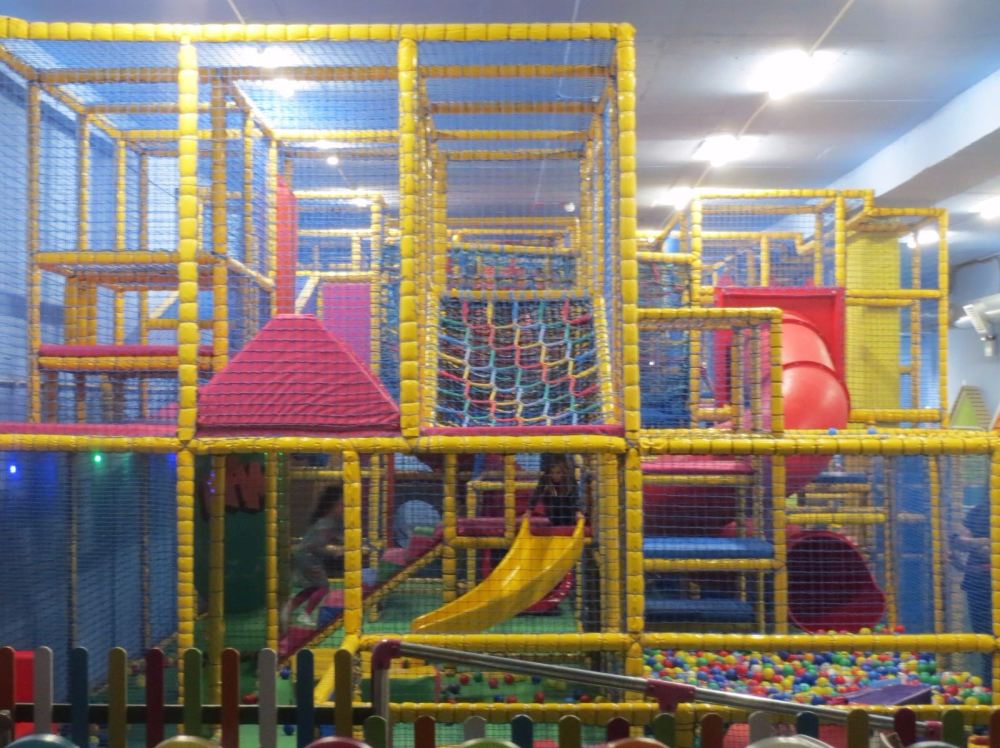 I did manage to enjoy a nice cuppa in there and the staff kindly warmed by baby's bottle for me. My son was having a great time once he made a friend and I only really spoke to him when he ran over sweating and begging for a drink. I tried to have a good look around while he was playing and the Soft Play seemed to have everything a highly energetic child would require with a multi level play frame, slides and obstacles. There was one section I was nervous about and that was an area filled with huge inflatable balls which the kids loved jumping around on. I was hoping my son wouldn't go in there as it was filled with older children but he jumped in and when I went over I noticed a few Mums asking their children to come out as they had overhead that the little one's were falling between the balls and not being seen. (Please note this was also mentioned to the manager who is looking to remove some of the balls so that this won't happen in the future).
We must have been in there for almost 2 hours before deciding it was time to leave and overall we thought the place was fantastic. Weekends and school holidays will always be busy in places like this but if you have a pre schooler then this will be the perfect place to meet with friends in the week.


Tips and FAQ'S

There are toilets with baby change facilities within the Soft Play area.

The staff will happily warm a baby bottle for you if asked.

Food can be ordered and eaten in the Soft Play. Dishes on the Menu included pizza's, burgers, hot dogs and paninis with a children's menu set at £4 for a hot meal.

For Soft Play, Bowling and Adventure Golf prices please visit the Website.
Oasis offer party packages with prices starting from £13 per child which include a buffet, activity of your choice, exclusive use of a party room, drinks and a party host. (Added extras are available)


Entry into the Fun Centre is free if you wish to simply play on arcade games, have a drink or eat in the American Diner.

The Fun Centre is open from 10am to 11pm 7 days a week!

If you have any questions and would like to speak to a member of staff then please call 01202 311611. For further details including location please visit the Website.
Thanks Oasis for bringing somewhere shiny and new for the kids to play in, the staff were all lovely and the décor was very colourful and imaginative. We'll most certainly be back another time for a game of golf and dinner in the American themed Diner.
Love
Dorsetmum
xxx
*Please note any prices given are correct at the time of writing and are likely to change in the future.