Our Bournemouth Oceanarium Review
Posted on
Come rain or shine, the Oceanarium in Bournemouth is one's of Dorset's best attractions and there's plenty there to keep the kids entertained for at least a couple of hours (as long as the children don't run past every tank at lightning speed)! Everything to see and do is indoors which is great if it's raining outside but your ticket is valid all day so it's perfect if the sun is shining and you want to break up your visit with a play on the beach.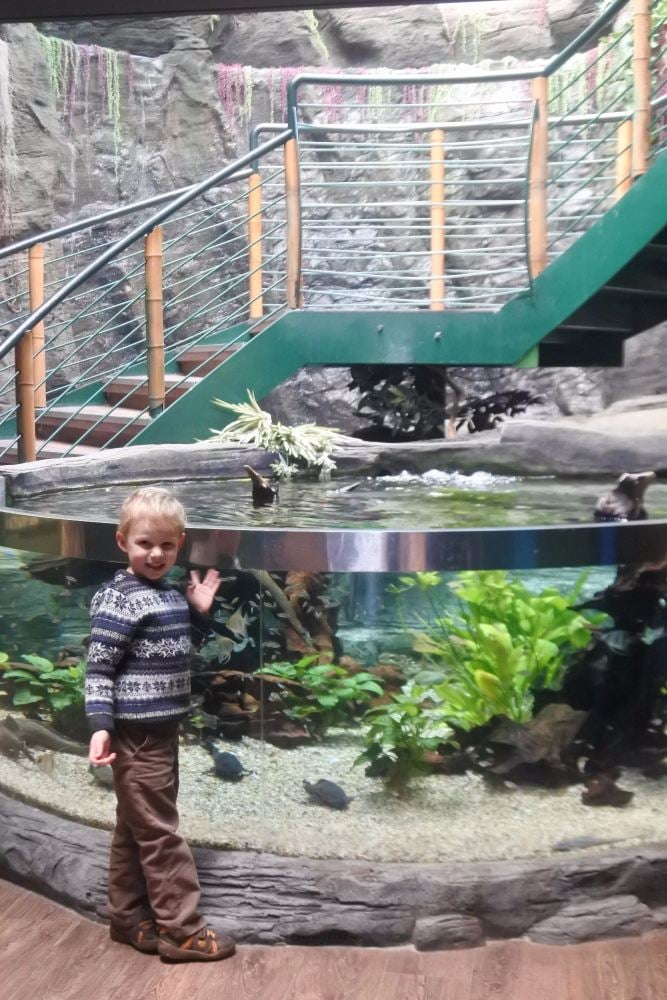 The staircase, main toilets and lift are just after the admissions desk and the buggy park can be found just as you come out of the lift at the top of the stairs. Make sure you take everything you need though and don't do what I did and have to go back 3 times because I'd forgotten something! You can of course take your buggy around with you however it can get busy and difficult to manoeuvre at times.

Before you head off exploring make sure to pick up an Adventure Quiz Trail which the children will enjoy. It's full of questions and we had great fun trying to find the answers until we got distracted by the Turtles and then unfortunately it got forgotten. If you do complete it though, make sure you claim your sticker at the admissions desk.

Now that our baby is on the move she's longer happy to be in our arms and she LOVED it! Luckily it wasn't terribly busy (and the floors were very clean) so she had a whale of a time crawling around around and pulling herself up to the lower tanks to stare inside and watch the fish darting around.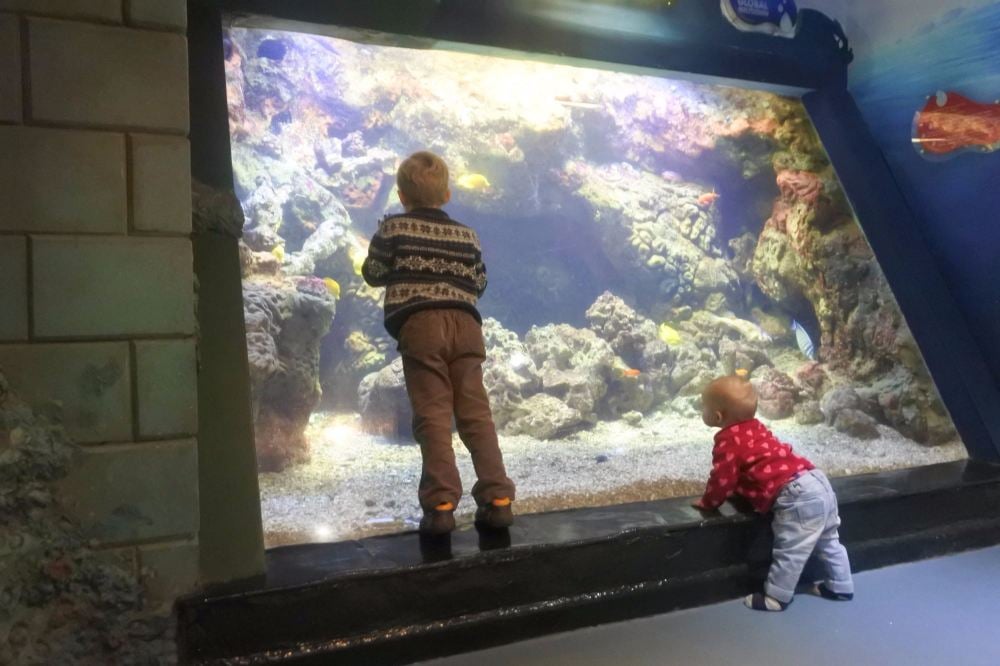 The Oceanarium has 12 themed environments to explore, from the Amazon to the Great Barrier Reef and over 150 different species of fish which include shark's, clown fish, sting rays and turtles plus otters and some very unusual little creatures. One of the most popular areas for us and many others was to stand on the wooden balcony where children can look down on the huge turtles and sharks.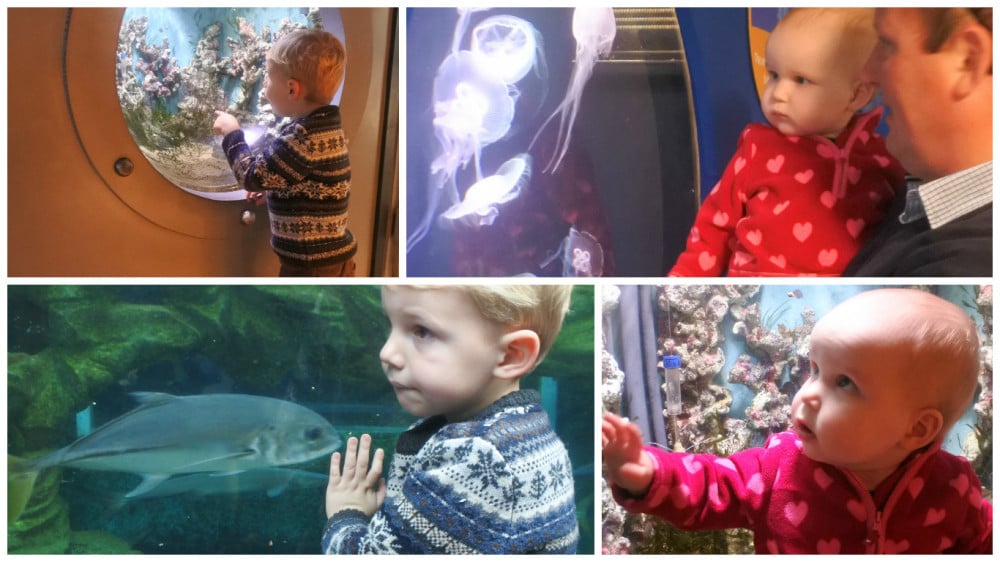 As you trail around the Oceanarium you'll see plenty of tanks, visual aids, TV screens, facts, and activities. After an hour or so we saw a sign for the Penguin area and my son was delighted to see a little play area and ran straight off for some climbing fun. The new play area is in a lovely large room with a viewing screen of the penguins on one side, tables and chairs on the other and a kiosk selling snacks and drinks (open on busy days). At first we thought this was all we would see of the penguins but then we noticed a door and staircase at the other end of the room and upstairs we found a lovely outdoor terrace area and the larger penguin enclose where you can view them jumping in and out of the water.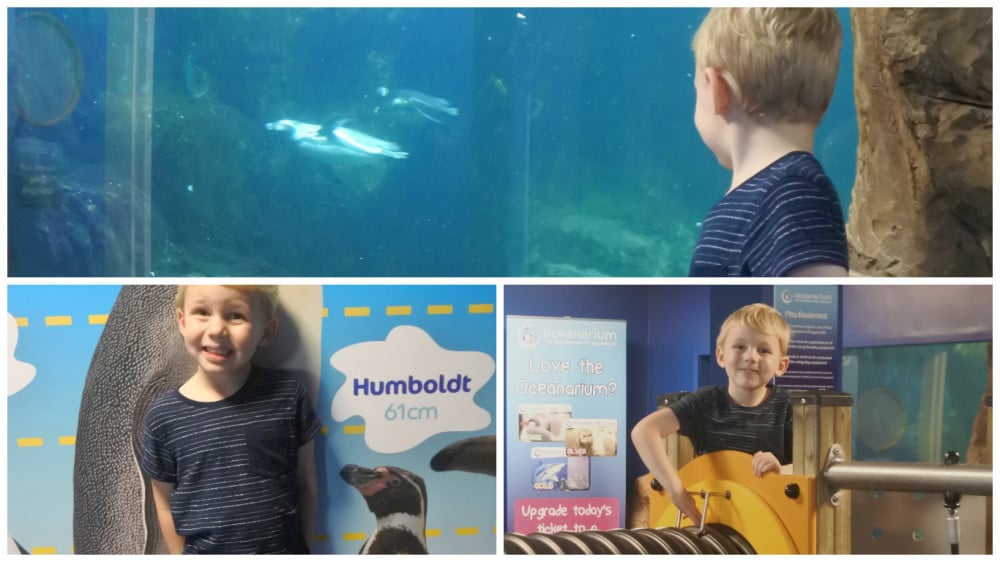 We must have spent a good hour in the little play area while Sam climbed and jumped and Lucy enjoyed a bottle of milk. Once we FINALLY managed to get him out we went on to discover the tunnel and spent ages watching the turtles and sharks swim overhead.


Tips and FAQ's………

The Oceanarium is open every day of the year except Christmas Day.

Ticket prices are very reasonable and the further in advance you buy them the cheaper they get.

Children under the age of 3 enter for free.

If you are local to Bournemouth then it's worth considering an Annual Pass. There's a Bronze, Silver and Gold option available with prices varying depending on how often you think you'll be able to visit.

Children's Party Packages are available at the Oceanarium and include admission, a host, a tea party with your choice of hot or cold food, a special animal experience for the birthday child, party bag, party invitations and a free return visit for the birthday boy or girl!

As you enter the Oceanarium you'll find the Offshore Café and terrace on the ground floor which has a varied Menu including sandwiches, pasties, cakes and hot/cold drinks. If you're looking for a souvenir of your day then you'll also find a fantastic gift shop offering everything marine related form soft toys to books.

If you are looking to treat a loved one or want to make your day extra special then you could book a penguin, otter or turtle feeding experience.

Toilets and baby change areas can be found in the entrance and in the penguin area.

Cleanliness is very important to me when I'm out with the kids. I normally wouldn't dream of letting my baby crawl around the floor so much but everywhere was incredibly clean including the toilets and baby change areas.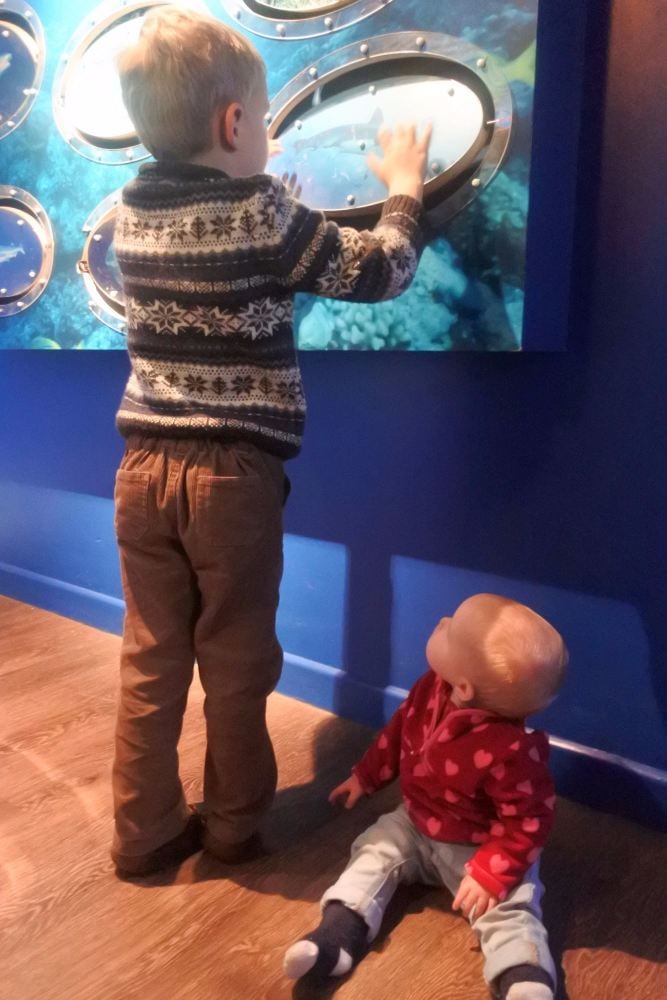 Lots of the tanks have steps which is great for independent little one's who like to see everything for themselves. There's also a few chairs dotted around which is perfect for those who are pregnant or the elderly who may occasionally need to rest their legs.

Feeding times and talks are on throughout the day and include the otters, penguins, sharks and turtles.

Be sure not to miss the penguin beach encounter with the Oceanariums newest residents. The colony of 10 super cute penguins can be found chilling up on the rocks or dashing around in the water.

There's a map on the Website if you'd like to see what you can discover before visiting.

There's no parking on Pier Approach but there is plenty of pay and displays nearby. The further you park the cheaper it will be.

For more details and to book advance tickets please visit the Oceanarium. For news and upcoming special offers special visit their Facebook page.
I can thoroughly recommend the Oceanarium in Bournemouth. It very easy to find on Pier Approach, the staff are very friendly and helpful and both big and little kids will enjoy discovering everything inside.

PS, my photography skills could have been better but the little blighters in the tanks kept moving!

Love
Dorsetmum and Family
xxx