The Great Brick Safari at Marwell Wildlife Zoo
Posted on
We visited Marwell Wildlife Zoo in Hampshire at the weekend to check out the Great Brick Selfie event which is running until the end of this week and can't recommend it enough.

When you arrive you must make sure you collect a map of the Lego sculptures and marvel at the incredible animals you'll find dotted all around the park. Over 2 million pieces of Lego have been used to make these 81 sculptures which represent 27 different species. I was very disappointed to have missed the 1.5 tonne elephant but we literally spent the day running around enjoying ourselves and totally forgot to look at the map for most of the day. Some of our favourites were definitely the tiger, a kangaroo with a little joey in her pouch, an ostrich and the bats.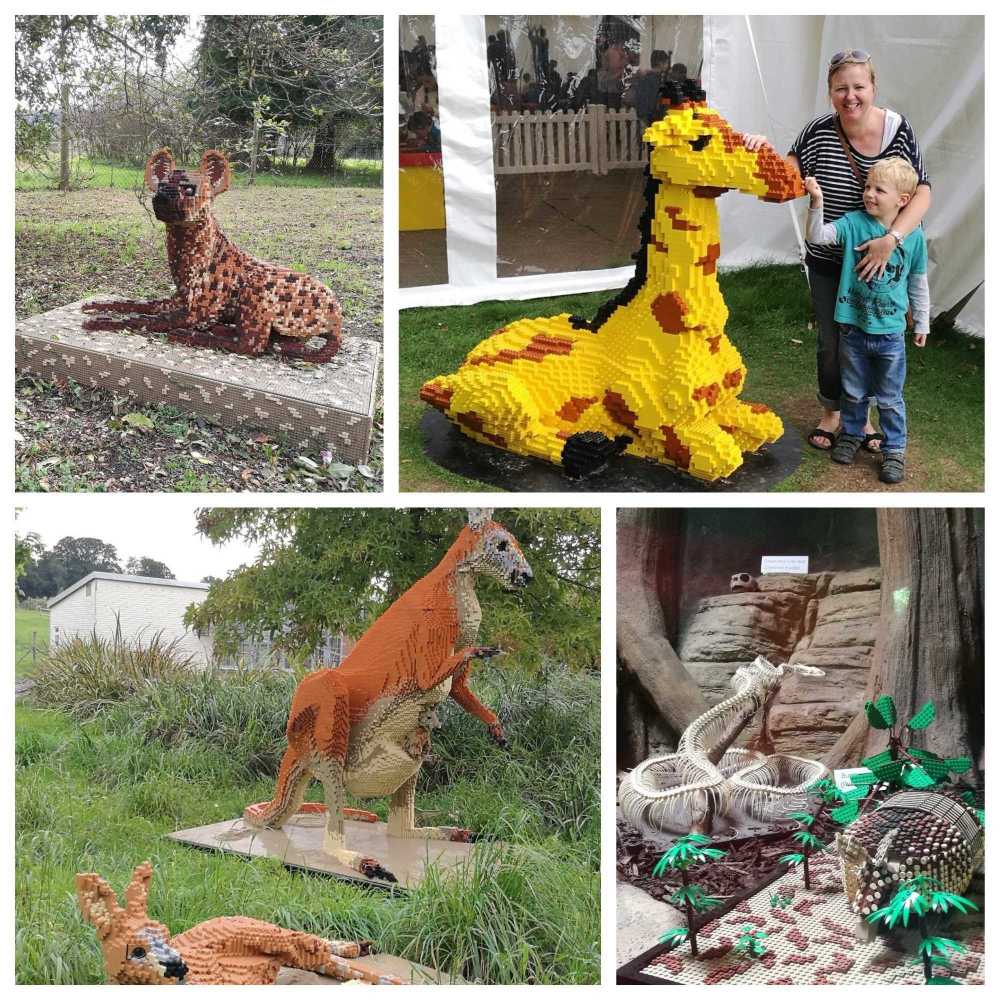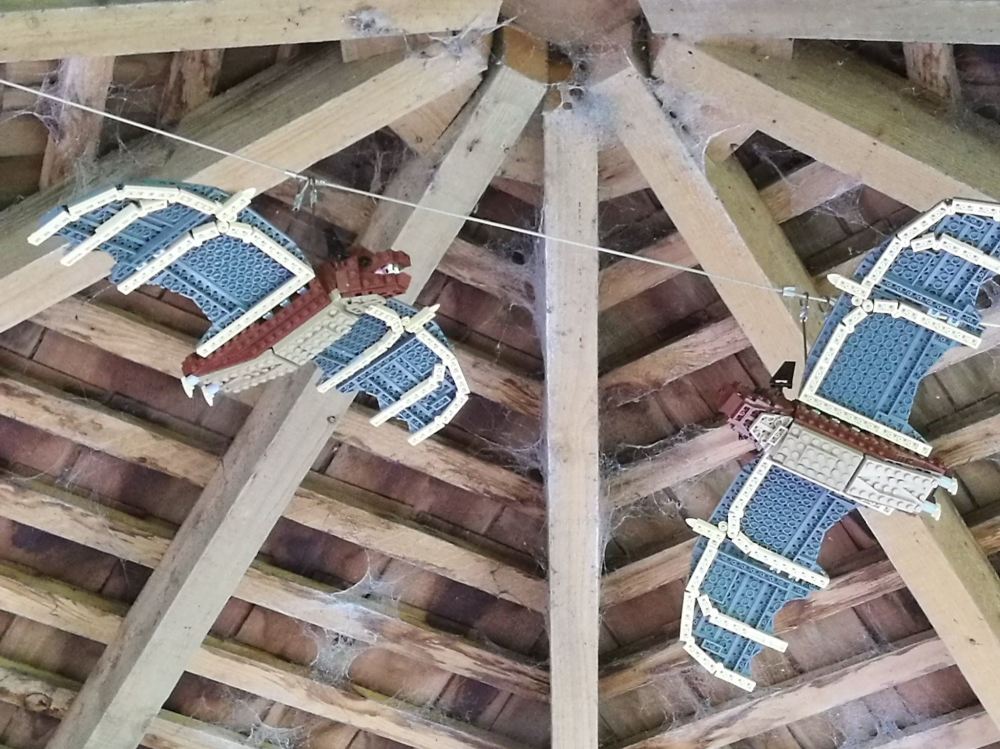 We've been to Marwell Wildlife Zoo a couple of times now and I still don't think we've seen everything. We always say we'll go on the railway train and never have time. We normally take a trip on the land train at some point as our boy loves tractors but whenever we do he screams to get off at the first sign of a play area so we didn't worry about it this time. It is a great way to see the park though and figure out which areas you would like to go to explore the most.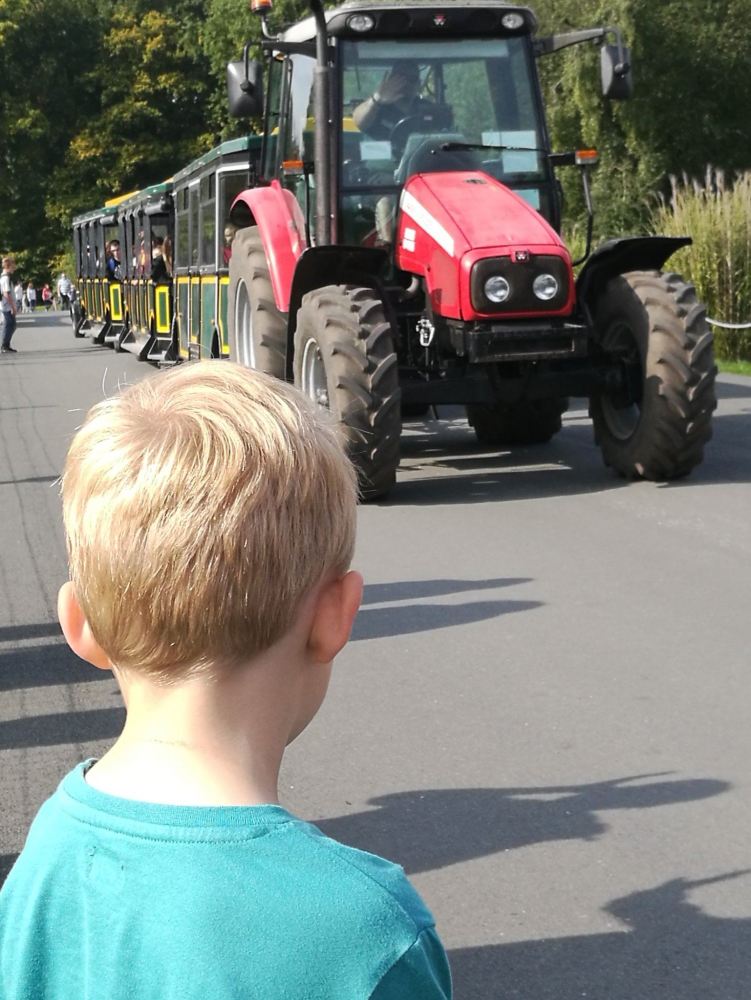 Of course it's best to go in a big loop but keep your eyes peeled as there lots of different enclosures and exhibits to see everywhere. We started at the penguins which all kids love and then followed the path to catch a talk about the giraffes and giggled as one of them started licking a tree with his crazy long tongue!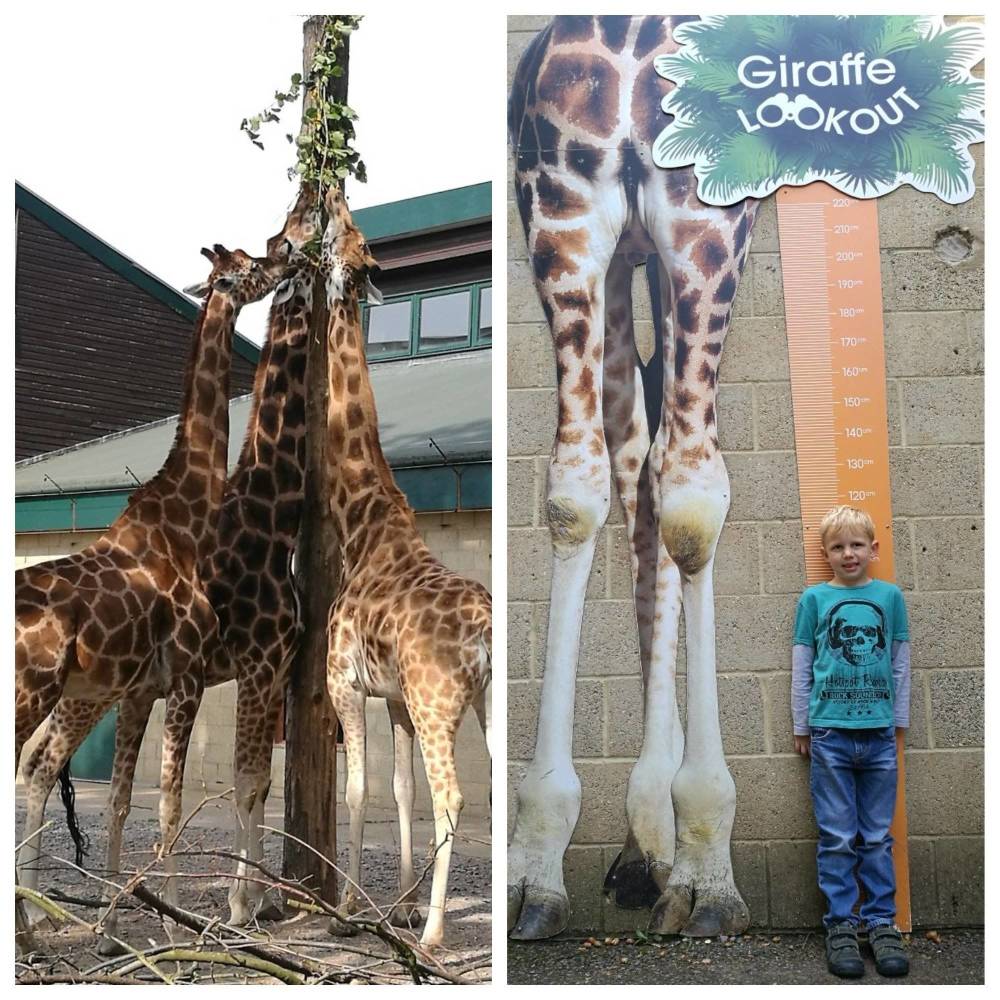 After this we went into a lemur walkthrough where our little girl stood waving while they chilled out in the sunshine. I think she was desperate to yank on a big fluffy tail and several times I had to restrain her from running off the path!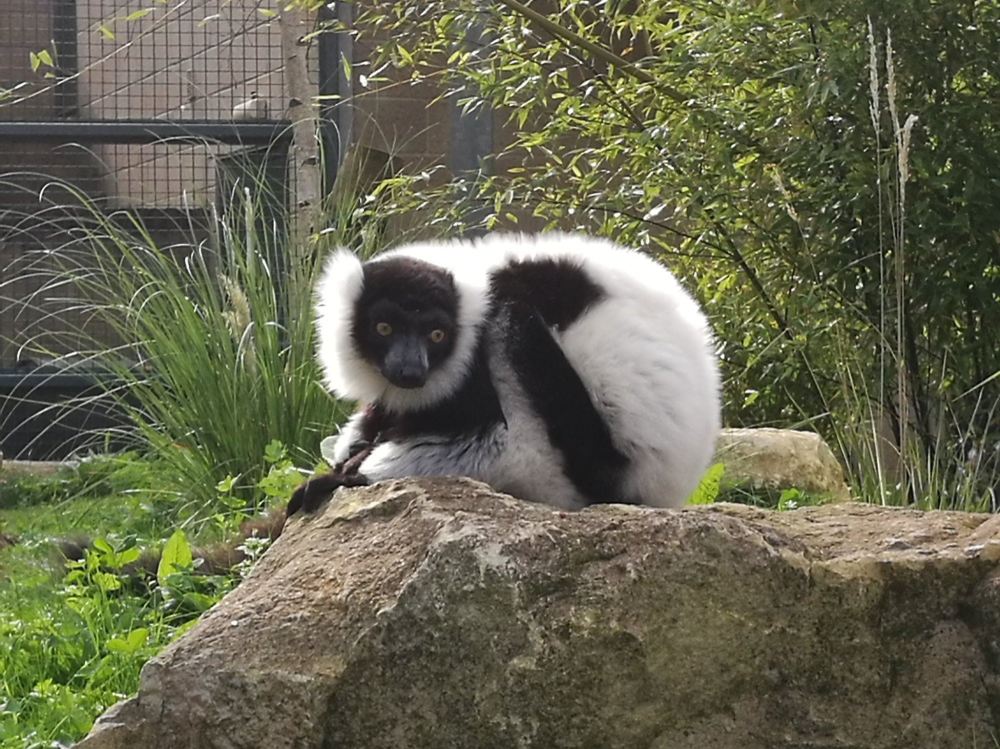 As it was nearing lunchtime I led us to the Picnic Lodge where we found indoor and outdoor seating. We have eaten in Café Graze before which I highly recommend but on this occasion I had packed a couple of French sticks and some fillings for us to enjoy and went off to the Café to grab some hot drinks for the grown ups. While I was there I spotted they had fresh homemade vegetable soup and knowing myself and my Mum would enjoy this I asked if it could be done as a takeaway and it was one of the tastiest soups I'd ever had. Along with the chips and fresh stick rolls I made it if was probably the best picnic I'd ever done!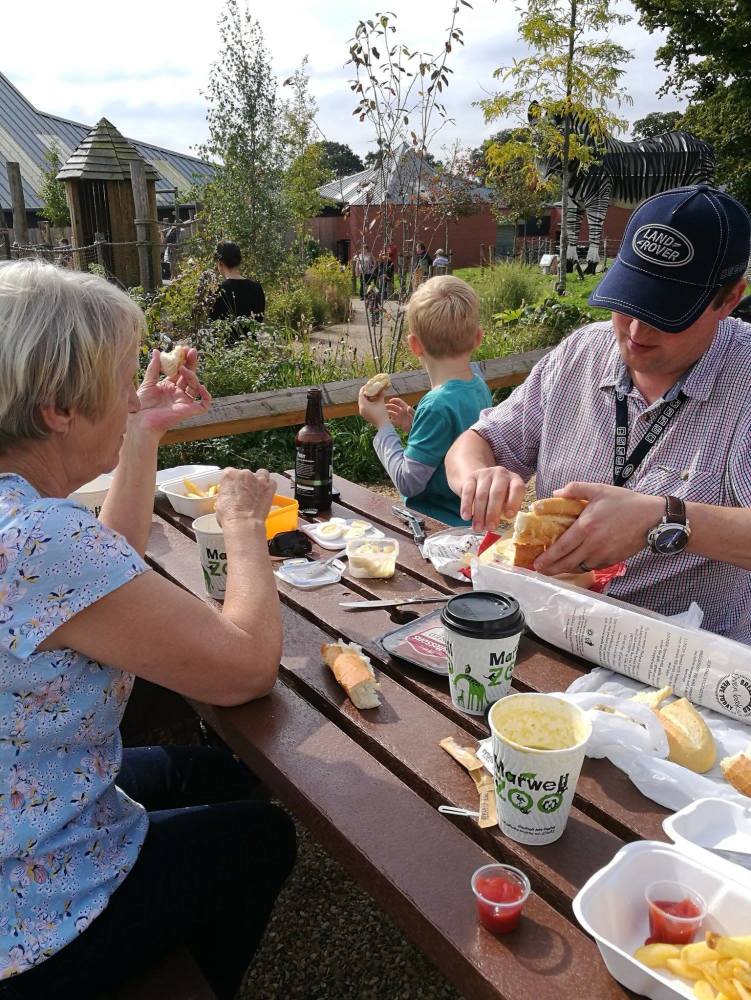 After lunch we went into Wild Explorers where we had the nice view of a rhino butt because he refused to turn around and then took a stroll across the raised boardwalk to see if we could spot any oryx and zebra which we could just see in the far distance. Back in the Discovery Zone the kids had a great time climbing in the safari vehicle and running around the themed play area.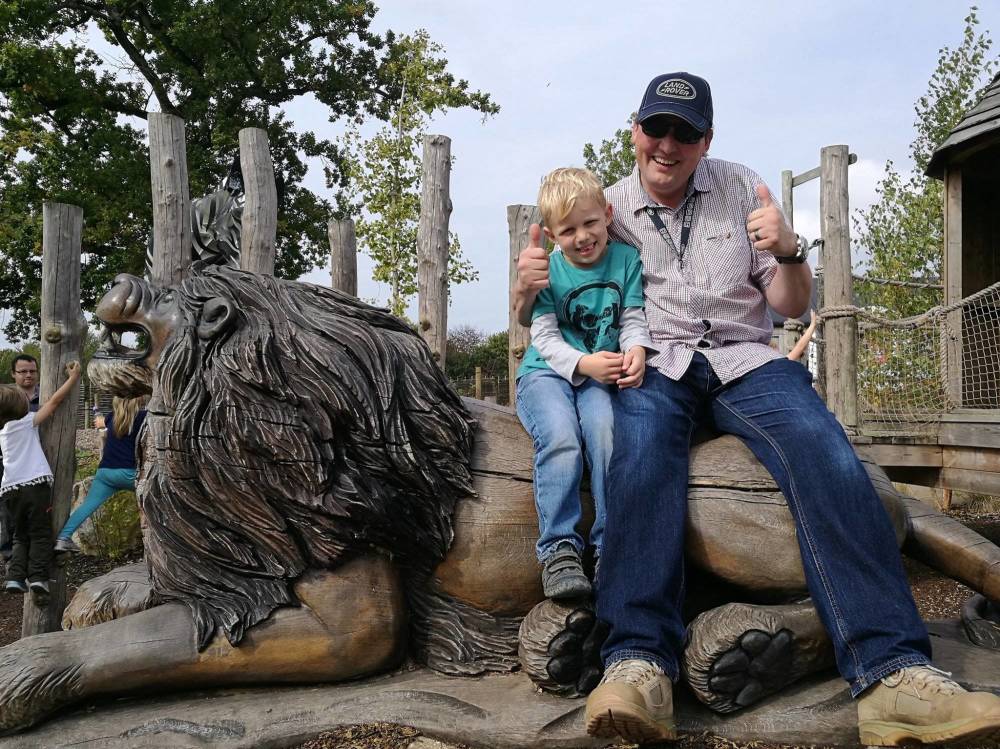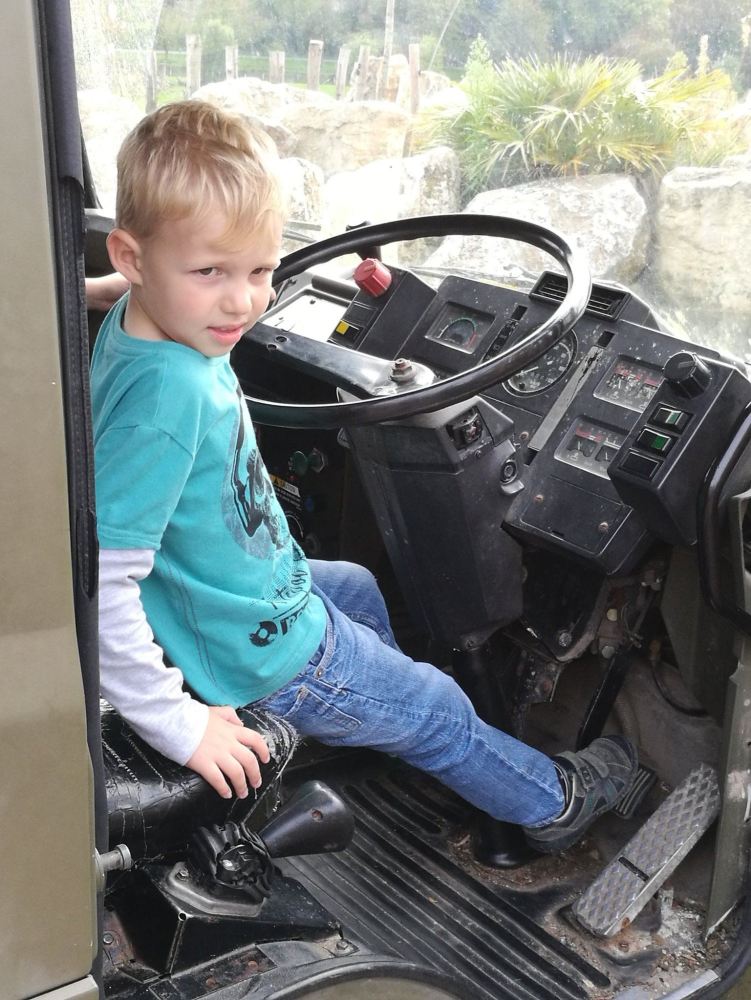 There's a gazillion boards to read around the park and from my experience my husband reads them while I chase the kids. One of the times we could of done with a board to help us was when we met the lovely fluffy creature below. Our little girl was in heaven stroking it. Personally I thought it was a snow leopard but everyone else disagreed so I'd be interested to know if I was right or wrong?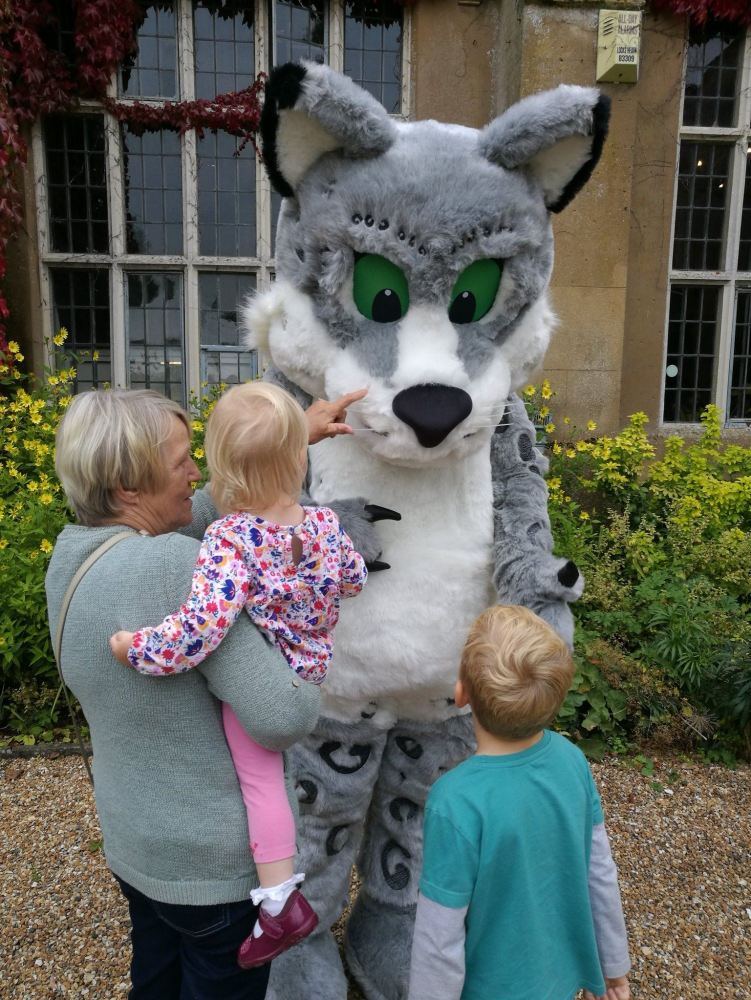 Of course we couldn't go without visiting the Great Brick Building Zone which you'll find near Marwell Hall. Sam loved it in there and while he was busy building a star wars gun I looked around to see what else was there. Sectioned away from little hands were LOTS of tiny Lego penguins and I noticed a competition to count them and tweet how many I saw. I wasn't alone as a couple of girl guides were doing the same but we came up with different answers so fingers crossed I was the one who counted correctly (I doubt it though). On the other side of the marquee was a very long Lego python and children had instruction sheets to create their own segment and add to it. I believe they are trying to make this a record breaking Lego structure so do help out if you can.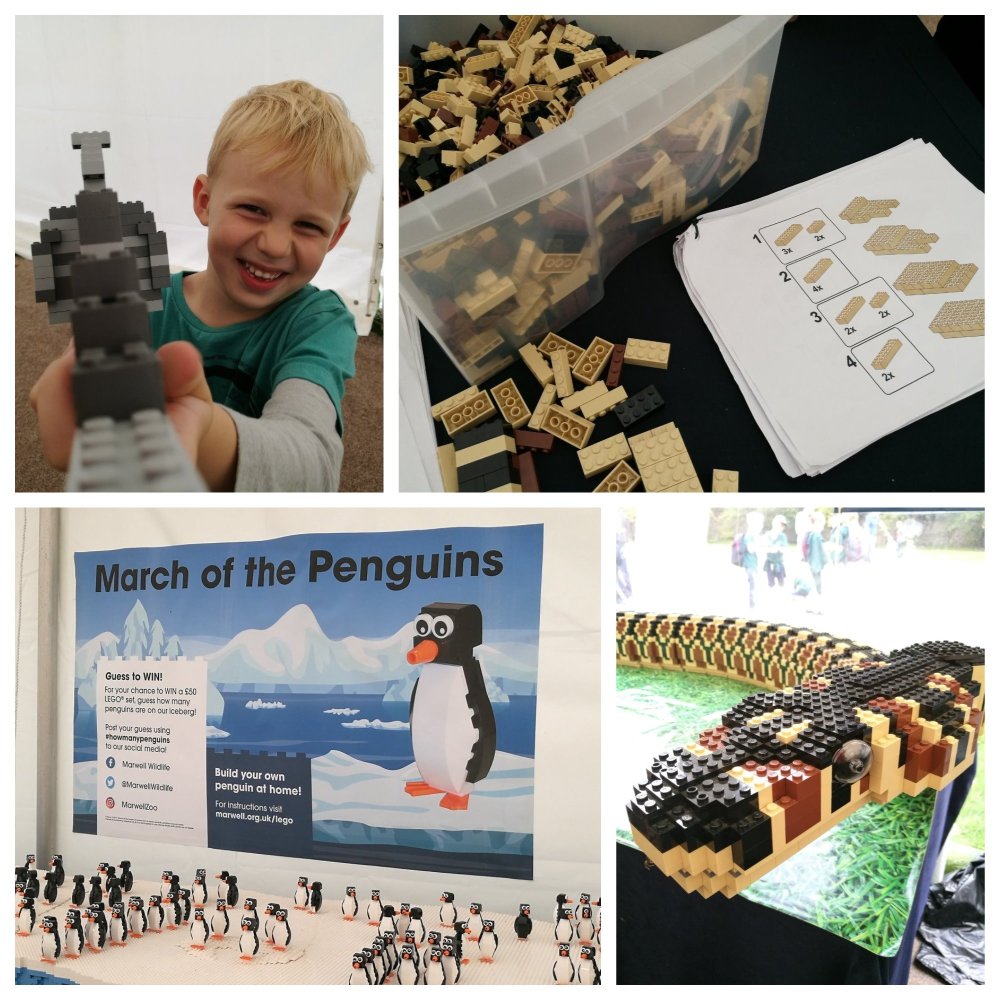 From here we headed to one of our favourite areas at the back of the park where we could sit down and relax while the kids played in the park. Ice creams and coffees were on the menu and the staff even made a cup of warm milk for our little one.

Time was now getting on and our son Sam was desperate to show Nanny the ants which we saw last time so we did a very quick tour of cold blooded corner and the monkeys before going into Tropical World where he took delight in showing us how the ants cut the leaves and then head down clear tubes to the queen at the end.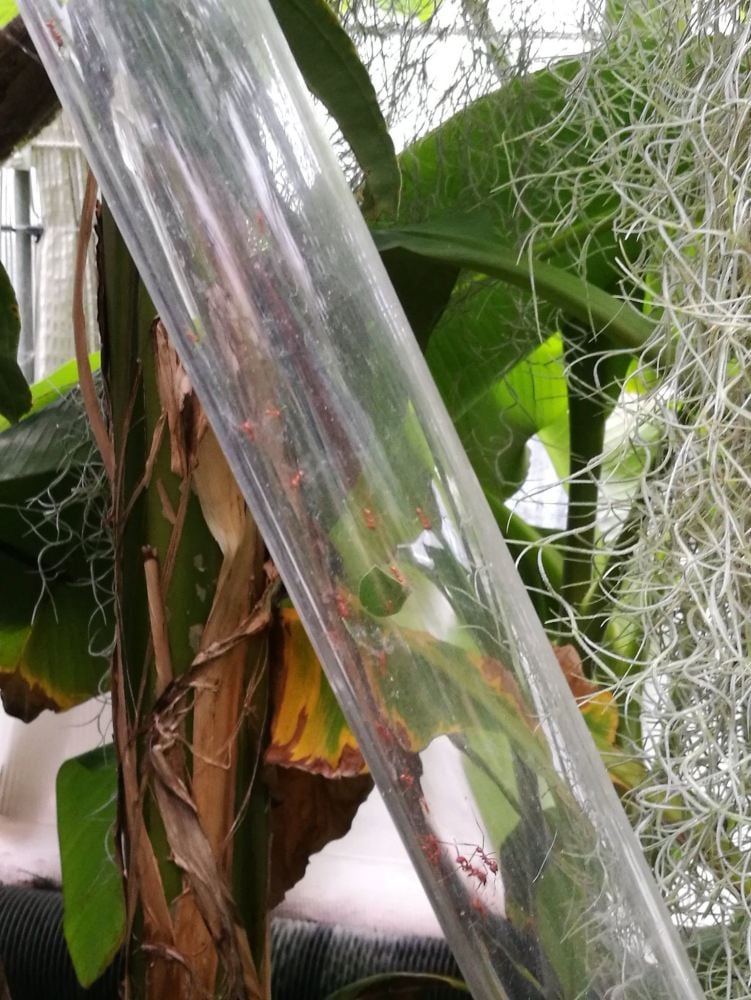 In the blink of an eye it was almost 5pm and we dashed to the gift shop as we'd promised the kids a treat for being so good. 10 minutes later, 2 happy children and 3 utterly exhausted adults.
Good to know……………………….

I can thoroughly recommend the Great Brick Safari event which finishes on the 1st of October 2017. If you get a nice picture of the family with one of the sculptures then make sure you enter the Marwell Wildlife competition by posting it on their social media using the hashtag #GreatBrickSelfie. For more information on this event please visit Marwell Zoo.

Buy your tickets online before you go to save queuing at the gate and if you have a child under 2 then they go free! Prices are cheaper in the winter and you'll find it much quieter so I'd recommend a trip out of season if you are unable to make the Great Brick Safari event.

You can pick up an Explorers Trail from the Information Cabin as you go in and collect 9 stamps around the park. Don't forget to enter in the prize draw and pick up your child's Wild Explorer sticker from the gift shop though. There is a suggested donation of £1 for the Explorers Trail.

If you haven't been before then you should consider purchasing a guide book from the ticket desk as it's full of information plus a great park map.

Download the free mobile App 'Marwell Zoo' for a fun quiz and park map.

The road train is free and runs most of the day. There are 6 stops around the Zoo and each one will display a timetable showing when the next train will arrive. There is also a rail train which runs from Spring until October. Prices for the rail train are *£2.50 per person and under 3's travel for free.

Daily talks and activities can vary from day to day with current days and timings on the Website. There's also a map on the Website which shows a recommended route plus it tells you where all the popular animals are, play areas, toilets, kiosks, eateries and train stops.

If you are looking to take a picnic then you'll be spoilt for choice on where to stop for lunch. If the sun is shining then you could relax in the grounds of Marwell Hall which is a stunning historic grade 1 listed building however if it's raining then head to the fantastic Wild Explorers picnic lodge which is fully equipped with long tables and chairs.

The Zoo is fully accessible for pushchairs and wheelchair users.

Whilst there are plenty of places to wash your hands it's always good to have a pack of baby wipes to hand and an antibac spray if you have one.

Free WiFi is available in most buildings.

There are plenty of toilets and baby change facilities located all around the park and these can mostly be found by the cafes and kiosks.

If you want a truly memorable day then you could book a face to face animal experience with the penguins or giraffes or you could even become a keeper for the day!

Marwell Zoo is a registered charity and they need your help to continue their great work in conservation. There are many ways you can support them from buying an annual membership to adopting an animal.

Many parents are now thinking about their visit to see Father Christmas and although we haven't been ourselves I have heard great things. You'll begin your experience in the magical winter forest where you'll enjoy some festive drinks and listen to Mother Christmas as she tells The Nutcracker story in the fairy glen. Children can then create their own Christmas Eve plate in the elves workshop before meeting Santa in his sparkly Grotto to receive a gift.

For full information including location, ticket prices and upcoming events please visit Marwell Zoo.

Thank you Marwell Zoo for yet another fantastic family day out. You've thought of everything a family needs and we thoroughly enjoyed every minute. We still haven't managed to see all the animals in the Zoo so we'll be back again next year to discover more!
Love

Dorsetmum and Family
xxx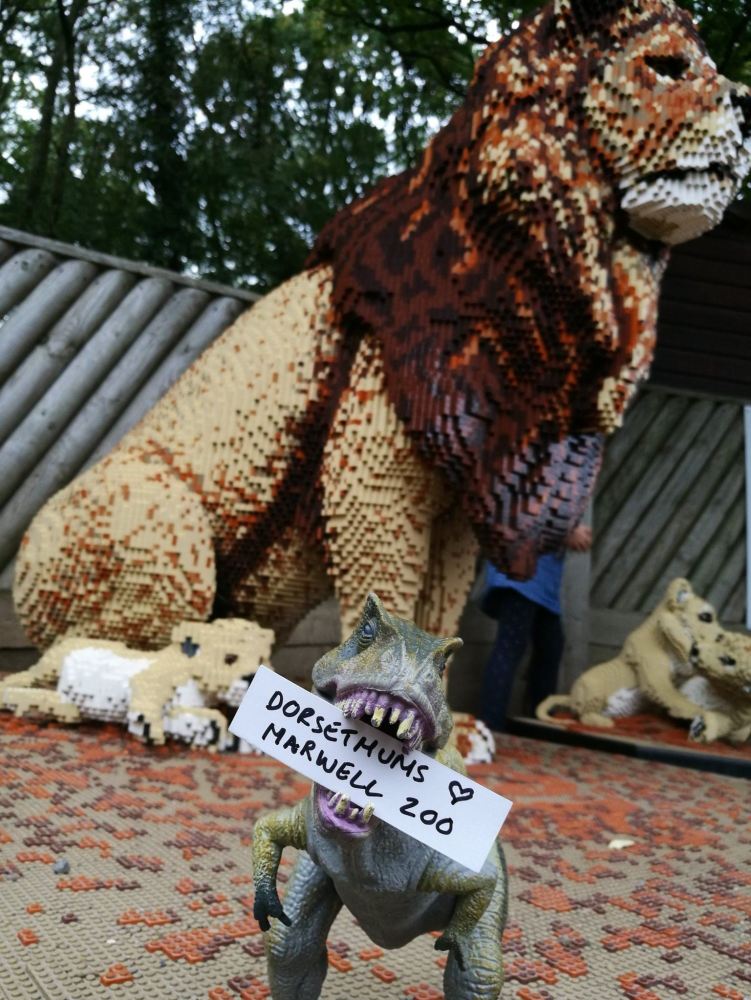 *Please note – any prices stated are correct at the time of writing and may change in the future.