Abbotsbury Subtropical Gardens Fright Night Review
Posted on
Every year I see incredible pictures of the Abbotsbury Subtropical Gardens Fright Night so we took a trek across County to see for ourselves why it's so popular.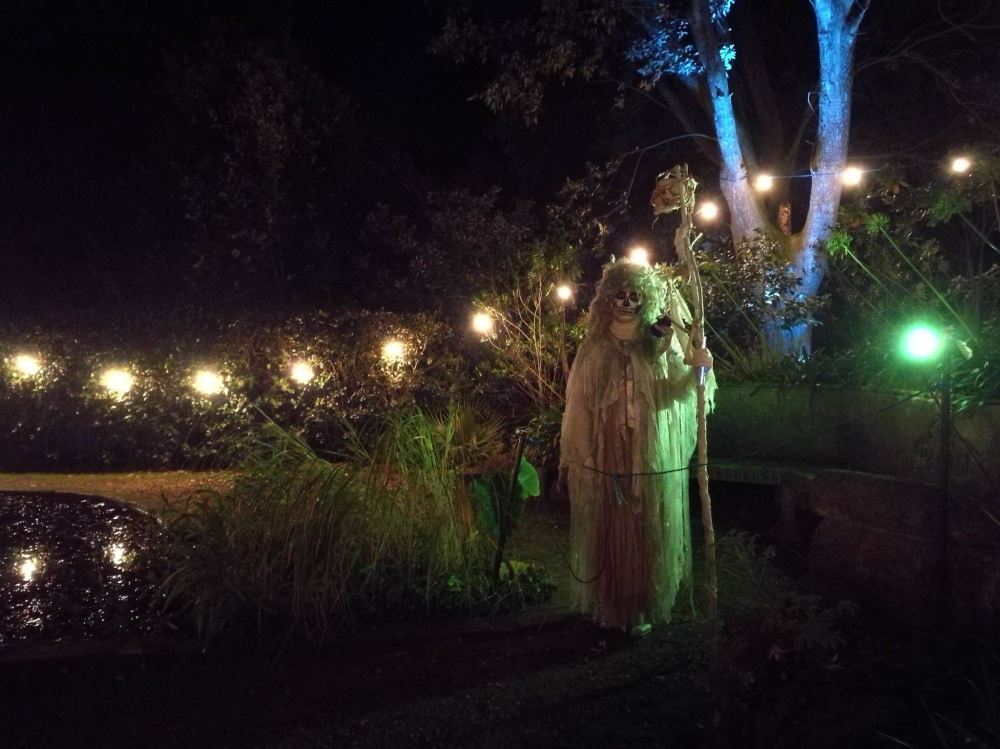 The event starts at 4.30pm and knowing the kids would need some dinner earlier rather than later we decided to head straight into the restaurant. Although it was crazy busy we were served in no time and out came the food before the kids had time to get ratty. Our dinner was delicious and while we ate my husband sniffed out the BBQ and enjoyed a nice big burger.

We were very fortunate that it was a dry and mild evening and everyone was eager to go and explore. Sadly our son is not one for dressing up but all of us really enjoyed the effort other families had made with their fancy dress costumes. Everywhere we turned there were scary witches, grousome ghouls and face painted Draculas.

We started on the West Lawn where the kiddies enjoyed a jump on the trampoline while I went to have a nosy at The Wild and Deadly Show which was going on in the main Pavilion. Whilst I was in there I found the facepainters hard at work and told my son that after the show there would be some handling which might involve snakes and spiders but his face spoke a thousand words and we started on our journey around the floodlit gardens instead.




The signs at the start say to keep the lanterns on your left which is very helpful as it can get a little dark in places. Having previously been during the day I was a tiny bit familiar with the route but it's very easy to get disorientated and I was pleased that there were other families to follow. I was desperately trying not to miss anything and as our boy was starting to get tired I'd remembered seeing on the map that there was a witch handing out goodies to the children so we upped our game and found her in less than 5 minutes which put a huge smile on his face.

The lighting was just incredible, everywhere you looked was a feast for the eyes and I was amazed at how different things could look just by the simple use of colour and light.
Whilst walking around we came across a few actors who were scarily good and I was grateful none of them jumped out on us as our son was a little wary. I would often walk away though and hear a scream so it made me chuckle that someone else had obviously received our fright instead haha. We also saw the eerie White Lady by the lily ponds, a witch telling ghost stories, an area where big and little kids could receive goolish wounds and scars and Twitch the Witch who was helping children make gooey monster slime.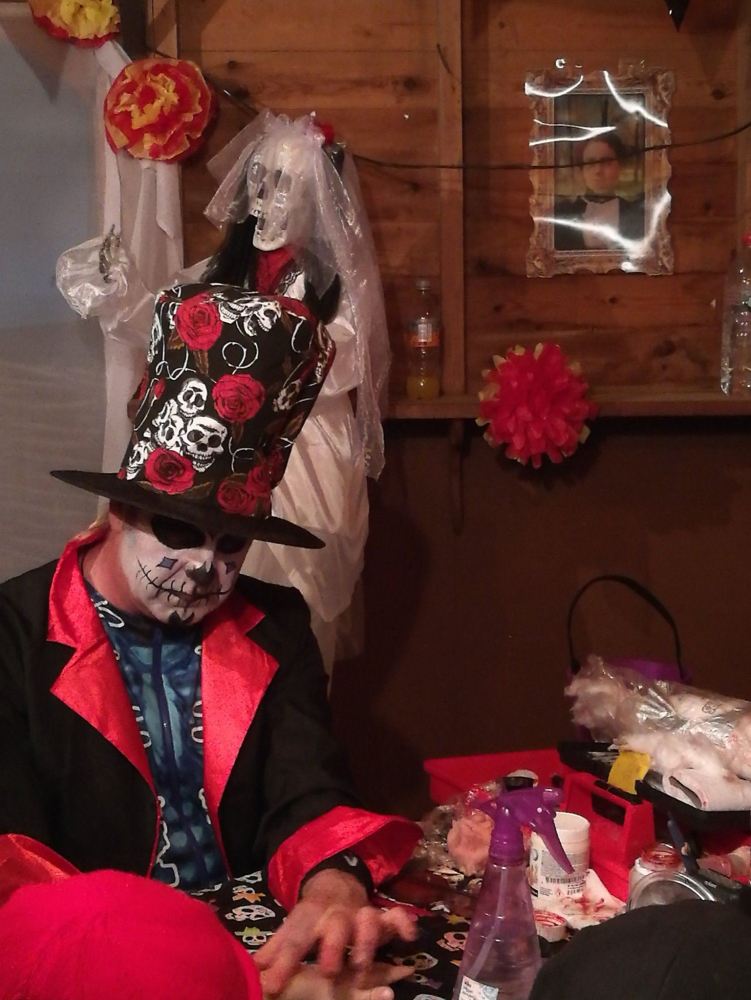 I loved the level of detail whilst walking around and whoever made the milk bottle skeletons needs a pat on the back. I'm not afraid to admit I'll be stealing that idea for the kiddies at home.
The tunnel of terror was absolutely my favourite part even though I spent the whole time trying to hold my husband's hand as he was trying to shove me forward first. I jump very easily and I was pleased that my son didn't want to go through so he stayed with his Nanny and little sister as they went on the alternate route which led them round the corner to the bottom of the tunnel. I'm tempted to say what you'll find in there but actually I think it's better if visitors discover it for themselves. Although I did have a few jumps and maybe went through a bit quickly I did have a good giggle and wish I'd gone back through it again.

In the blink of an eye it was nearly 8pm so I went to watch the fire eater and entertainer on the West Lawn while the others went for a loo break. By now our son was exhausted so we decided we'd had enough fun and got them in the car ready for the long journey home.

I can 100% recommend this event at Abbotsbury Subtropical Gardens. My only disappointment was that we missed the giant spider who had just finished spinning her web and I wish I'd seen the spooky dancers so I recommend you take a good look at the map and timings before you go anywhere.


Good to know……………

If you can, book your tickets online as they are considerably cheaper. Under 5's go FREE!

Toilets and baby change facilities are found by the restaurant.

I was pleased to see that the activities we came across were free although we found some were very busy so it might be a good idea to search those out quickly if it's something your child really wants to do.

If you are planning on being on the West Lawn at the end of the night to see the fire show and entertainment then please note that you must enter before 8pm. Admittance after this time will not be allowed.

Try not to miss the bench at the far end of the garden which you can sit on to look through the trees and see St Catherine's Chapel lit up in the far distance.

Our journey time around the gardens took about 90 minutes but this will vary massively depending on your speed and the amount of activities you do en route.

The gardens are very pushchair friendly but please note there are a few steep climbs. (Luckily hubby was pushing on this occasion).

Do not let children touch the lights as they get hot and make sure they stay on the main pathways.
Pack some snacks and juice cartons for the children as the restaurant closes at 7.30pm and it's thirsty work walking around the garden.

For more details and ticket prices please visit the Website.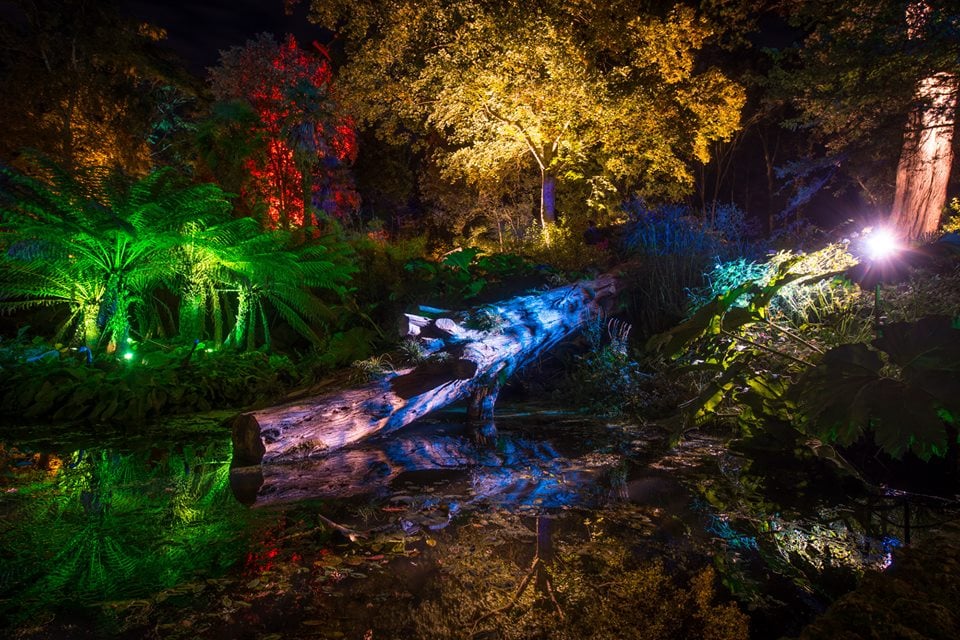 Dorsetmums was invited to attend Fright Night for review purposes however all opinions are my own.