Our family bushcraft adventure with Land and Wave
Posted on
Land and Wave have started family bushcraft sessions for children aged 5 and up and this week we went along to see what would be involved.

We met the group at Burnbake campsite near Corfe where we were taken off into the woods to find our camp for the afternoon. I'm not sure what I was expecting having never done anything like this before but I was delighted to see a fire roaring with a huge pot warming on top, a large canopy to hide under and logs to sit on.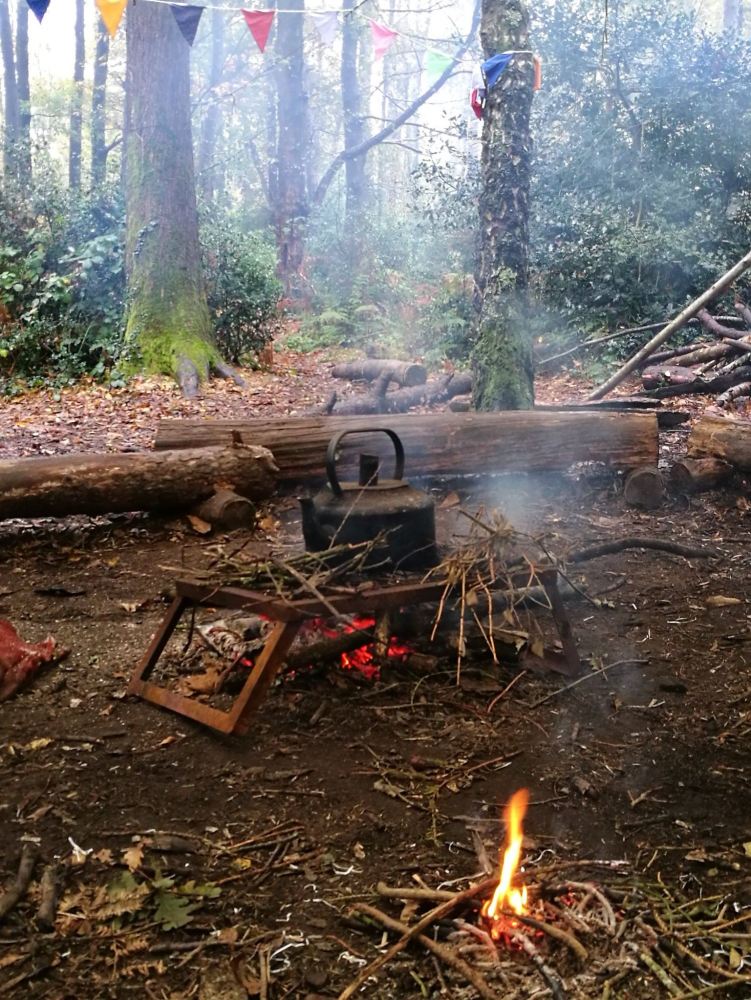 After a brief introduction from our friendly instructors we were split into 2 groups and ours were led off to start pumpkin carving. Tables were already set up under another canopy and we were asked to choose a pumpkin and draw a design on it. Our son Sam did a grand job of putting a face on our pumpkin and then the adults were asked to cut the top off so we could help the kids scoop out the middle.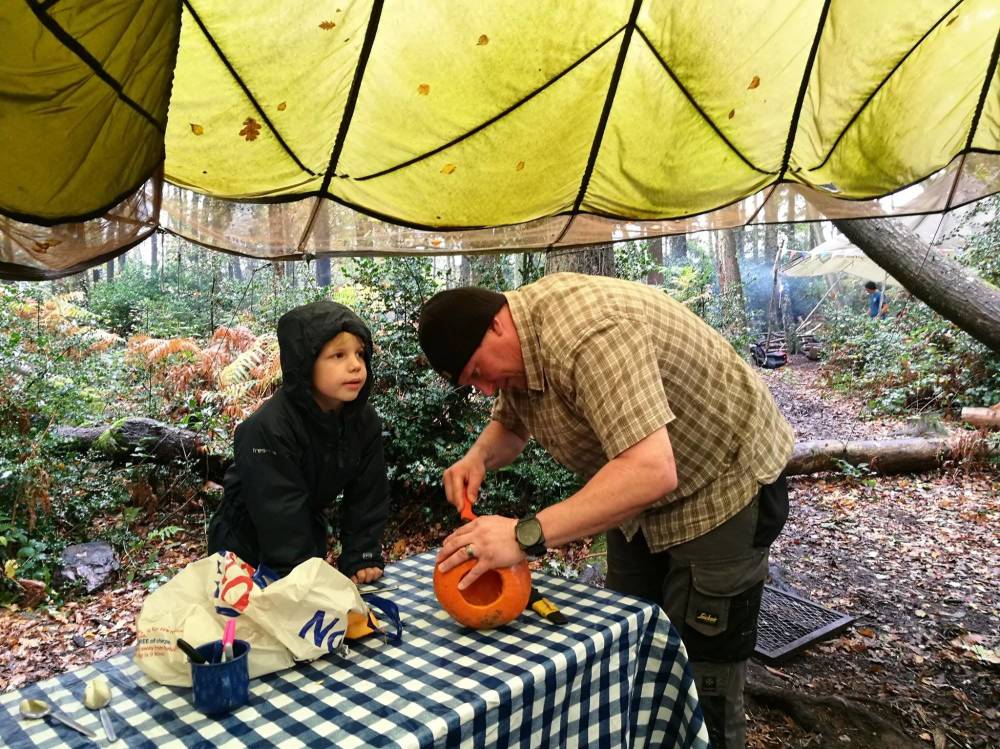 Last came the fun bit and my husband did the cutting so Sam could push the middle bits out. Once our pumpkins were finished and named they received a little candle and we were told we needed to make a den in the woods to keep our them safe and dry.

My husband takes these things VERY seriously and went off to find a space to make the den whilst me and Sam waited for his instructions. We found a large hollow and started collecting branches and leaves to put over the existing branch to make a shelter. Just as we were nearly done I found what looked like a huge Christmas tree and asked Sam if he thinks it should go in which of course he did.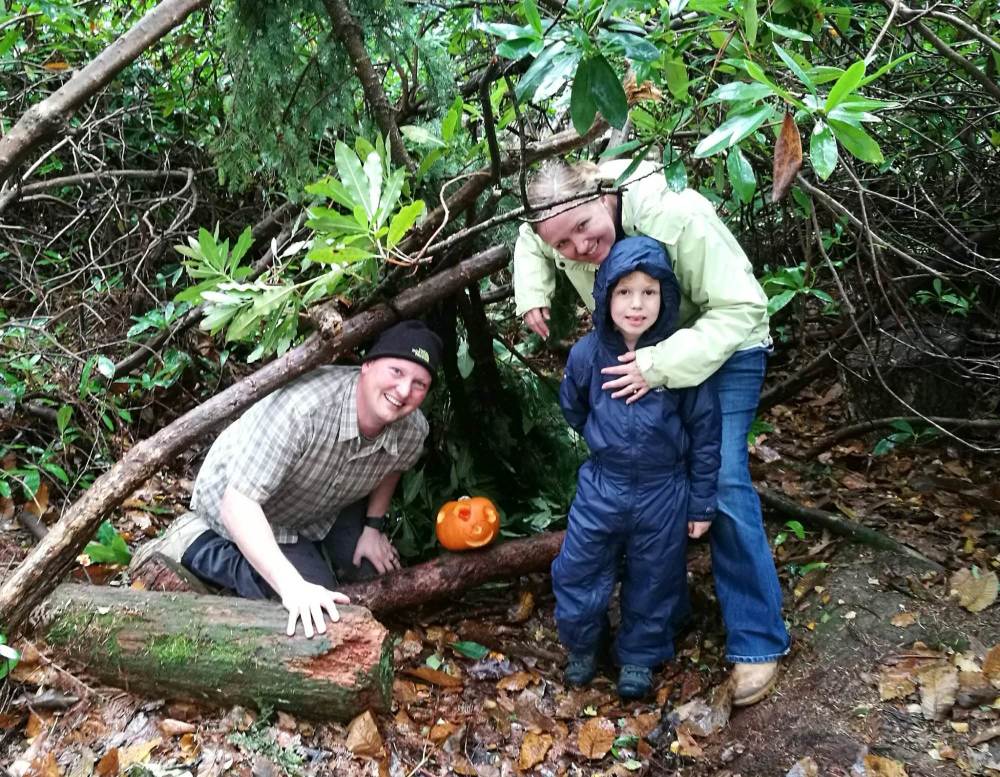 After we admired each others dens we regrouped back at the camp where the instructors were making hot chocolate with marshmallows for the kiddies and teas/coffees for the grown ups.

Next we learnt all about firelighting and Sam was in his element. We were shown how to use a flint and steel and then everyone was asked to pull out a bit of cotton wool to put on the floor and see if it could be lit. Sam tried his very best and the instructor helped him create the sparks required to make his little fire. After this we were shown how touching a piece of wire wool with a battery would create it to fizz and sparkle and again he was in heaven watching it start in his hand before dropping it on the leaves below. Lastly, one of the instructors shows us on a log what happens when you add glycerine to the chemical compound potassium permanganate. After a short period of gentle stirring there was suddenly a little purple flame and quick as a flash it was gone.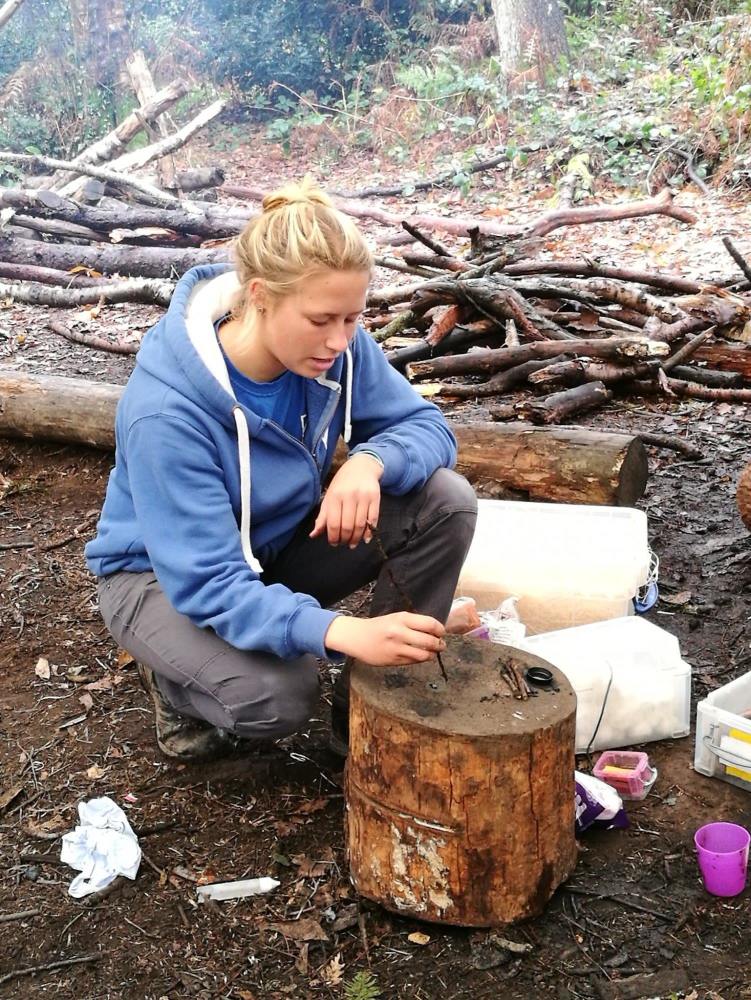 After our fire fun (all dealt with in a very safe and educational way) we were told to grab a nice stick suitable for toasting a marshmallow on and Sam was eager to get his into the fire until it was practically black and inedible.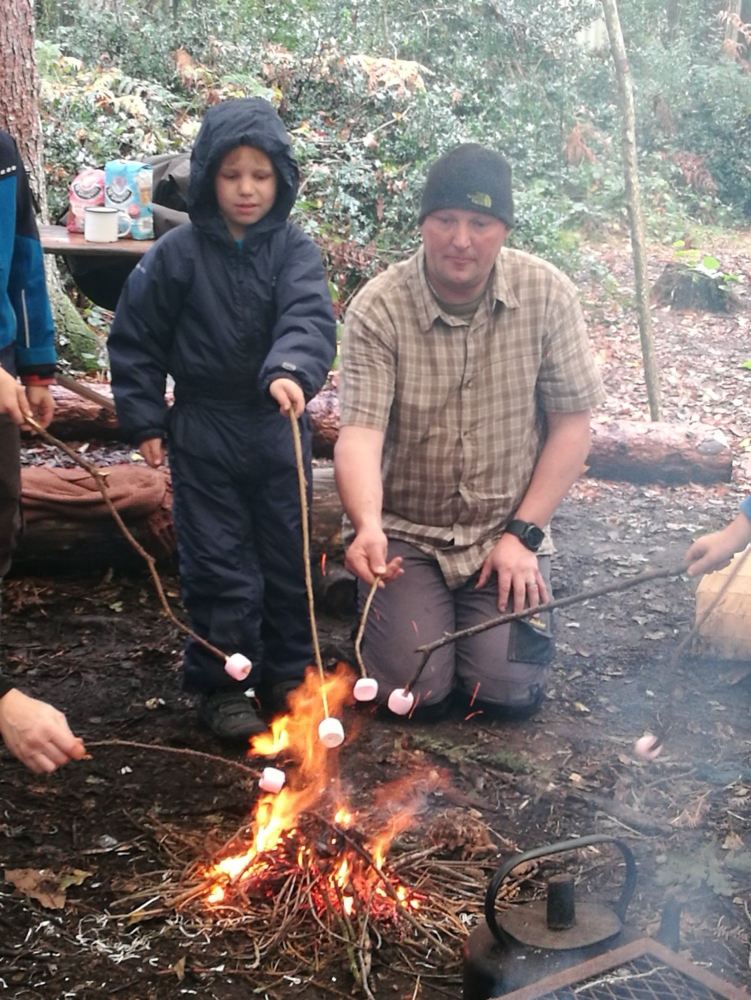 Now came the part which Sam loved the most. Everyone was asked to wash their hands and were given a small bowl with flour which water was added too. We were asked to use our finger to mix it up into a doughy ball and just as Sam finished and stood up his dough managed to leap out of his bowl onto the floor.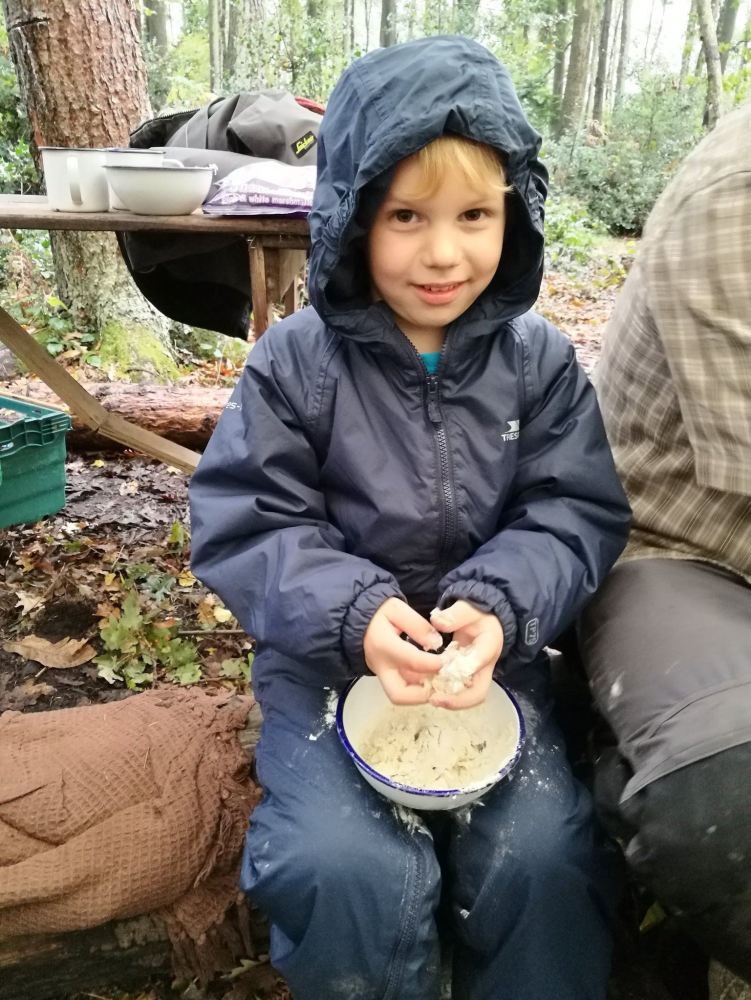 I wondered if the 3 second rule would apply but his dough was completely covered in mud and twigs so he had my one and we shaped it into a heart before putting it on the fire ready to be cooked. While we waited for the bread to cook we tidied up, collected our pumpkins and chatted to some of the other families. Sam was desperate to try his bread and once it was ready he sat on the log very proudly with his heart and kept saying how yummy it was. The instructors also had a pot on the fire with some popcorn in and as it reached a high enough temperature you could hear the little popcorns going pop in the pan and the kids devoured it with a sprinkling of sugar on top.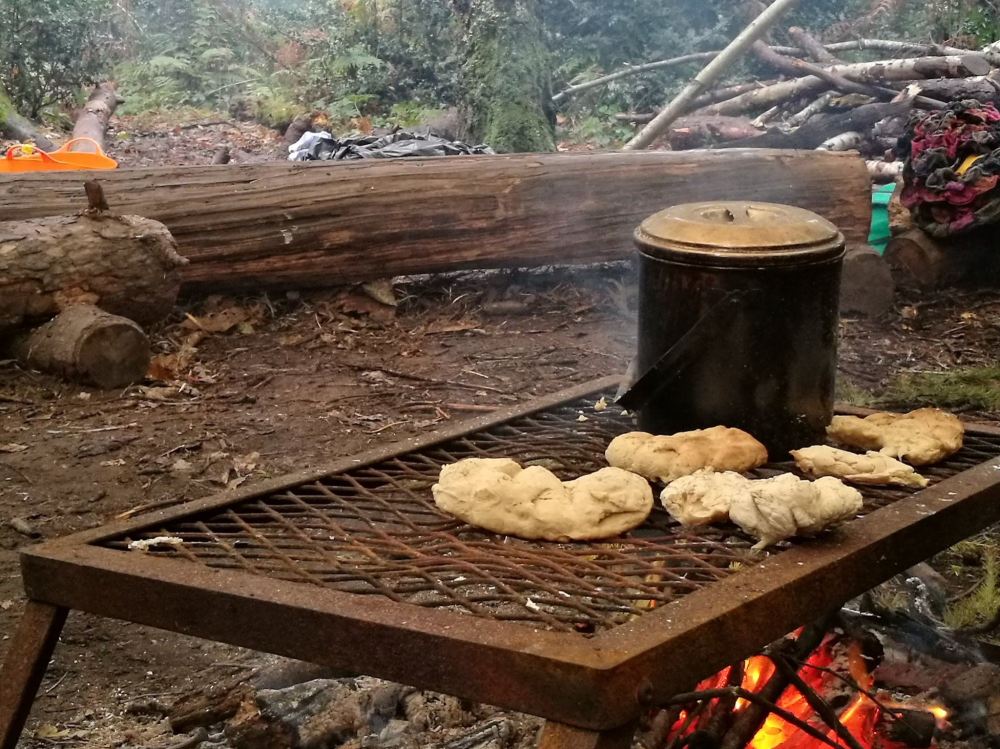 The afternoon went by so quickly and all of us loved every minute. The instructors were excellent, not only do they clearly know their stuff but the kids LOVED them. They have just the right level of professionalism but at the same time the guys could be right down there at a 5 year olds level talking silly stuff and Sam thought they were hilarious.

The family bushcraft session we did was 3 hours long and hopefully they will be running more in the future. For details on all the other activities Land and Wave offer including coasteering, watersports, kids holiday clubs and youth activity days please visit the Website.
Please note – Dorsetmums was invited by Land and Wave for review purposes however all views are my own. Activities on future sessions may vary but details can always be found on the website.