Camping in style with Mountain Cottage Yurts
Posted on
If you are looking for somewhere special to stay in Dorset where the children can run free, play and enjoy the great outdoors then you need to know about Mountain Cottage Yurts in Corfe Mullen.

Having only ever camped in a tent (which leaked last time) I was very excited about all 4 of us spending the night in a yurt. The location is idyllic with beautiful fields all around and a lovely woodland area perfect for a family stroll.

I was a little nervous about the weather forecast but luckily we arrived in bright sunshine and once we'd had a wander around we were shown to our huge yurt. Having never been in one before I wasn't entirely sure what to expect but I was pleasantly surprised with the amount of space we had. There were 3 double futons with linen, blankets, duvets, and pillows plus a wood burning stove which made it feel all snug and warm. I was relieved to see that there was a fire guard as our children are very inquisitive and they were desperate to see what was going on when their Daddy lit it in the evening.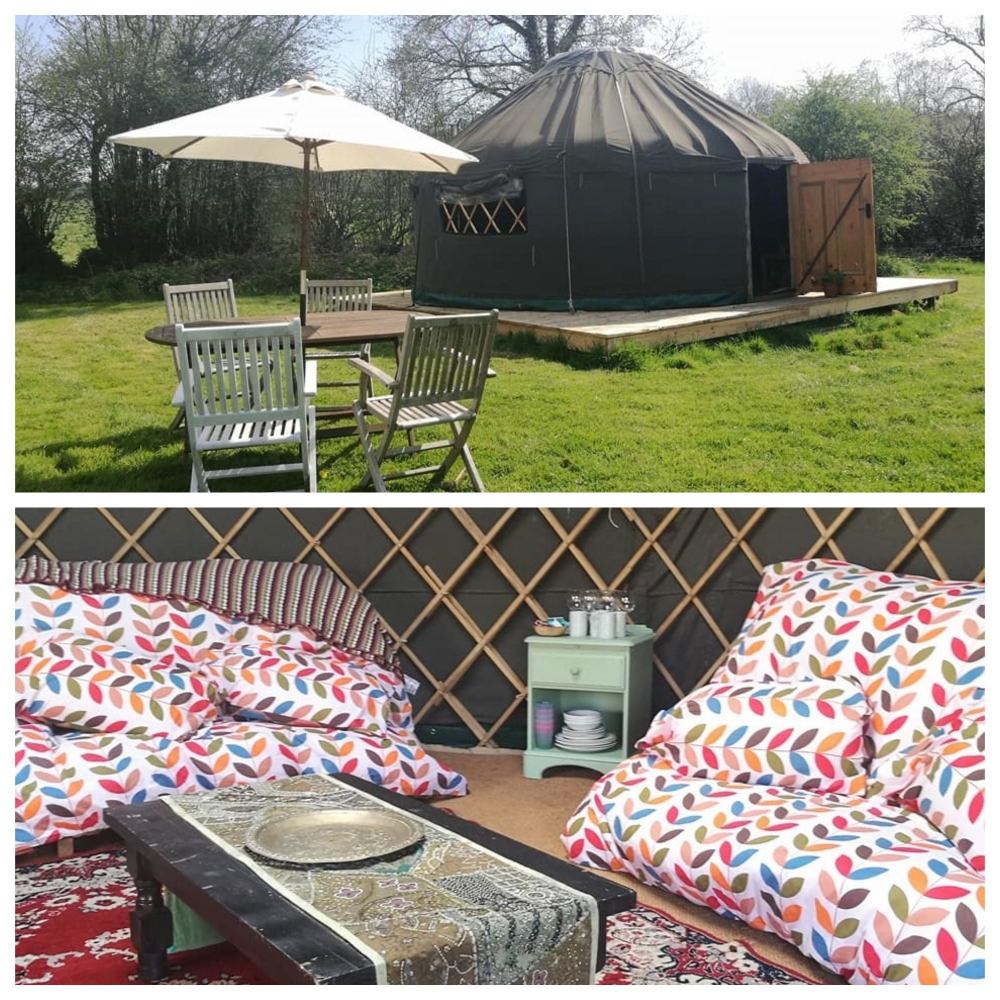 The owners have been very keen to keep the site as natural and eco friendly as possible but that certainly doesn't mean you'll be without your luxuries. Having only used stinky eco toilets before I was very pleased when I went in and found that the firstly it didn't smell bad and secondly they were very clean. The shower room was well equipped with everything you'd need including a baby change area and even a potty if needed. My favourite part was the open plan communal kitchen with everything you would need for a stay away from home. They had stoves, pots, pans, cutlery, cups, a fridge, tubs to keep your food in and plenty of tables and chairs.




Right next to it was a bespoke wooden play frame with slide, mud kitchen, sand pit and water area which the kiddies loved and they would happily play there while I was making food or a cup of tea.




Before dinner we decided to stretch our legs and went to find the woodland walk which is just across the neighbouring field. We would of gone further if we'd had more time but the children were happy finding sticks, stones and flowers so we didn't actually get to go too far down the track which is a shame.




I was told before we arrived that they had a wood burning pizza oven so I thought making our own pizzas for dinner would be a great activity for us and the kids. I knew that pizzas were meant to prove beforehand but I didn't have a spare few hours so I found a recipe online for no prove dough which actually worked pretty well. The kids did a grand job with their bowls and my son weighed out the ingredients required while his little sister just made a mess. Once the dough was made I split it into 4 balls and then I got the toppings ready for them. After we attempted a bit of lazy kneading we flattened them down as thinly as possible and then everyone chose their toppings from tomato passata, oregano, mozzarella, ham, pepperoni, mushroom, sweetcorn, onion and cherry tomatoes. All this time, Daddy was getting the fire up to temperature and we waited patiently for it to be hot enough.

I was a little nervous as my culinary efforts are not always successful so I cooked up a can of hot dogs which ended up being a bit of a starter while the pizzas cooked. To my absolute delight the pizzas were pretty good! They were much better than shop bought and really satisfying to know we'd made them ourselves and that they were not full of artificial junk or too much salt.




By now it was starting to get late and after washing up while the children played I thought it would be a good time to get them ready for bed. Daddy however thought it would be good for us to take them out for a walk in the dark with torches! Not the brightest idea with 2 VERY tired children but I went with it and after a walk and a little cup of warm milk in the yurt there were ready to fall in bed. Trying to get them to sleep was another thing though lol. The predicted thunderstorm had now started and we could see flashes of lightning through the top of our yurt. Our daughter had never slept in a bed before and the freedom of her getting up was just too exciting and she bounced between our bed and Daddies who was with her big brother. I just kept saying 'she'll crash in a minute, she must be tired surely???' Phew, finally she collapsed back in my bed so I snuggled her up and went off to make the cup of tea I was dying for while the boys cuddled up together watching and listening to the storm.
It was very eerie in the communal kitchen with the thunderstorm, outside darkness and odd animal noise. I rarely get such silence and ended up sitting there for nearly an hour writing in my note book like I do, tidying up and enjoying more than one cup of tea. When I went back to the yurt everyone was fast asleep and I lay there with my baby girl next to me watching the flash lightning surrounded by fairy lights. I couldn't have been happier.
In the morning Daddy put the fire on while I took the kids to the loo and got the kettle on. Once we were all dressed and tidy with the beds back to where they should be I was on Full English Breakfast duty and rustled up a feast.

I really can't recommend this site enough, the owners are very friendly and welcoming and they provided everything we'd need for our stay. I was worried that our children were making a bit too much mess in the play area with the water but having 2 small children themselves they were completely understanding and encouraged them to get their hands dirty.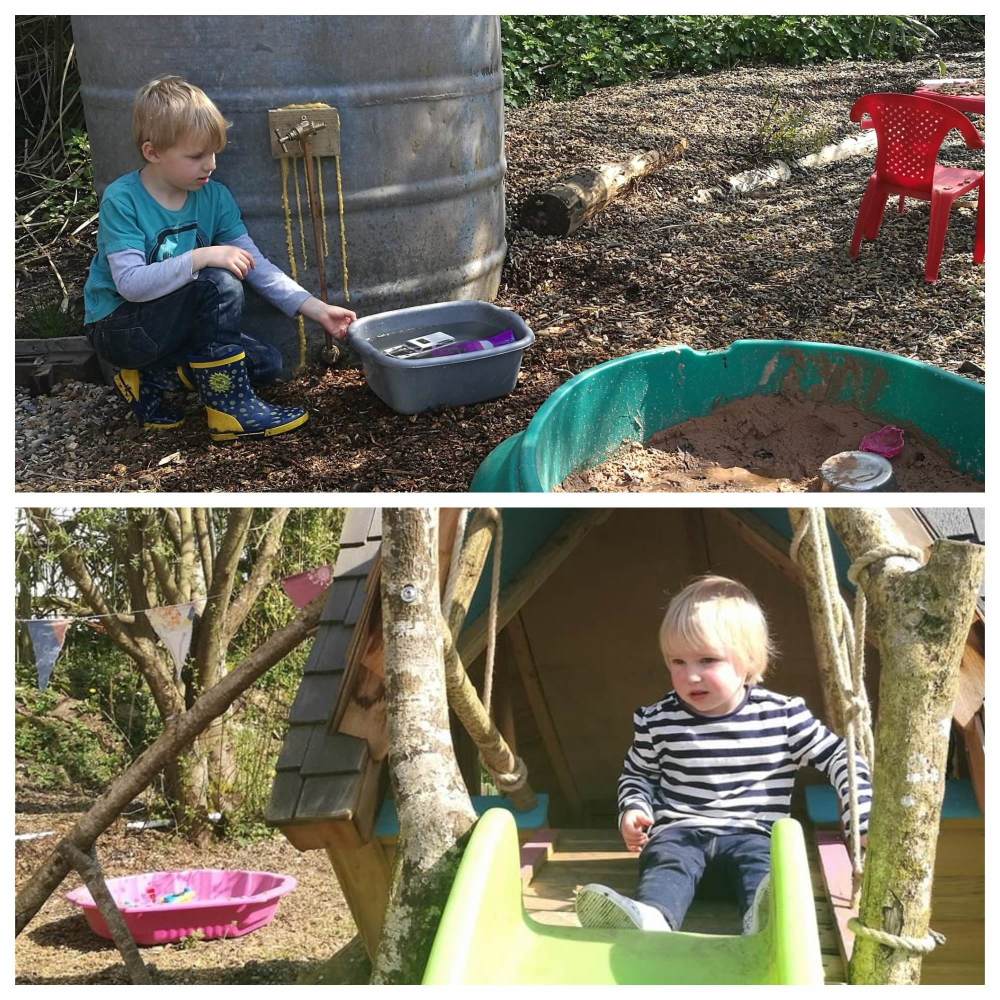 For more information, please visit Mountain Cottage Yurts. You'll find everything you need to know including details on the 4 different sized yurts, availability, costs, info on the local area and a helpful list letting you know what they provide and what you would need to bring.

If you do end up booking and staying, please say hi from Dorsetmums and enjoy your peaceful break.