Memories, laughs and family fun at Camp Bestival!
Posted on
What can I say about our first trip to Camp Bestival? Well, of all the great things we've done as a family over the years, this probably ranks as the best!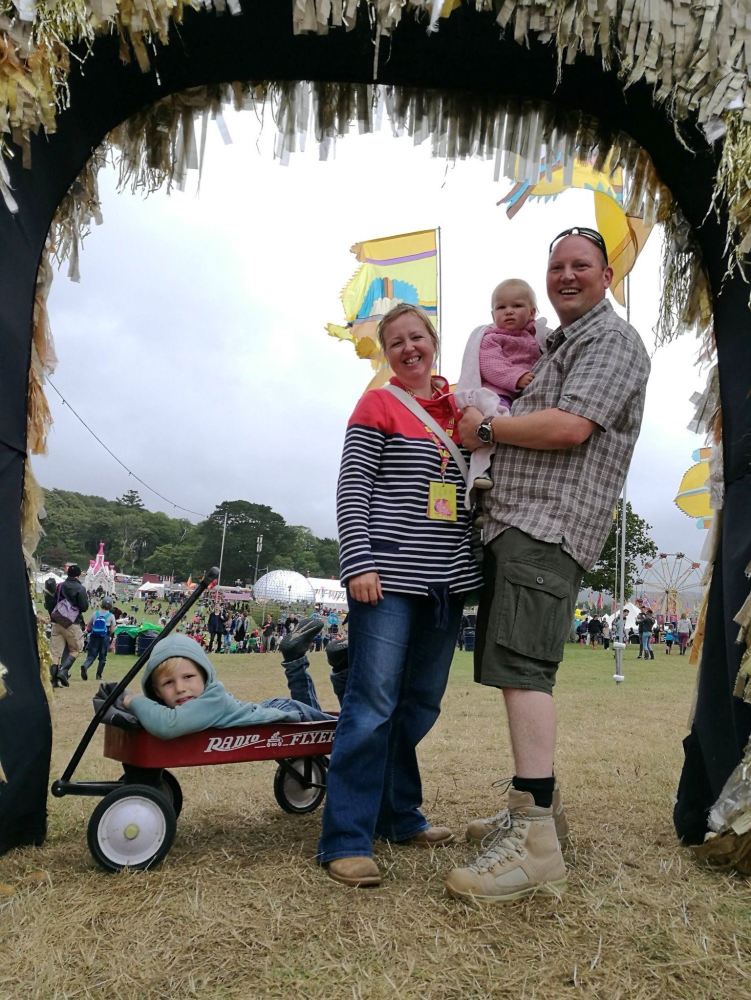 We'd never been to a festival or even camping with the kids before so we were excited and nervous about spending 4 days away from home without our luxuries (although I did try packing everything but the kitchen sink).
Camp Bestival has received many awards including the Family Traveller award for the Best Family Festival. Now that we've been there we understand why. The festival celebrated its 10th Anniversary in 2017 so I think it's fair to say they have nailed everything that makes it a family friendly.
We are fortunate enough to have my parents living near Lulworth so we decided the best thing would be to pitch the tent up and get ourselves all organised before collecting the kiddies. Obviously this meant we'd lost our lovely parking spot but it was worth it to be able to put the tent up without having to chase a toddler every 2 seconds and listen to our 5 year old son say he's bored a thousand times. Piece of advice here, if you borrow a tent, make sure you erect it at home first so you know what the hell you are doing. I had asked my husband to do this several times but of course we got there and spent ages trying to figure out where everything went!
You might find a bit of a queue to get in if you arrive on the Thursday but we didn't sit for too long so it wasn't that bad. The only chore was lugging half the house which I'd packed up and down the hill to the campsite (note to self, pack less next time). I'd thoroughly recommend a Roll On Summer trolley which is great for piling up the tent and bags ect and we had a radio flyer aswell so we only had to make a couple of trips.
Once you're through the security and bag checking area you are faced with a HUGE area to pitch and as I didn't want to be near the noise at night we chose a space fairly near the entrance to the car park. I hilariously took a small glow in the dark mushroom for our tent door and we put our tent up thinking we were on the edge and easy to find. Of course when we came back later with the kids there was a ton of tents around us and my poor little mushroom was only seen once we were actually on top of the tent haha. There are large pathways through the camping area which is great so you won't literally be within a sea of tents like I imagined.
As soon as we fed the children we raced to the Kidifornia Adventure Camp where there was a blogger, press and Camp Bestival crew gathering. Not only was the bar open (which I needed after nearly murdering my husband for criticising my tent and packing skills) but they also had a wonderful play area for the children. Everyone was happy. We spent the loveliest couple of hours in the early evening sunshine playing and chatting to others that had gathered there. As the sun started to go down the lights were coming on and I was buzzing with excitement about the few days we had ahead.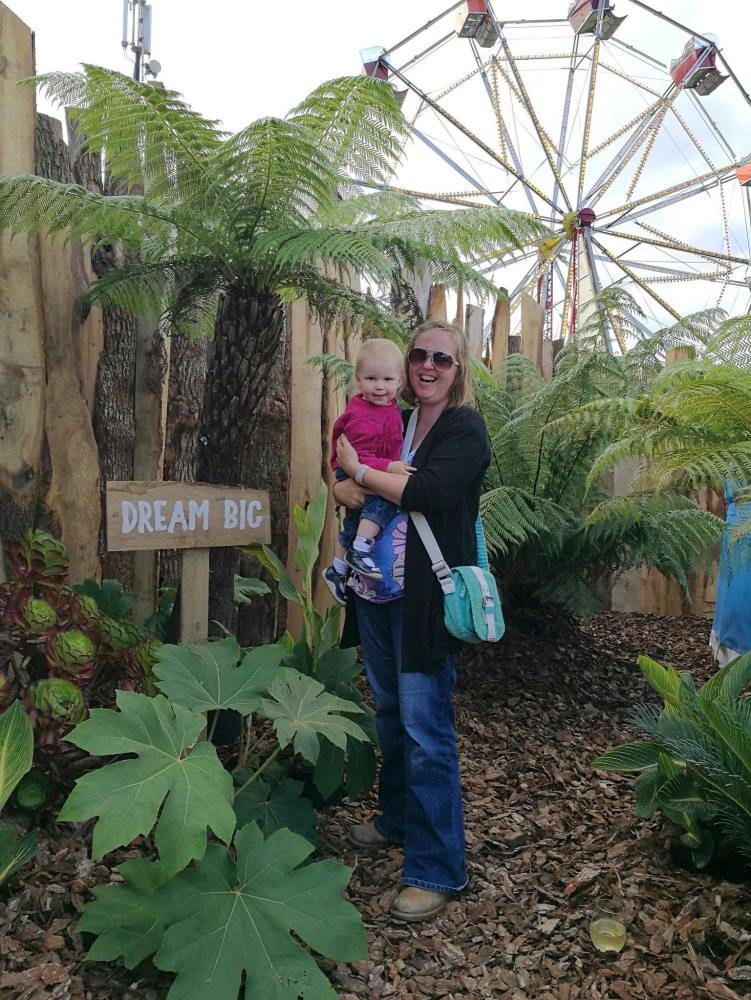 First morning at 5.30am our 1 year old daughter wakes up and off I trot to find somewhere that sells warm milk for her. To my delight I found a food van which I believe ran day and night so I came back armed with hot drinks for all of us and our long day began.
I was looking forward to going through the Camp Bestival programme bag which I'd bought to look at the list of events and our 5 year old son Sam was ecstatic to see there was a Lego pack amongst other things in there. I deliberately hadn't planned too much before we left as I knew there was lots to do but as I went through the booklet I was completely overwhelmed by the huge amount of music and entertainment acts, shows and workshops which were running. I'd marked off a few things I knew the children would enjoy and made a plan that once breakfast was done we'd just go and explore.
Walking from the campsite we found ourselves in the Magic Meadow area first and after a photo op on the Love Bot the kids played in the sports park which had plenty of activities for them including football and volley ball. There's even a big skate park which I could see lots of children enjoying.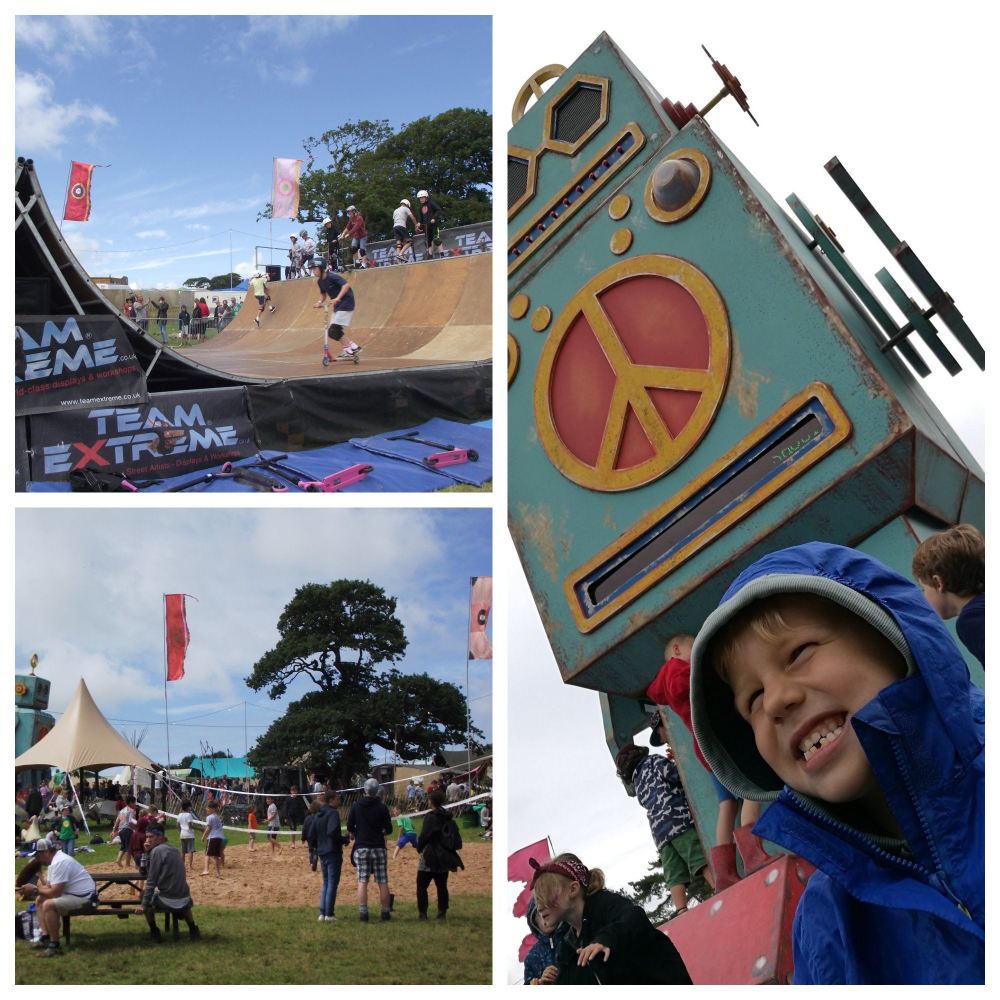 Any parent will know and understand that if the kids are happy then everyone is happy. Once I had a good idea of where the loos were for our son (when he's gotta go he's gotta go) and where was good to eat I knew I could relax a little and just enjoy myself. Everybody, and I mean everybody was in a good mood and we found ourselves having conversations with complete strangers on many occasions.

The Magic Meadow amongst many things had the Big Top with music and comedy acts, the Blue Coats who are a gang of geriatric entertainers, the World's Largest Disco Ball which was good for a boogie when the DJ's got going, a huge Bollywood indoor rave tent, Comedy Tent, Spinney Hallows Woodlanders Roost which had crafts, workshops, fireside entertainment, interactive games and wild food. There was also the Kidifornia Adventure Camp with kids yoga, woodland retreats and pony trekking, Slow Motion where you can relax and unwind with treatments including holistic massages, reiki and yoga, a Dorset Farmers Market and even an inflatable church!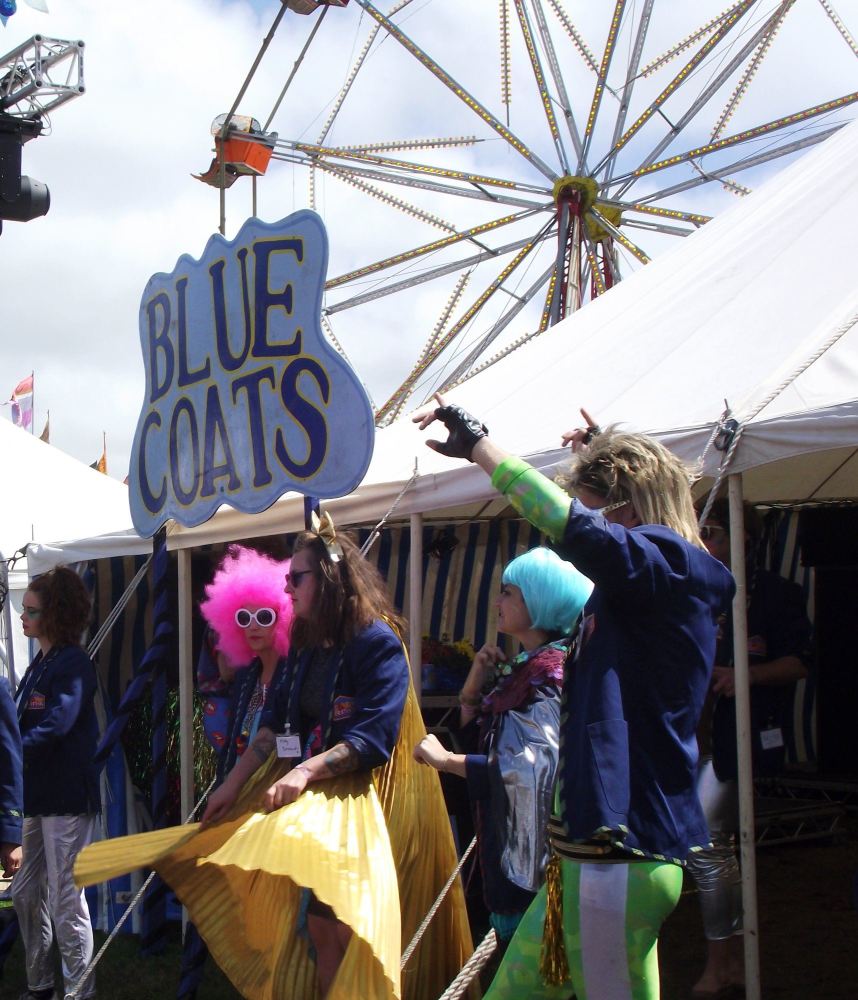 One of our favourite places to chill was called Caravanserai. The whole area is built entirely from vintage caravans and fairground rides! Not only did the kids have fun in the bonkers play area but we enjoyed sitting in half a caravan with a cuppa.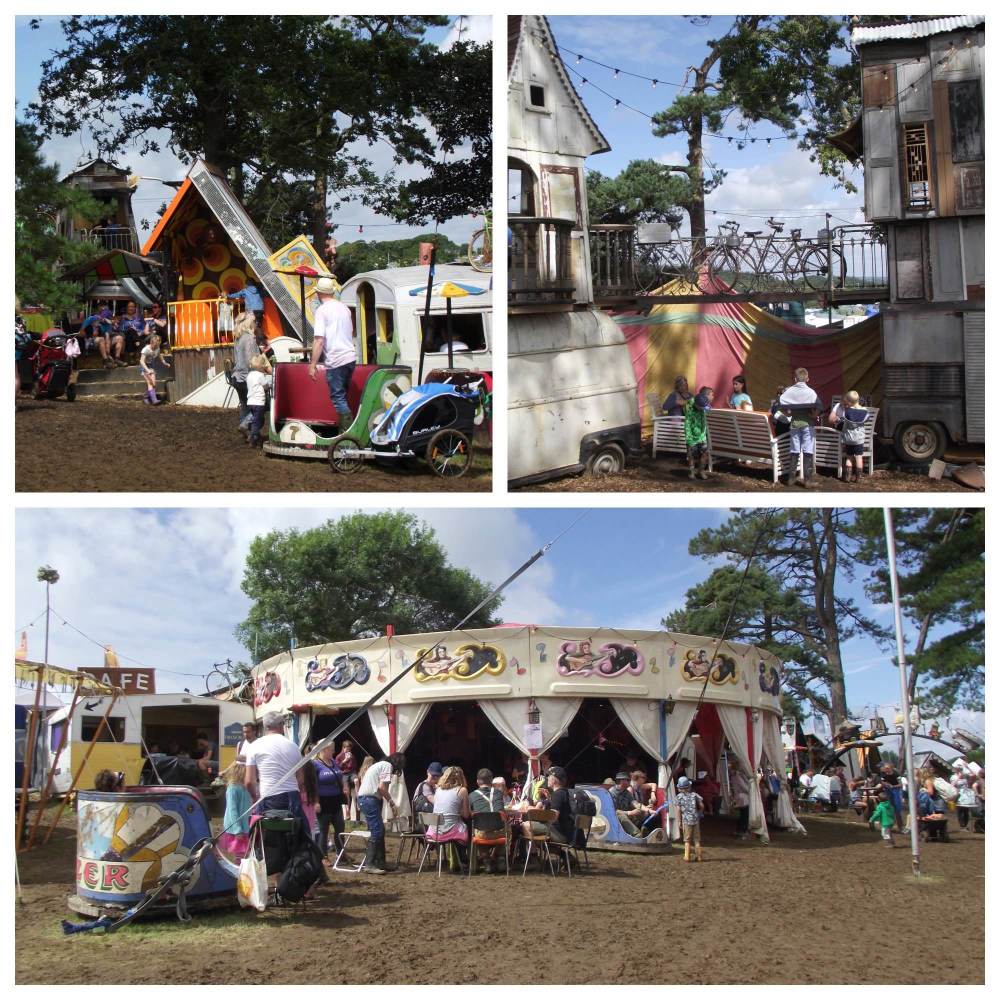 The Castle Stage is the place to be if you want to see the big acts and luckily there's plenty of space. Over the course of the long weekend we watched All Saints, Madness, Right Said Fred and of course to my daughters delight we saw her idol Mr Tumble. There was much more going on and loads that I wanted to see but we always seemed to be having fun elsewhere and the kids didn't want to move.

We spent pretty much all of one day in the Upper and Lower Kids Gardens. The children enjoyed The Greatest Tent on Earth (along with many other families while it poured with rain), the soft play tent with ride on cars and workshops, a science tent with drop in sessions, Bigtopmania where we enjoyed shows and interactive activities, the Insect Circus and Museum, Professor Queen Bee (think Punch and Judy), funfair rides and a Lego Friends area where children could create a Lego masterpiece, pop their name of the friendship wall using Lego and even have a boogie on the dance floor.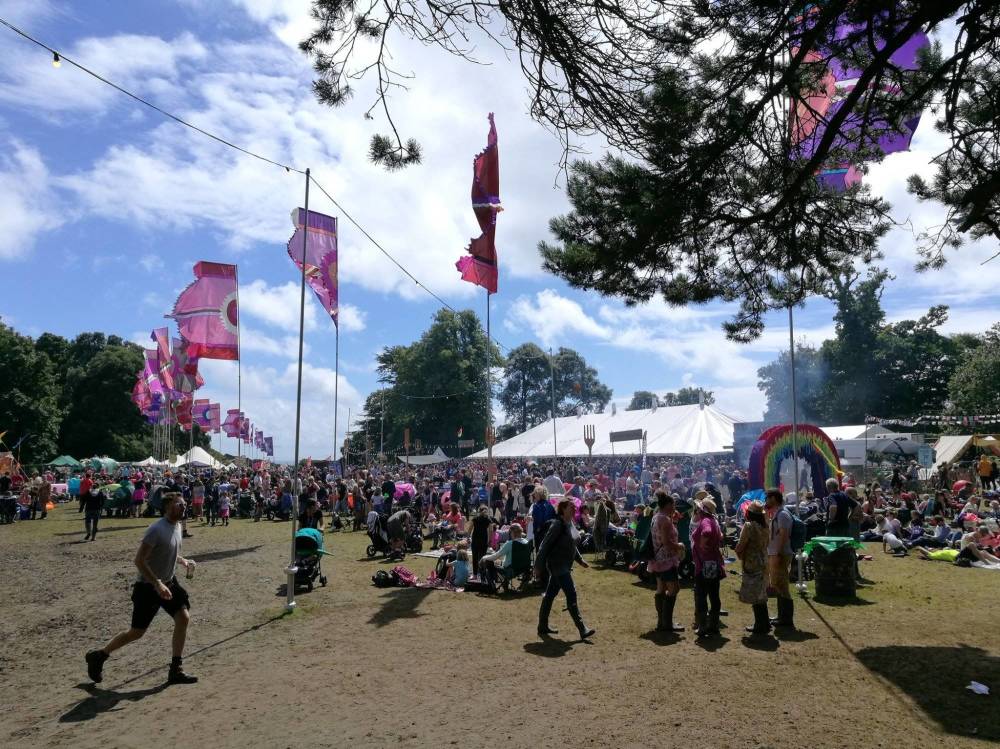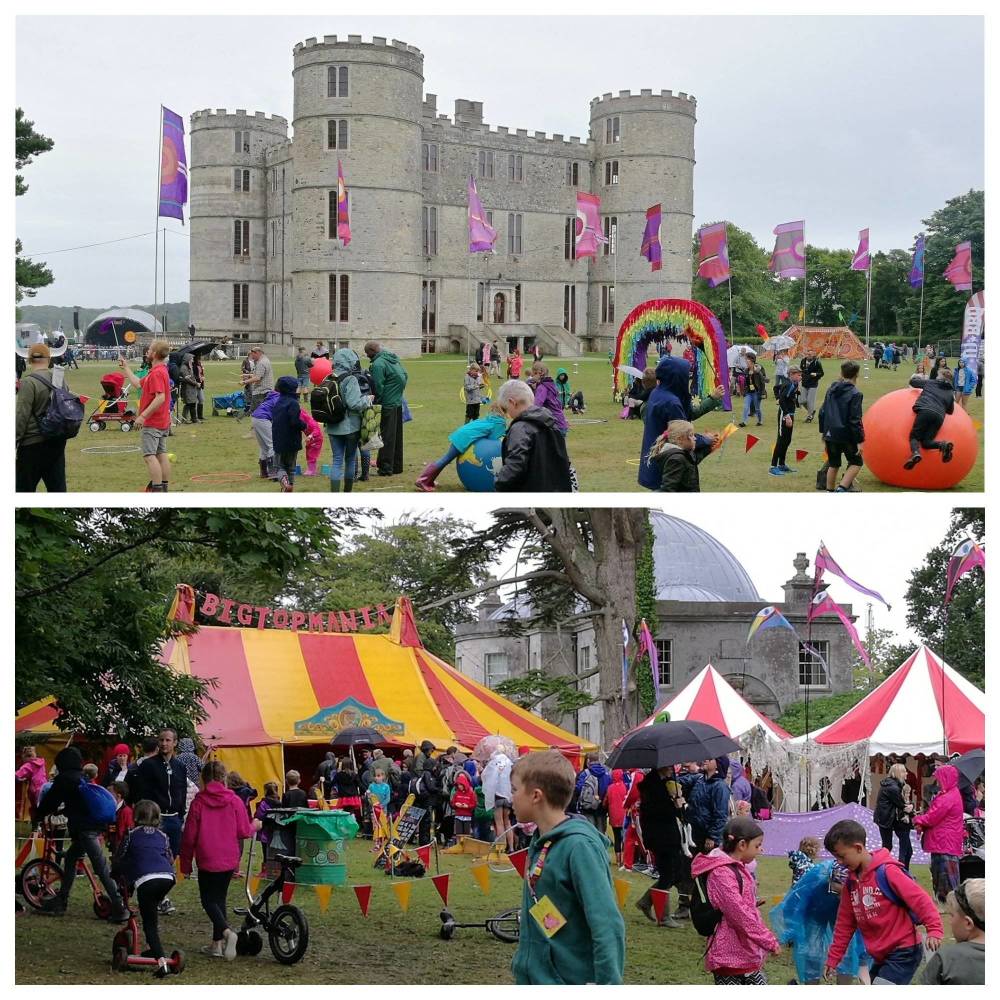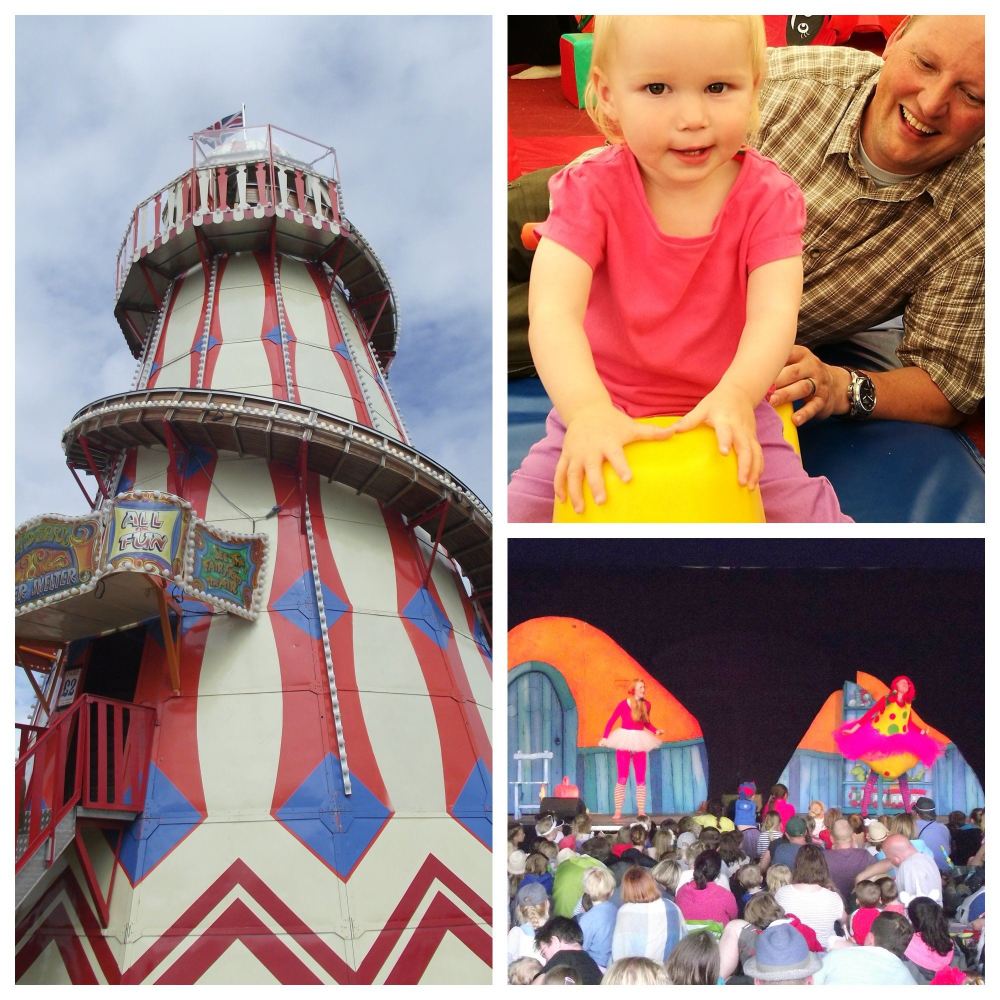 We all enjoyed the Junkyard which was a crafters paradise. Everyone was invited to grab whatever they wanted and artists were on hand to stitch, staple and stick their creations. You could also make cool plasticine portraits or pick up a paintbrush and make your mark on the cardboard wall.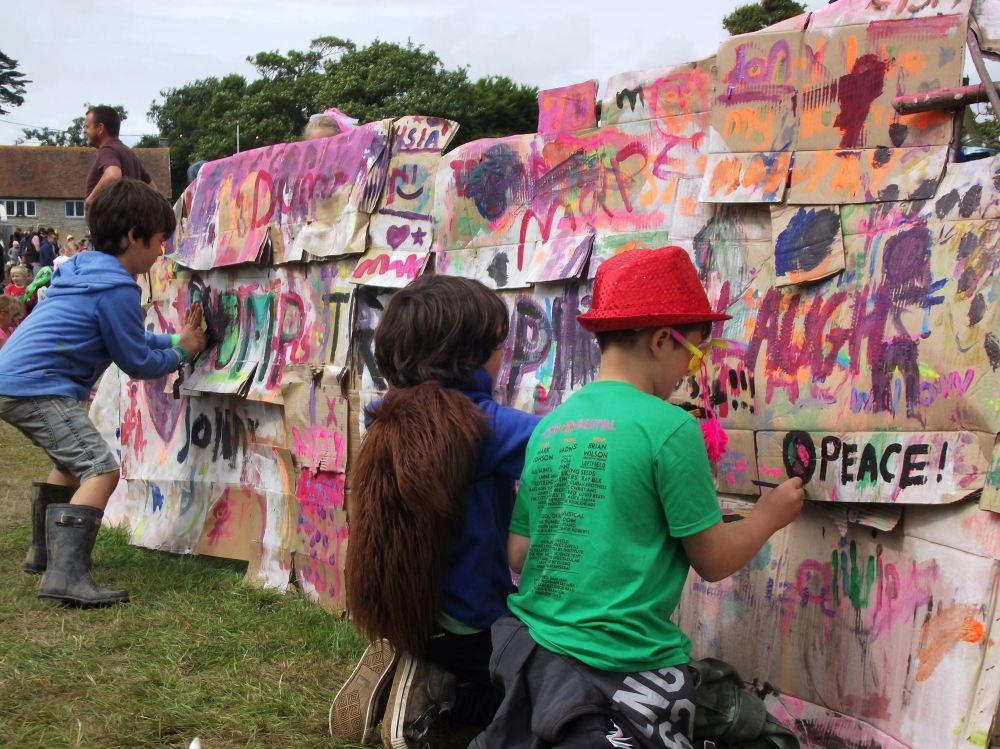 The theme for this year's festival was 'Rockstars and Popstars' and there were tons of families getting involved in dressing up, even the little babies were rocking the weekend. If you need help or inspiration then you can head to the dressing up tent and they'll kit you out in style.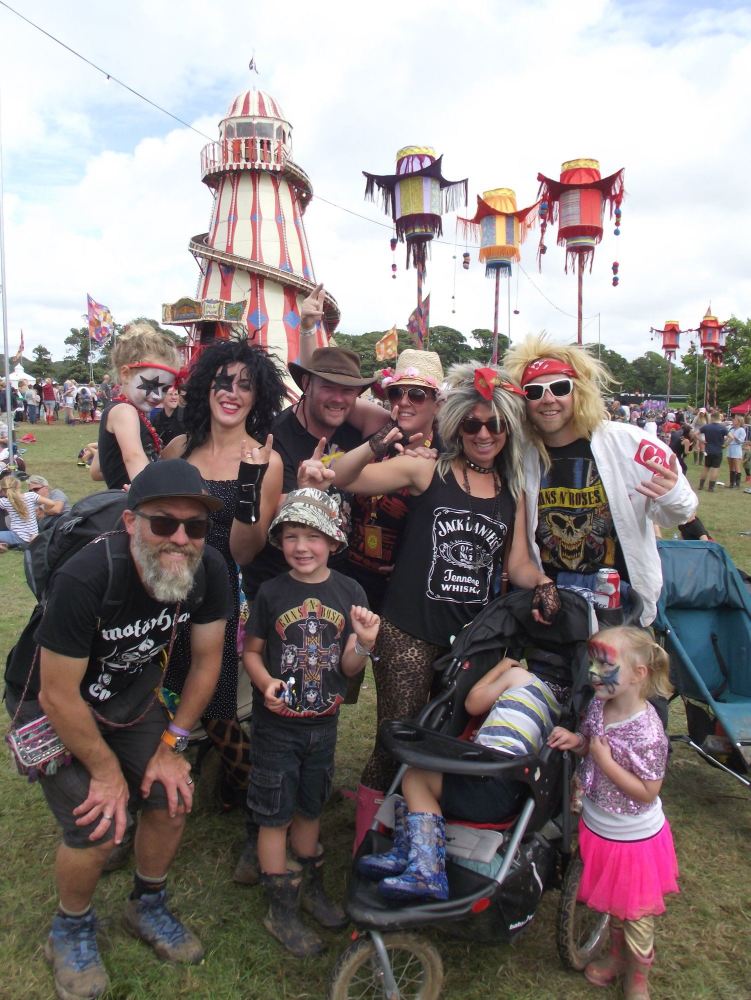 For those of you with teenagers you'll have to check out The Den. This area is like a mini festival within the festival and I'm told the only problem you'll have is getting them out! There was a games tent, music and a multitude of workshops to keep them entertained for hours.

If you get hungry at any point then you won't have to go far to fill your tummy. There's the Feast Collective which is a collection of artisan food producers and the cuisine in there is certainly not your average burger and chips. We saw (and slightly drooled over) BBQ food, sushi wraps, Thai food, posh pie and mash and Ghanaian cuisine.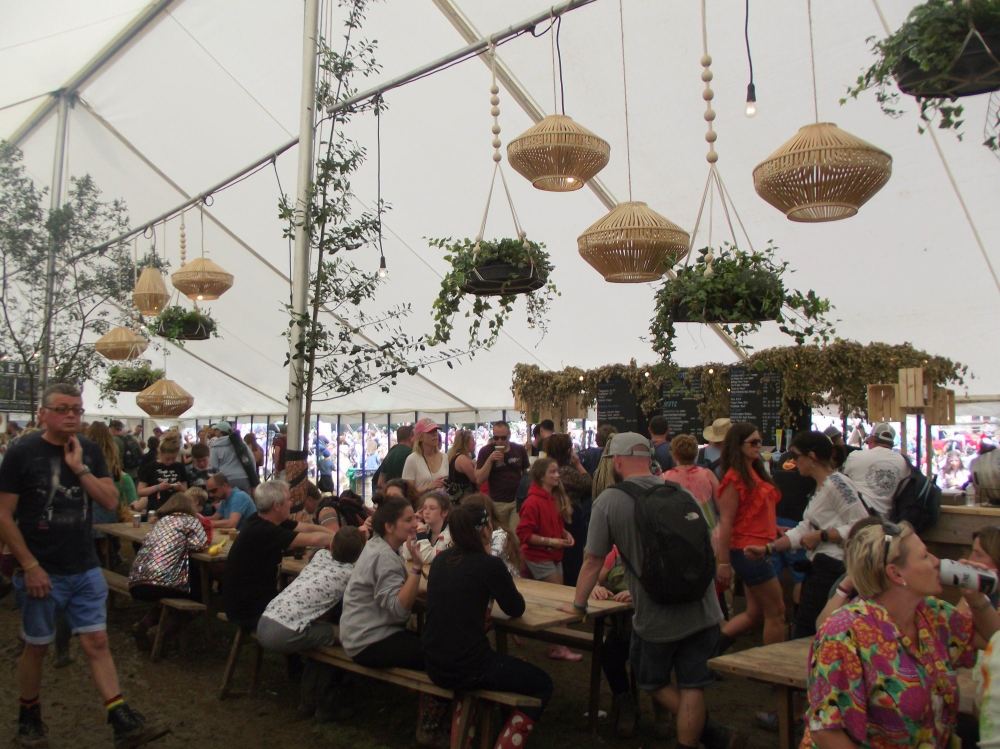 You'll find other foodie sellers everywhere and we enjoyed pizza, hog roast, fish and chips, curry and churros. One thing I didn't find and would love someone to do is a kids lunch box where they choose say 5 things which includes a roll and a drink.

Honestly, there's too much to mention and if I write it all down you'll spend days reading it. Most people will want to know what there is for kids and I can assure you there's plenty. Some activities will need to be booked in advance but the majority are there for you to simply turn up and enjoy. The adult and kids activities and events we wanted to do but never had a chance include the World's Biggest Bouncy Castle, Famous Five bedtime stories, Mister Maker and Dick and Dom show, Bears Grrreat Bear Hunt, Kidocracy comedy show, the fancy dress parade and the CBeebies Magazine tent.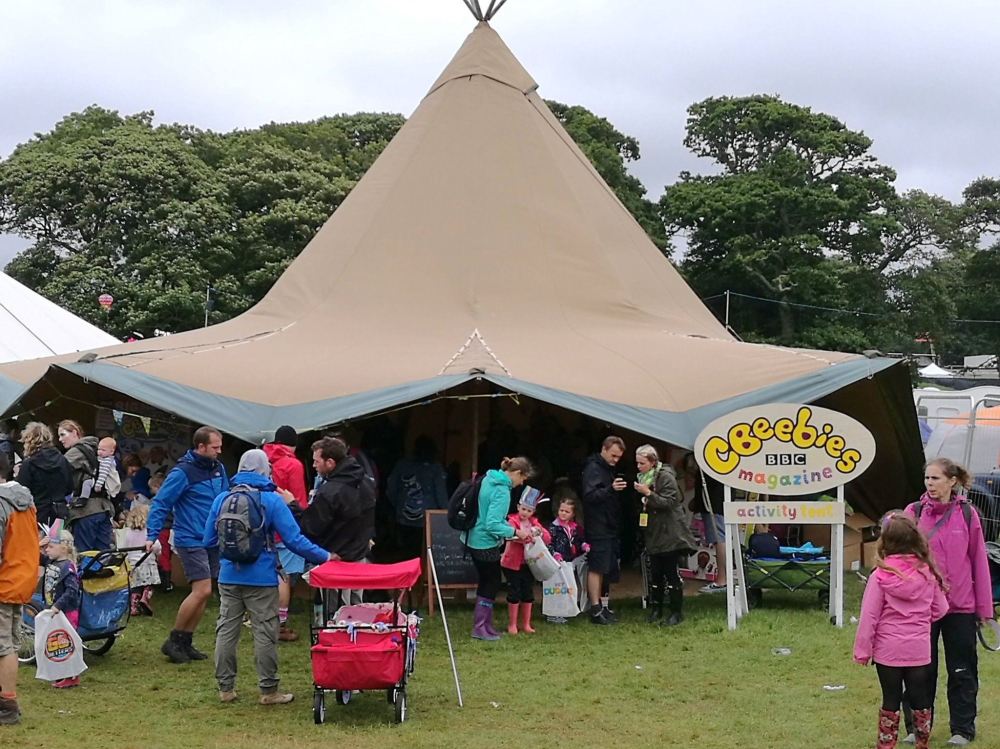 Having my parents so close meant that we could drop the kiddies off Sunday afternoon (yes I did feel a bit guilty) so myself and my husband could spend some grown up time enjoying music with a cocktail or 2. One of my greatest memories of the weekend was us singing and dancing at dusk by the World's Biggest Disco Ball and giggling like a couple of kids.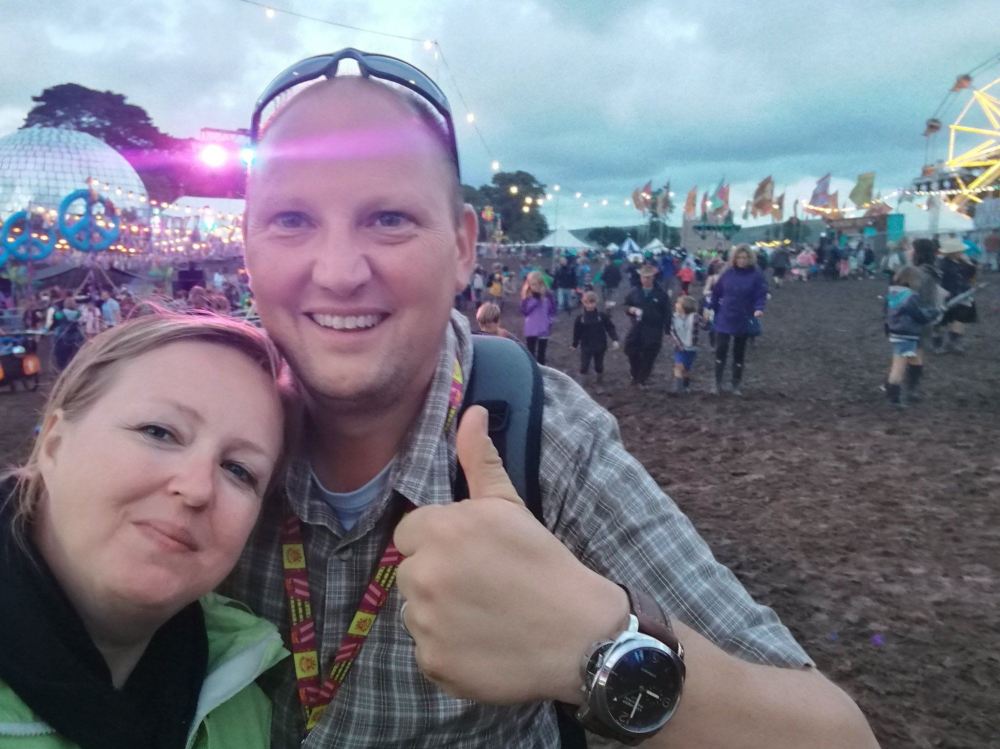 I knew Camp Bestival had a brilliant Son Et Lumiere Fireworks display on the last night and boy did it not disappoint. With Lulworth Castle as the perfect backdrop it almost brought a tear to my eye and I really didn't want it to end.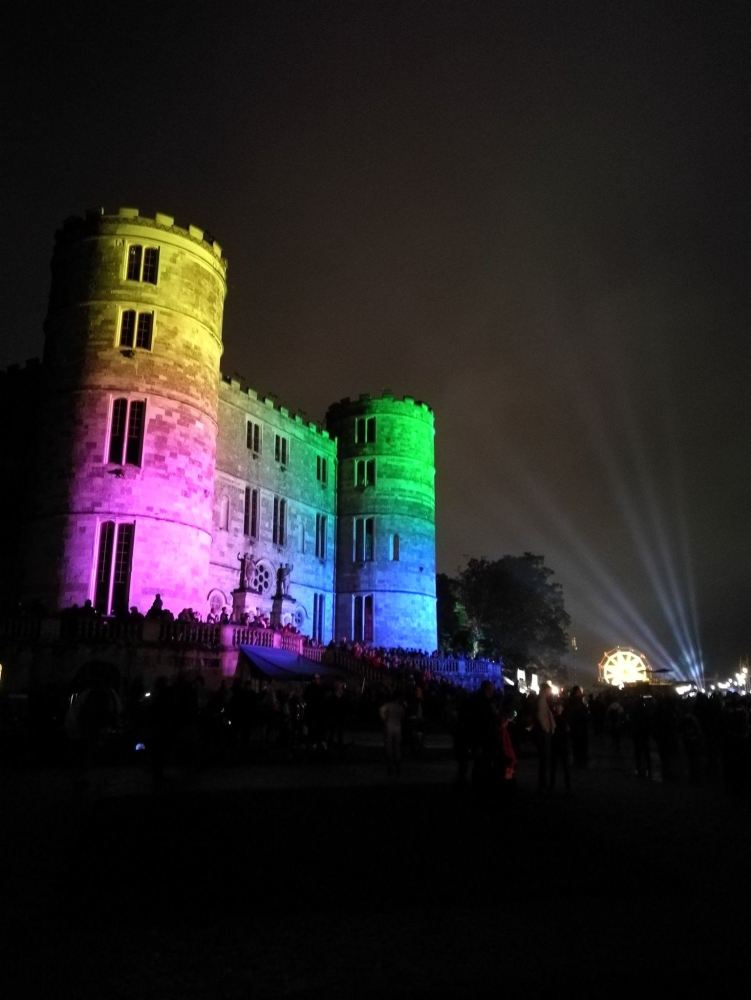 When we met up with the kids later on the Monday I asked my son what his favourite part of Camp Bestival was and he said it was the time we spent in the magical woodland area making mud pies (Dingley Dell). My only regret was us not seeing the woods lit up at night.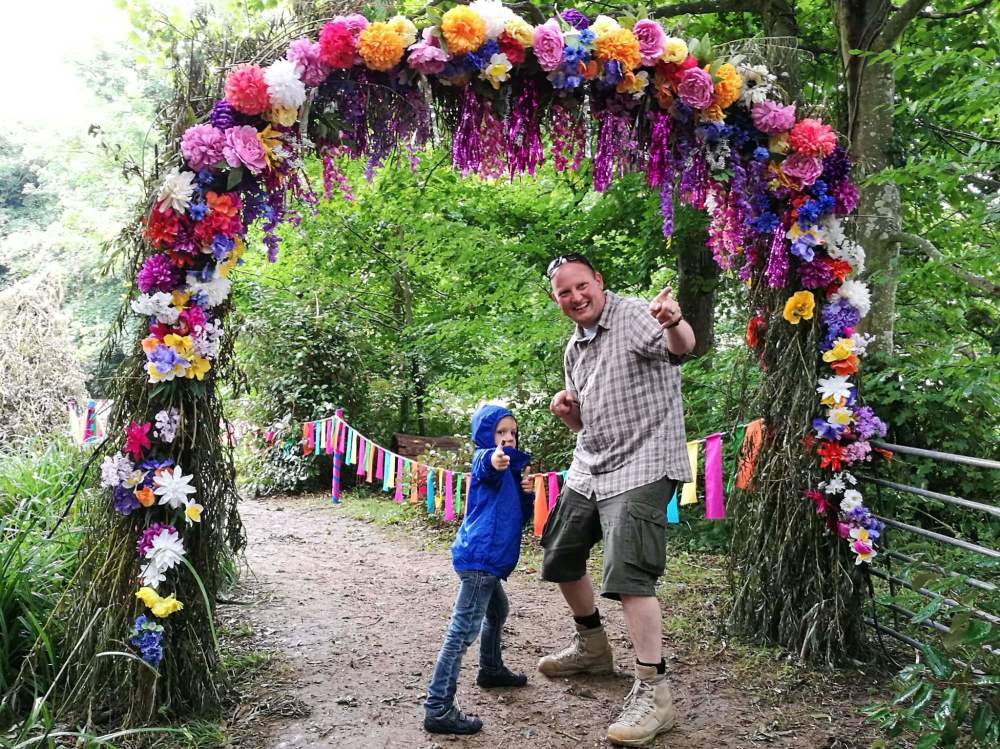 Advice for first timers………
Try not to plan too much as you'll spend all day running around and it's a big place. Whilst I was a little sad we missed some lots of great performances I was pleased the kids were happy and we loved stumbling upon an area which we knew nothing about.
Don't pack too much unless you have a strong octopus with you to carry everything. Camping essentials for us (other than tent, sleeping bags, blow up beds ect) included snacks and drinks for the kids, small bin bags for rubbish and dirty clothes, a good sized rucksack to take out for the day, tent wateroofing spray (hopefully you won't need it), lantern or torch, picnic blanket or camping chairs, antibac handgels and baby wipes, loo rolls, sun cream and hats, and of course a camera to record those lifelong memories.
I can thoroughly recommend taking a Radio Flyer or similar pull a-long trolley. There's lots of walking and little legs get tired so we found ours was great for when the kids needed a rest.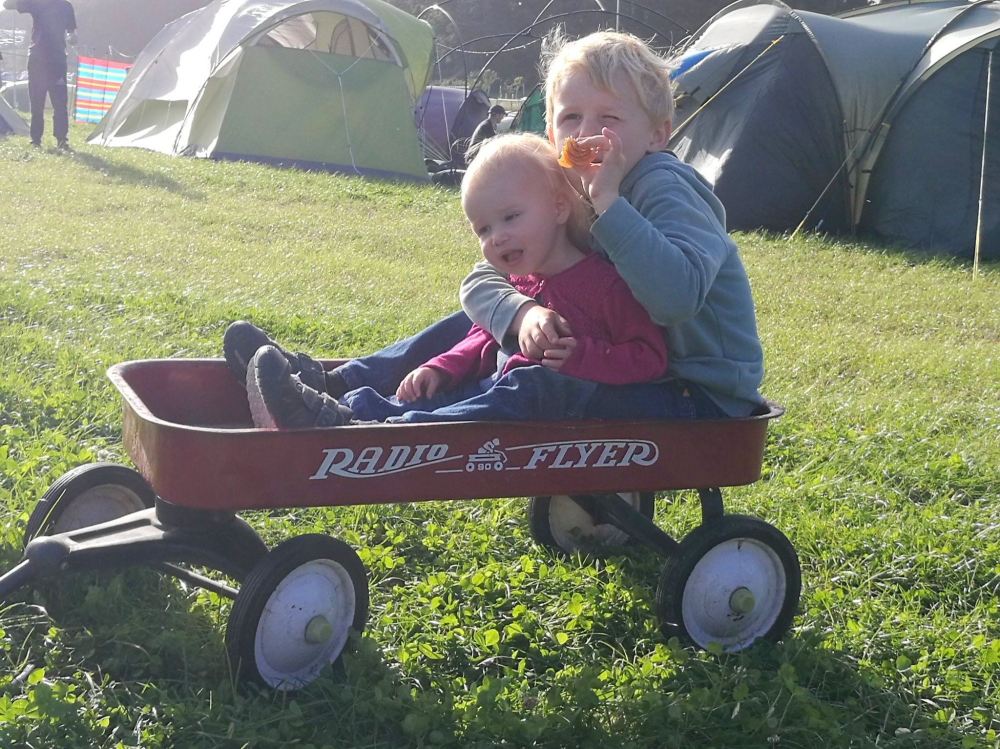 Prohibited items include glass and portable toilets. Open fires are also not allowed but there are designated campsite fire lanes if you would like to have your own BBQ.
If you can't be without your mobile devices for a few days then I'd thoroughly recommend taking your own portable battery charger. If you don't want to get your own though then you can pay to get your device charged at the festival.
Cash points are available on site.
Make yourself familiar with the location of the first aid and kids welfare tents. A tip from Camp Bestival is to take a photo of your child on the morning of your day as this will be very useful should you be separated. You are also advised to have mobile numbers on their wristbands. As a double precaution, I made keyrings for the kids which had a fun sticker on one side and both of our mobile numbers on the other side.
At least once you need to treat yourself to a posh loo haha. They are super clean, warm and a welcome break from a portaloo. You do obviously need to pay but it was money well spent for 5 minutes of luxury.
The theme for 2018 is 'Camp Bestival Sets Sail'. For more information on the line up and ticket costs please visit the
Website
.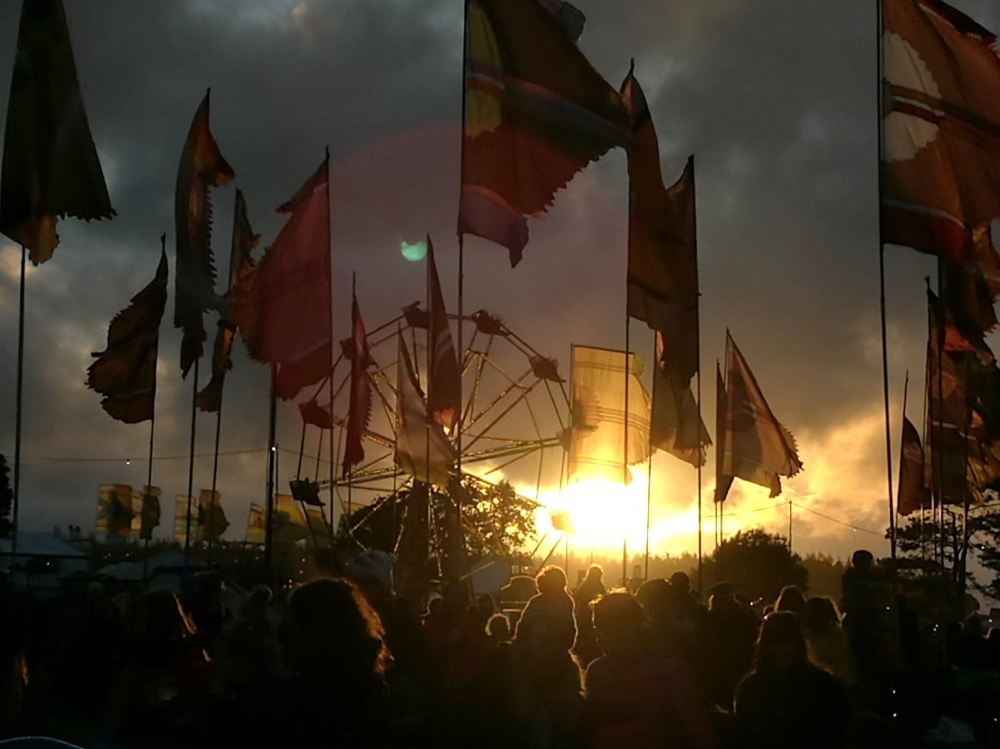 Dorsetmums was invited to Camp Bestival as part of the Ambassador programme however all words are my own.