Slow Cooker Christmas Fudge Recipe
Posted on
This is my second attempt at making slow cooker fudge and it's sooo good! I want to make some bags up for Christmas presents so I thought I'd make some beforehand to test the flavours and share with anyone else who wants to have a go.
The chocolate you use is quite important. First time round I bought Dairymilk thinking I had to get the best but actually it's better to buy cheap supermarket chocolate. For this recipe I used Lidl's own which was much cheaper and in my opinion tasted better. The idea for a simple recipe is to have 500g of chocolate so I used 4 bars of milk chocolate and then one bar of the finest dark chocolate.

Slow Cooker temperatures vary greatly so unfortunately it's not possible to give an exact time but you'll be looking at approximately 90 minutes from start to finish.
INGREDIENTS

400g milk chocolate
100g dark chocolate
Can of Carnation condensed milk
20g unsalted butter cubed
70g raisins
60g glace cherries chopped
50g blanched almonds chopped
1 teaspoon mixed spice
40ml Brandy (optional)
Start by getting the slow cooker on high and leave the lid off the whole way through. I didn't do this the first time and the condensation made my chocolate seize up. Luckily it was saved by a good beating but I was honestly close to throwing it all in the bin.

Break up the chocolate and throw it in, add the butter and whole can of Carnation condensed milk. You'll need to stir it quite often until it all melts. Use a metal spoon or plastic spatula as wooden spoons can absorb moisture. Once it has all melted you need to turn the slow cooker down to low and go to stirring it every 10 - 15 minutes. It was at this point that I added the brandy but you could add any other flavouring if you wish.
The fudge will at some point develop a 'crust' and you need this to happen twice before it's done. The definition of the crust is when it looks a bit wrinkly on top and comes away from the edge slightly. When you see it the first time, stir like a crazy person to make it all lovely and smooth and then keep stirring every 10 - 15 minutes until you see it the second time. Once this has happened you just need to stir in your fruit, nuts and spice and get it in your tray asap.

I used a long tray and lined it with cling film so it's easy to get out and decorated the top with gold sugar sprinkles to make it look more Christmassy. Get it in the fridge for at least 4 hours or overnight and then it'll be perfect for cutting.

I like to make my pieces bite sized and got about 80 pieces out of my batch. A good 10 pieces fell in my mouth and the rest was put into bags for family and friends to taste test for me. So far, the reports back have been very positive.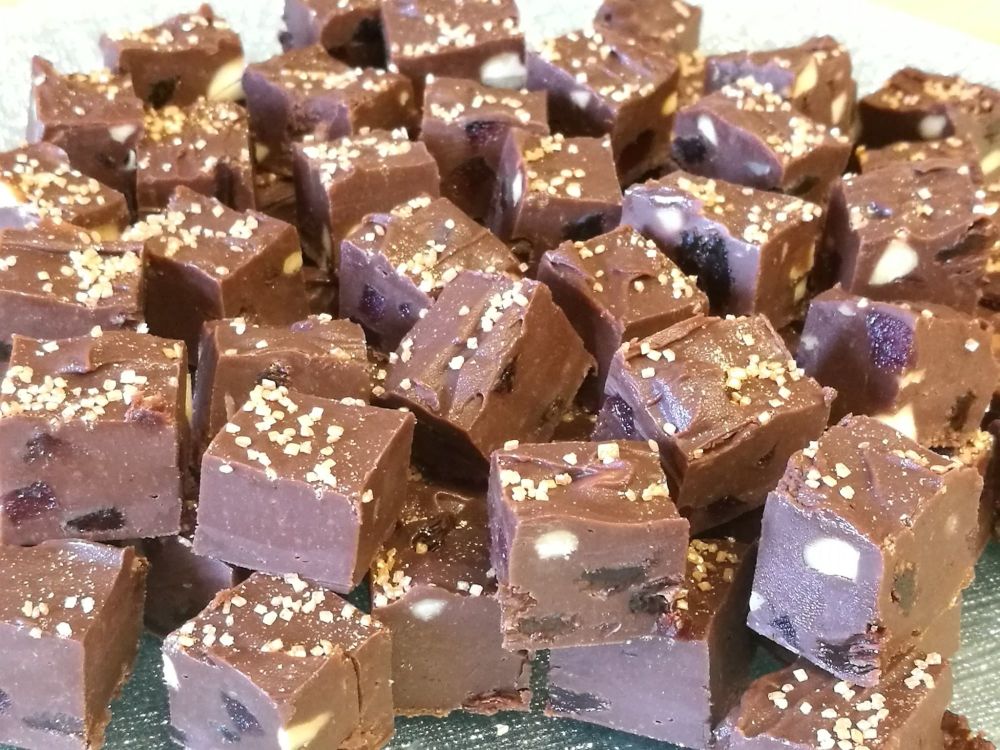 The possibilities of flavourings are endless! I'll be making more of this for Christmas gifts and after that I want to have a go at chocolate orange, rocky road and mint chocolate. Other ideas include ginger, Turkish delight, coconut, salted caramel, crunchie and brightly coloured unicorn fudge.

Please don't for one minute think I am an expert on this. There will be a lot of trial and error I'm sure but the things I have learnt is that too much liquid will affect the density, if the chocolate seizes up it can be saved and sprinkles on top look fab.
NOTES

Silicone trays and moulds are great fun too and I'm sure they'd make a perfect gift for Christmas and Birthdays.

The ingredients above are what I used and give the fudge a slight brandy and spice taste but you can add more if you want it to have a stronger flavour.

My total cooking time was about 100 minutes but slow cookers run at different tempurates so it's advisable for you to keep a note pad and pen nearby so you'll know your timings for next time.

Store in an airtight container for up to 3 weeks in a fridge (if you don't eat it all) and up to 3 months in the freezer.
Have fun!