Fun family times at Woodlands Grove Campsite
Posted on
As a family we'd spent a few months discussing our future holidays and although part is me is desperate to jump a plane and go somewhere hot with a pool I know the costs will be sky high in the school holidays and I really don't fancy the fuss with 2 small children. With this in mind we decided to embrace the camping lifestyle and having fully researched air tents we went to
Campers and Leisure
near Ringwood and bought the Outdoor Revolution Airedale 6s which had 3 bedrooms, a huge living space and porch.

I firmly believe that we are very lucky to live in Dorset as we have loads of great campsites on our doorstep but we also have Devon just next door and within a couple of hours we can be on hols for the week exploring exciting new areas. I'd looked at a few places to stay but Woodlands Grove near Dartmouth caught my eye for many reasons so we booked for the May Half Term week and can't recommend it enough.

The campsite in itself is brilliant but the absolute cherry on the cake was the theme park which you enter for free if you are staying. The kids spent many hours in the numerous play parks and then there was also the rides which were suitable for all ages, farm and death slides which literally made me feel sick every time I watched kids screaming down them!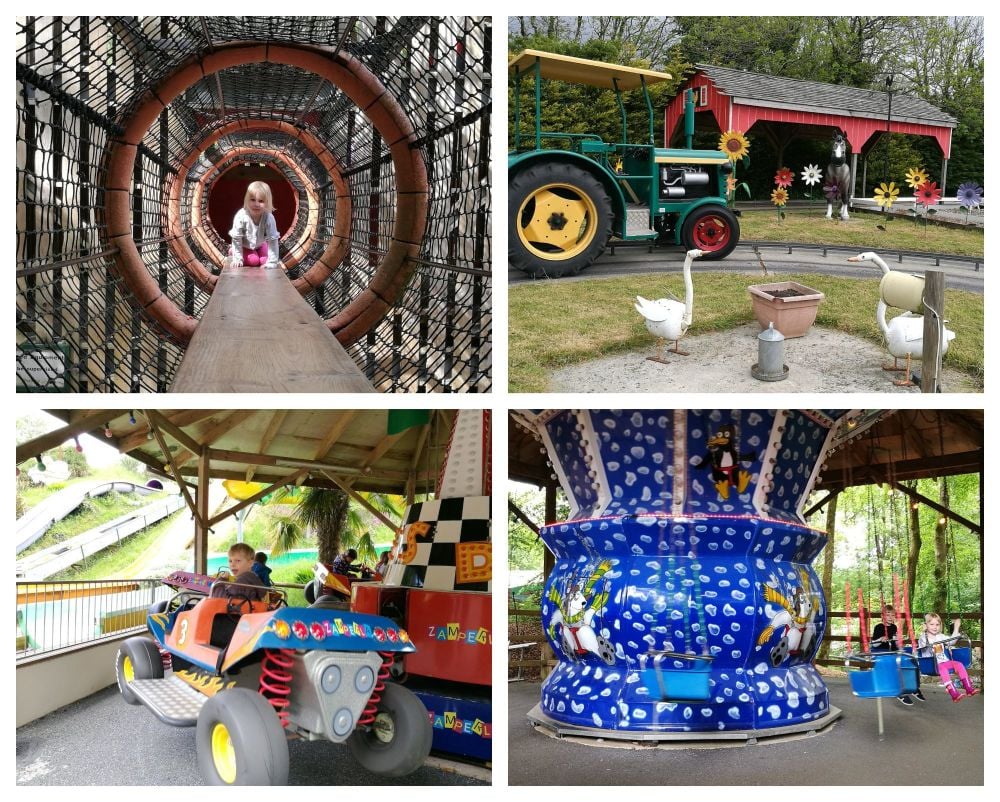 Having never spent a week in a tent I of course over packed. We already had the basic camping bits from when we'd done the odd night but I still bought super thick PJ's and packed pretty much everything but the kitchen sink haha.

The Sat Nav said our home for the week was 2.5 hours away but of course we had to stop a fair few times for wee breaks, drinks, more wee breaks and lunch. It was at least mid afternoon by the time we arrived and as we went in the kids were literally bouncing in their car seats as they could see Deer in the field and rides in the theme park.

We were warmly welcomed at reception and given all the information we'd need for our stay and with only a short wait we were escorted by a nice warden to our spacious pitch. I love that the camping areas are small rather than one large field as the children could happily play without wandering off. In our area we were surrounded by big trees and hedges with rubbish bins and a water point in the corner so you didn't have to go far to fill up the kettle.

Our tent was collected literally the day before we left so we only had the guidance given when we bought it but the idea of air tents is that they are really simple to erect and with the help from the kids we actually had it up and pegged down in about 20 minutes! I knew the children were starting to get hungry so we emptied the car and blew up the beds before going off in search of the campsite pizza parlour. I'm so pleased we decided not to cook on the first night as our pizzas were made fresh to order and tasted amazing. (We even had them later in the week too). We found some tables to sit on and with a park in view we promised the kids they could have a play if they ate all their dinner up.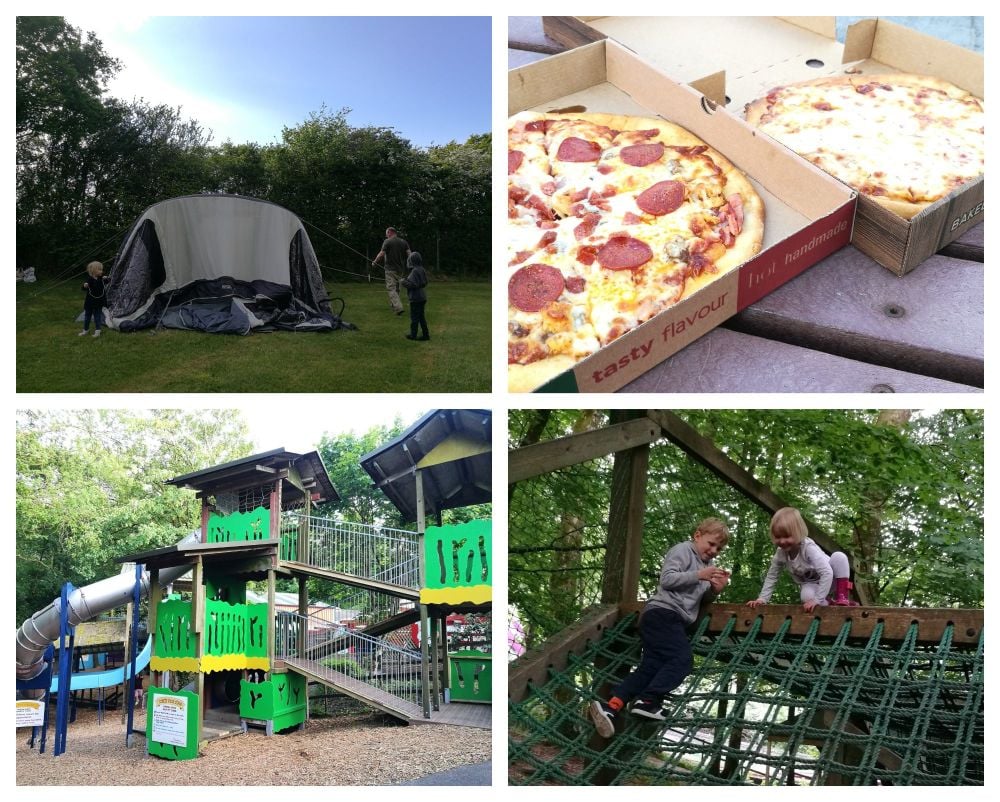 I've learnt a few things about camping with children. The first is that I can kiss their 8pm bedtime goodbye! I didn't let it worry me though. There's happy children playing everywhere and although I tried to settle them down after 9pm I found that they were just too wired and with it still being light outside they were unable to calm down. With them being quite young I didn't like them being in their own rooms so we removed the partitions and made it one big room. Myself and Daddy would hilarious take turns to sit in there with them during the week but I'd get so comfy that when they'd drop off I wouldn't get up and then when Daddy did it he'd fall asleep before the kids! I did think that with our new large living space that we'd spend our evenings drinking wine and chatting but the truth was that we were just as shattered as the kids haha.

On the first morning I took the kids off to have a good look around the amenities and found very clean showers, toilets, disabled facilities, a family room with baby change facilities and even a bath! There was also a games room for the kids, plenty of sinks for washing up, a laundry room with irons and ironing boards and freezers for ice blocks. Everywhere seemed to be very well kept with the garden areas looking lovely and zero litter.

When we were all washed and ready we went into the General Store to have a look around and bought some milk to make a cuppa at the tent. The store is well stocked with BBQ food, fresh and canned goods, toys, camping equipment and gas refills. My husband couldn't find our 4 way adapter at home and was pleased to see one in the store and then hired an electrical hook up from the reception. (deposit required).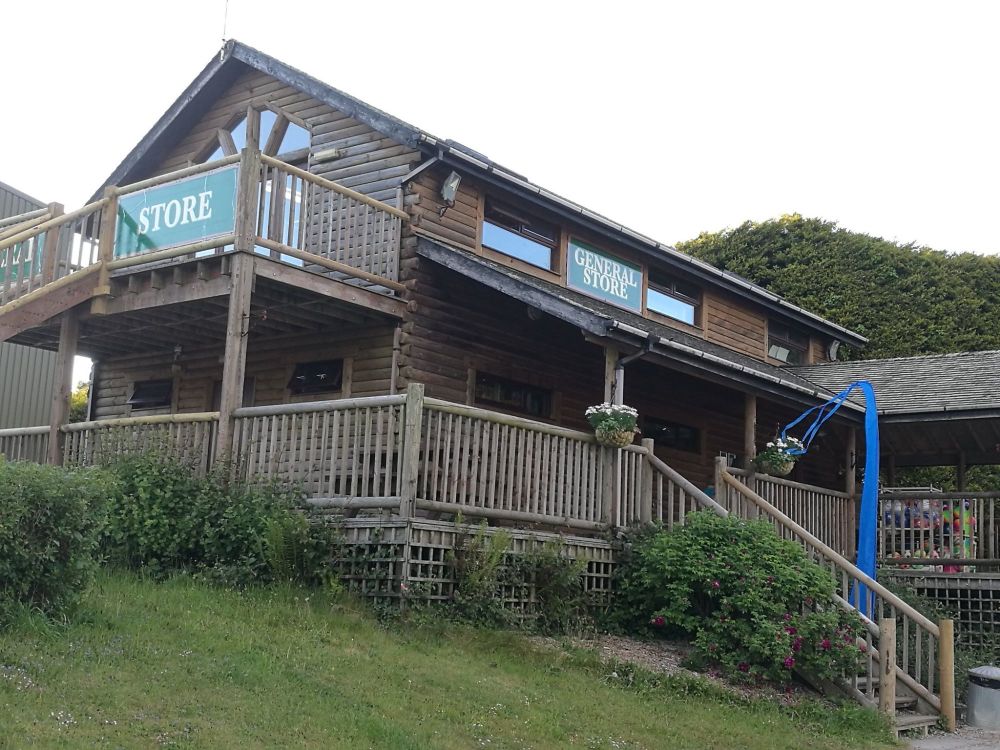 We had no plans to leave the site on the first day and the kids were definitely keen to explore the theme park. I had no idea it was so big and was surprised that in the many hours we were they we'd only managed to do one side of it. We went through the Mirror Maze and on the Bumper Boats, then the Swing Ship before watching the boys go on the high Vertigo ride. Nearby was the Zoo Farm where we had the chance to grab a coffee while the children played on the ride ons before heading into the animal barn to see the goats, horses, pigs, reptiles and even a funny parrot that likes to shout 'Hello'! There was also a Farmyard Ride and Jumping Pillow which the kids loved. We knew our little girl was getting tired and my attempts of putting her in the pushchair for a sleep was of course ridiculous so we went back to the tent for a rest before and then returned to the play parks later in the afternoon.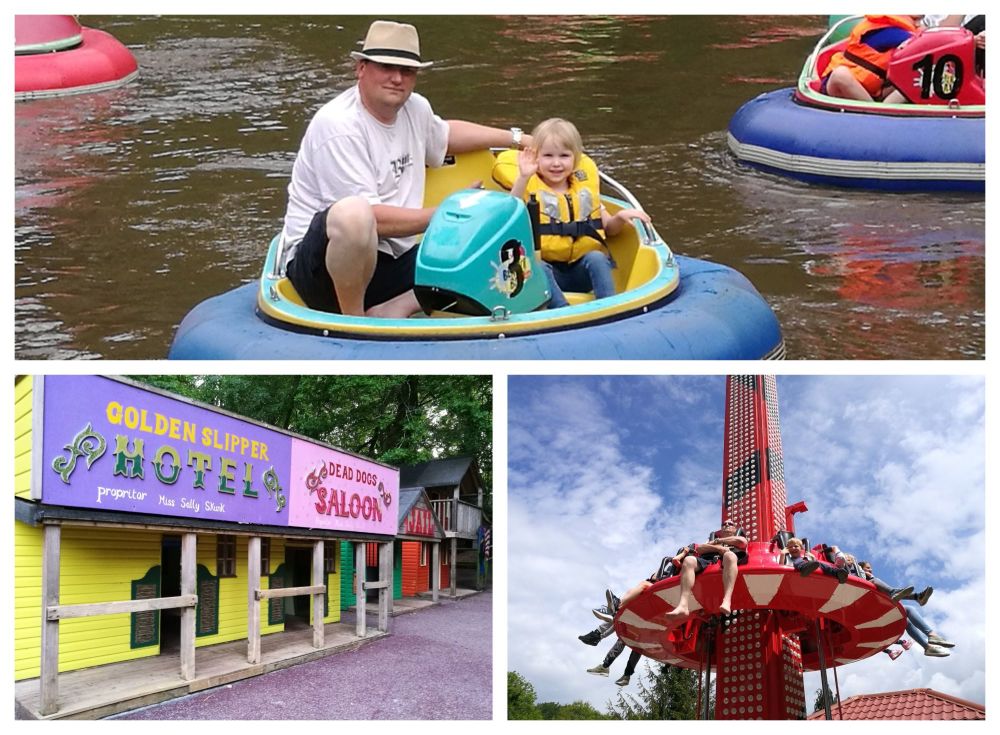 The kids loved the theme park so much that we ended up going in there every other day of our stay. Near the end of the week the boys got brave and did most of the death slides, Cyclone Canyon (which I was annoyed about because I wanted to do it and Daddy won the toss of the coin) and the water slides. While they were having their extreme fun I took our daughter in the sandpit and then went for a walk through the Fantasi Forest Zone which had The Witches Cottage, Trolls Lair and Wunderkids Maze. When we met up again we went back to the play areas before taking 2 very tired children (and us) back to the tent.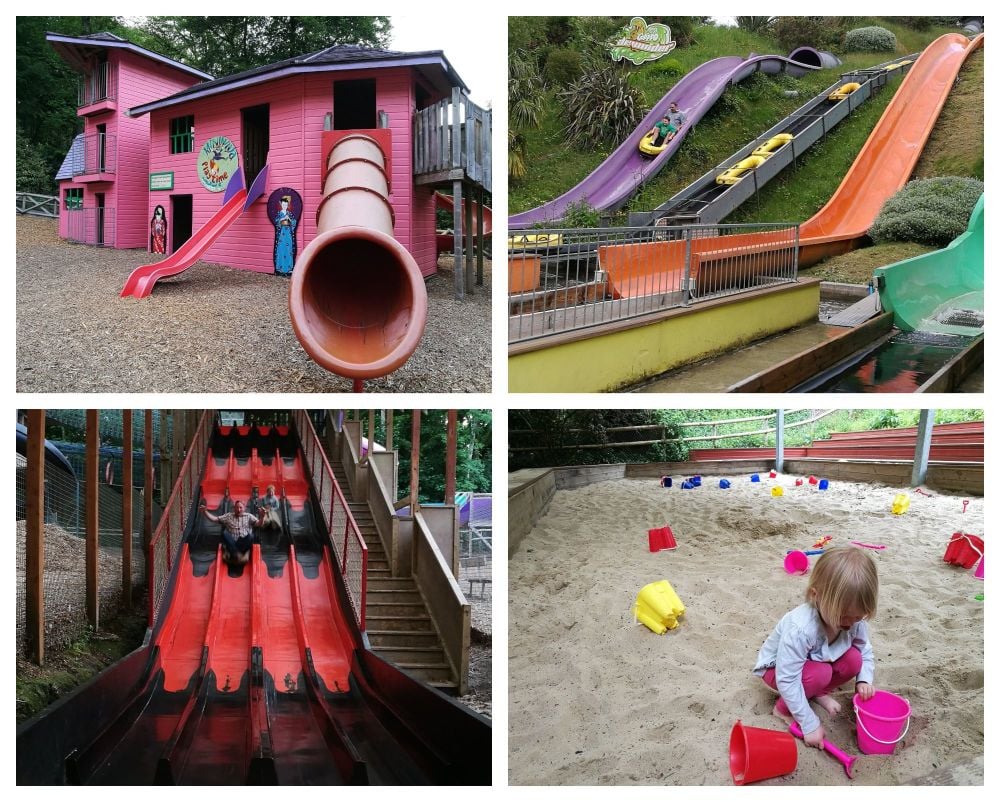 I still haven't even mentioned the indoor play areas and when we had a wet day mid week we started in the Circus Drome Indoor Zone which had a Big Top Soft Play, Bouncy Castle, Circus Train Ride and Master Blaster. From here we dashed to the huge ball pit nearby and then over to the large blue building which housed one of the biggest indoor play areas I've ever seen. There was still parts of the theme park we didn't do which included the paddling pool and some rides but most of the time they just preferred the play areas and my theory is that if they're happy then I'm happy.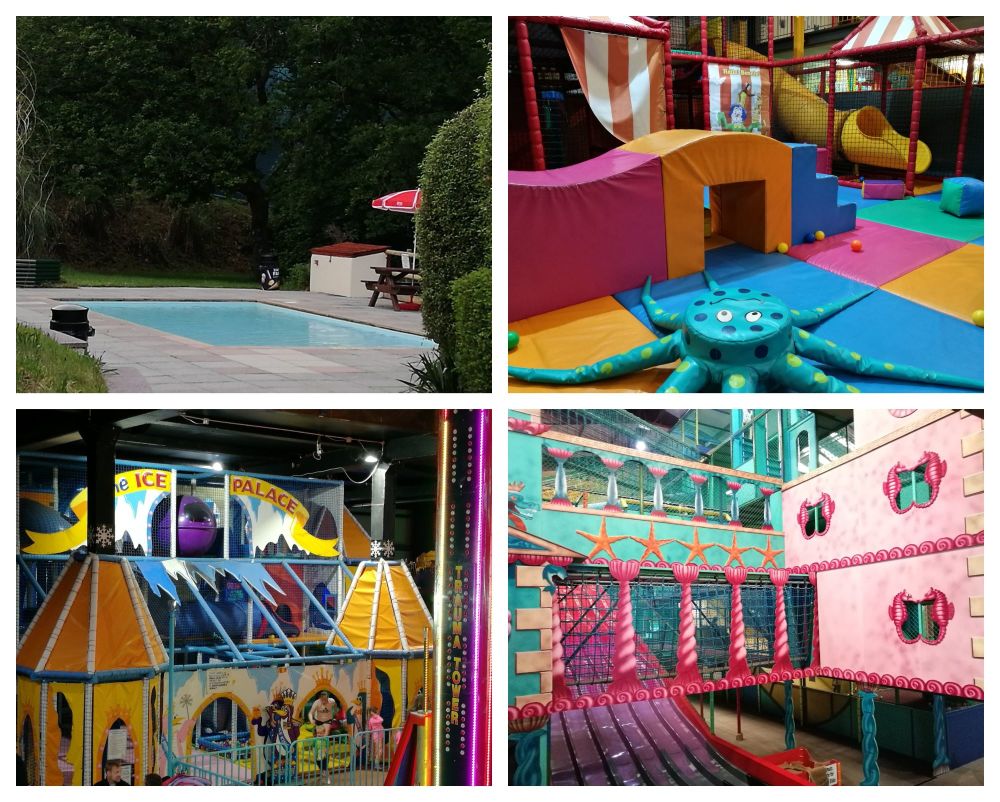 If you do go then make sure you visit the Falconry Zone too. When the kids were in the soft play I took a walk over to see what I could find and the impressive building housed many types of birds including an Indian Tawny Eagle, Book Boo Owl and a European Kestrel. There's information boards all around plus flying displays and hands on activities at certain times. Did you know that Vultures can spot a small carcass from 2km away?

The one thing that we thought we'd miss was a clubhouse for the evening but actually we didn't care one bit. The kids made friends with others nearby and we found ourselves so busy during the day that we just enjoyed sitting by the tent talking to neighbours.

The area in which Woodlands Grove is situated is beautiful and there's lots of lovely towns to visit and family attractions nearby. We took trips into Dartmouth, Paignton and Torquay but there was still lots of other towns we really wanted to visit and never had the chance.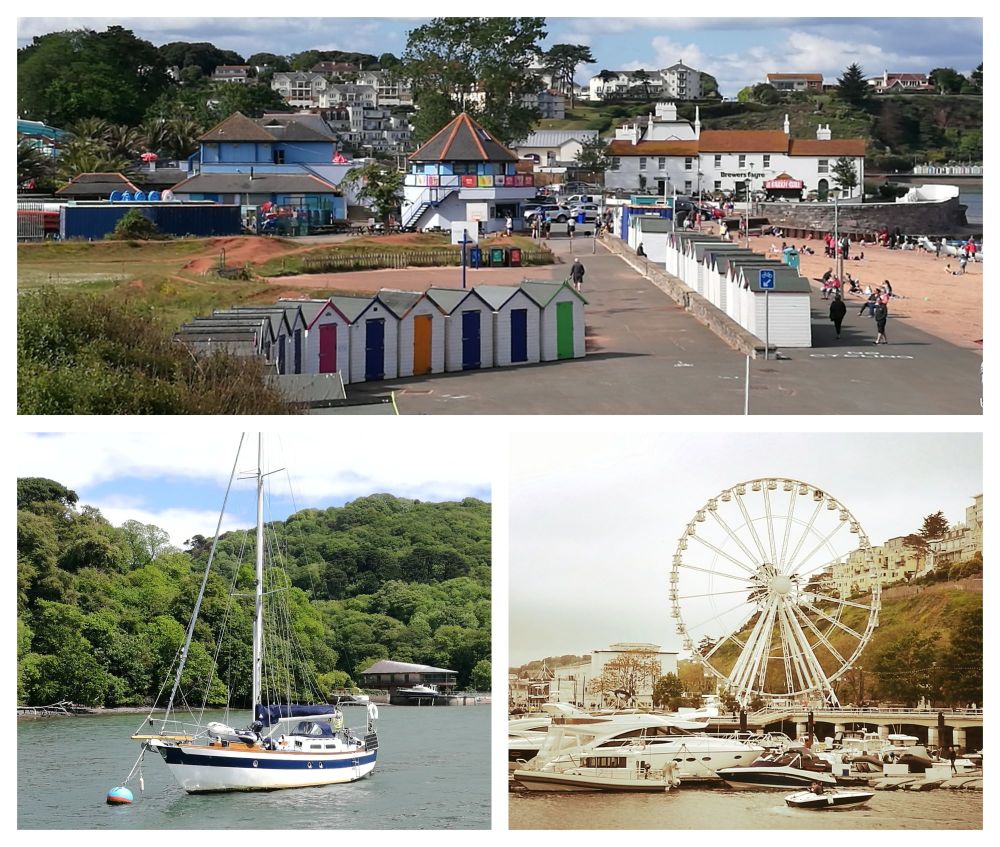 We spent a brilliant day enjoying the
Dartmouth Steam Railway
and Cruise which for us started in Paignton where we boarded our train to Dartmouth for a wander round town and lunch. We then caught a boat which took us on a relaxing hours cruise up and down the river ending with a fantastic view of the Dartmouth Castle. Back on land we had another look in the shops, ice cream and a play in the park before boarding our steam train back to Paignton. The journey really is quite wonderful as it hugs the coastline and gives the most beautiful views of the English Riviera and beyond.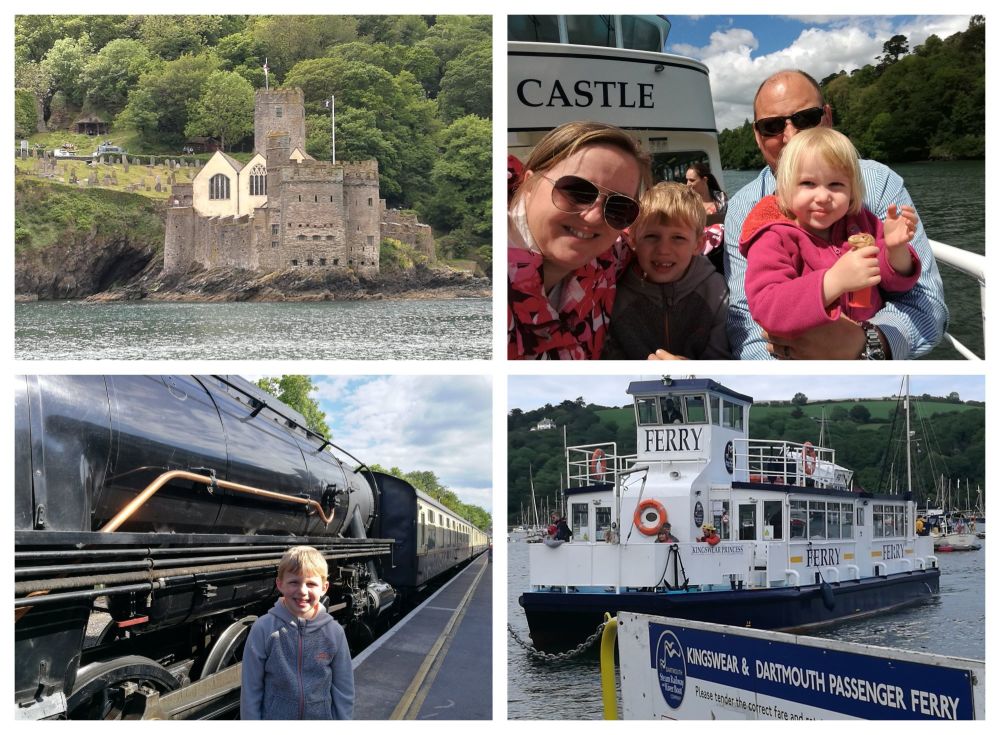 On the last day of our holiday we visited
Kents Cavern
in Torquay. We arrived just in time for lunch which was delicious and the kids devoured their lunch boxes. Tours of the caves ran every half an hour so we booked ourselves in and joined a group on a thoroughly enjoyable journey through time. Back on the outside there was a woodland trail which the kids enjoyed and then participated in some half term activities which included painting cardboard woolly mammoths.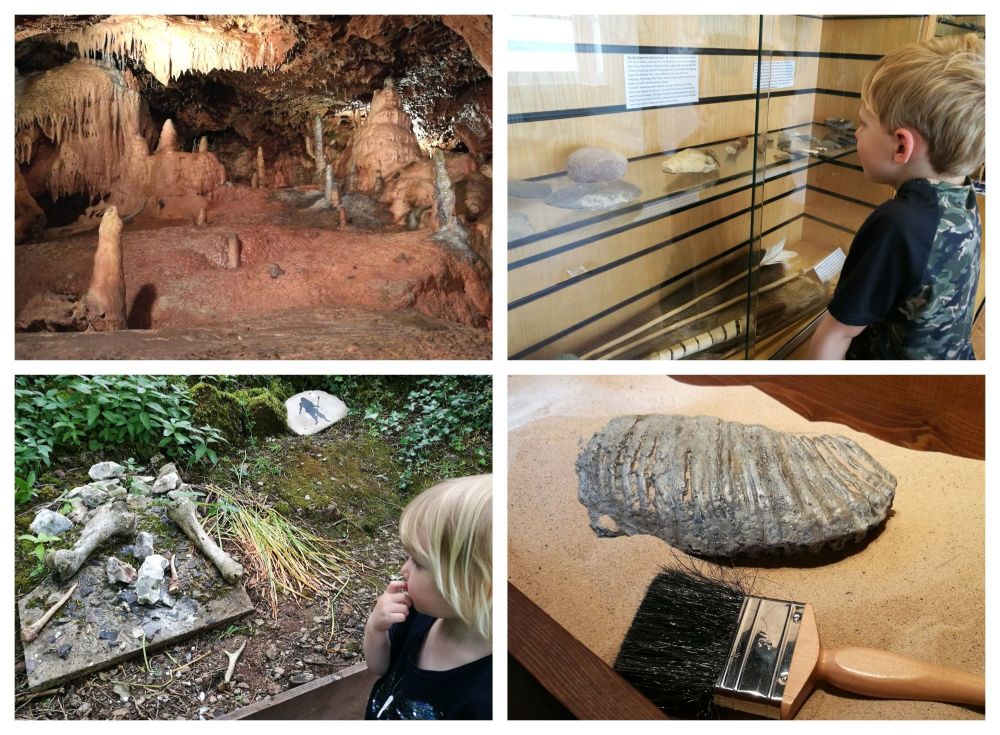 We seemed to blink and the week went by. Funnily enough, it took us 10 times longer to get the stuff in the car than it did to get it out. It turns out there's an art to getting a huge tent in a small bag but we got there in the end and were genuinely sad to go home.

Good things to know…………

There's lots of things camping items you can hire from reception if like us you forget something.

If you want to go food and drink shopping then there's a Sainsbury's and Lidl's less than 10 minutes away. Inside Sainsbury's you'll find an Argos too which we visited a few times with our £15 heater for night times being the best money spent.

BBQ's are allowed however they must be charcoal or gas only, no wood or heat logs. You can use the bricks provided on the site to keep BBQ's off the grass. Open fires, fire pits or chimeneas are not allowed.

Some kiosks and eateries in the theme park are cash only. There is a cash point in the reception but you'll need to pay a small fee to use it.

There are pitches available for touring caravans as well as tents.

Please please please, if you are a smoker, be careful where you put your cigarettes out. We were walking into the toilet one day when I could hear lots of chirping and when I went back out I noticed a silver box on the wall with a sign on it saying not to extinguish cigarettes as there was baby birds inside. We all had a little peek and sure enough there looking back at us was 6 hungry little beaks. From that point on we had to look every time we walked past and the kids kept asking if we could take them home.

If you don't fancy driving one day then there is a bus stop at the site entrance and the X64 goes to Dartmouth and Totnes.

Pets are allowed, there's even a special dog walk area for them. Please note that dogs are not allowed in the theme park though.

Even if you are not staying on the campsite the theme park is a great place to visit for the day. At the time of writing, you pay for one day and receive 6 following days free!

While we were there it was Dino Week which of course the kids loved, especially the Dinosaur woodland walk. It seems that during the school holidays there will be additional activities for the children to enjoy, as if the theme park wasn't enough!
So, if you are looking for somewhere to stay with a tent or caravan then please do check out
Woodlands Grove Caravan and Camping
. We loved it there so much that we're planning to visit again next year!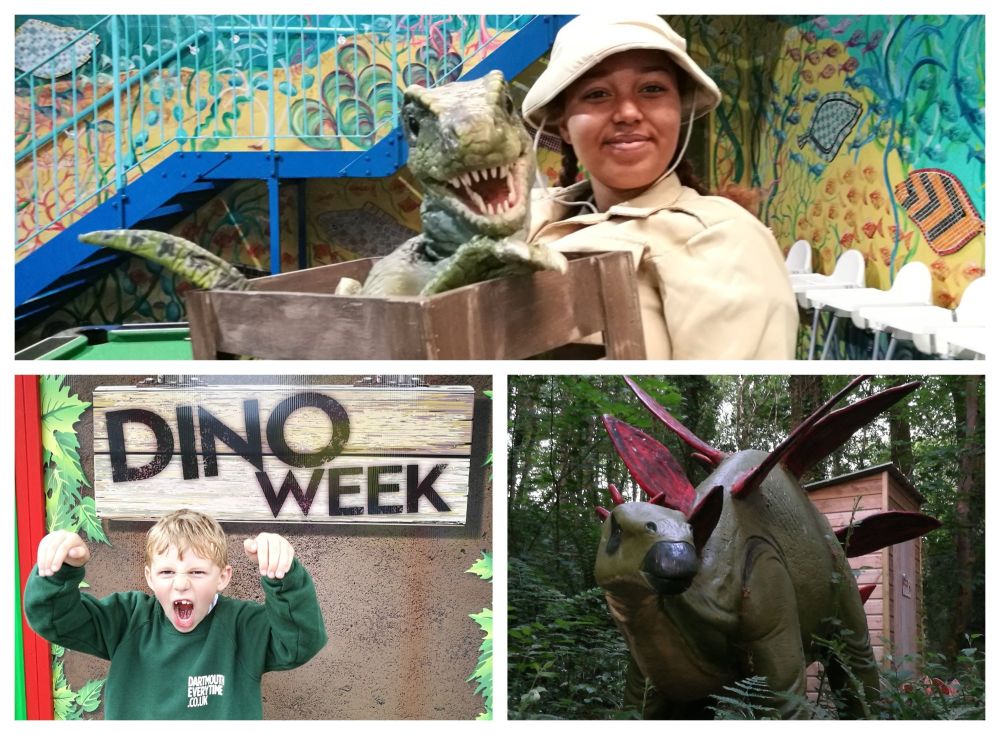 Dorsetmums was given a reduced rate for the purpose of a review however all words are my own.