The Coconut Tree in Bournemouth Restaurant Review
Posted on
If you've never tried Sri Lankan cuisine before then you're in luck because there's a new restaurant in Bournemouth called The Coconut Tree.

Myself and a good friend visited the newly opened restaurant recently and I can't rave about it enough. The thought of trying Sri Lankan Street Food excited me greatly and the second you walk in the door the amazing smell from the kitchen smacks you in the face and we both smiled at each other and knew we were in for a treat.

There's a very relaxed atmosphere inside with lots of space, a big bar area, wooden tables and benches with comfy cushions on, candles in coconuts on the tables and a kitchen roll for those messy fingers.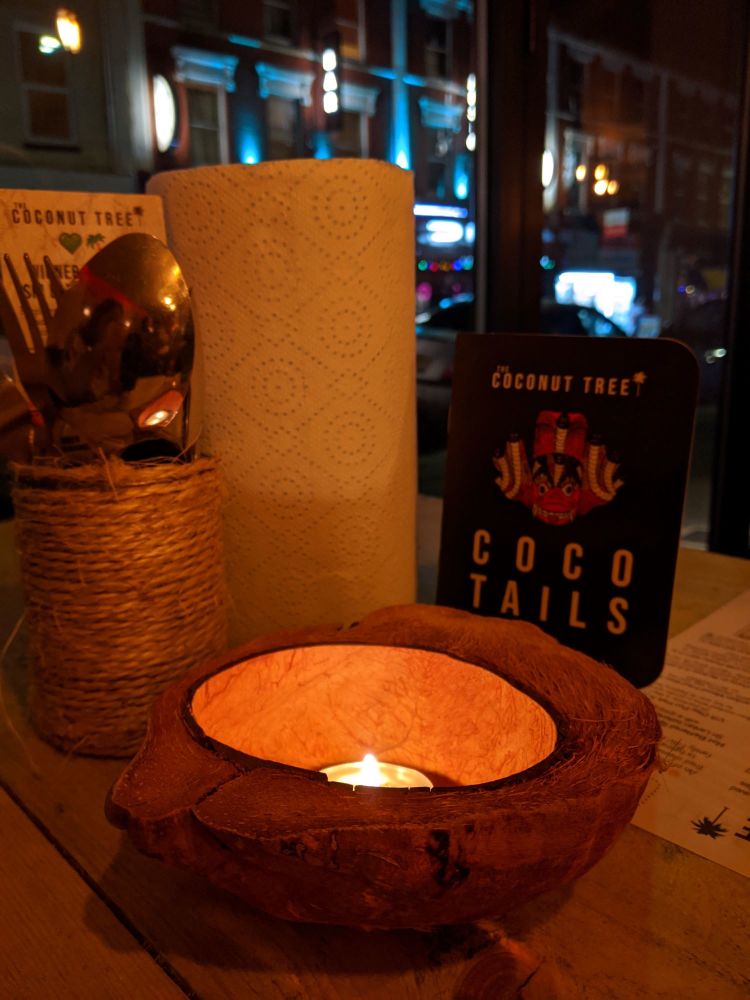 We were shown to our table by a lovely server called T and once we were comfortable he asked if we had ever tried Sri Lankan food before and if we needed any help with the menu. Of course I said yes because some of the dishes needing explaining to me but also because I was really interested to know as much about the cuisine as possible.

They have an excellent drinks menu and their specialities are the 15 sweet and fiery cocktails which are inspired by the flavours of Sri Lanka. We saw some of these being delivered to other tables and one near us was served in a funky vessel with sparklers coming out of it! I'm not normally one for Mojitos but I saw you could personalise it with coconut chunks, raspberry or passion fruit so I went for the latter which was delicious (so much so that I had 2) whilst my friend had the traditional Mojito.

T had explained that as the dishes were tapas style it was recommended that we chose 3 - 4 each but this proved a bit of a problem for us when we wanted pretty much everything on the menu. The good thing about going with a friend who shares your tastes is that we could each choose dishes we'd prefer but share with each other so we could try as much as possible.

The first dish we ordered was Kotthu which is Sri Lankan hybrid food served all over the Country. We chose to have the chicken Kotthu which is essentially a stir fry packed with vegetables, egg and finely chopped rotti ( a traditional flatbread) with garlic and a little chilli I believe. You could also have the dish without meat and/or with cheese. This dish was actually one of my favourites and I'd quite happily have on it's own for a quick lunch.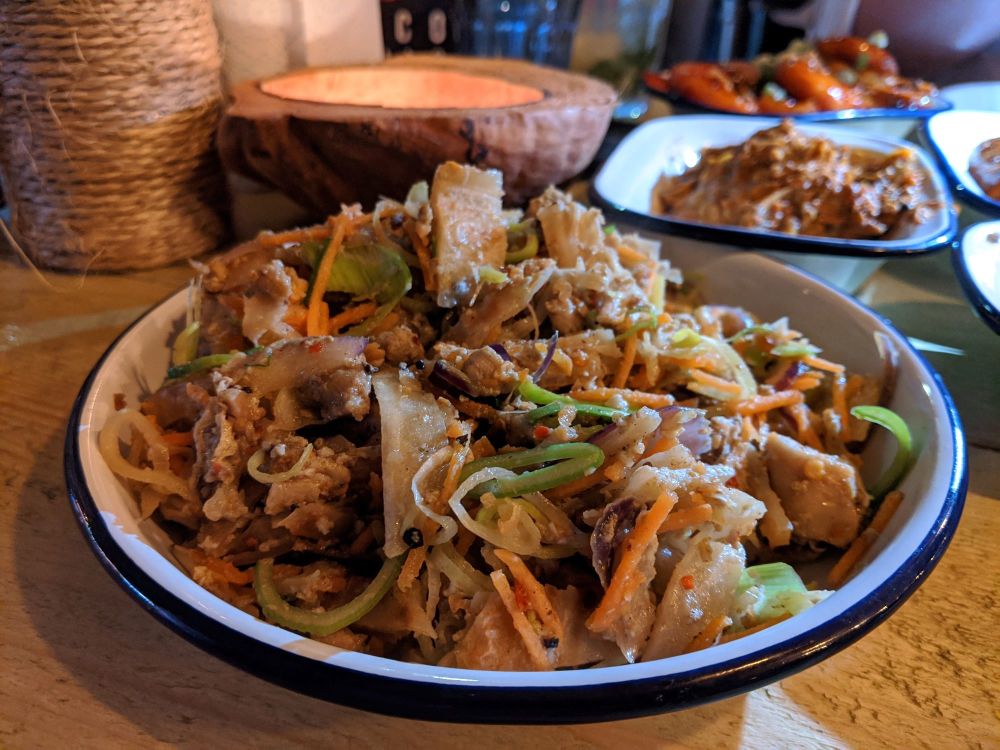 We also ordered Devilled Prawns which was cooked in spices and stir fried with banana peppers and chilli, Black Pork slow roasted in spices, Chicken Curry on the bone which was out of this world and fortunately didn't blow my head off as I expected, Hot Battered Spicy Mushrooms, Tato which is lightly spiced roasted potatoes with caramelised onions and Sri Lankan Flatbread.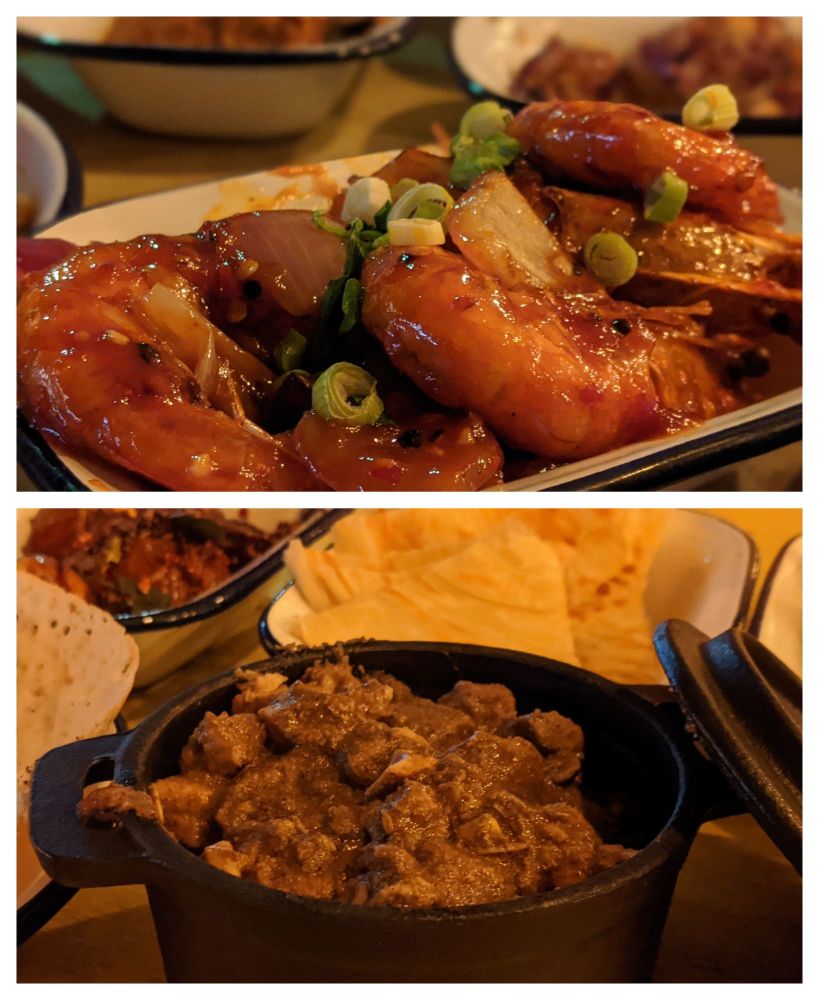 T told us that the Hopper is highly recommended and explained that is was a light and fluffy pancake made with rice flour and coconut milk. We chose to have ours with egg which is cooked in the centre of the pancake and then served with 3 different chutneys. Whilst it was actually quite nice and something I wouldn't have normally ordered I did make a note to try it next time as a dessert where they replace the egg and chutneys with treacle and coconut ice cream.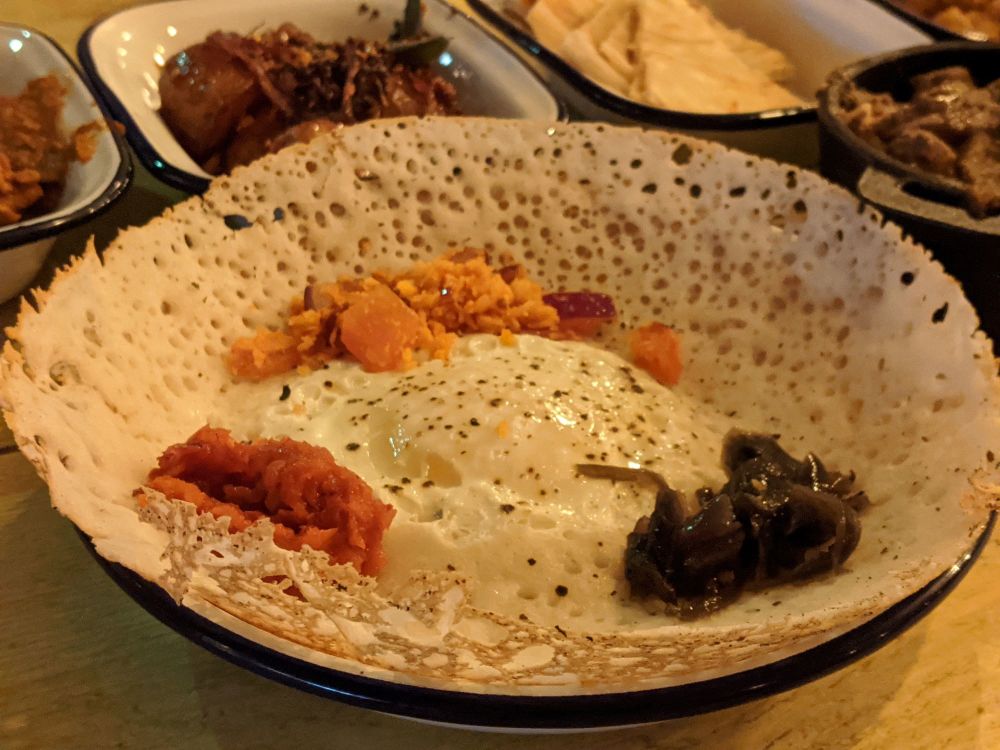 Everything was delicious but there was still plenty on the menu that I'd like to go back and try which included a chickpea dish, Brinjals which is lightly friend aubergine and the Clay Pot Fish (only 8 dishes a day are made). I was also told that the cuttlefish dish is a speciality and a big hit with customers.

If you are thinking that the restaurant is only suitable for us grown ups then you're very wrong. They are more than happy to welcome children in and have highchairs and baby change facilities plus kids under 10 eat free! (Obviously when an adult orders, just see the menu or ask your server for details).

This was definitely one of the nicest meals I've had in a long time and I can't recommend it enough. Myself and my husband don't get out very much on our own but the first chance I have of a date night I know I'll be booking a table at The Coconut Tree.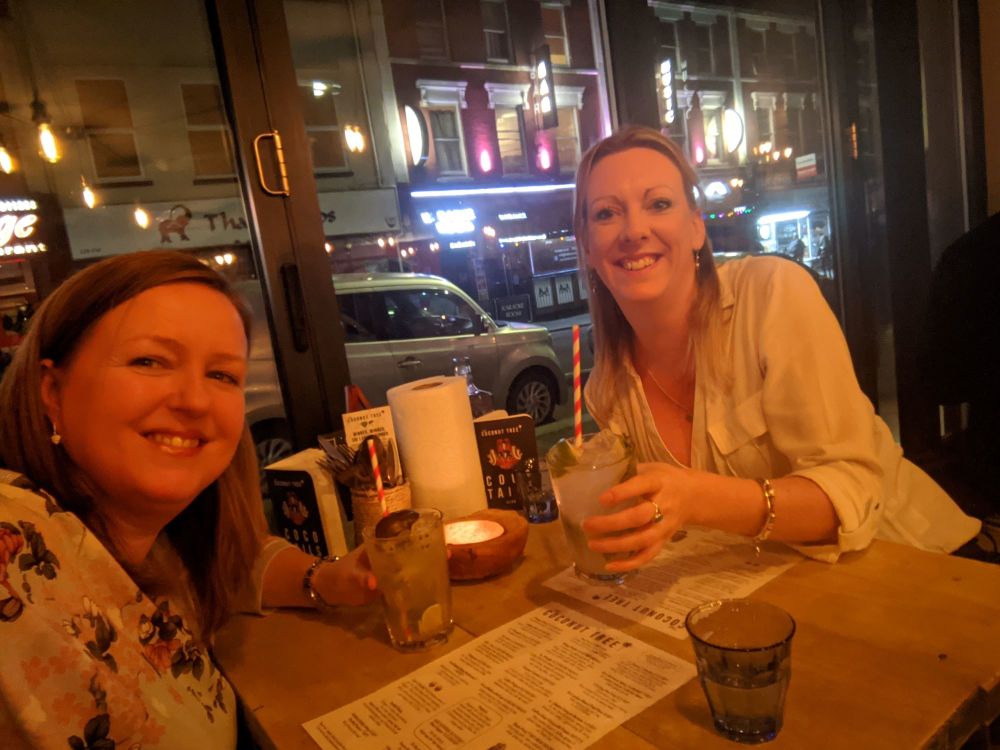 Dorsetmums was invited to The Coconut Tree for the purpose of a review however all words are my own.