Pirates of the Pavilion at Nothe Fort Review
Posted on
The cast and producers of Pirates of the Pavilion have yet again entertained us with a hilarious show and watching it in the grounds of Nothe Fort made the experience even more unforgettable.
Because of Covid-19 extra measures have been put in place to ensure everyone's safety and on arrival we were asked to sanitise our hands and collect our chairs before being shown to our socially distanced area where everyone had a good view of the stage.
We arrived with enough time to catch some of the pre piratey entertainment (I recommend joining in to warm up) and also grab some delicious lemon cake and popcorn from the Café.
I had been keeping an eye on the weather all day and packed waterproofs and blankets for myself and my son. I was actually tempted to take hot water bottles but I changed my mind at the last minute in case anyone thought I was slightly bonkers haha. We did have a little drizzle before the show started but luckily it was dry for most of our time there and we even had the sun occasionally peeking through.
If you've seen the show in previous years then you'll recognise most of the cast and if you've been to see the Christmas panto then you'll know the very funny Gwynfryn West who has joined the pirates this year to play the evil pirate Blackhead.
The regular cast includes Isla Rose as Pirate Poppy, Liam Mellor as silly Seadog Billy, Robert Squire as Captain Filibuster, Tegen Jones as the Spirit of the Seas and Alex Rogan as Dapper Dick.
As you would expect with any pirate adventure, there's a treasure map and lost loot which the bad guy wants and the good guys have to get to save the day. To everyone's surprise we find out that Captain Filibuster is actually married and his wife who is brilliantly played by Luke Attwood gets everyone into ship shape. Expect some very outrageous costume changes including a bikini which my son cried with laughter about and had to ask if they were his real boobies which he was holding up!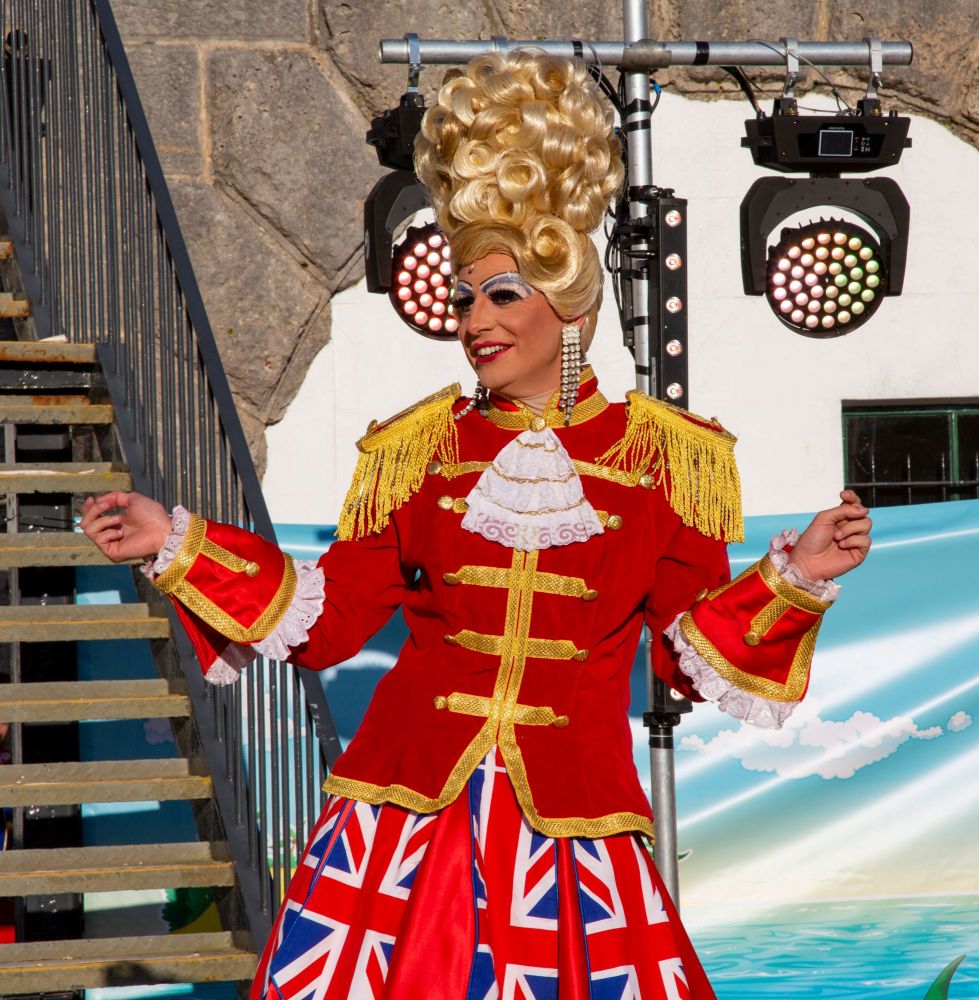 The crew and accompanying dancers on board the Saucy Sally will entertain you as they sing, dance and perform some hilarious scenes with our favourite being Seadog Billy when he appears on stage. I especially loved the cast making use of the wonderful surroundings and staircase which goes right up to the top of the Fort.
The show is suitable for children young and old and the grown ups will definitely have a good giggle over the rude bits and relatable Covid jokes.
If the weather is appalling then the show will still go on in the Weymouth Pavilion so you don't need to worry about torrential rain if we do have any this week.
Pitaes of the Pavilion will be performing at 4.30pm and 7.30pm up until Sunday 23rd August 2020 so if you're looking for an entertaining show with loads of mischief and gags then I'd thoroughly recommend it. For more information and tickets, please visit the Pirates of the Pavilion.
Good to know – there are toilet facilities and a Café serving sandwiches, pastries, children's lunch boxes, cakes, snacks and drinks. If you visit Monday – Wednesday then you can grab a bargain as they are on the Eat In To Eat Out scheme.
Dorsetmums was invited to see the Pirates of the Pavilion for review purposes however all words are my own.