CeCe & Me Christmas Family Box and Festive Treats
Posted on
CeCe & Me are a lovely Poole based mother and daughter team offering lots of different festive treats for the whole family. The idea came from CeCe's 7 year old daughter and over the last few weeks they have been busy creating the most wonderful variety of Christmas products which can be collected in Parkstone or delivered to your door if you are local (small charge may apply). Alternatively the gift boxes can be sent by post if you live further away or would like to send one as a surprise to a friend/family.
The festive boxes you can order include a Little Elf Christmas Eve Box, Secret Santa Gift Bag, Child/Adult Filled Stockings, Sweet Cones, Comfort and Joy/Cheeky Elf Box, Winter Wonderland Box and the Family Christmas Box.
We recently received the Family Christmas Box which has remained hidden from the children until the last day of school so we can celebrate. Before I opened it I could see that they take pride in not using cheap tat as the festive box is very sturdy (it had to be with the amount inside) and there was a big gold bow on top. When I opened it up there was a letter from Father Christmas (this can be personalised for your child/children) and then under the gold tissue paper was gifts galore!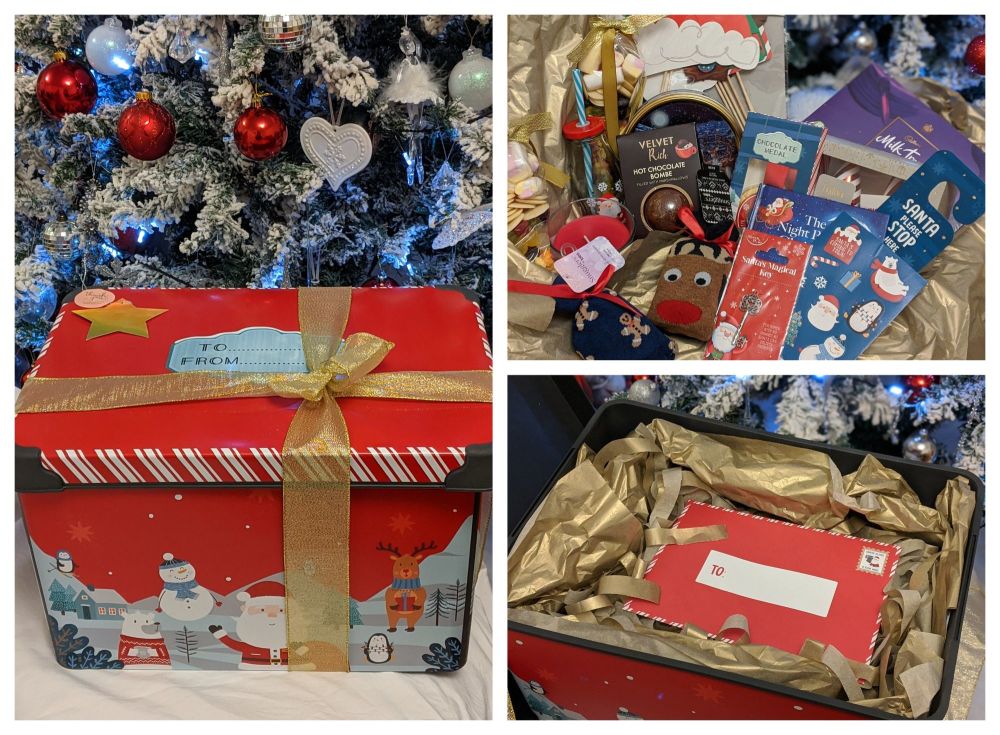 There were lots of presents for the kids which included a Night Before Christmas Book, Santa 'Please Stop Here' sign and magical key, festive stickers, milk bottle and treats like sweet cones, a chocolate medal (this is going to be a dancing prize when we have our party night) and a rich chocolate bomb which is filled with marshmallows. For the grown ups there's a box of chocolates (Mummy's not sharing), a tin of Christmas biscuits, adorable Totes socks for the both of us and a warm Apple & Cinnamon candle which smells absolutely amazing even when it's not lit! On top of all of that I found party hats for all of us and funny photo props which I know the kids are going to have a good giggle with. I'm already planning our party and after the pretty rubbish year we've had I'm determined their last day of school in 2020 will be fun and memorable.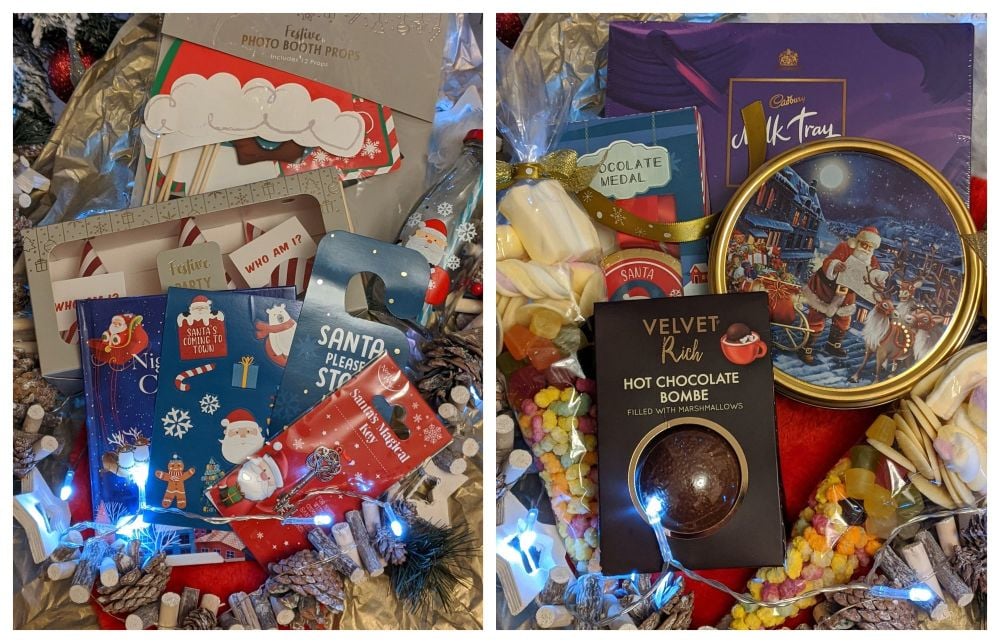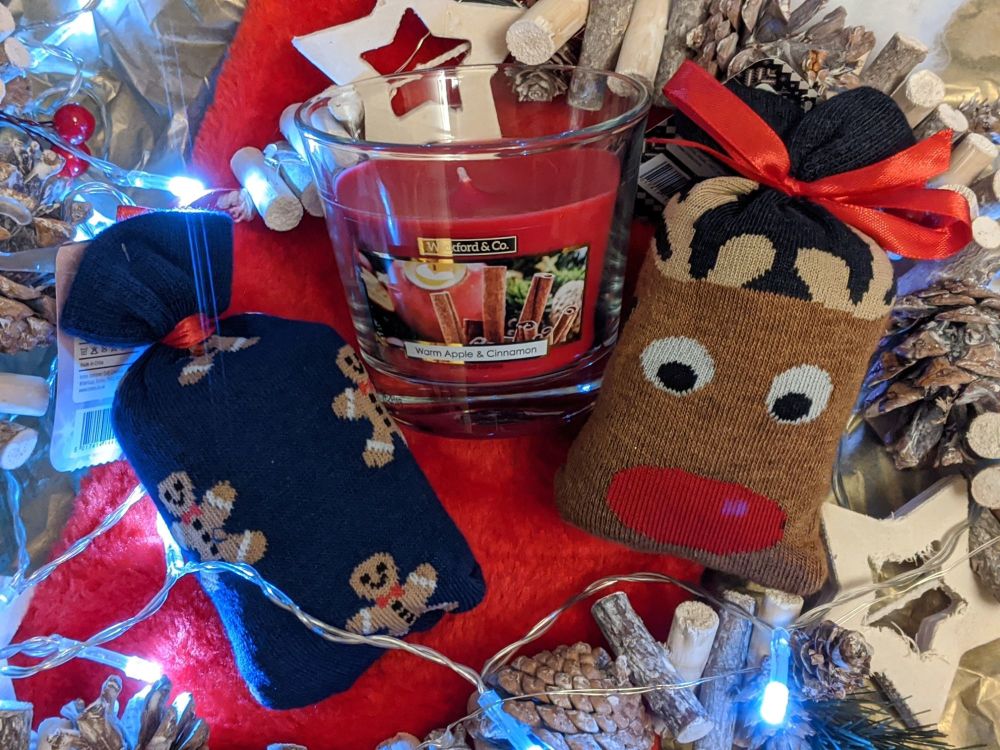 CeCe understands that every household is different and can customised your box to the correct number of children or make a bespoke box to suit your budget. Not only does she have lots of passion for these gifts but she's happy to answer any queries and will make sure you get the perfect box for yourself or the children.
If you would like to have a look at the options available to buy then CeCe will be at Rob's Filling Station in Poole on Saturday 19th December when the owners of the outdoor restaurant are supporting small businesses by offering a space for them to sell their products.
For prices and to keep up to date with possible New Years Eve Boxes and future seasonal treats, please visit the CeCe & Me Gifts Facebook page.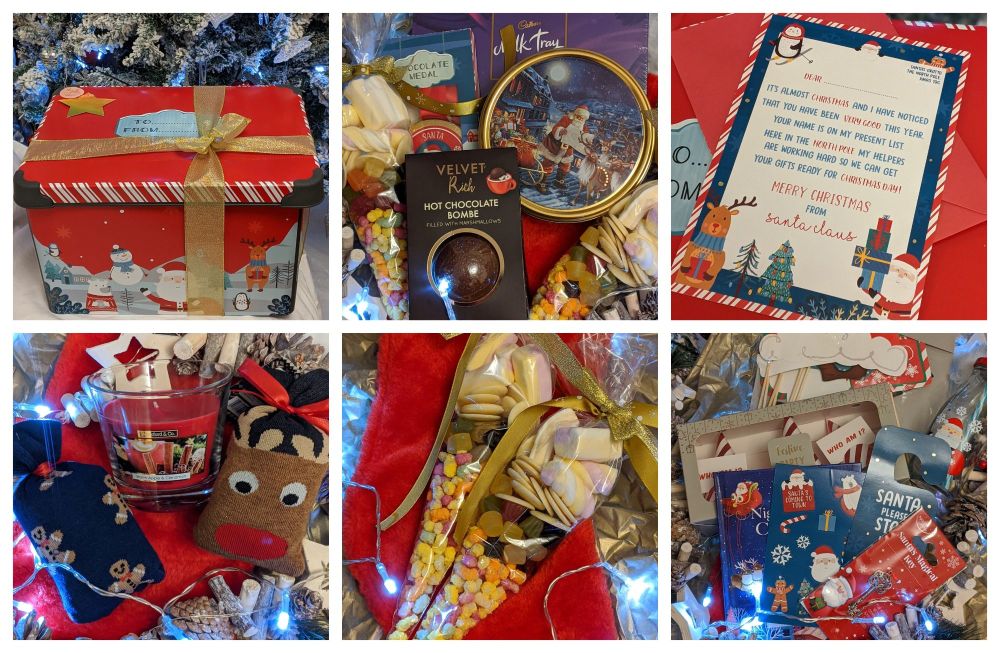 Dorsetmums was invited to review a Family Christmas Box for the purpose of a review however all words are my own.