Afternoon Tea at the Moonfleet Manor Hotel in Weymouth
Posted on
The Moonfleet Manor Hotel is a beautiful Georgian hotel set on the coastline with stunning views of the Fleet in Weymouth. I visited recently with my mum and the children for a festive Afternoon Tea and every single aspect of our time there was just perfect.
The hotel prides itself on being family friendly and we were warmly welcomed into a lounge where we were asked which drinks we would like with our afternoon tea. The children chose hot chocolate which I tasted to make sure it wasn't too hot and was tempted not to give it to them because it was too blooming scrummy haha.
We settled the children with some colouring in but it didn't take long for our afternoon tea to come. The children were asked which sandwich filling they would like which I appreciated because they are quite fussy (and I hate waste) so they were very pleased with their ham and cheese sandwiches which came on their own tray with crudities and hummus, a chocolate and clementine cupcake, jam tartlet, a scone and gingerbread man.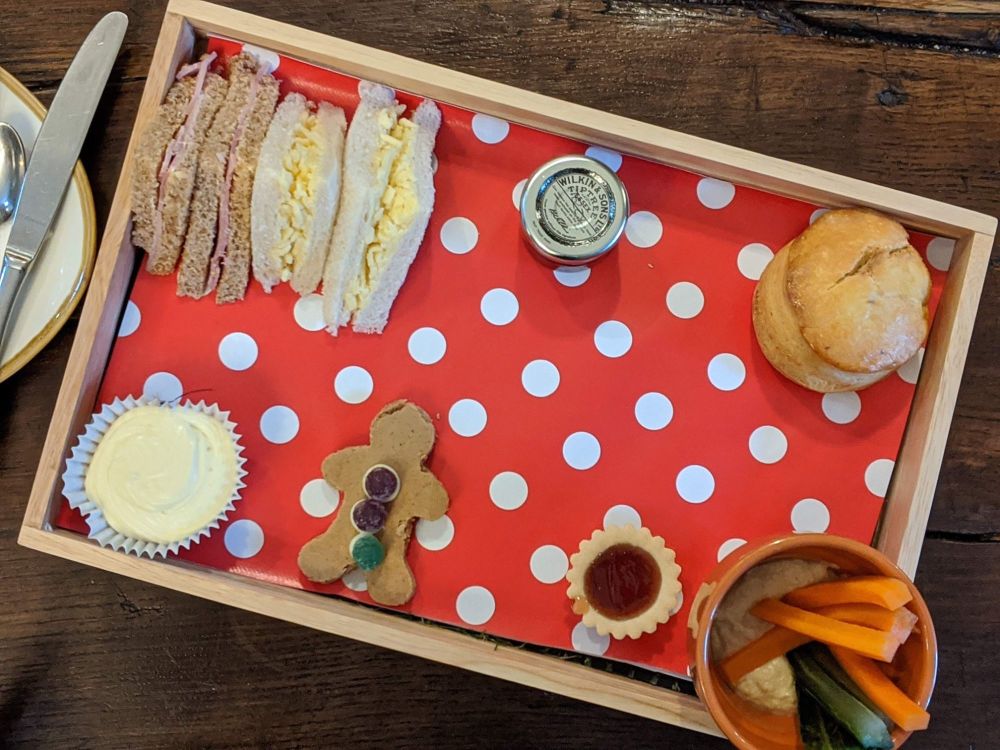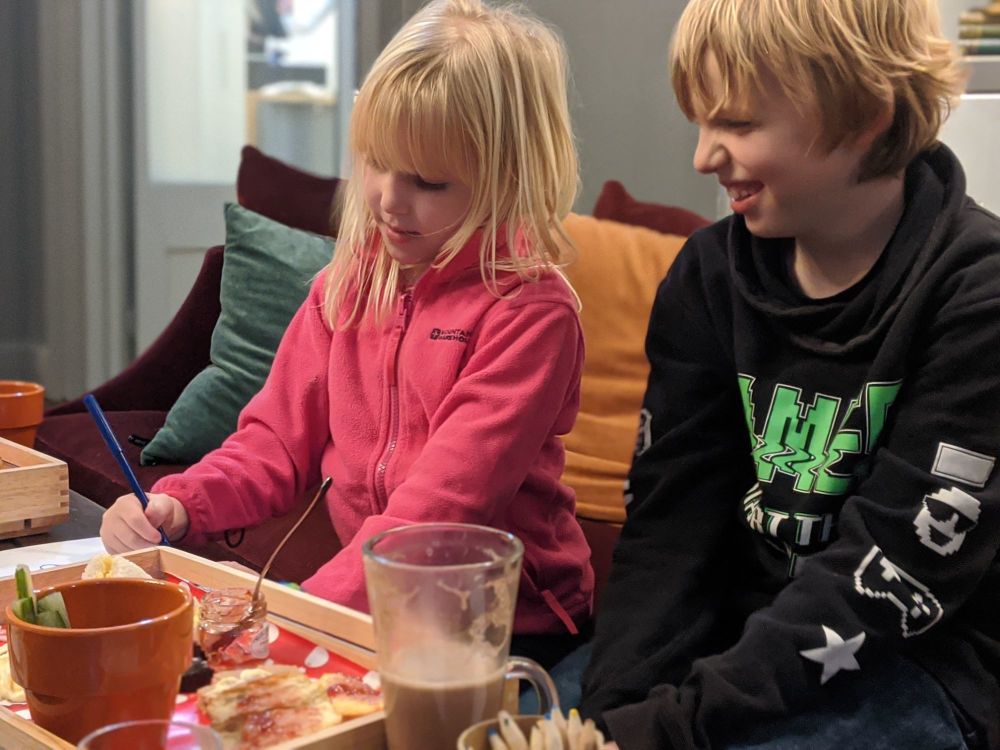 Our afternoon tea arrived shortly after on a beautiful stand and I couldn't wait to get stuck in! The sandwiches were all freshly made and myself and my mum swopped some so she had all the egg and cress plus smoked salmon, dill and cream cheese sandwiches while I had the chicken and cranberry plus honey glazed ham and mustard. We also had a lovely wild mushroom and black garlic tartlet before starting on the sweets which is always my favourite part.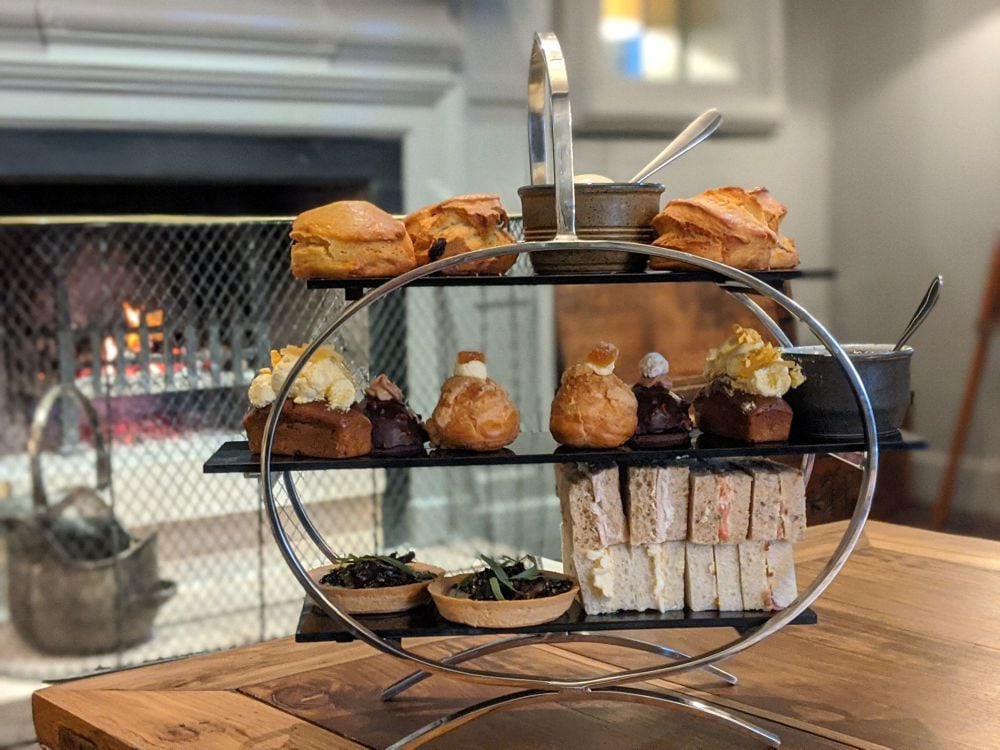 We had a ginger and passionfruit cake, a chocolate, pear and hazelnut dome (definitely my favourite) a clementine and white chocolate choux bun and 2 scones, one plain and one fruit which were accompanied with a pot of jam and clotted cream. Everything was so tasty and pretty and the scones were perfectly baked but we struggled to eat everything so a couple of treats had to come home with us.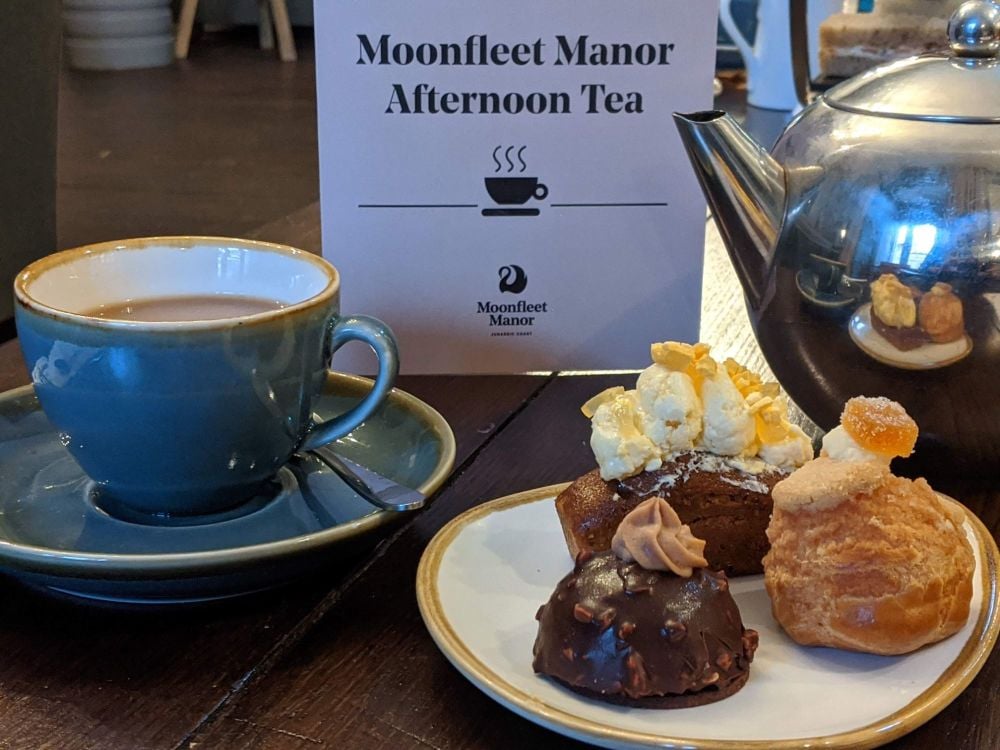 The children had been ever so good and I don't think there was a single crumb left on their tray so we took them out in the garden for a run around and found some swings and play frame which they enjoyed before we had to head home.
If you're looking for an afternoon tea with friends or family then I'm sure you won't be disappointed. There is a lovely relaxed atmosphere and our waiter was so friendly and helpful. On selected dates in December Father Christmas will be visiting both the Moonfleet Manor and their sister hotel the New Park Manor Hotel in the New Forest and children will have the chance to meet the big man and receive a small gift.
For more information, please visit the Moonfleet Manor Hotel in Weymouth or the New Park Manor Hotel in the New Forest.