Early spring time walk from Coy Pond to Bournemouth Pier
Posted on
I've wanted to walk from Coy Pond down into Bournemouth Town for a long time but we've never got round to it so when I suggested a date day to my husband I told him this is what we'd be doing followed by a late lunch on the Pier.
Coy Pond itself is really pretty and I'll bet it's a beautiful spot for a summers picnic. There's an information board at the start of the walk which says a little about the Upper Gardens, things like the type of trees, plants and the wildlife you'll find and I noticed more boards along the way with different information so it's worth stopping to read them if you have time.
There's pretty red bridges and nice wide paths so it's very pushchair friendly but you'll need to cross about 3 or so small roads to continue on the path. I always worried I'd get lost doing it on my own but it's impossible because you just keep going the same way following the stream and there's plenty of signs telling you which way the beach and Coy Pond is.
The Upper Gardens were actually laid out as a private garden for the Durrant family in the 1860's however the lease was assigned over to Bournemouth Council shortly before the Lower Gardens were planned. Many of the trees in this garden were planted during the late 19th century and are well over 100 years old now. Walking through this garden you'll find a Gothic style Victorian Water Tower which was built in 1885 and made to power a sprinkler system and fountain in the gardens.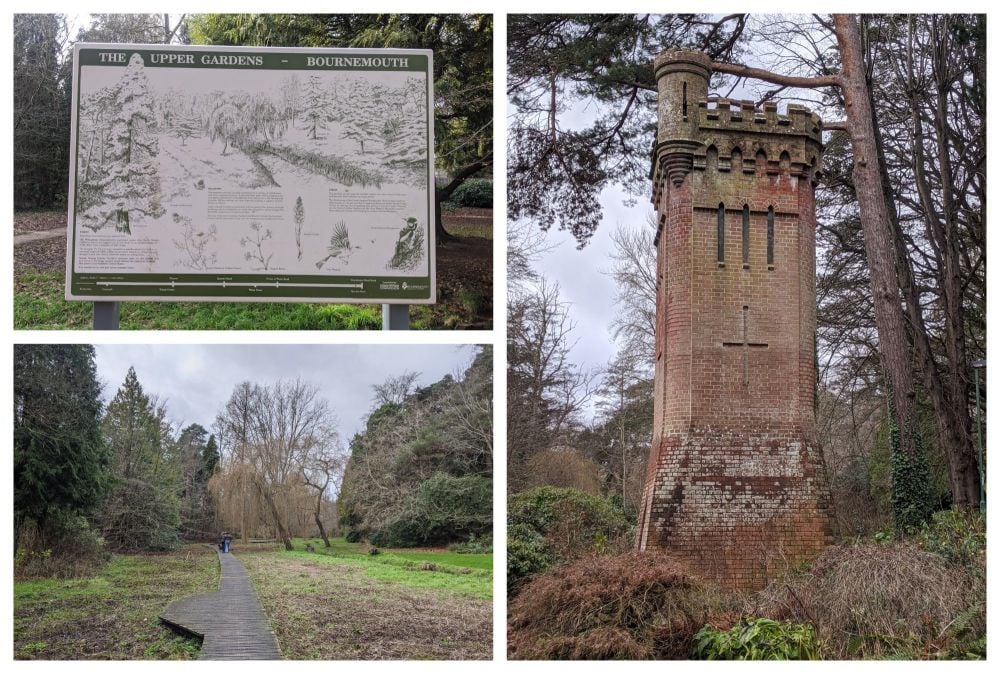 It didn't take us long to reach the Central Gardens and here we found The Upside Gallery which is a series of cool murals under the flyover which were created by street artists. There's also a lovely playground (took note to take the kids back there one day) and tennis courts. I was really hoping I would find a coffee shop and public toilets here but alas there was neither, or if there was I couldn't see any. There is a small building with facilities but it does say clearly on the door that it's for the tennis members only.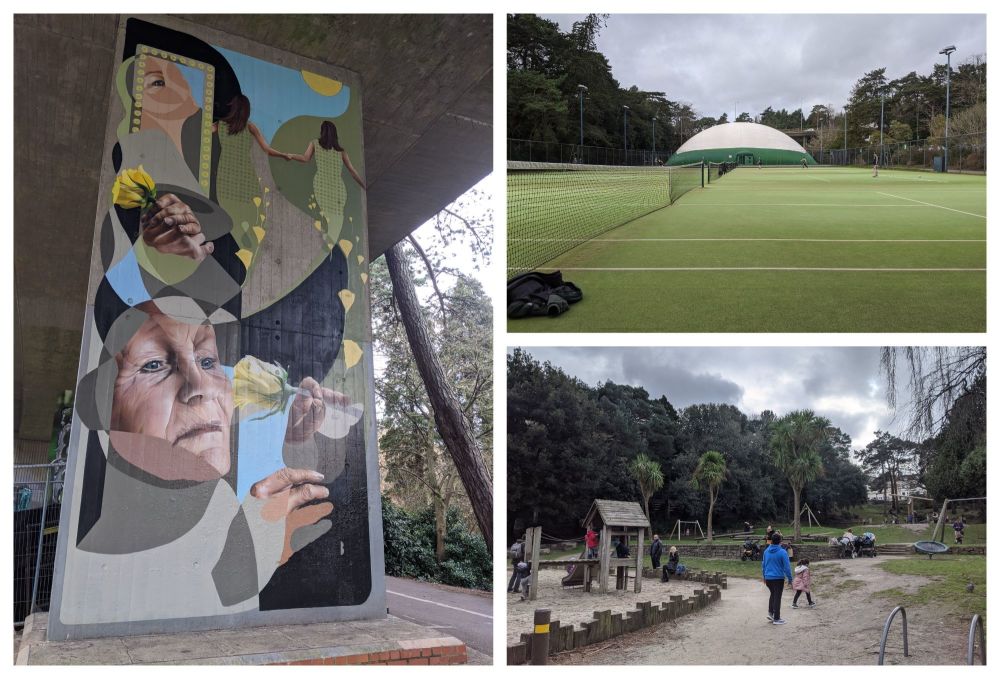 Further along we passed a war memorial which was built in 1921 and then our path led us into the Lower Gardens. The Grade II listed gardens are very popular with locals and tourists and we should soon see some beautiful floral displays popping up. Here you'll find toilets, coffee and snack kiosks, the bandstand which is used in the summer and a mini golf course.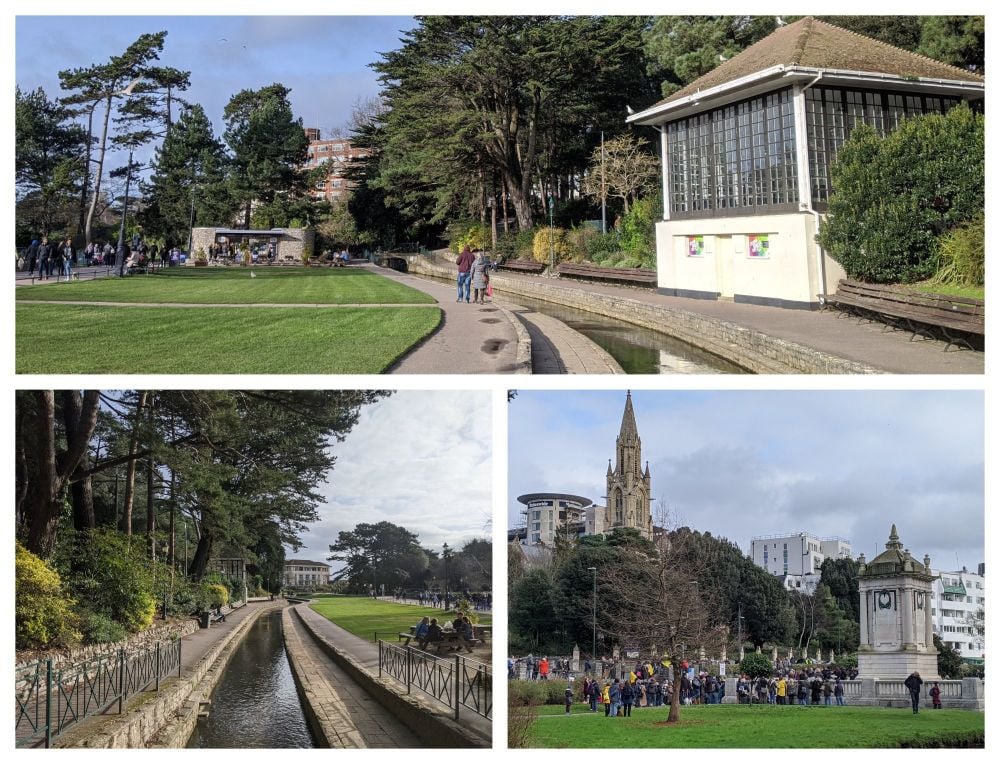 I timed our route at just under an hour but most people would do this much quicker as I was taking pics and reading info boards along the way.
Once we walked through the gardens we went straight to the Pier where we had a late lunch booked at Key West Restaurant. There is no Pier toll to pay in the winter months but if you go in the summer and have booked an activity at RockReef or a table at Key West then you can just show your confirmation to receive free access.*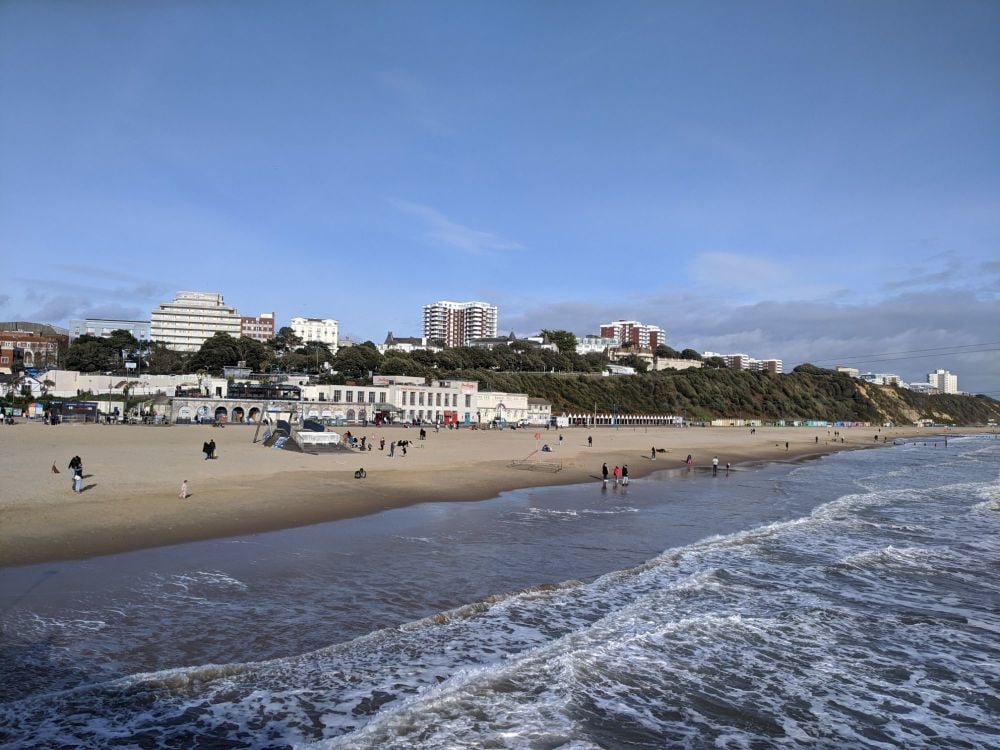 The sun had started to come out a bit more now and whilst it was still a bit blowy we enjoyed the spectacular sea views from our window table. They are currently running 2 for 1 cocktails at certain times and because Nanny had the kids for a sleepover and neither of us had to drive I was eager to get stuck in. We enjoyed Key West Coolers and Mojitos to drink and my husband had a huge Prawn Cocktail followed by Mussels while I had the Chicken Caesar Salad. Everything was perfect and I can't recommend the restaurant enough.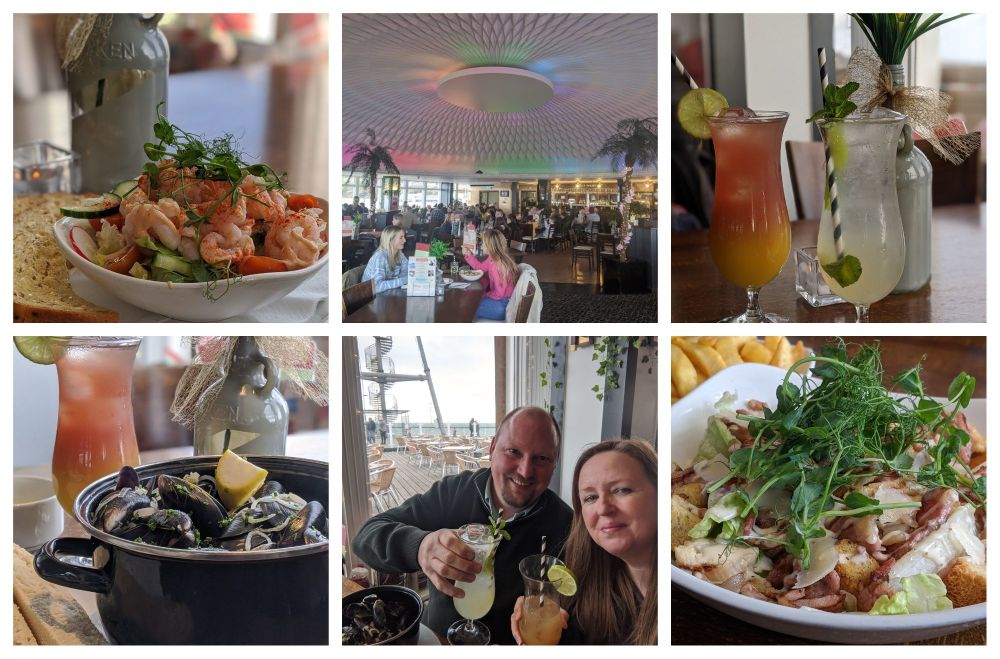 We had such a lovely and chilled child free day together which is something we don't do often enough. Now I need to plan the next date day, but where shall we go?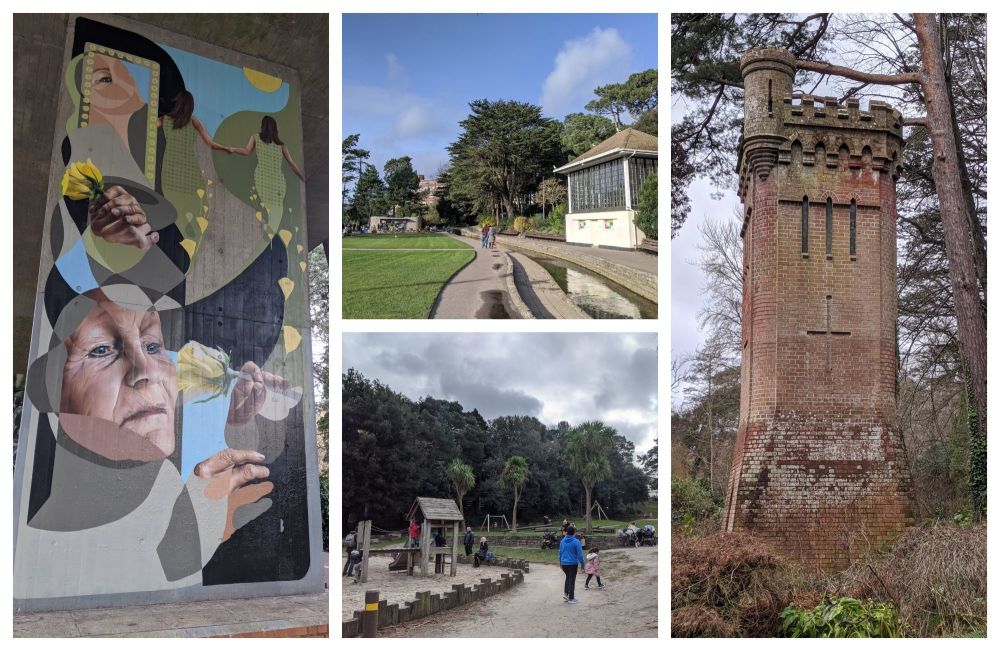 *Correct at the time of writing.