Easter Funfetti Cupcakes
Posted on
Last weekend I attended a kids birthday party and they had yummy funfetti cake which is when you add sprinkles to the mix so it dots the sponge with bright colours.
I use the same recipe for my vanilla cupcakes every time and they always come out well. I threw in about 2 capfuls of sprinkles and could see the colours but next time I'd probably do about 3 or 4 to make them brighter.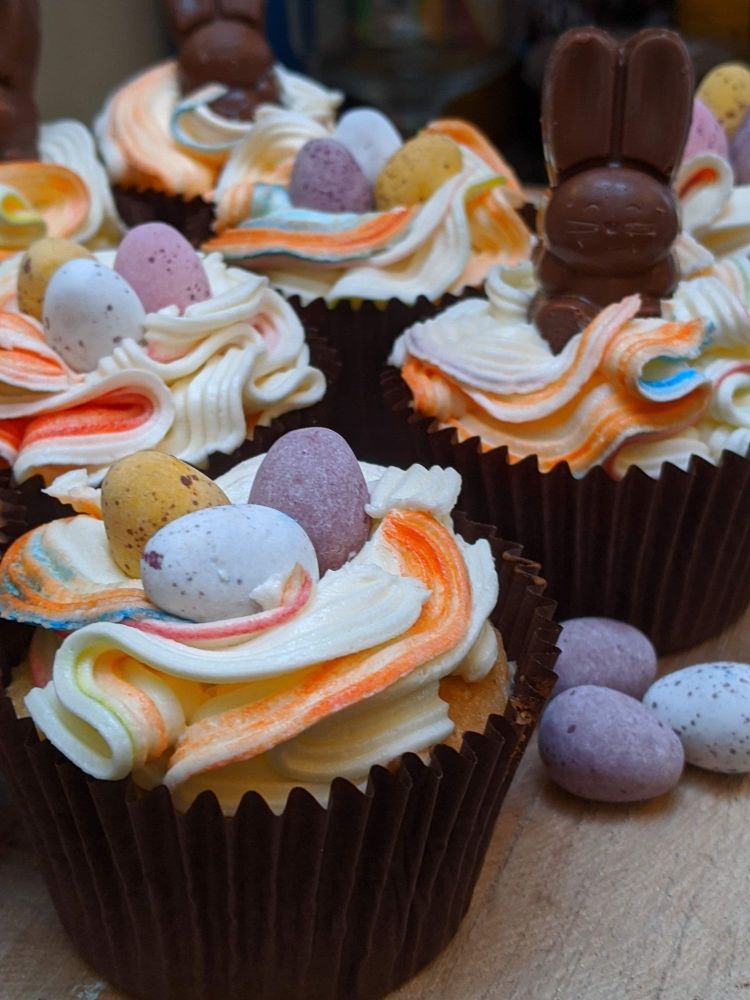 INGREDIENTS:
110g unsalted butter
110g self raising flour
110g caster sugar
2 eggs beaten
Splash of vanilla extract
Dollop of Nutella (optional)
Mini eggs/chocolate treats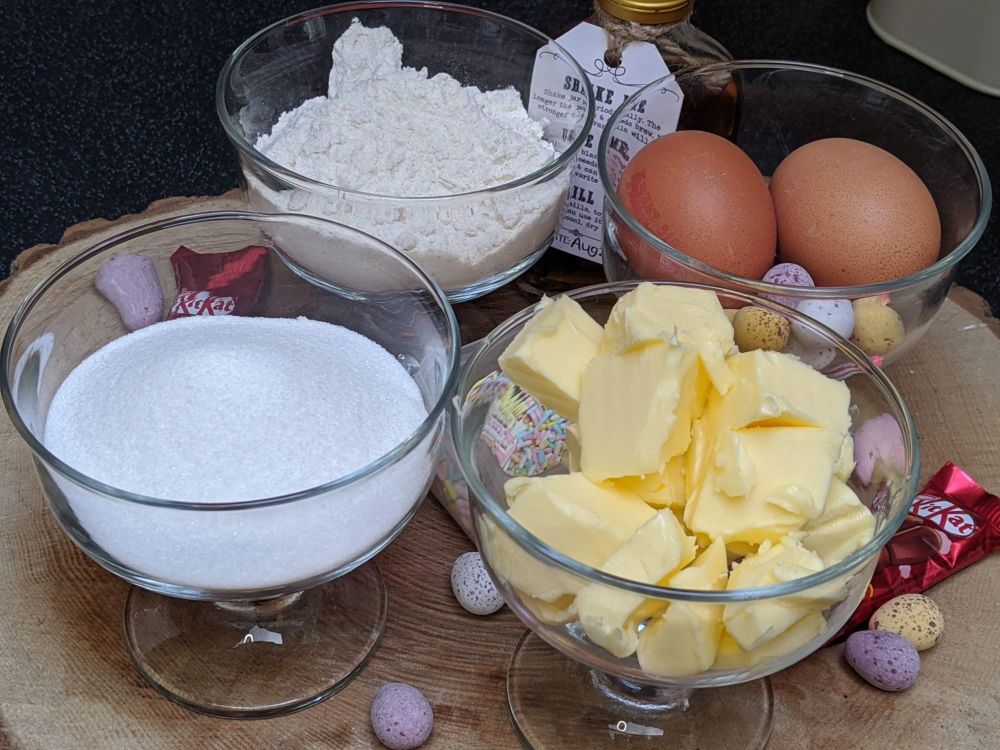 Buttercream:
250g icing sugar
80g unsalted butter
25ml milk
Splash of vanilla extract
METHOD:
Preheat fan oven to 170°C (adjust for conventional oven).
Cream the butter and sugar until it's light and fluffy.
Add the eggs bit by bit alternating with a bit of flour to prevent it curdling.
Add the remainder of the flour with the milk and vanilla and combine carefully to avoid knocking the air out.
At the end stir in the sprinkles gently to avoid them breaking up.
Place cupcakes cases in a muffin tin if you can as it helps the cakes hold their shape and bake in the oven for approx 18-20 mins and do the skewer test to ensure it comes out clean. If not quite baked then just give them a couple more minutes until they are golden brown.
Because it's Easter I waited for them to cool down and then cut a little hole in the cupcake and added a small dollop of Nutella and then put the cake back on top so there would be a little surprise inside.
Buttercream
Beat the butter and then add the icing sugar with a small amount of milk. I always have a film of icing sugar on the kitchen worktops when I make buttercream so I put a tea towel over the top of the mixer and couldn't believe I'd never thought of doing this before now, no snow shower!
Once it's blended together, add the remainder of the milk and then whack the speed up to full and leave it for a good 5 minutes until it's really white, light and fluffy.
I have lots of professional food colourings for the buttercream but I wanted a gentle streak of colour to go with the funfetti colours inside the cake so I put the buttercream in the bag and then using a cocktail stick I slid the food colouring into the buttercream in different places so when we piped it out it had funky streaks. Again, next time I'd do a few more colours to make it brighter.
To finish we added some chocolate mini eggs to some and mini kit kat bunnies to others and they tasted soooo good, especially with the bite of Nutella inside.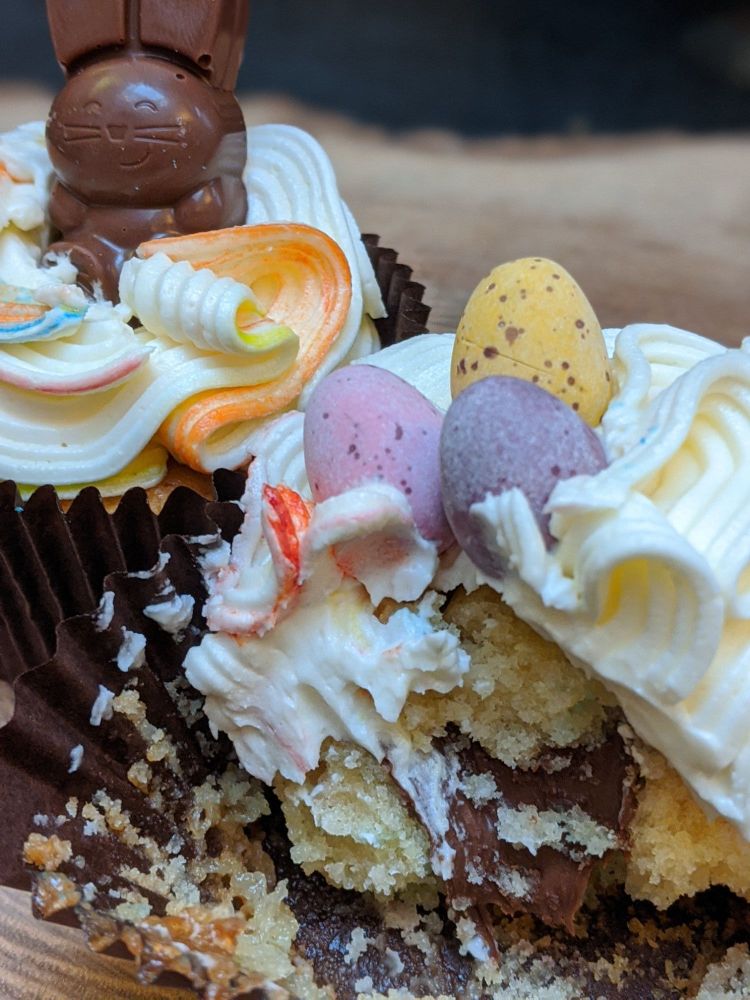 Because we were visiting family we also made chocolate cornflake cakes with mini crème eggs on top and everything was demolished by sunset!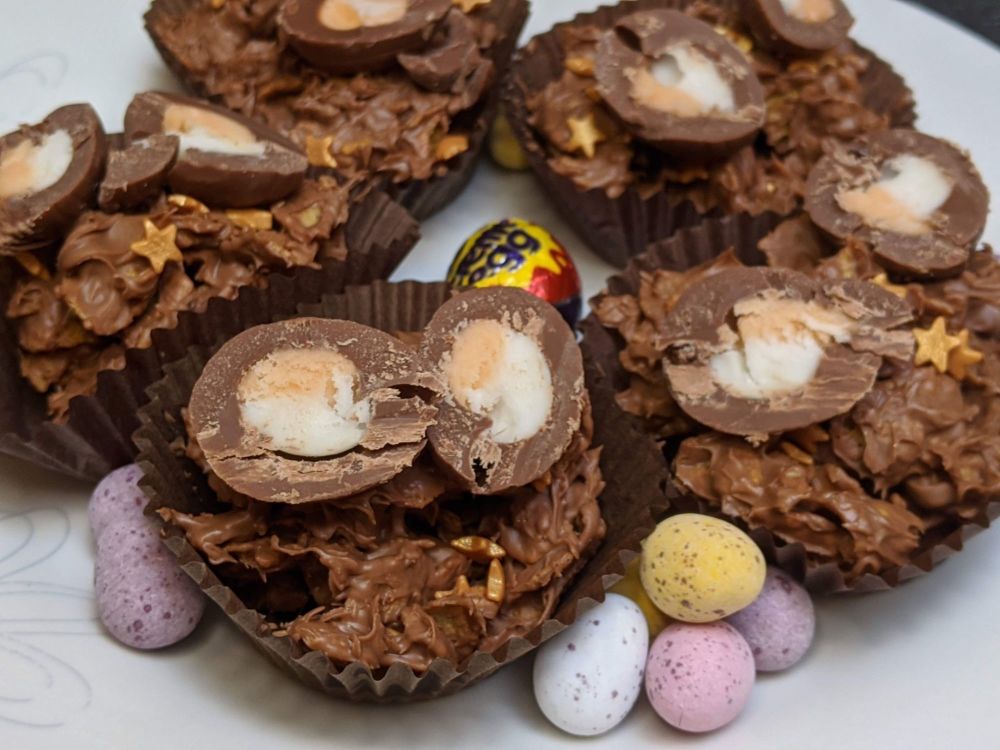 A school mum had come to my aid last weekend when my car battery died and we had 2 parties to attend. She drove us both to the parties and home to save us getting cabs so I put some of the cakes we'd made in a gift box and dropped them off to thank her for being so kind. Fingers crossed her and the family enjoyed them all.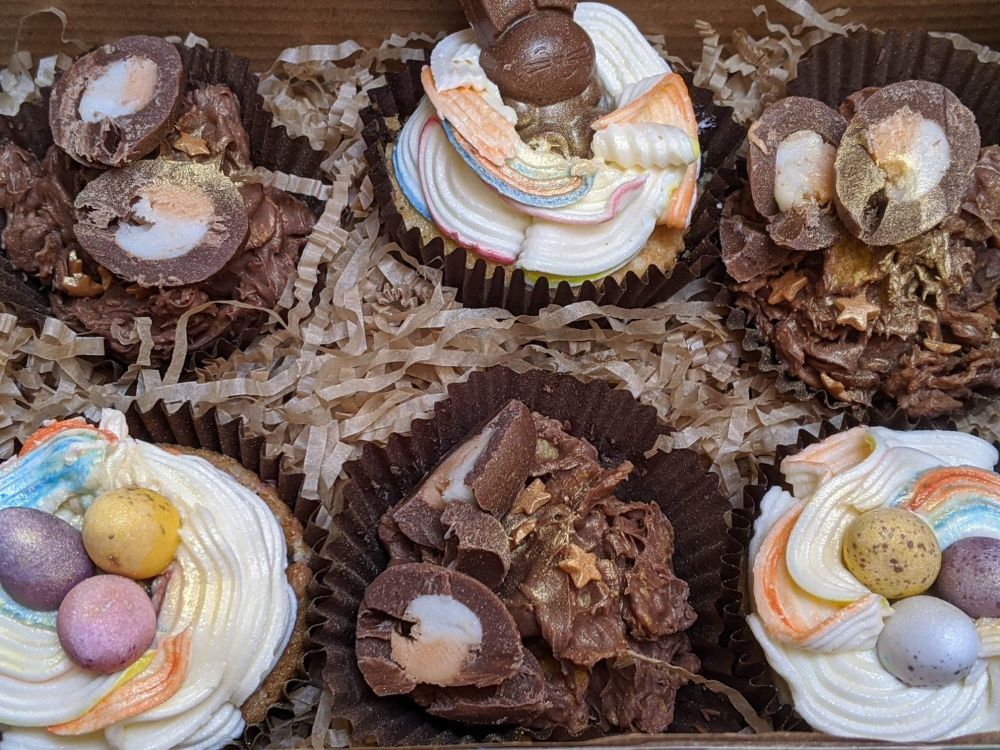 Happy Easter everyone!