Pamphill Dairy Farm and Bluebell Woods
Posted on
On the Easter Bank Holiday weekend we met with my husband's family at Pamphill Dairy in Wimborne so that we could enjoy some time together in the sunshine. At the farm there's a wonderful large green with a play park for the children, a farm shop selling local produce, butchery, pet store and The Parlour Café which offers traditional breakfasts, light lunches, delicious cakes and cream teas.
We have been before and the ice cream parlour is probably our favourite part of the visit as it's made from award winning Avon Valley Milk and then produced at the farm by the chef. The flavours change a lot and some are quite unique. Between us we tried Nutella (definitely one of my faves), rhubarb, apple crumble and cherry ricotta. Each one was so rich and fresh tasting, definitely a real treat if you are an ice cream lover.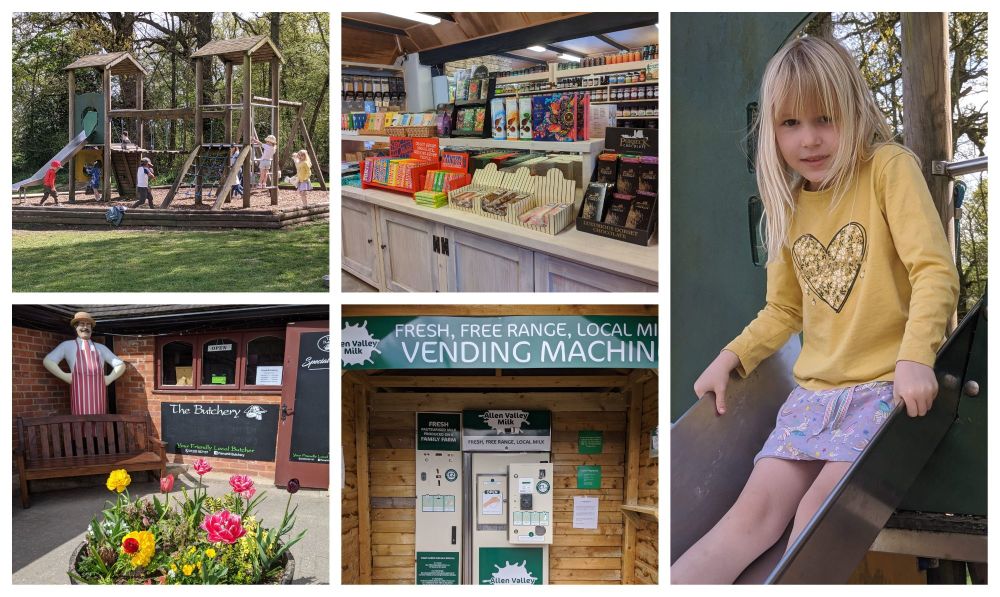 While the kids were happily playing I took myself off to find Bluebell Woods which I'd visited 6 years ago when my baby girl was tiny in my arms.
If you visit purely for Bluebell Woods then there is a car park* in Pamphill and from there you head in the direction of St Stephen's Church and take the left road which is Abbots Street (right will take you to Pamphill Dairy which is only a couple of minutes walk away).
Not far down that road you will see a lane on the left which is known as All Fool's Lane. It was at this point that I felt I was going in the right direction but wasn't 100% sure so I kept following a lady and her dog until we got to a gate on the right. As she went to go through I politely asked if this was the right way to Bluebell Woods and she told me it was, phew.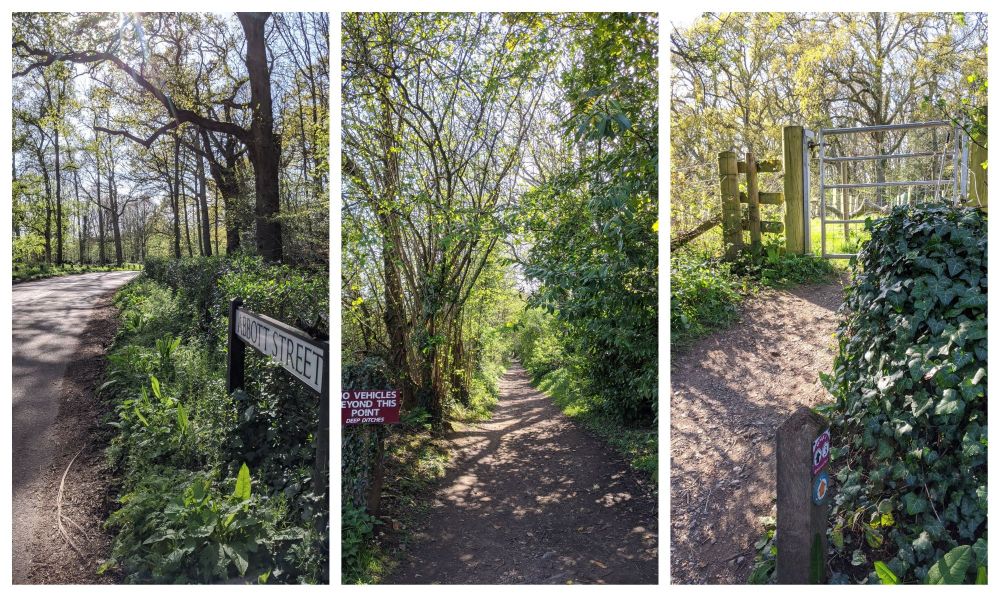 There's a space of land here with some saplings growing and then you should see another gate on the path in front of you which leads into the woods.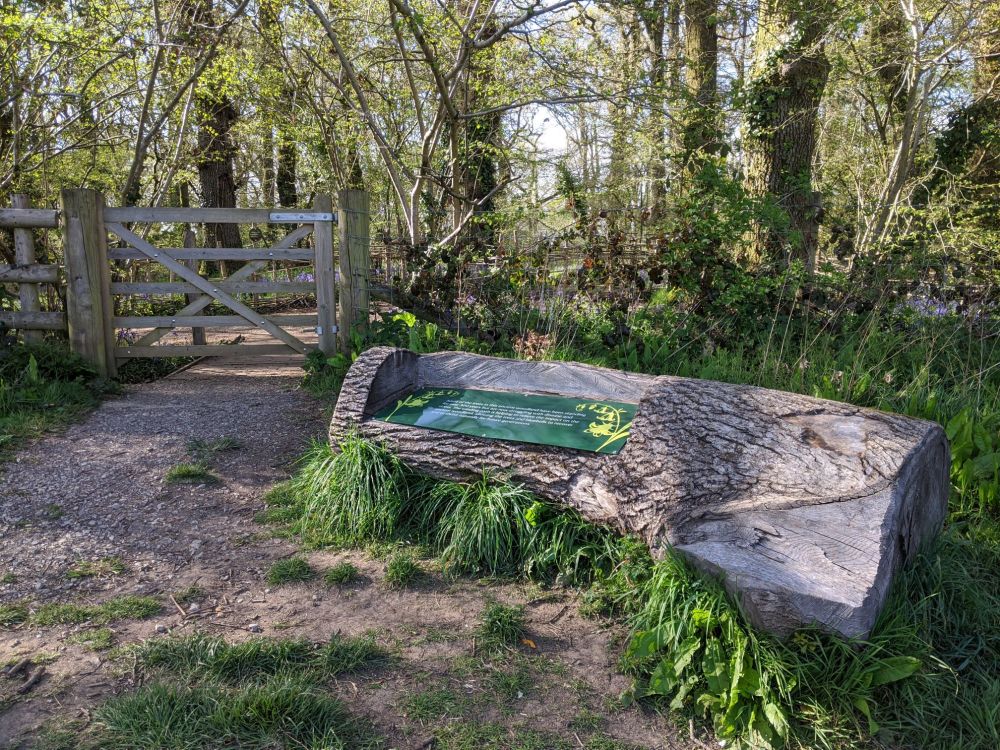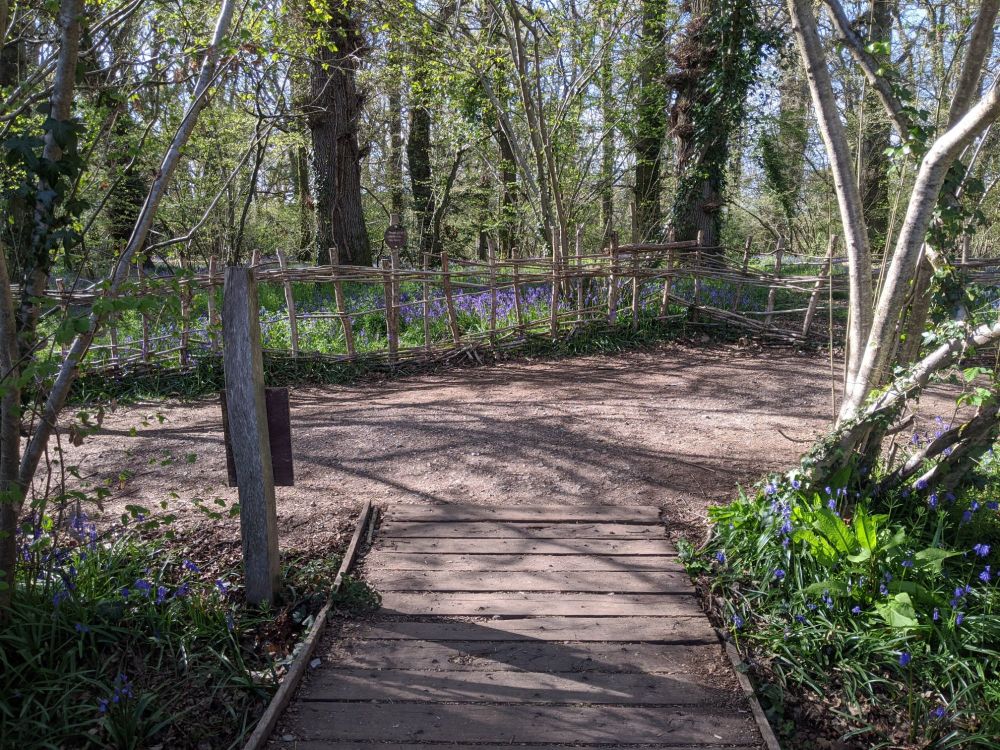 When I visited last there was a wide path which led around the bluebells but unfortunately with all good things the visitor numbers grew each year and sadly the bluebells suffered when they were trampled on by people or animals straying off the path. Because of this the National Trust placed a pretty fence around the bluebells and I followed the path a short way down until I found another gate back to the sapling trees.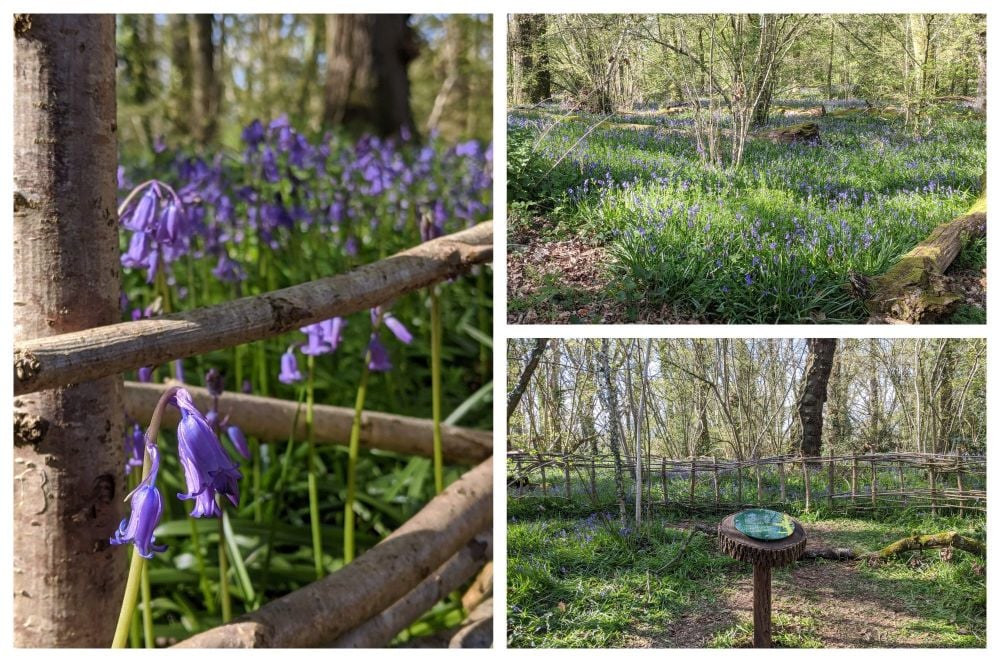 It is a bit of a shame I could only see the bluebells from that one side but because I'd walked over at about 4pm it meant I was treated to the most beautiful late afternoon sunshine creeping through the trees and with the wonderful delicate scent it really was one of natures most glorious displays.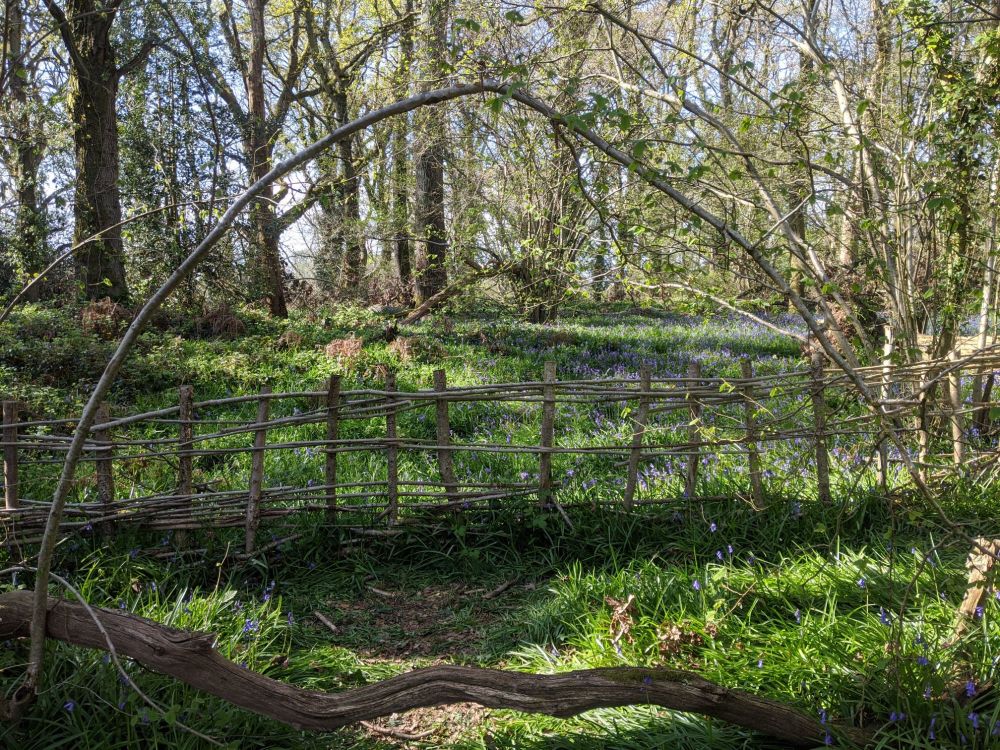 A plaque on a bench as you enter the woods say's that some of the trees in this ancient woodland have been standing for over 300 years but they are now struggling with disease and stress. The winding path is helping to relieve the impact which will allow the trees and bluebells to recover and thrive for future generations.
This isn't the only place in Pamphill that you'll see the bluebells though as there's plenty of patches near the church and car park. If you want to see even more then you might also like a trip to Kingston Lacy where I'm told they are in full bloom in the woods there.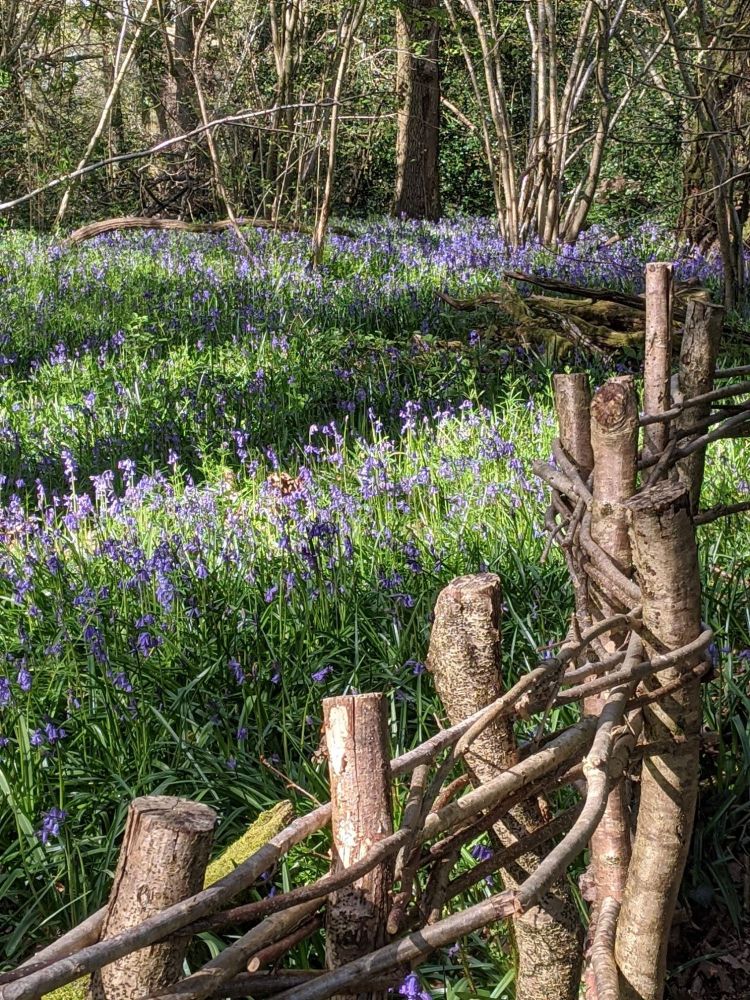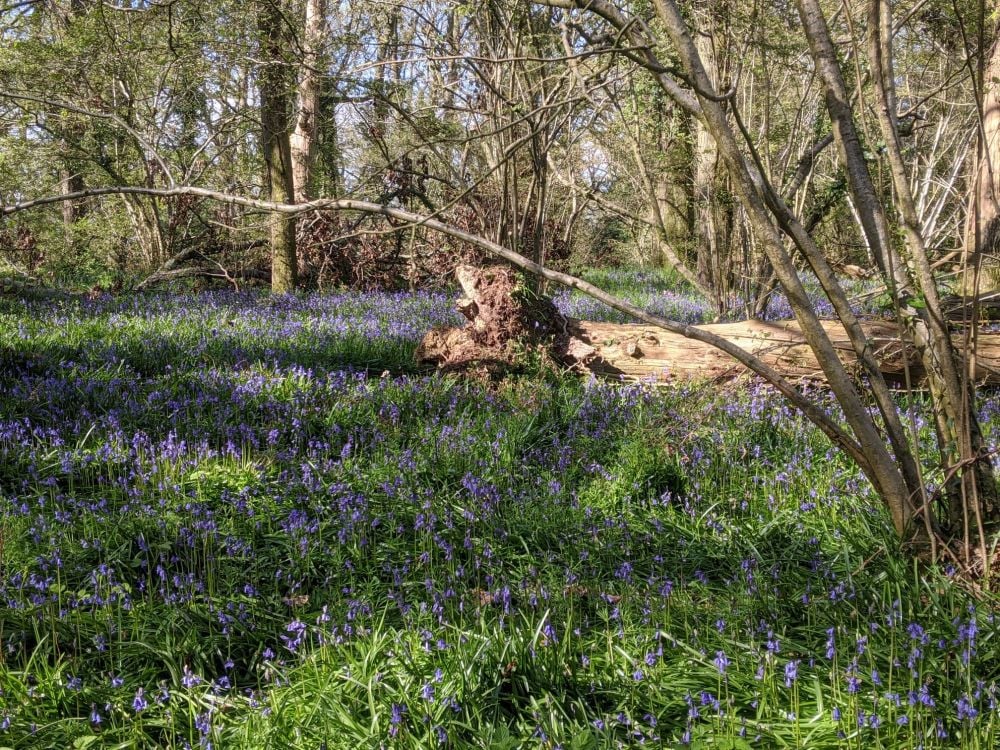 *Please note, parking charges may apply on Pamphill Green.