SEA LIFE Weymouth - Join Peppa on her Aquarium Adventure
Posted on
You don't need to love Peppa Pig to enjoy a day out at SEA LIFE in Weymouth but for those that do, now is a good time to visit.
As you enter, the children will be given an activity trail and then as you make your way around the park you just need to keep an eye out for the challenge boards and write the answer on your activity sheet.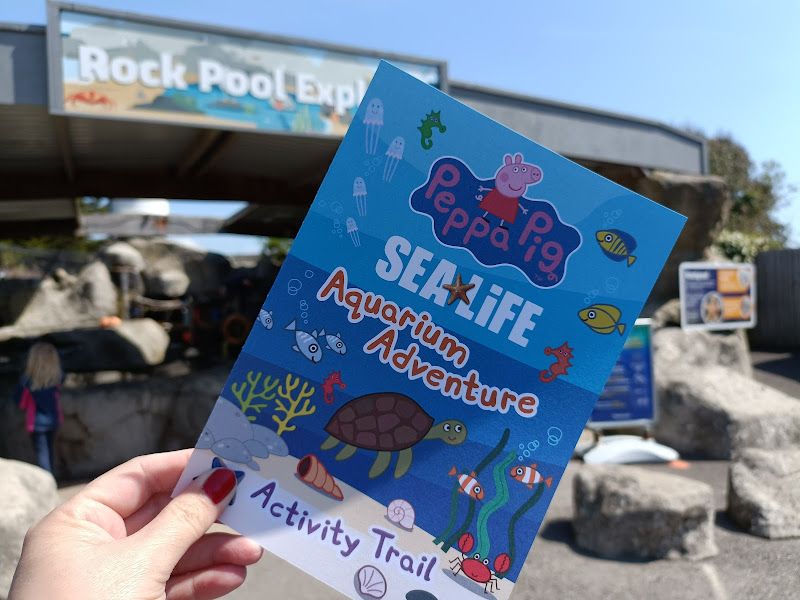 Our children always love to start at the Rockpool and wash their hands so they can stroke a starfish and look at the shore crabs, anemones and sea urchins. We seem to learn something new every time we go and the nice man there showed us where the eyes are on a starfish which is on the end of each arm.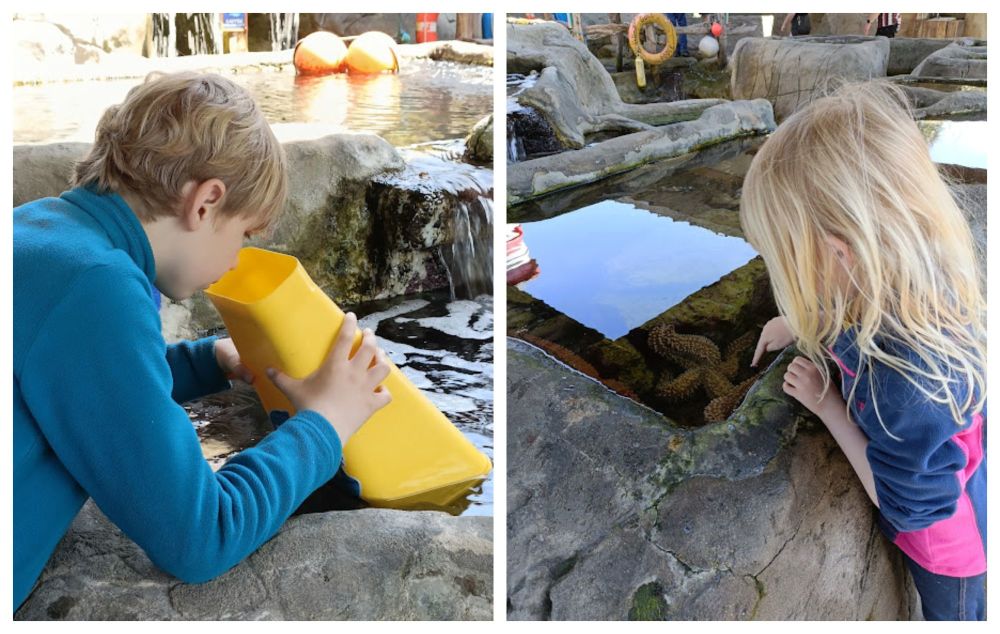 There's a couple of zones nearby which we visited but it didn't take long for the children to run for the Caribbean Cove adventure play area. It's one of our favourite play areas in Dorset because the high areas are enclosed, there's lots of fun tunnel slides and the flooring is soft on bottoms. This is normally our opportunity to have a cuppa but since the sun was shining we opted for ice creams from the café instead.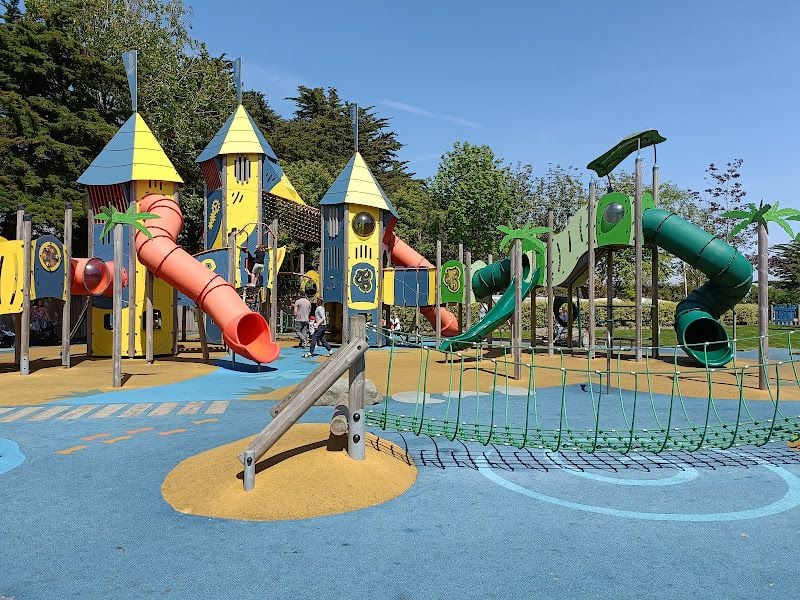 After a good run around we went to see the cheeky otters followed by Seal Harbour. Did you know seals can hold their breath for up to 30 minutes and dive to depths of over 70 metres?
From here we went to Humbolt Penguin Beach where we caught feeding time. We were all amazed at how they wait patiently in line and the keeper would feed 5-10 to one before they wouldn't take anymore and then he'd move onto the next. I was speaking to my daughter and saying that penguins obviously don't need a lot of food and know when to stop and then a lovely couple next to us explained that they can only eat so many and then have to wait for those to move towards the tummy before they can have more. And sure enough after a couple of minutes the first penguins were ready for second helpings.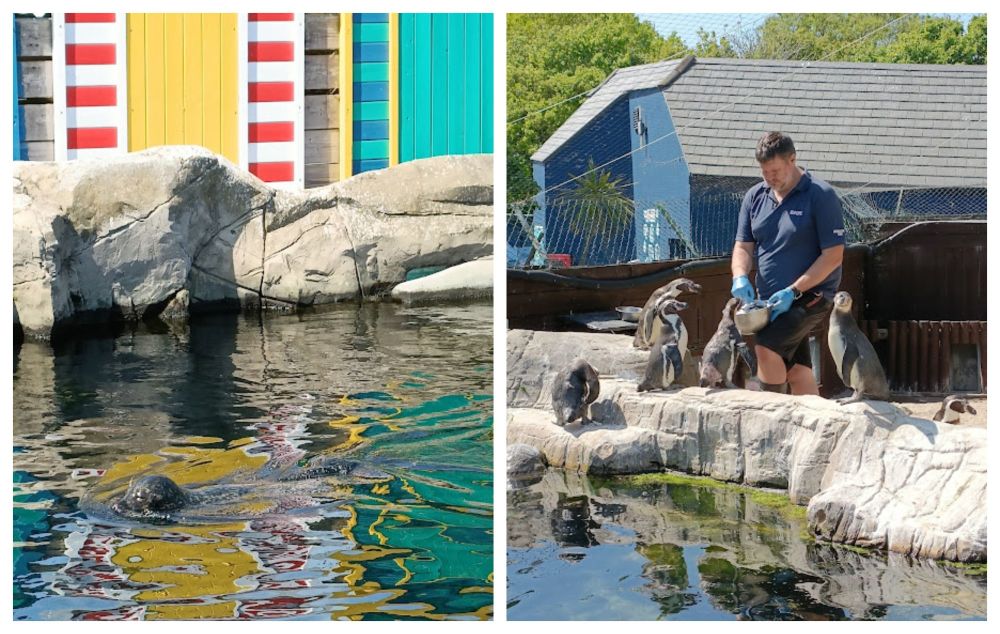 I knew Peppa was making an appearance at several times in the day so we went over to the area next to the penguins and waited for her to appear. My son is now way too old and cool for Peppa Pig but my daughter was first in line and wasted no time at all in grabbing her hug.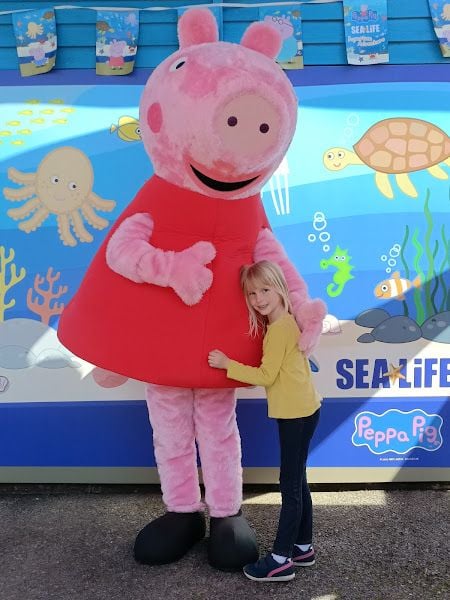 If you head through the turtle sanctuary you'll also see an interactive area where children can have fun at tasks but also learn facts about our oceans. From here you follow through to the Night and Day Experience where you can dance and stomp along the bio-fluorescent shore in front of a big screen and then head through the underwater tunnel where you'll find Blacktip Reef Sharks, Green Sea Turtles and tropical fish swim above your head.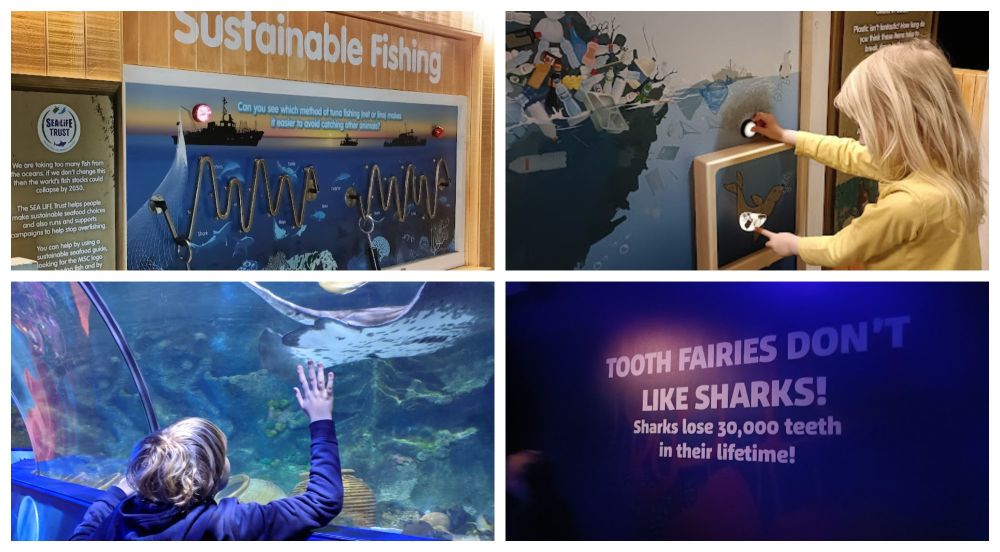 There are lots more zones over by Castaway Bay where the splash zone was open and the children got a teeny bit wet. For now the paddling pool is closed however I'm sure they will be opening it soon.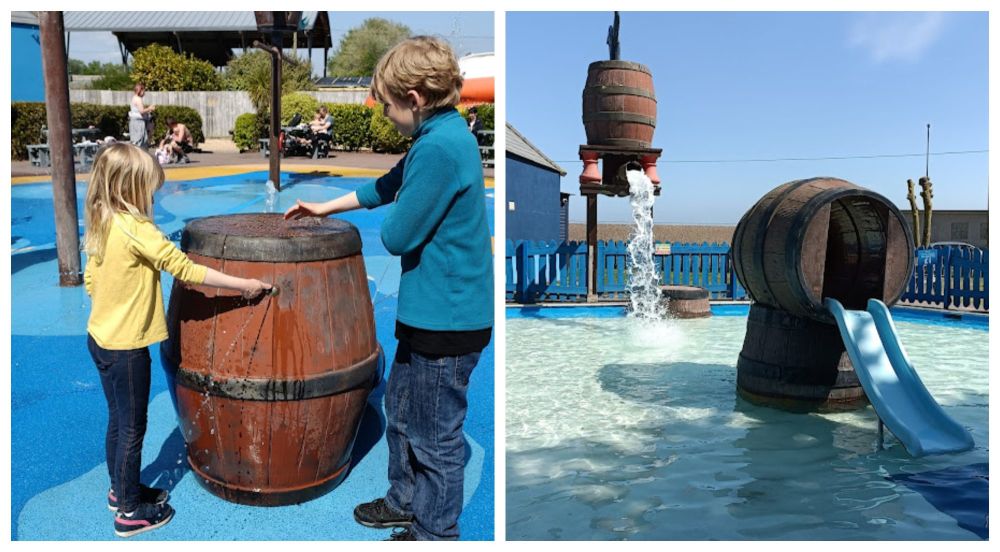 The children had just enough time to find the last of the Peppa Pig boards and discovered seahorses, starfish, an octopus, jellyfish, piranha, poison dart frogs, rays, tropical fish, fairy penguins and jellyfish which are older than all of the other ancient reptiles and scientists believe they first swam in our oceans around 500 million years ago!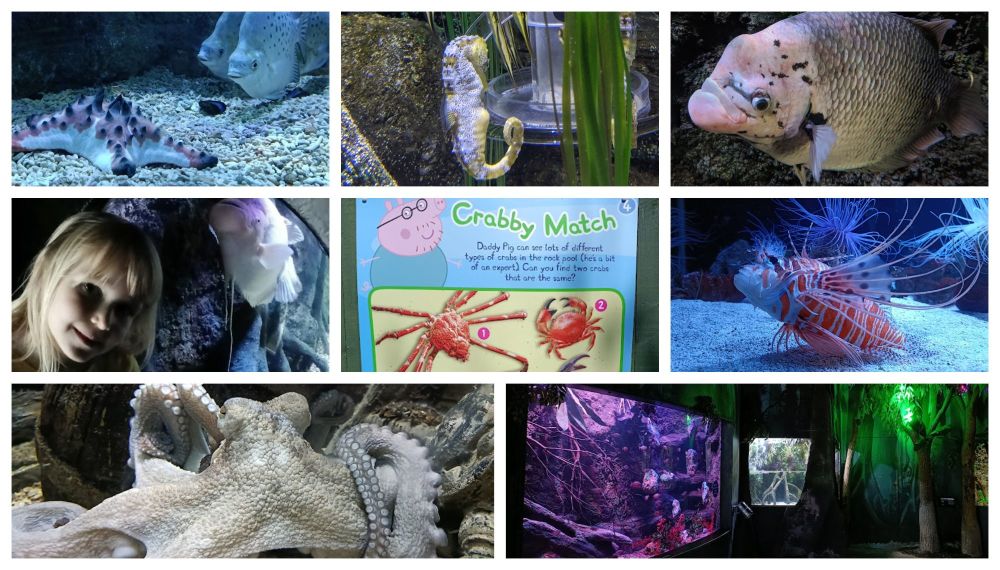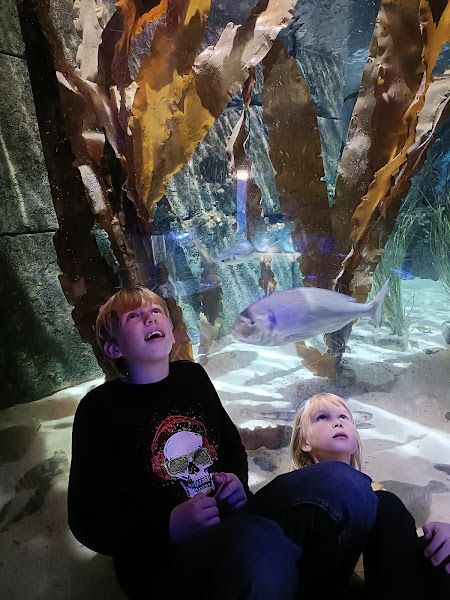 Before leaving we took our activity sheet to the front desk in the gift shop and the children were rewarded with a Peppa poster, activities to complete and they were able to choose a pop badge each.* We had such a great day, there's so much to see and do and we always recommend it to other families.
Good to know…..
There is a restaurant serving sandwiches, wraps, hot dogs, stone baked pizzas, treats and drinks. Over by the Caribbean Cove play area you'll find a little café serving hot drinks, biscuits and cakes, ice creams and sandwiches. In busy periods there is also an ice cream and waffle kiosk over by Castaway Bay.
Under 3's go FREE
Talks and Feeds on the day we visited included the seals, fairy and humboldt penguins and otters.
There is a big pay and display car park at Lodmoor Country Park.
If you haven't spent all day in the SEA LIFE then there's also a really fun Pirate Adventure Mini Golf course next door.
If you forget your suncream then head over towards the huge turtle and you'll see a dispenser on the wall next to a water bottle filling station.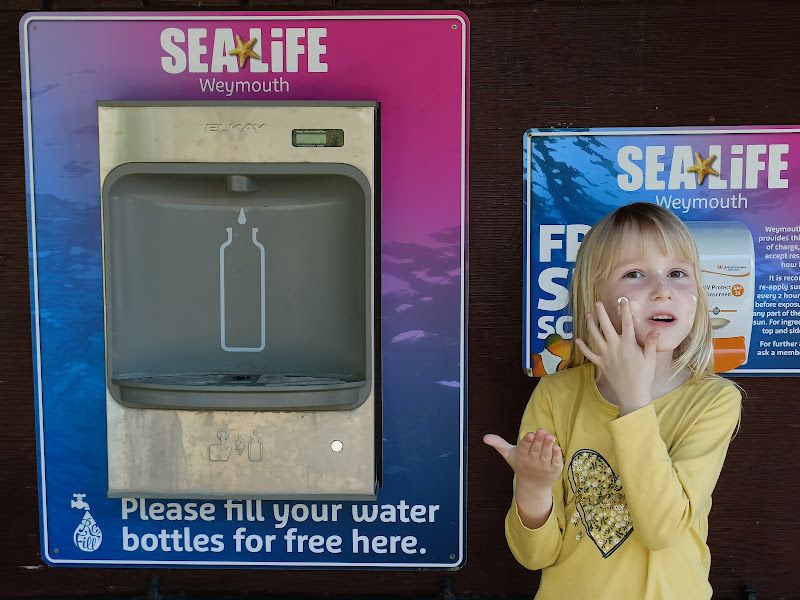 You can join Peppa and dive into her Aquarium Adventure up until 3rd July 2022. For more information and tickets, please visit SEA LIFE Weymouth.
*Reward for completing the activity may change over the coming weeks.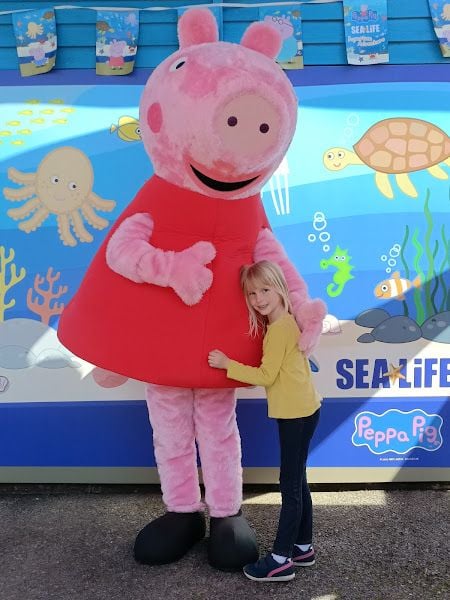 Dorsetmums was invited to SEALIFE Weymouth for the purpose of a review however all words are my own.