Exploring Tout Quarry Sculpture Park and Nature Reserve
Posted on
Tout Quarry Sculpture Park has been on my list of places to visit for a long time and when my husband and I had a night away in Weymouth I asked if we could pop on over to the Isle of Portland before we went home.
There are estimated to be over 70 sculptures to discover in the abandoned stone quarry and I'm pretty sure we only found about 30 so we'll definitely be going back one day to find the rest. We both said many times how much the children would enjoy it there however I did note that some of the rocks were very large and with my 2 non-stop climbers I think I'll have a near heart attack. For safety reasons I would definitely recommend children stick to the paths and not climb high.
There's a car park which was free and entry to the quarry is free too so you could pack a picnic and make a nice day of it (there are no toilet facilities that I saw though). Near the car park you should see an information board which marks the location of the sculptures but we didn't take much note of it and just went off to explore. From the car park the first set of sculptures you see are pretty impressive including 'Roy Dog' which is a mythical creature as big as a man with fiery eyes, one green and one red. It was said that the creature lived at Cave Hole on the south-east side of the island and would drag any passer by into his lair.
There seemed to be one main path to take but then there was lots of little paths off of this so the routes you could take seemed endless. At one point we went through a tunnel and the views of Chesil Beach on the other side were breathtaking! Be warned though, there's no safety barriers or anything so keep children close to you and don't let them run off. We saw so many sculptures, some huge and some small, and it was actually quite exciting when we did spot them.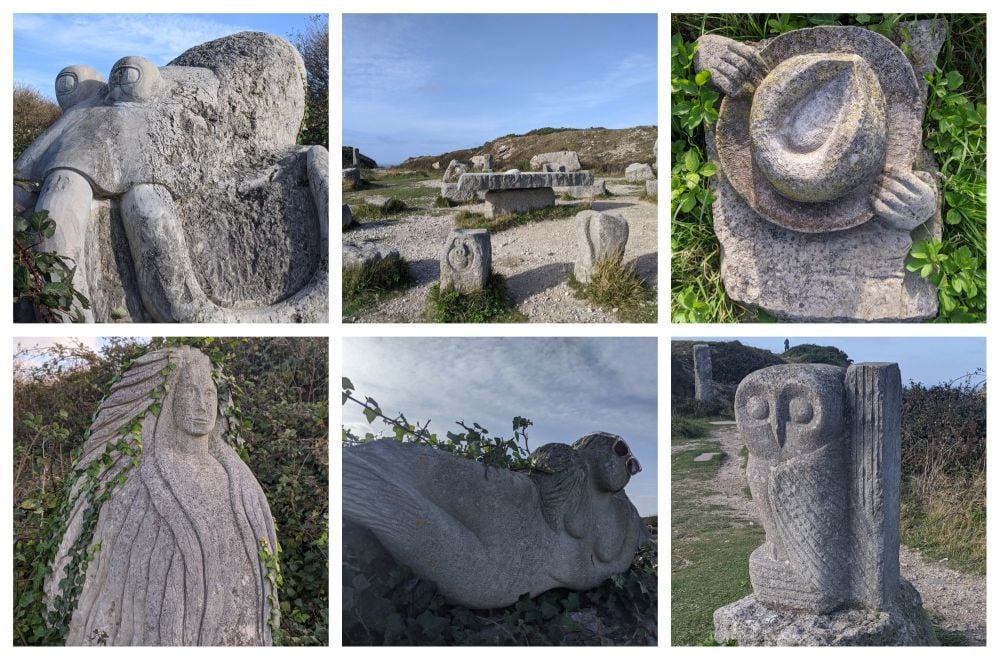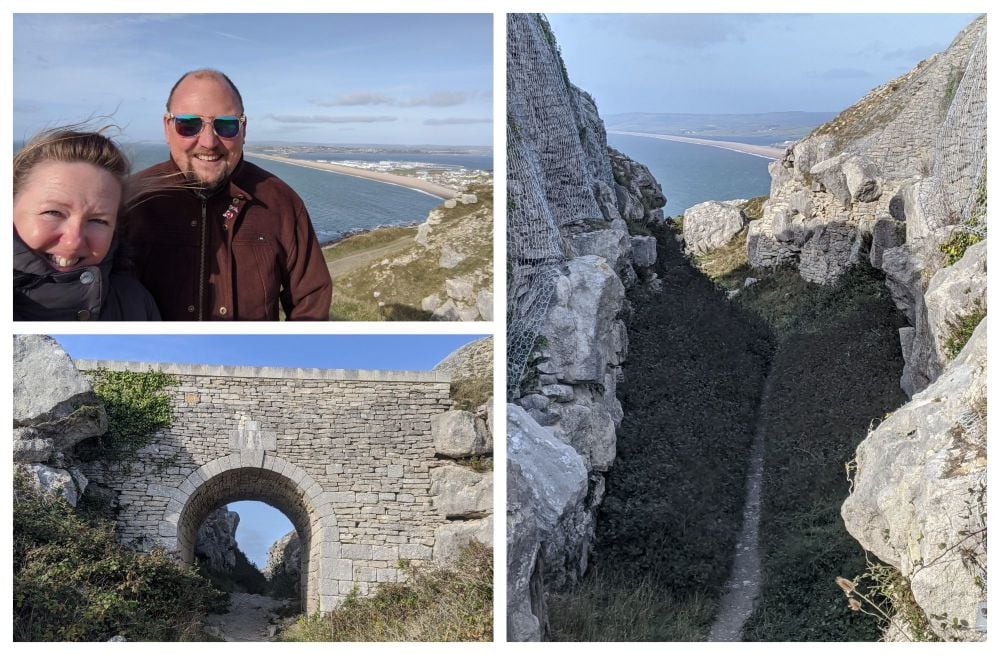 Tout Quarry Sculpture Park began in 1983 where well known artists created these pieces in the labyrinths and gullies within the 40 acre site. Aswell as the sculpture park there is also a nature reserve so you will find lots of uncommon plants and wildlife.
We didn't think we'd be at the quarry too long but ended up staying for a good couple of hours. When we left we drove to The Jailhouse Café at Portland Prison. To enter you need to go through the Verne Prison tunnel and through Verne Citadel which is surrounded by cliffs and a moat. We only stopped for a cuppa and sat outside to take in the wonderful views across the harbour but the menu did look very inviting and next time we'll stay for lunch.
If you have any recommendations on where else we can visit on the Isle of Portland then please do comment below.