Family fun at Paultons Park
Posted on
A bit of drizzle didn't stop us having a brilliant time at Paultons Park this weekend. Our children are so easily pleased there as they have big and small rides, numerous play areas, animals and a fun soft play.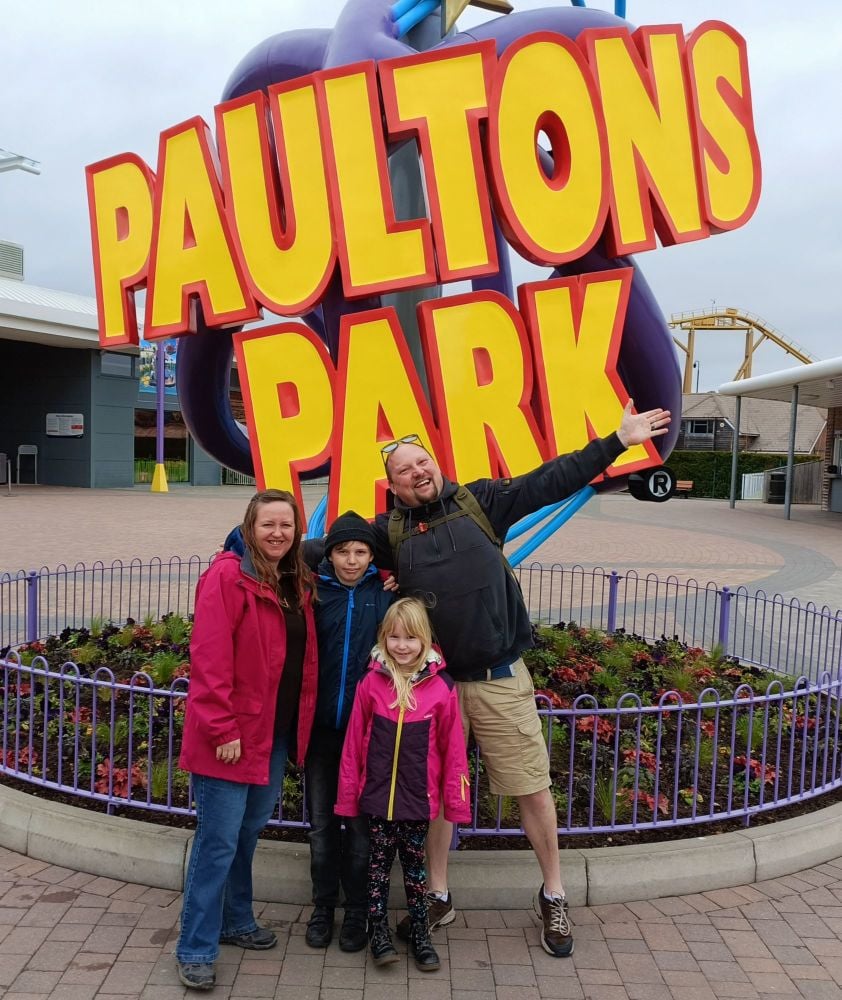 The new Tornado Springs is awesome, the boys did the scary rides like the Cyclonator which is a 25m swinging pendulum ride and the impressive Storm Chaser spinning roller coaster which was apparently insane (I wasn't brave enough for either). My daughter who has always been scared of anything fast agreed to go on the Farmyard Flyer which is a more gentle coaster and she was hooked. Because of the rain it was very quiet there so we were on and off several times before heading to Al's Auto Academy for a spot of driving. My daughter was convinced she'd be ok on her own but her driving is pretty shocking and had I not grabbed the wheel a few times there would have definitely been a crash!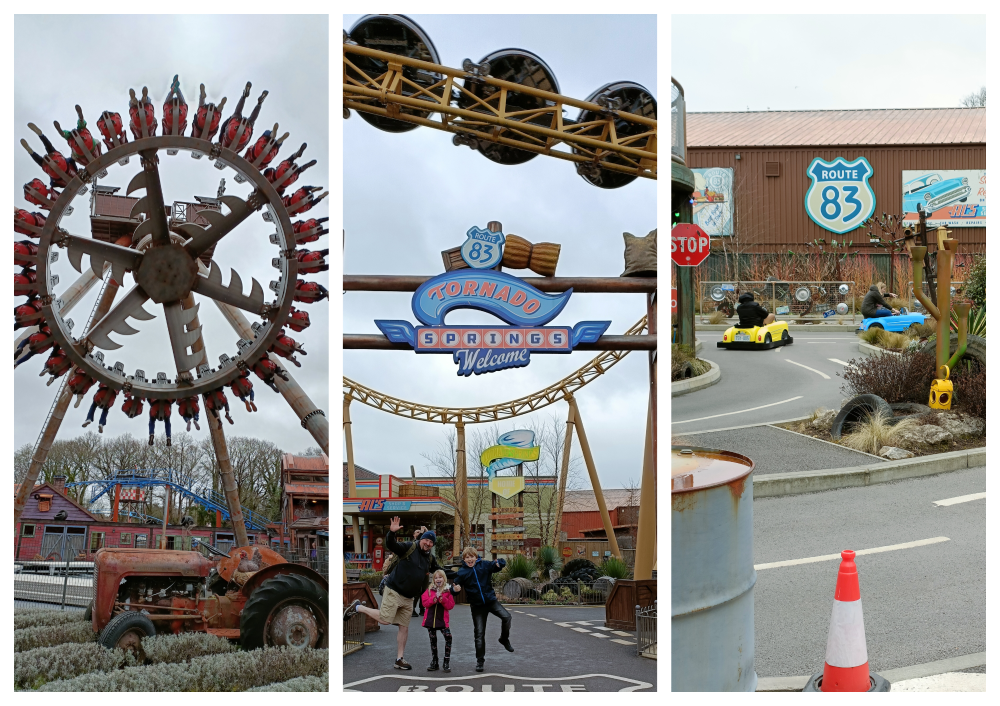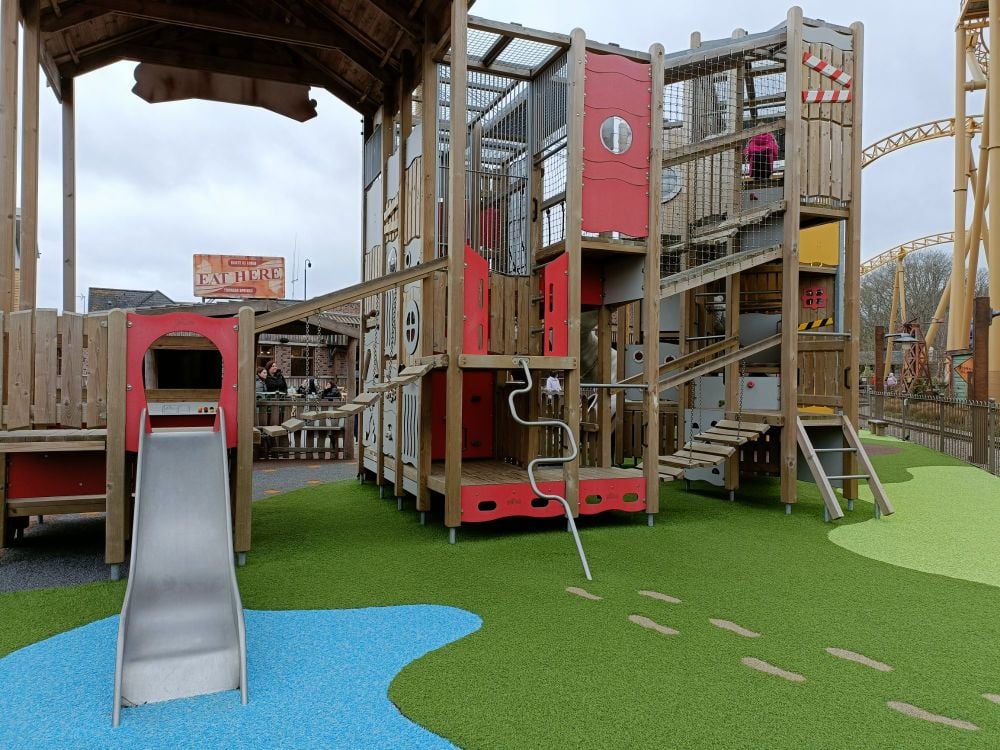 Lunch time came round quick enough and although I'd packed sandwiches we decided to also get hot drinks and curly fries from the Route 83 Diner. If we hadn't packed lunch already then we'd definitely have eaten there as the menu offered breakfast items like pancakes, filled croissants and bacon ciabattas plus burgers, chicken tenders, salads, hot dogs and kids meals.
Everyone knows that Peppa Pig World is busiest in the morning so we planned to go over there much later in the day and on the way to The Lost Kingdom we popped in the Beastie Burrow to look at insects, fish and lizards and then went on the Victorian Carousel and Cat-O-Pillar coaster. My daughter enjoyed the latter more than the previous coaster and throughout the day I think we must have been on it at least 8 times haha.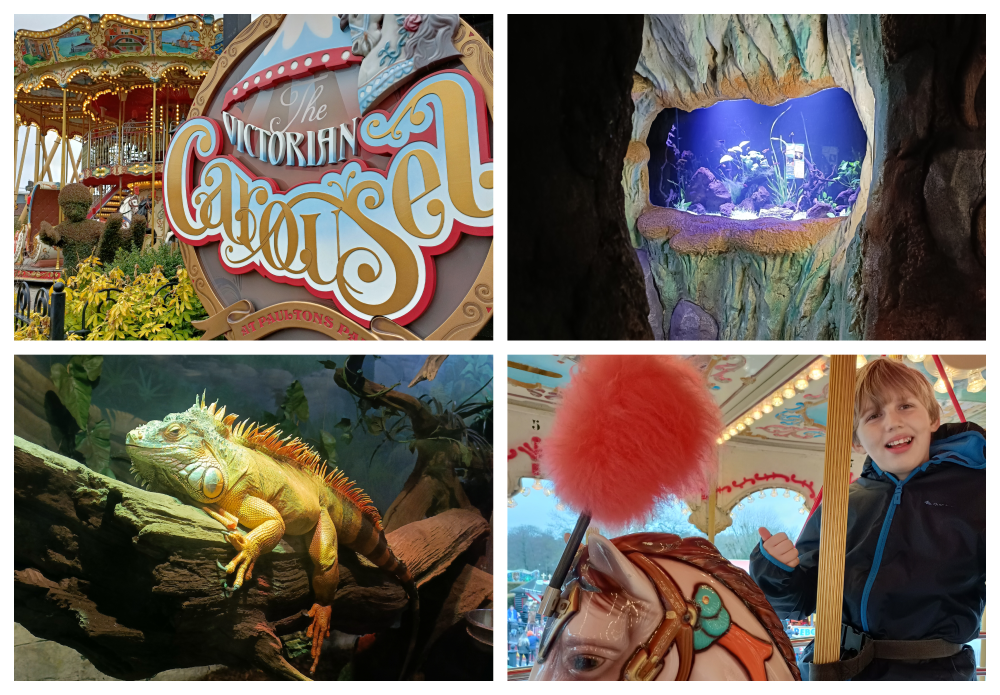 Over in The Lost Kingdom my son managed to get me on the Flight of the Pterosaur ride which is a huge coaster with suspended seating. Before kids there was no ride I wouldn't go on and one's like this would have me screaming for joy. My son has already been on it several times and loves it so to him it's a thrill and not at all scary. I however got on thinking I'll be ok but when we went over the first drop I honestly thought I'd have a heart attack so when we got off I decided that from now on I'll stick with my daughter and her low level coasters that don't leave me shaking like a leaf haha. While we were on there Daddy took our daughter on a few smaller rides nearby and then it was decided that the boys would carry on doing the big rides while us girls would head over to Peppa Pig World. On the way we wondered through the gardens looking at a variety of birds and statues.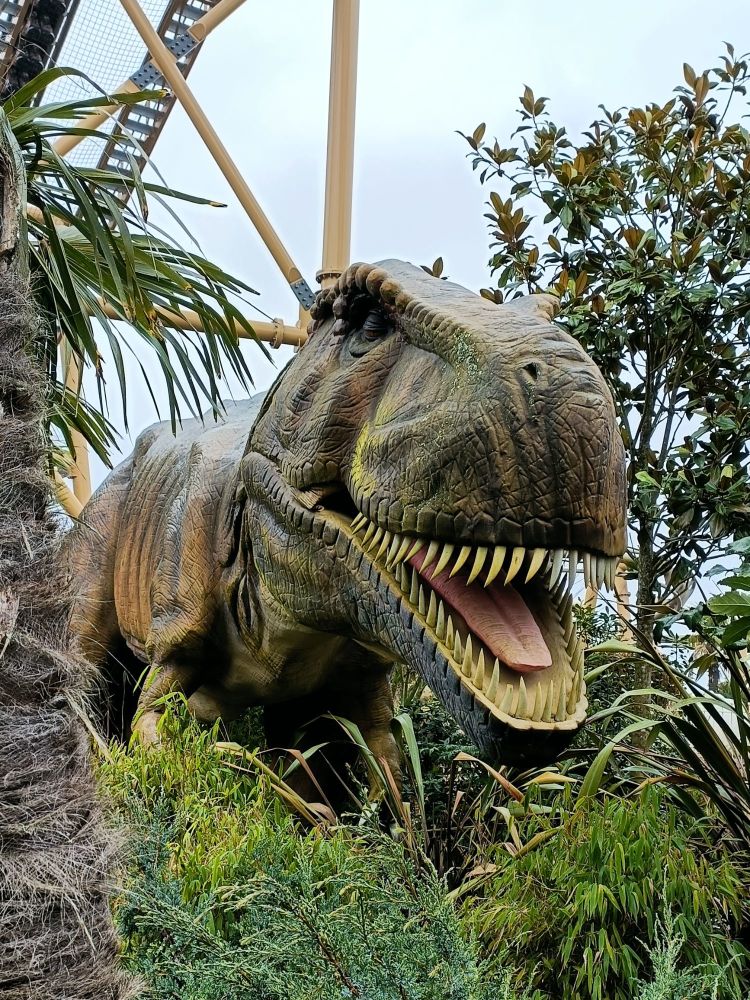 I love being in Peppa Pig World, the music drives you slightly nuts but it's impossible to feel miserable there. There's 9 fun rides which are suitable for younger children but my daughter knew which ones she wanted to do so we went on The Queen's Flying Coach Ride which is on a monorail and gives wonderful views of the park and after this we went on Grampy Rabbit's Sailing Club which passes through the Queen's Castle.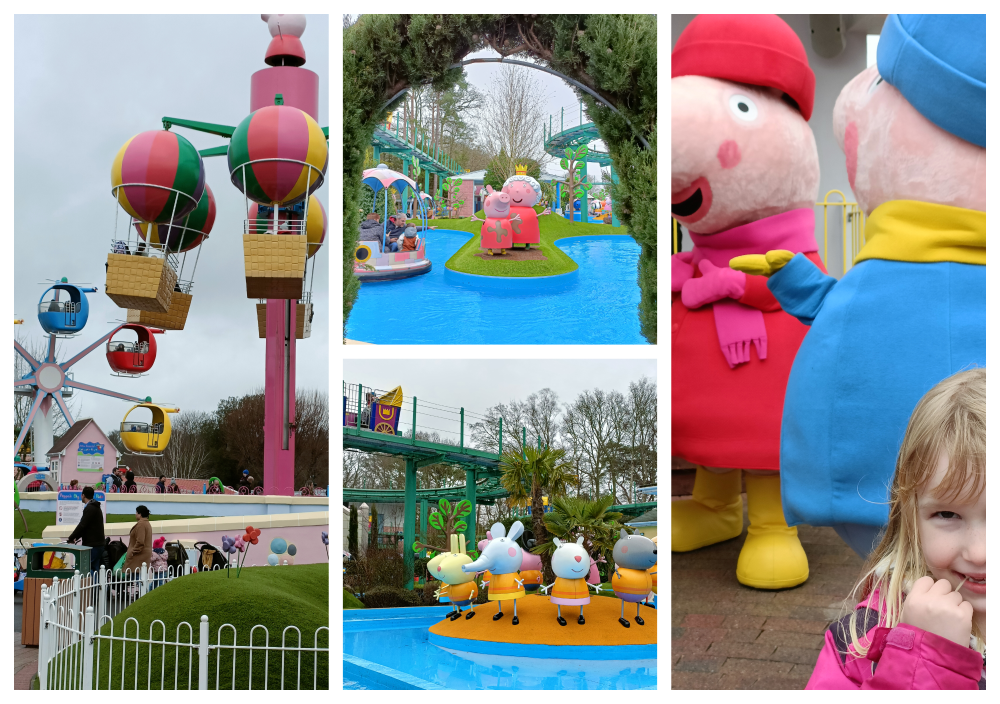 We briefly visited the Wild Lands Zoo to look at the meerkats, mongoose, pygmy mice, a porcupine and a variety of birds. Then it was off to George's Dinosaur Adventure and Grandpa Pig's Boat Trip.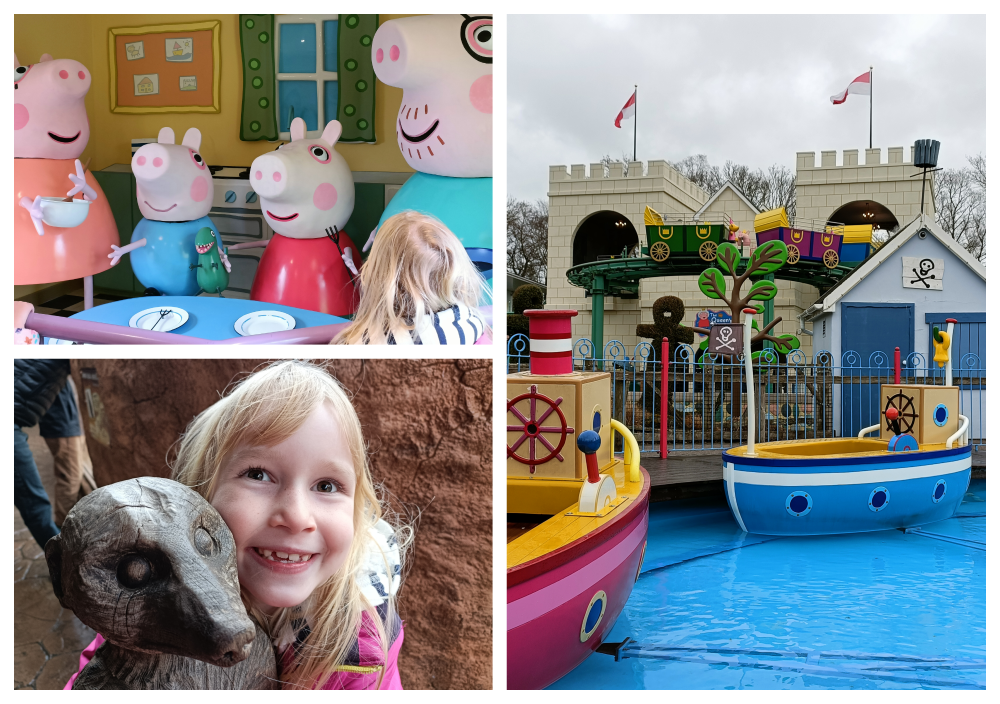 We'd agreed to meet the boys in the soft play so we could all warm up and so I could grab a coffee. It's one of the best soft plays around, not just because it's Peppa themed but also because there's a musical and toddler area plus a larger frame with obstacles, tunnels and slides and even a rocket which the kids can climb in!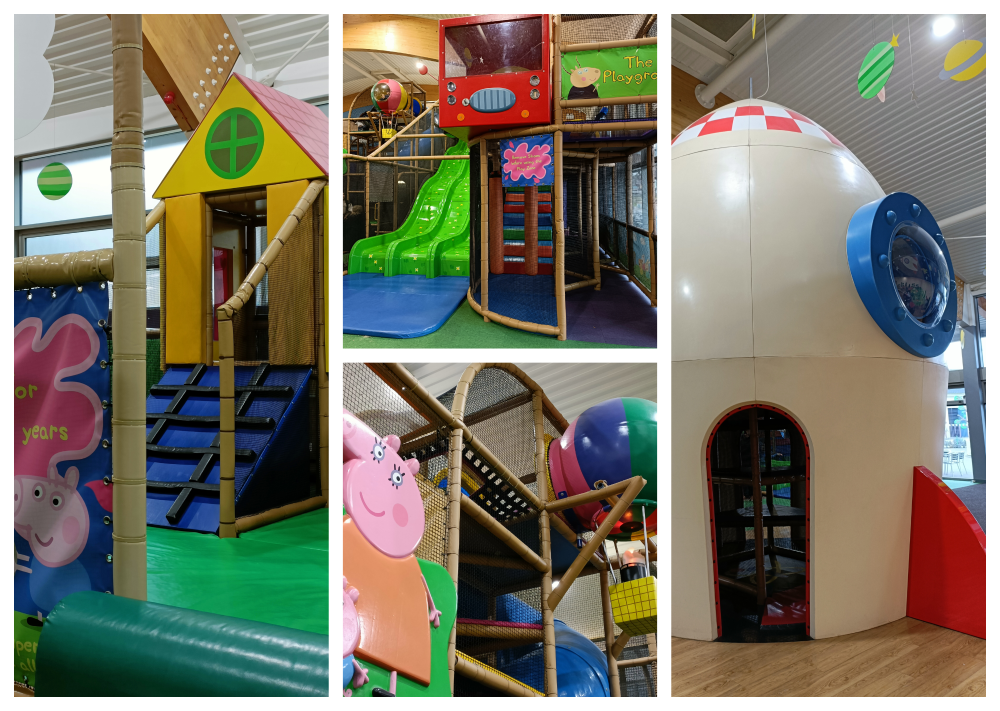 The day always flies by when you're having fun and we only had about 20 minutes before the park closed so we agreed to get out and quickly do our favourite rides nearby. By 5pm everyone was pretty exhausted but we all agreed that it was one of our best family days out.
There are over 70 rides and attractions throughout the theme park so I'd recommended getting there for when it opens so you can cram in as much as possible. Because of the rain we avoided some of the play areas but if you go on a sunnier day then there's lots to choose from and even a splash park with water jets, tipping buckets, fountains and super soakers.
Good to know:
Children under 1m enter the theme park for free.
Parking is free.
The Splash Park is normally open from late March until September.
Lots of ride photos are available and items start at £12. If you think you may purchase a few then the Photo Pass offer is better value at £40 as you can have 5 photo items plus the digital copies.*
Near to the entrance you can hire strollers for the day and you'll also find a first aid centre and lockers nearby.
There are a few baby care centres dotted around the park and these are specifically designed for nursing/feeding and include baby changing facilities and a microwave for heating baby food. Bottle and food warming is also available within restaurants and refreshment outlets.
Paultons Park operate a cashless system however if you arrive at the park with cash then you can visit The Hub where they can put this on a gift card for you to use.
Download the park app for live show and queue times plus park information.
There are lots of eateries and kiosks dotted around the park however if you are looking for a more comprehensive menu then the Wild Forest Restaurant offers a choice of breakfast items, wraps and ciabattas, salads, burgers, pasta, jacket potatoes and kids meals.
There are gift shops within the park however the shop by the entrance is by far the largest and sells everything from soft toys to games.
If you would like to read more about the theme park including upcoming special events and the short break packages they offer, please visit Paultons Park.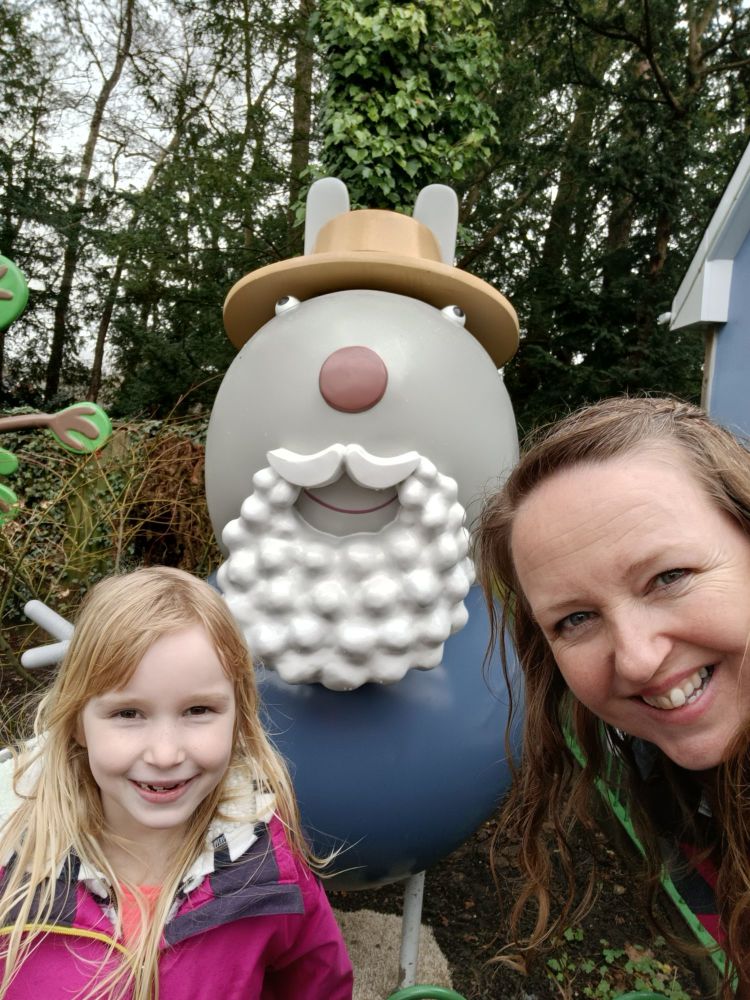 *Any prices stated were correct at the time of writing.
Dorsetmums was invited to Paultons Park for the purpose of a review however all words are my own.