The Dorset Adventure Park
Posted on
My son went to The Dorset Waterpark in Corfe Castle as part of a school trip this year and loved it so much that he asked to go back for his birthday in the summer holidays.
We were lucky to have sunshine and cloud on the day but it wouldn't have mattered much if it rained as forecast because they would have got wet anyway haha. My son invited a friend and my husband went in the water with them aswell just in case they needed any help and also for my peace of mind. I must admit, watching them made me wonder why I always get to hold the bags and camera but I've promised my daughter that when she gets older we'll all do it together.
Check in was easy and the staff were really friendly and welcoming. We asked for the aqua grip socks but only my husband requested a wet suit as the kids were happy in their swimwear. My son had remembered from his school trip that the water wasn't cold and he's never liked the feeling of a wetsuit anyway so he was more than happy to go without. Once they were changed they went to the briefing area where they were given life jackets plus safety instructions.
It was great watching the group run off into the water. They went on the larger lake first which had loads of connected inflatable obstacles to jump and climb across including a plank and a huge slide which went into the water.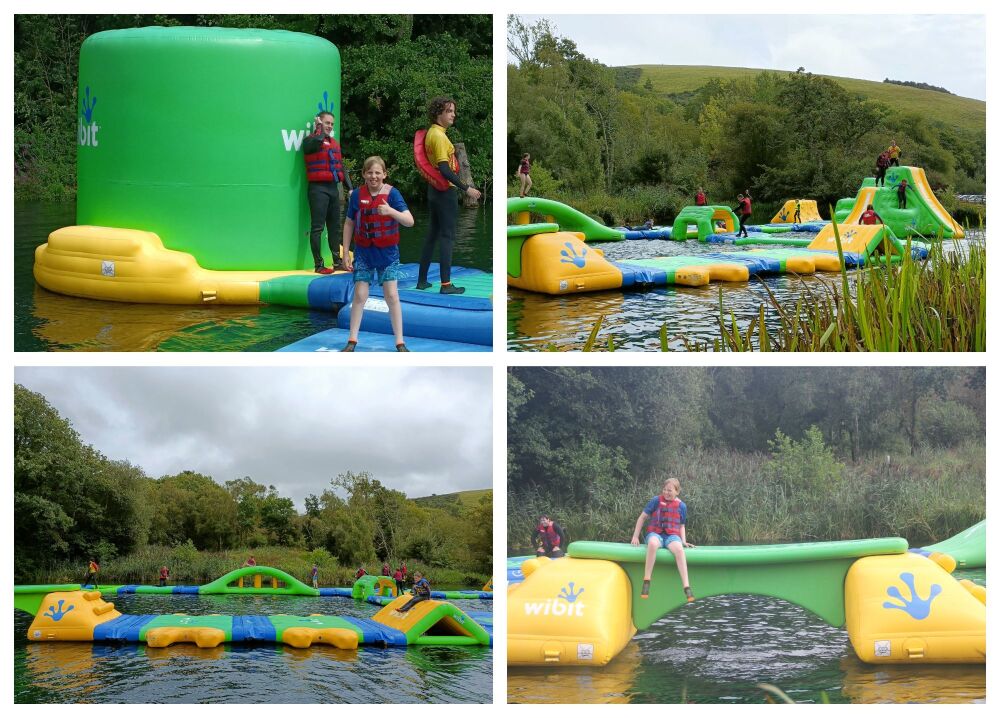 After 30 minutes they were called to go to the other lake and here they have more fun obstacles and the Flip Bag where one person sits near the end and someone else jumps on the other end so they go flying in the air. My son was launched off at a really good speed and I think I may have laughed a little too much when he came down with a huge splash! (Sadly my camera was not ready and it all happened too fast).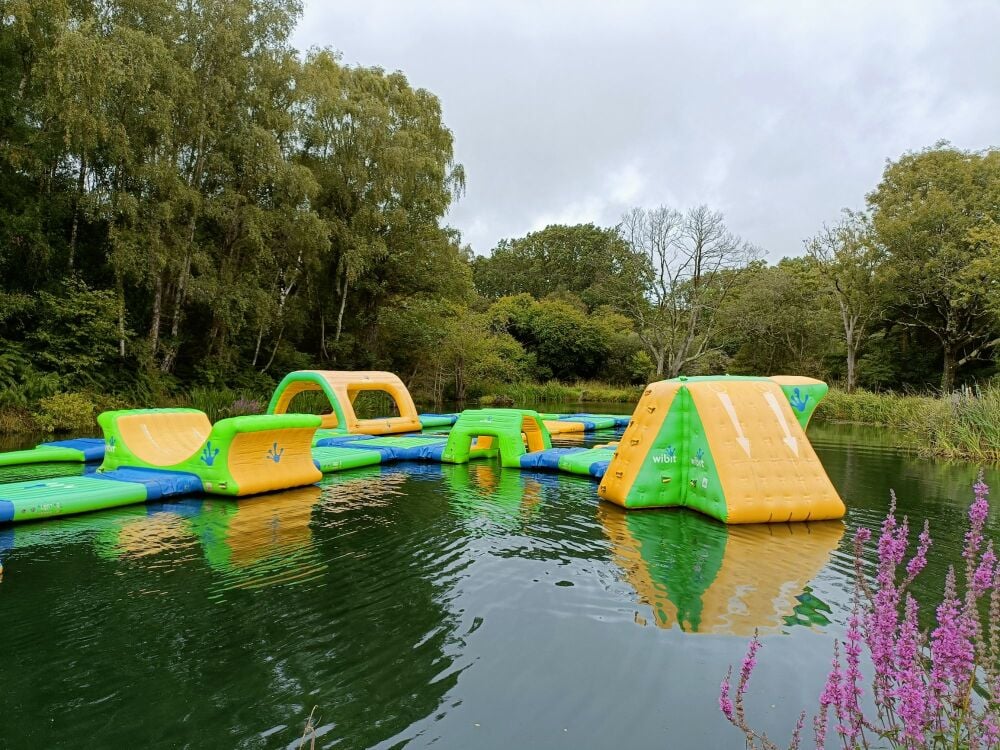 The lifeguards were brilliant and one in particular noticed my sons friend got a bit scared because she couldn't see the bottom of the lake and he would help her with his float when she needed it. The lifeguards were always watching the adults and children in the water and were there to assist whenever someone needed help or to give encouragement when they struggled with an obstacle.
The one hour session went pretty quickly but all 3 of them had great fun and were completely worn out from climbing, jumping and swimming. Once they were dressed we hit the Snack Shack for drinks and chips while they told me all about their adventure.
My sons review of his trip there was 'Best Birthday Ever' so I don't think you can get any better than that!
Good to know:
Minimum age 6 and minimum height is 110cm. Children aged 6 and 7 must be supervised by an adult on a maximum of a 1:3 ratio on the water. It is strongly recommended that all under 12's are accompanied by an adult on the water on a 1:4 ratio.
Participants must be confident in deep water and be able to swim 25 metres unaided.
You must arrive 45 minutes before your session time to allow for changing and the safety briefing.
There's plenty of free parking.
The Snack Shack offers hot and cold drinks, snacks, ice cream and hot food which includes burgers, chips and chicken nuggets.
All participants must have an up to date waiver form completed before taking part in activities.
Birthday parties are bookable and include time on your chosen activity, invitations and food. Group bookings can also be catered for.
Within the Dorset Adventure Park you will also find The Mud Trail which my son enjoyed with his friends a few years ago. Since we visited there have been many additions and regardless of the weather it's a great challenge. The 2k long obstacle assault course has trenches, balance beams, cargo nets, slides and plenty of mud!
For more information on The Dorset Waterpark and The Mud Trail, please visit Dorset Adventure Park.