Party Bags and Supplies Review
Posted on
A while back we were given the opportunity to choose and review a party pack from 'Party Bags & Supplies' and as my Son's 3rd Birthday was coming up in August I jumped at the chance.
I had a really good look through their website and was completely stunned by the amount of choice for boys and girls and I'm sure whatever party you were planning you would easily find whatever you needed on here. Our Son loves all sorts of transport vehicles and as soon as I saw the 'Disney Cars' pack I knew that had to be the one. We had already booked a hall and a bouncy castle for the big day and I was really pleased this would be one less thing to worry about.
The delivery was really fast and I was super excited to open the box and see what was inside. I was also pleased that everything was packed professionally and none of the items were damaged during transportation. Included in the box were matching good quality sturdy plates and cups, a huge wipe clean table cloth, good sized napkins and the best part was the party bags which were pre filled with Disney Cars stickers, a rubber, mask and medal.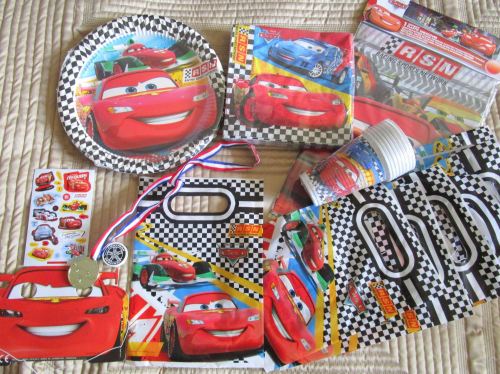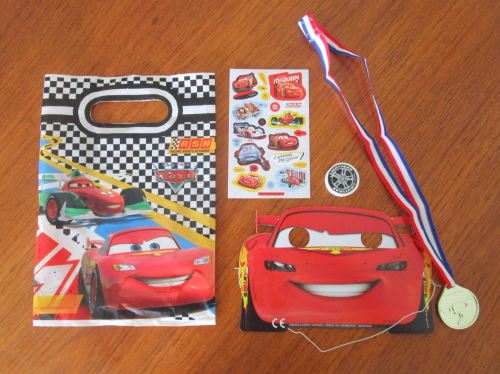 Receiving everything all in one go certainly made it easier than shopping around trying to get everything to match. I loved that the party bags were pre filled and it saved me loads of time not having to shop around for suitable fillers and all I had to do was write the child's name on the bag. So I popped the box in the cupboard and forgot about it for a few weeks until the big day.
I seemed to blink and overnight my Son turned 3 and with all the party food prepared we excitedly rushed to the hall for fun with family and friends. The first thing I did was lay the kids table as I wanted everyone coming in to see it all laid out and it looked really good, especially with the matching table cloth. The boys absolutely loved it and I had to tell a couple of them that food will be a little while and that they had to play first.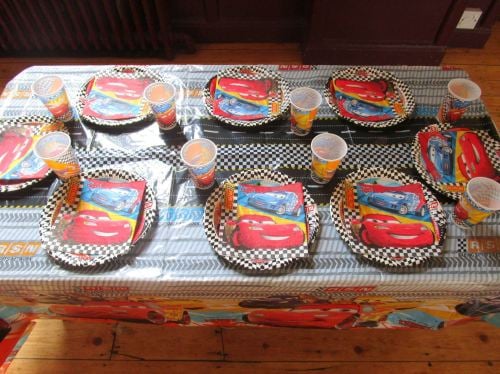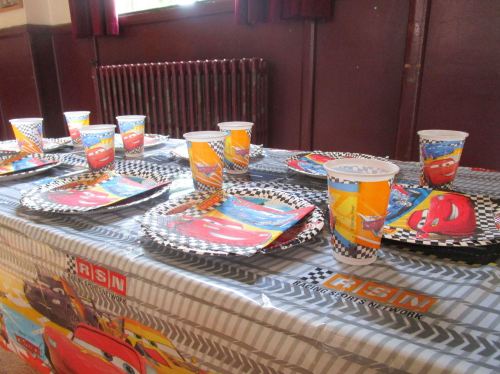 At the end of the party we handed out the party bags. The only addition to the bag was a slice of cake and a little Disney Cars chocolate which I'd found in a local shop. The boys loved the bags and most of them got the stickers out first and started peeling as they were walking out the door.
Please do take a look at Party Bags and Supplies, the choice is huge for children's parties and special occasions and there are different sets to suit every budget. You'll also find balloons and accessories like fancy dress, greeting cards, invitations, decorations, toys and gifts, tableware and much more.
*Please note, I was asked to choose a Party Pack to review however all words are my own.