Our Bus and Boat Trip with City Cruises
Posted on
We went on a City Sightseeing Bus and Cruise on the last day of season and thoroughly enjoyed sitting back to view the everyday sights we tend to take for advantage. We started our journey in sunny Sandbanks when the first bus promptly picked us up for our trip to Poole Quay. Knowing that this part of our journey would be short we didn't worry too much about getting comfortable and just bundled the kids and the ten tonne of bags I normally need for a day out on the nearest seats downstairs. If you get on the bus with the red seats you'll see there's a box which you can put a set of headphones into and listen to the commentary in one of the many languages. This is quite handy if you want to listen to the commentary clearly as we found the bus can sometimes be a little noisy (as buses generally are).
When we arrived at the Quay I headed straight to the City Cruises ticket box which is located opposite where the bus drops you off. We could have taken a cruise to Swanage or sailed on a long 2 and a half hour Jurassic Cruise but knowing our son would get too tired we decided to go on a Harbour Cruise which takes approximately 80 minutes. Our son Sam is now 4 and he loved the boat starting up and sailing off from the Quay and we all took it in turns to go up on the top deck while baby Lucy stayed downstairs in the warmth. The saloon on the 'Island Scene' is very comfortable with a bar area at one end and comfortable seating at the other. There's a small single toilet just at the top of the stairs which worried me when my baby needed changing but the staff were kind enough to allow me to change her in the corner of the bar area and lucky everyone was outside and it wasn't too stinky!

The views on a sunny day are spectacular as you drift away from Poole Quay towards Brownsea Island. It was at this point that we bought some drinks and snacks from the bar and sat back to enjoy our cruise around the back of Brownsea past the 4 other Islands in the Harbour all the while listening to the great commentary from the skipper. I found it hard to listen as I'm always on high alert with my mischievous son but my husband assures me that the commentary was excellent and he enjoyed relaying some of the facts and stories to me about the area.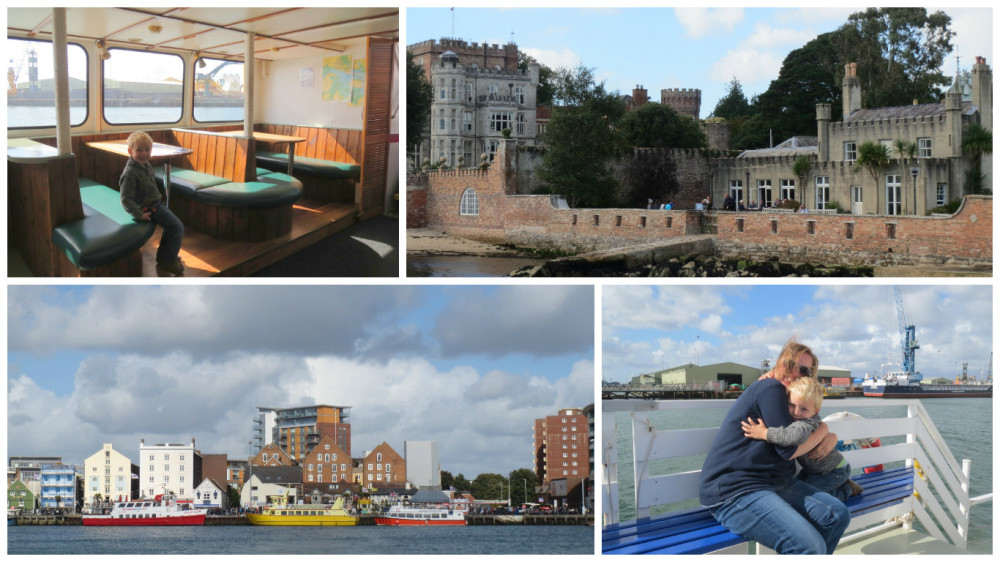 Before we knew it we were coming back towards Poole Quay and my son and I took great pleasure in watching the crew jumping on and off to secure the lines.

Back on terra firma we had missed the next bus so we had just under an hour to grab some soggy chips and visit Neptunes Arcade so Sam could pump all our spare change into the machines.

At 3pm we were back at the bus stop ready to catch our next bus to Bournemouth where we had planned to wander for an hour before getting the bus back to Sandbanks. I really wanted us all to sit on the top deck to enjoy the views but it was now a little windy so we settled for sitting at the back of the lower deck. Baby Lucy enjoyed her milk while we bumped along and fell asleep in my arms and poor Sam couldn't take the excitement any longer and literally nodded off whilst still sitting upright! Neither of us could stop laughing as we sat with our 2 fast asleep kids but at least we had the chance to enjoy our next lot of commentary. The only downfall to our sleeping babies was that we didn't have the chance to have a drink and a wander in Bournemouth but luckily the driver allowed us to stay on so we just kicked back and continued to enjoy the peace and quiet on our way back to Sandbanks.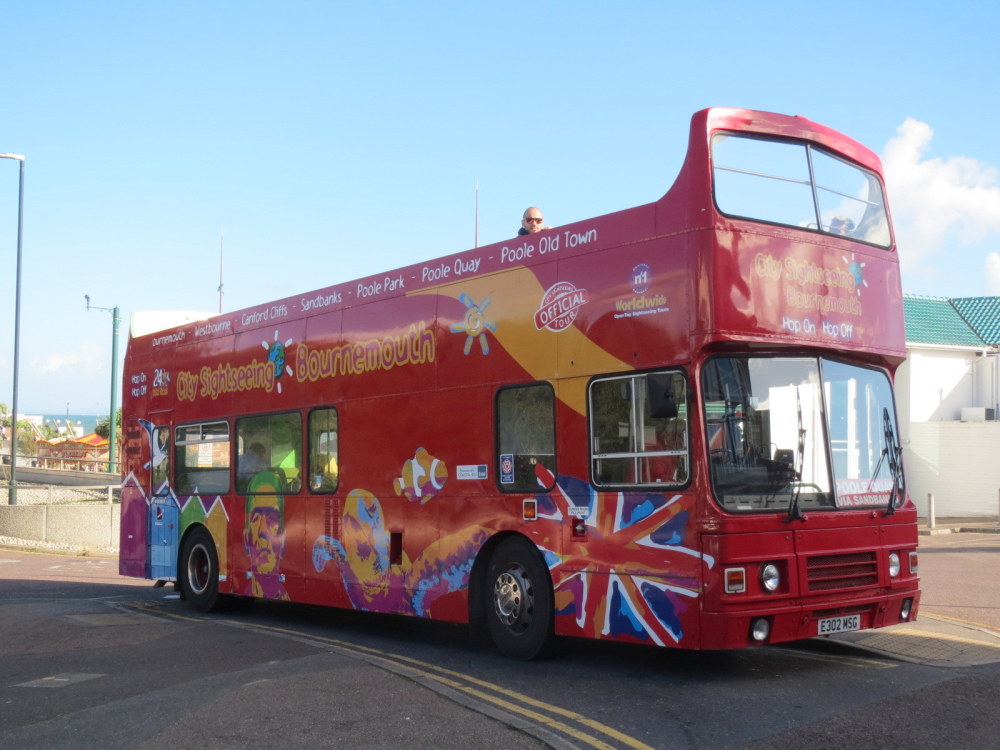 FAQS and Tips
If you can, try not to take too much on the bus with you ie buggies and bags as space seems to be very limited. Luckily for us it was very quiet but I can imagine on a busy day it may be a squeeze.
The bar on the boat is well stocked and there's a good choice of hot and cold drinks plus alcoholic beverages if you fancy one. The kids choice of drink isn't great as they only had the dreaded fruit shoots (I'm considering starting some sort of campaign against them haha) but they did have a J20 which Sam thoroughly enjoyed. If you're feeling peckish then there's plenty of biscuits, cakes and crisps on offer and you'll see details of their special offers which means you can get a cuppa and a muffin for just £2.50.
There is lots to see whilst you're on the boat but you may want to take a little bag of toys or a colouring in book just in case your little one gets bored.
The summer bus and boat cruises have now finished for the season but you can still 'Sail with Santa' on selected dates in December. We took Sam on this cruise last year and he absolutely loved it. There's plenty on board to keep the kids entertained with music, children's entertainment, goodies and of course a visit from the big man himself.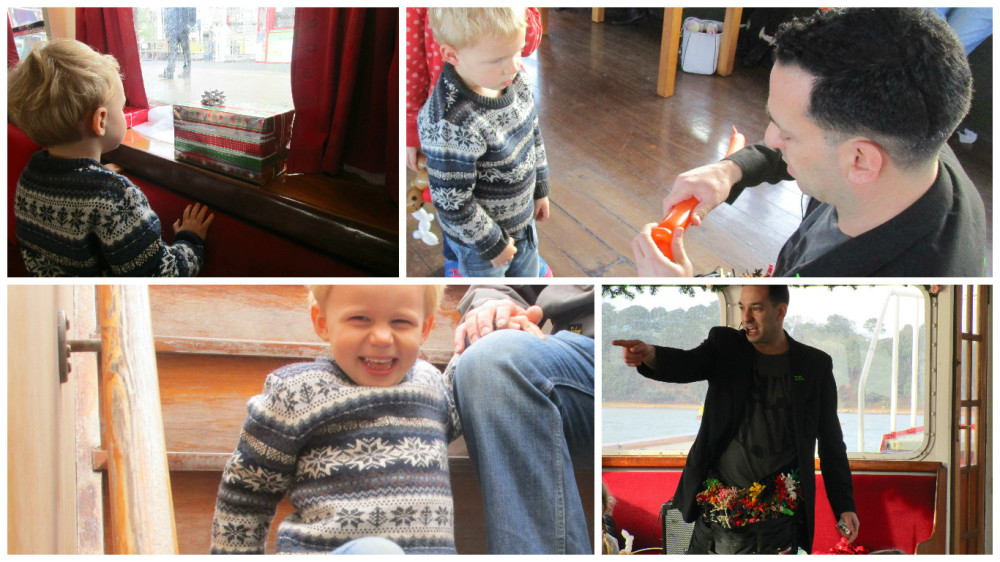 If you have booked a cruise and the Great British weather is looking a bit iffy then it is advisable to check it's still running on the day.
For up to date news and offers please visit City Cruises.

Thank you City Cruises for a lovely day out with the family. Your services were extremely punctual, the staff we met were all friendly and professional and we hope to join you again another day soon.
Love

Dorsetmum and Family
xxx
*Please note we were invited by City Cruises for review purposes but the views written are my own.