Easy Banoffee Pie Recipe
Posted on
This is one of my favourite recipes because there is no baking required and hardly takes any time to prepare, plus it tastes flipping delicious and it counts as 1 of your 5 a day! I made one recently when we were invited to a friend's BBQ and managed to create the layers in between cooking Mr a Full English and baking a batch of dainty scones which I also served at the BBQ with clotted cream and jam.
Ingredients:
250g Digestive Biscuits
80g Melted Butter
Can Carnation Caramel
300ml Fresh Double Cream
3 Bananas (don't slice until using)
Chocolate for the top (optional)
To make the cheesecake I'd recommend using a greased 9" loose bottomed tin so you can get it out easily. Start by melting the butter and then blitz the biscuits or smash them up into fine crumbs. Add the cooled butter and push down into the bottom of the tin before putting it in the fridge.

The next layer is the caramel and I love the Carnation one which comes straight out of the can because it's so much easier than making it from scratch. Then slice your banana, not too thin because you won't taste it but make sure you have a good coverage. Whip up the double cream so it's nice and thick but be careful if you're using an electric mixer because it can go from nice and thick to ruined in seconds (or at least it has with me when I'm not concentrating). Smooth it on the top of the bananas and get it back in the fridge until it's time to serve.

If you're a chocoholic like me then you can pop a generous helping the top. Not only does it make it look pretty but it makes it taste sooo much better too. I would have preferred to use flakes but the shop I was in didn't have them so I used delicious chopped up galaxy ripples instead.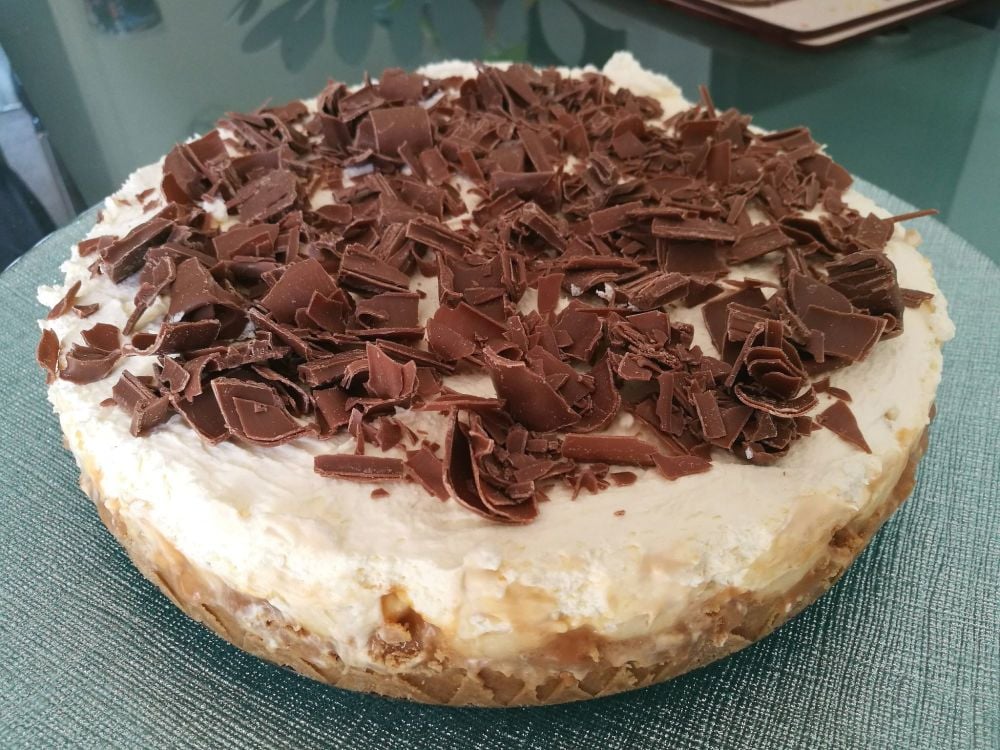 It's that easy and if you have a sweet tooth like me then I'm certain you'll enjoy the results. If you are more of a Cheesecake fan then you can also see my recipe for
Twix Cheesecake
on the blog.
Have fun!