Hoppin' Hot Tub Hire
Posted on
A little while ago our family enjoyed a hot tub at home from Hoppin' Hot Tub Hire and we've missed it every day since it's been gone haha. Hoppin' Hot Tub Hire was set up during the pandemic and is run by 2 local mums and their families who understand the importance of taking time out to unwind and relax.
The customer service from booking to collection was brilliant and we were told that if we needed any advice or assistance during the hire period that they would be on hand. The set up was fairly quick and easy but of course you need to wait a few hours for the water to warm up to the right temperature. When the children got in from school I warned them that it was still a bit cold but they didn't care and jumped in anyway. When I checked it in the morning I was so excited to see the steam and feel the hot water. I had planned for my mum to come over because I know how much she loves bubbles and we spent a good couple of hours sat in it. We did chuckle when I got out to go make us a cup of tea and realised it was actually time to go and get the children from school so we had to fly around like headless chickens throwing our clothes on so we wouldn't be late!
Luckily the children were going to stay at their grandparents that evening because myself and my husband were celebrating our 10 year wedding anniversary so we planned an early dinner at a restaurant so that we could be back at home in the hot tub by 9pm. This was probably my most favourite time of the week, it was dark by now so we had the lights on and with the water turned up to hot hot hot neither of us cared that it was cold outside. I was well rehearsed in having towels and dressing gowns ready and along with our plastic camping wine glasses I popped open the bottle of Processo which came with the hot tub. We were again out in the garden for a few hours and did nothing but talk and enjoy each others company. It was by far my favourite anniversary and certainly beat the half dead supermarket flowers I normally receive!
The following morning I had a friend over and with us still being child free we had the time to catch up on life before we went to a festival (arriving late again because we lost track of time haha).
For everyday thereafter, when the children were at home they begged non stop to go in and I'd have dinner prepared so that we could all go in straight after school for an hour before I started cooking. We were given a cool hammock which the kids took turns playing with and I found a couple of inflatable camping pillows at home which were good to lean on. The children preferred having the bubbles off so we'd switch every now and again so that I could enjoy it as much as them. Once the darlings were in bed my husband would sneak out there and enjoy some time on his own. He's never actually been one for enjoying jucazzi's but said that because the air was cold he could enjoy it without getting too hot.
The fun memories we created during that week will certainly stay with me for a long time. The children just loved every second of being in there and always whined when it was time to come out. I have already hinted to my husband that it'll make a nice treat again for my winter birthday so fingers crossed he doesn't forget.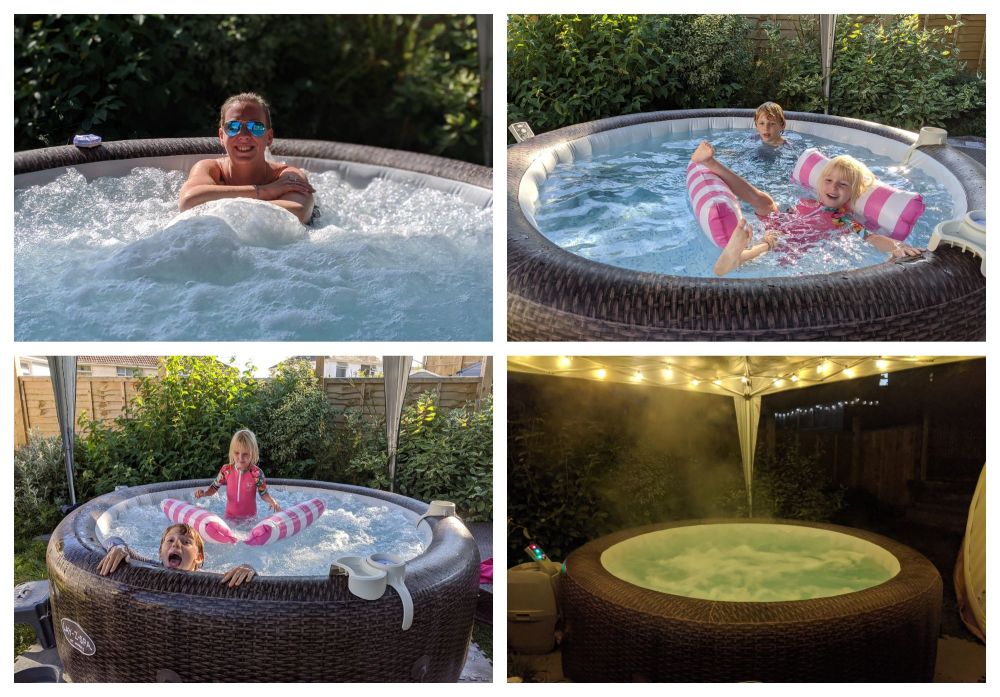 Hoppin' Hot Tub Hire have very kindly offered a Back to School promotion with 20% off bookings in October and November 2021 when quoting Dorsetmums. They operate throughout Dorset so regardless of whether you have a special occasion coming up or not I'd really recommend them.
The team will set everything up for you and give you clear instructions, leave spare filters, chemicals and other things you might need plus hot tub cover to keep the heat in, cup holders, a funky light for in the water, gazebo (with sides if you would prefer privacy or no gazebo at all if you'd like to stare at the stars), pool hammock, fairy lights and of course a bottle of bubbles which you can share or keep to yourself. At the end of the hire period they will kindly ask for you to empty the water (they'll provide what you need) and will clean and pack everything away.
If you would like more information, please visit Hoppin Hot Tub Hire on Facebook or Email [email protected].